By

Keep it going here folks. We've got a good one tonight. · (151) ·
By

Was this really the best Hank Steinbrenner could do? The Yanks' official impotent mouthpiece announced that Joba Chamberlain will start in 2009. "Everyone's pretty much in agreement with that," Hank said, thus confirming what we all knew four weeks ago. · (16) ·
The term "must-win" gets thrown around a lot in sports these days. Your team loses five of six in May and falls to three games back in the division? The next game is a must win. Your team just lost three in a row and has their ace going tomorrow? That's a must win. It's much like the term "ace pitcher," it's been thrown around so much that it's lost its meaning.
But tonight represents the true meaning of a must-win for the Sox: they lose, they go home. Period, end of story. They're sending Dice-K to the mound, the only starter that managed not to get his brains beat in by the Rays' lineup this series. Tampa's outscored the Sawx 31-13 over the last three games, and their bats are so hot they set the Citgo sign on fire.
Joe Maddon switched up their rotation and is sending Victor Zambrano Scott Kazmir to the bump instead of Jamie Shields. The move partly has to do with each pitcher's career performancea at the Fens (Kaz has a 3.02 ERA in Fenway; Shields 10.12) , but mostly has to do with Kazmir's issues with scheduled Game 6 ump Derryl Cousins. Bottom line is that it would behoove the Rays' to wrap this series up tonight, because having to face Josh Beckett and Lester The Invincible in Games 6 & 7 is not a situation they want to be in, regardless of how those guys pitched earlier in the series.
The weather's not going to be great, with about a 50% chance of rain up until 10pm or so. This one looks to have marathon written all over it. TBS has the game, what will Craig Sager wear tonight?
Tampa Bay
1. Akinori Iwamure, 2B
2. BJ Upton, CF
3. Carlos Pena, 1B
4. Evan Longoria, 3B
5. Carl Crawford, LF
6. Cliff Floyd, DH
7. Dioner Navarro, C
8. Gabe Gross, RF
9. Jason Bartlett, SS
- Scott Kazmir, P (12-8, 3.49)
Boston
1. Coco Crisp, CF
2. Dustin Pedroia, 2B
3. David Ortiz, DH
4. Kevin Youkilis, 3B
5. Jason Bay, LF
6. JD Drew, RF
7. Jed Lowrie, SS
8. All-Star Catcher Jason Varitek, C
9. Mark Kotsay, 1B
- Daisuke Matsuzaka, P (18-3, 2.90)
The World Series isn't starting until next Wednesday regardless of when the ALCS ends, so we could be looking at nearly a week of no baseball. Yikes.
Sports and the economy get along uneasily at best. Over the next few weeks, as the nation looks for some economic stability, CC Sabathia and Mark Teixeira are going to sign two of baseball's most valuable contracts. Meanwhile, teams are raising ticket prices and hoping to sell luxury boxes.
Historically, sports haven't always suffered when the economy dips. In periods of prolonged slumps, attendance does decline, but in periods of shorter economic downturns, sports have, by and large, not witnessed decreases in attendance. Concession sales may slag, but ticket sales remain relatively robust.
This doesn't stop, however, writers from wondering if the financial crisis will impact the Yanks who are opening some expensive new digs in six months. Fortune's Jon Birger ponders this exact question:
Take the New York Yankees, for instance. The Yankees move into their new stadium next year, and over the past year they've been trying to sell New York's corporate titans on the virtues of the new stadium's 47 available luxury suites. Asking price: $600,000 to $850,000 a year – several times what other major league teams charge for their luxury boxes.

A year ago, selling Yankees skyboxes was considered a slam dunk. Today, not so much, not with the stock market tanking and most financial companies gushing red ink. "I would hate to be in their position," a top executive with another Major League team says of the Yankees. "$850,000 for a luxury suite?" says Phil Matalucci, president of sports-suite broker Luxury Suite Alternative. "There could not be a worse time for teams to be selling luxury suites."

A Yankees spokeswoman insists that the economic crisis has not had any impact on the commitments the team has already received from prospective suite-holders. Still, as one Yankees' limited partner tells Fortune, it's a little too soon to judge since the contracts for the suites were only recently sent out.
While we last looked at this issue less than a week ago when the Yanks seemed like they would ride out the storm, Birger introduces an interesting phenomenon. First, high-rolling clients — such as New York's banks — find value in investing in luxury suits. Bank of America says that its return "is multiples more than the initial investment."
At the same time, though, can a bank that just had to accept billions of dollars of governmental bailout money really turn around and spend more than three quarters of a million dollars on baseball tickets? I doubt it.
This could get interesting over the next few weeks. The Yanks and Mets both claim that luxury suite sales are robust, but are the contracts signed? Have the tickets been delivered? There would be some irony in the Yanks' not selling out their luxury suites considering that those suites were one of the prime purposes behind the new stadium. Perhaps, for now, the baseball gods will have the last ironic laugh over the destruction of Yankee Stadium after all.
AzFL Peoria (6-4 win over Mesa)
Austin Jackson: 3 for 5, 2 R, 1 2B, 1 3B, 1 RBI, 1 SB – breaks out of an 0 for 13 slump … homer shy of the cycle
Juan Miranda: 1 for 4, 1 R, 1 2B, 2 RBI, 1 BB, 1 K – 7 of his 9 hits have gone for extra bases
Humberto Sanchez: 1 IP, 1 H, 0 R, 0 ER, 0 BB, 1 K, 0-1 GB/FB – 8 of 10 pitches were strikes
Kevin Whelan: 2 IP, 1 H, 0 R, 0 ER, 1 BB, 1 K, 2-3 GB/FB – 23 of 36 pitches were strikes (63.9%)
HWB Waikiki's game was postponed because of a power outage.
The Yankees brass are in Tampa today, solidifying their strategy heading into the off-season. While they'll talk about which players they want to target in free agency and trades, there's not much they can act on at this point. They'll probably go hard after CC and kick the tires on Jake Peavy, but nothing can happen on that front for a bit. The first issue they can control in the here and now is Damaso Marte's option. The other issue is of whether to offer arbitration to pending free agents.
The following players will be eligible to file for free agency after the World Series: Ivan Rodriguez, Jason Giambi, Bobby Abreu, Mike Mussina, Andy Pettite, Carl Pavano, and possibly Marte. The Yankees have the option of offering each one of them arbitration prior to the December 1 deadline. Here's a quick rundown of the process.
If the Yankees decide to offer arbitration, the player has the option to accept or decline. They must make this decision by December 7, a day ahead of the Winter Meetings. If they accept, the teams can hammer out a deal, or they can go to an arbitration hearing. Same deal as players with three to five years of service time; each side submits their offer, presents their case, and the judge picks one. In this case, the contract is non-guaranteed. The Yankees have the option to release the player in Spring Training and will only be liable for 30 to 45 days of service pay, according to Brian Cashman.
If the player declines arbitration, he can sign with any team he wishes. However, with the declining of arbitration comes compensation for the Yankees. If the player is judged as a Type A free agent, in the top 20 percent of his position, then the Yankees are entitled to the first round pick of the team that signs him. That is, unless they finished in the bottom 15 of the league. Those picks are protected. In that case, the Yankees would get the team's second round pick. In any case, the Yankees would get a supplemental first round pick as well. If the player is classified as Type B, top 21 to 40 percent at his position, the Yankees would get a first round supplemental pick and nothing from the acquiring team.
If a player signs with another team prior to the December 1 deadline, it is assumed that the team offered him arbitration and he declined, meaning the team is entitled to the corresponding picks. This happened last year with Tom Glavine. The Braves signed him prior to December 1, and therefore had to surrender their first rounder to the Mets.
There are downsides to offering a player arbitration. As we've mentioned before, no player's salary can be reduced by more than 20 percent in an arbitration hearing. This is the reason why the Yankees will not offer Jason Giambi arbitration, unless there is a handshake agreement, which we will discuss in a second. Giambi made $21 million in 2008, so his salary cannot fall below $16.8 million. If they offered him arbitration, he would probably accept. Remember, though, that the Yankees still owe Giambi $5 million as a buyout of his 2009 option for $22 million. That in essence puts the option at $17 million. So if the Yankees intended to keep Giambi, they'd simply pick it up, rather than go through the arbitration process.
---
Update:
I was just reading through the CBA and came across this paragraph, under the rules for free agency. Emphasis mine.
If the Player accepts the offer to arbitrate, he shall be a signed player for the next season and the parties will conduct a salary arbitration proceeding under Article VI; provided, however, that the rules concerning maximum salary reduction set forth in Article VI shall be inapplicable and the parties shall be required to exchange figures on the last day established for the exchange of salary arbitration figures under Article VI.
So I've been wrong all this time. There are no rules for salary reduction for players with more than six years of service time.
---
The handshake agreement was common under the old collective bargaining agreement. This was more for utility than compensation, though. If a team failed to offer one of its own free agents arbitration, they had a deadline on negotiations, usually in mid-December. After that, the team could not re-open negotiations until May of the following year. If they did offer arbitration, however, they would have a early- to mid-January deadline to negotiate. The Yankees did this following the 2005 season with Bernie Williams. While there's nothing to say the Yankees couldn't work out a handshake agreement for Giambi to decline arbitration, I don't see why he would do it. Bernie did because it gave him more time to work out a deal to return to the Yanks. For Giambi, it would be the final indicator of his exit from the Bronx.
The other downside to arbitration is that even though you can release a player in Spring Training and only be responsible for a small portion of his salary, he still takes up a 40-man roster spot all winter. This can be critical for teams with players eligible for the Rule 5 draft. You don't want to lose a player like, say, Alan Horne, because you didn't have enough 40-man spots on account of offering Pudge arbitration. The Yanks could use some 40-man spots to protect the likes of J.B. Cox, Horne, and Chris Garcia. Chad Jennings breaks down the Rule-5 eligible guys.
Let's go through the crop of free agents and speculate on the best course of action.
Ivan Rodriguez: Offer. It's unknown whether he'll be a Type A or Type B, though it might be better if he's a B. That way, there's no disincentive for another team to sign him. In any event, it's unlikely that Pudge wants to return. All current signs indicate that Jorge will be ready to go by Opening Day. Why would Pudge want to spend the last few years of his career backing up Jorge when he can get a starting gig elsewhere? Plus, there's probably a multiyear deal waiting for him somewhere. Chances are he declines. Yet even if he accepts, the Yankees could carry him through the winter and see if there's a deal to be made. Otherwise, they could just axe him in Spring Training.
Bobby Abreu: Offer. There are worse things than Bobby Abreu on a one-year deal. It might get a bit pricey — he made $16 million in 2008. He's a Type A, though, and is seeking a multiyear deal. The Yanks won't give it to him, or at least that's what they're indicating. Best to get compensation in that scenario. Bonus: If he signs with the Mets, we'd nab their first rounder, which is one ahead of us. So when we sign our own Type A, it actually works in our favor.
Mike Mussina: Offer. No brainer. Despite reports that Mussina thinks he'd have a better chance elsewhere to get his 300th win, all other indications are that Mussina is Yankees or bust for 2009. He made just $12 million in 2008, so you clearly offer him arbitration. If he accepts, good. If he declines, at least you get something if he does sign elsewhere.
Andy Pettitte: Don't offer. The man made $16 million last year and didn't live up to his contract. While I feel he can still be an effective pitcher in 2009, there's just no need to offer him arbitration. He's expressed his interest in coming back, and has said he won't play for another team. Best to just hammer this one out if they're going to do it.
Carl Pavano: Don't offer. He has a $13 million option for 2009, which will likely be declined. It's not like they can pull a Sheffield with him, since in this case they'd have to eat most of not all of his 2009 salary. They'll take the $1.95 million buyout, the last few million he'll steal from the Yankees. He made $11 million in 2008, so you can't take a chance on arbitration. Just let him walk and become someone else's problem.
Damaso Marte: Offer. If they decline his option, which I still think they should not do, you have to offer him arbitration. He'll be 34 on Opening Day, and is likely looking for a multiyear deal, so there's little chance of him accepting. Even if he does, he made $2 million in 2008, so the team could get away with a deal in the case.
Update 2: Radnom asked a good question about the termination pay, which Cashman addressed yesterday. This is the best I've been able to come up with from the CBA:
A Player who is tendered a Uniform Player's Contract which is subsequently terminated by a Club during the period between the end of the championship season and the beginning of the next succeeding spring training under paragraph 7(b)(2) of the Uniform Player's Contract for failure to exhibit sufficient skill or competitive ability shall be entitled to receive termination pay from the Club in an amount equal to thirty (30) days' payment at the rate stipulated in paragraph 2 of (1) his Contract for the next succeeding championship season, or (2) if he has no contract for the next succeeding championship season, in an amount equal to thirty (30) days' payment at the rate stipulated in paragraph 2 of the Contract tendered to him by his Club for the next succeeding championship season.
…
A Player whose Contract is terminated by a Club under paragraph 7(b)(2) of the Uniform Player's Contract for failure to exhibit sufficient skill or competitive ability shall be entitled to receive termination pay from the Club in an amount equal to thirty (30) days' payment at the rate stipulated in paragraph 2 of his Contract, if the termination occurs during spring training but on or before the 16th day prior to the start of the championship season. If the termination occurs during spring training, but subsequent to the 16th day prior to the start of the championship season, the Player's termination pay shall be in an amount equal to forty-five (45) days' payment at the rate stipulated in paragraph 2 of his Contract.
Clarifying things a bit more is the section on in-season terminations:
A Player whose Contract is terminated by a Club during the championship season under paragraph 7(b)(2) of the Uniform Player's Contract for failure to exhibit sufficient skill or competitive ability shall be entitled to receive termination pay from the Club in an amount equal to the unpaid balance of the full salary stipulated in paragraph 2 of his Contract for that season.
So perhaps this does give players a disincentive to accept arbitration.
By

This isn't about the stock market collapse or a terrorist attack. It's not about the next World War or an earthquake in New York. This is far, far worse. Or at least it is according to FOX. If the Tampa Bay Rays and Philadelphia Phillies meet in the World Series, FOX might be better off showing new episodes of House and Prison Break, Maury Brown reports. Ouch. · (30) ·
As the playoffs are slowly drawing to a close, the rumors are starting to ramp up a bit. Just a few hours ago, Buster Olney reported that both Andy Pettitte and Mike Mussina may return to the Yanks. A few hours later, Ken Rosenthal struck back.
In his afternoon piece, Rosenthal dropped a plethora of rumors. I guess Fox is really dreading that Phillies/Rays World Series.
Anyway, Rosenthal contends that Derek Lowe isn't interested in pitching in the pressure cooker of New York City. He also claims that Mike Mussina isn't interested in pitching for the Yanks because he "fears that the Yankees will not be good enough next season for him to sufficiently chip away at the 30 victories he needs for 300." That's funny; a rather mediocre Yankee term just earned him 20 wins. I'm leaning with Olney on this report.
Meanwhile, the real news hit this evening. As the Yanks prepare for their organizational meetings in Tampa, Buster Olney reports that Andy Pettitte's agents have told the Yanks that the lefty wishes to return for 2009. But do the Yankees want him?
Right now, it'll be a while before we hear anything more about Andy Pettitte or any free agent, for that matter. We have to get through the World Series before MLB lifts its gag order — or really its gag request — on news not related to the playoffs. But we can speculate.
The Yanks seem to want two of CC Sabathia, A.J. Burnett and Derek Lowe. Clearly, Sabathia is the first choice. With Lowe seemingly out of the picture, they have to consider if the team would they be better off with Burnett or Pettitte. To me, the answer is Andy Pettitte, but I don't think the Yanks should count on him to be as good as they want.
We don't need to get into the numbers. We know Pettitte had a good 2007, a good first half in 2008 and a terrible end to the season. He seemed to fatigue in the second half, and his velocity was down by the middle of August. But with Wang and Chamberlain fronting the rotation, and Phil Hughes, Al Aceves or whoever else shows up at the back end, Andy Pettitte probably won't need to be more than a fourth starter.
For one year, I'd take Pettitte rather than Burnett. The current Blue Jay just isn't that good against teams that aren't the Yankees, and he's had a tough time staying healthy. Why waste money on four or five years of an injury-prone, average hurler when one year of that would suffice?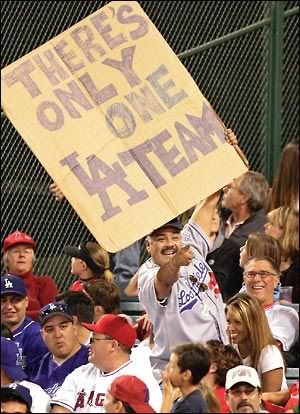 It's do or die time for the Dodgers, a loss tonight sends them packing for the winter. Fortunately for Joe Torre his best pitcher is set to take the bump tonight, as 24-yr Chad Billingsley looks to forget his 2.1 IP, 8 R disaster is Game 2 of this series. The 24th overall selection in the 2003 draft has seen his ERA, Kper9, BBper9, K/BB rate, OPS against, and # of pitches thrown per inning improve each year during his 3-yr stint in the bigs, so it's safe to say he's on the cusp of superstardom.
Unfortunately for Joe the Phils are sending their best pitcher to the mound as well, with also 24-yr old Cole Hamels looking to send the Phightin's back to the Fall Classic for the first time since 1993. Hamels has been automatic this postseason, with just 11 baserunners allowed & 17 strikeouts in 15 IP. Heidi Strobel's husband has improved his ERA, BBper9, OPS against, and # of pitches thrown per inning during his 3-yrs in the bigs just like Billingsley, but he gets much more love because he plays on the East Coast.
Game time is 8:22, Joe Buck & Tim McCarver have the call on FOX. Enjoy.
Philadelphia
1. Jimmy Rollins, SS
2. Jayson Werth, RF
3. Chase Utley, 2B
4. Ryan Howard, 1B
5. Pat Burrell, LF
6. Shane Victorino, CF
7. Pedro Feliz, 3B
8. Carlos Ruis, C
9. Cole Hamels, P (14-10, 3.09)
Los Angeles
1. Rafael Furcal, SS
2. Andre Ethier, RF
3. Manny Ramirez, LF
4. Russ Martin, C
5. James Loney, 1B
6. Casey Blake, 3B
7. Matt Kemp, CF
8. Blake DeWitt, 2B
9. Chad Billinglsey, P (16-10, 3.14)
By

While just this morning we were debating whether or not Willie Randolph should assume one of the vacancies on the Yankees' coaching staff, Ken Davidoff says fuggedaboudit. The Nationals, Newsday reports, are interested in bringing Willie aboard, and neither Brian Cashman nor Joe Girardi seem to keen on the idea of bring the former Mets manager and one-time Yankee coach back into the fold. · (8) ·