By

We've got a ton of afternoon content in the pipeline, but I wanted to take this opportunity to discuss Ivan Rodriguez's free agent status. I was thought that he'd get the Type B label, and that the Yanks wouldn't go through the pain of offering him arbitration, only to have him accept and saddle them with a hefty contract for a declining player. Eddie at Detroit Tiger Thoughts whipped up his reverse-engineered Elias Rankings, and it appears Pudge could be a Type A. This complicates matters.

You can head over there to find out the entire reasoning, though as Mike said after reading it, "my head hurts." Eddie puts the probability of Pudge garnering Type A status at 80 to 90 percent. If that's the case, is he worth the risk? · (56) ·
By

According to Ed Price of the Star Ledger, the Yankees will not renew the contract of third base coach Bobby Meacham. There was considerable criticism of Meacham this year, as he made a few obvious blunders early on. On Baseball Prospectus yesterday, Steven Goldman took a look at the Meacham situation, concluding that the Sox and Rays made more outs-at-home blunders. It's tough to break this down by numbers, though, since not every situation is the same. We saw Meacham blow what should have been obvious calls, and have therefore called for blood. Today, we got it. · (21) ·
Last week, we ponedered the Damaso Marte question. The Yanks, long in the hunt for an effective lefty out of the pen, hold a pricey $6-million option on Marte. Last week, I advocated re-upping with Marte. It is, after all, only money.
Today, we introduce a new wrinkle into the debate. Eddie Bajek released his Elias rankings for relievers, and Marte seems to have earned himself Type A status. (Of note is Kyle Farnsworth. He didn't even garner Type B status. We'll find out about Pudge later today.)
Bajek speculates that the Yankees will decline Marte's option. I don't agree with this conclusion, but the Type A status makes things interesting. If the Yanks let Marte go and if they happen to sign two or three Type A free agents this year, they recoup the draft pick they lose by letting Marte go.
Now, I know a lot of Yankee fans and analysts are high on the idea of getting more draft picks. After all, if you throw enough things against the wall, something's going to stick. But I approach draft picks more guardedly than that. Simply put, draft picks are an unknown quantity. The best can't-miss prospects miss, and the guys in the later rounds that some team takes a flyer on becomes an All Star. Having more picks in the first round just gives a team like the Yanks a little more margin for draft error.
But the Yankees have another advantage: They have a lot of money. They have money to spend on Major League-ready free agents; they have money to spend on international free agents. If they miss out on one of their draft picks because they feel Marte — or a similar player — has a role to fill at the Big League level, then so be it. They'll just snap up the next best guy on the international scene.
This news about Marte's status isn't surprising. It just adds one more dimension to the decision Brian Cashman and Co. will have to make in three or four weeks, and on this one, I don't really know the answer. I like Marte's stuff, and I like his left-handedness. But if the Yanks opt to safeguard some draft picks, I can't argue with that decision either.
5-0-0, bitches.
AzFL Peoria (3-2 loss to Phoenix) Yanks' prospects are blogging about their experience in the AzFL … check it out
Austin Jackson: 0 or 4, 2 K – 0 for his last 13
Juan Miranda: 2 for 4, 1 2B, 1 K – doubled off a guy you may have heard of
Phil Hughes: 5 IP, 4 H, 1 R, 1 ER, 1 BB, 3 K, 10-2 GB/FB – 47 of 79 pitches were strikes (59.5%) … strikeouts & grounders, that's vintage Phil Hughes right there baby … he was named AzFL Pitcher of the Week after the game
Jeff Marquez: 1 IP, zeroes, 2 K, 1-0 GB/FB – 8 of 13 pitches were strikes (61.5%)
HWB Waikiki was off today, like the rest of the league.
Loyal reader Angel provided a list of the Yankees' players in the Dominican Winter League, here's what we got:
Tigres del Licey: Jon Ortiz, Jairo Heredia, Edwar Ramirez, Damaso Marte, Oneli Perez, Juan Miranda, Jhonny Nunez
Aguilas de Cibao: Bernie Castro, Melky Cabrera, Dellin Betances, Wilkins Arias, Matt Carson
Estrellas Orientales: Robbie Cano, Noel Castillo, Wady Rufino, Prilys Cuello, Eduardo Nunez
Leones del Escogido: Wilson Betemit, Jose Veras, Ivan Nova, Alex Rodriguez, Wilkins DeLaRosa, Abe Almonte, Andres Perez
Toros del Este: Jose Valdez, Josue Calzado, Humberto Sanchez
These players aren't necessarily on the team's active roster, nor are they guaranteed any playing time, but these are the teams that hold their rights. A-Rod won't even do so much as put a uniform on for Escogido.
You can see some other winter ball assignments here, and follow along with everyone's progress here.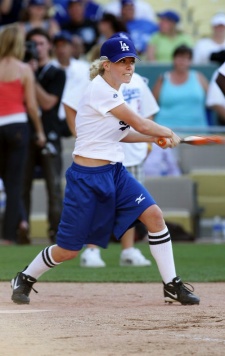 As I write this, the Rays have just gone up 9-1 in Game 3 of the ALCS. This should put them up two games to one, and ensure them a return trip to the Trop. The best part, at least from their perspective, is that this came off Jon Lester, the ace of the Sox staff. If they can take advantage of Dice-K's tendency to hand out free bases, they could be set up well for the rest of the series.
Now, though, we move onto Dodgerland, where the home team tries to even the score with the Phillies. Joe "Cupcakes" Blanton takes the hill for the visitors. He struck out seven over six innings against the Brewers in the LDS, allowing just one run. Derek Lowe returns to the mound for the Dodgers on short rest. He'll try to do what Chien-Ming Wang could not in last year's LDS.
Onto the lineups:
Phillies:
Rollins, SS
Werth, RF
Utley, 2B
Howard, 1B
Burrell, LF
Victorino, CF
Dobbs, 3B
Ruiz, C
Blanton, P
Dodgers:
Furcal, SS
Ethier, RF
Ramirez, LF
Martin, C
Loney, 1B
DeWitt, 2B
Blake, 3B
Pierre, CF
Lowe, P
Game 2 went from barn burner to bullpen duel faster than you could say "he had cancer," but this afternoon's pitching matchup suggests we might be in for a one sided affair. Jon Lester was a sterling 11-1, 2.49 at home this year, and posted a sub-1.00 ERA in three starts against the Don't Call Me Devil Rays. His counterpart, Matt Garza, went 4-6, 4.53 on the road, and took it on the chin against the Red Averages, posting a 4.50 ERA in 4 starts.
First pitch is at 4:37 (what is with these obscure start times?), you can catch the game on TBS. Frank Caliendo will call the game as John Madden and George W. Bush. Enjoy.
Tampa Bay
1. Akinori Iwamura, 2B
2. BJ Upton, CF
3. Carlos Pena, 1B
4. Evan Longoria, 3B
5. Carl Crawford, LF
6. Willy Aybar, DH
7. Dioner Navarro, C
8. Rocco Baldelli, RF
9. Jason Barlett, SS
- Matt Garza, P (11-9, 3.70)
Boston
1. Jacoby Ellsbury, CF
2. Dustin Pedroia, 2B
3. David Ortiz, DH
4. Kevin Youkilis, 3B
5. JD Drew, RF
6. Jason Bay, LF
7. Mark Kotsay, 1B
8. All-Star Catcher Jason Varitek, C
9. Alex Cora wins games, SS
- Jon Lester, P (16-6, 3.21)
By

As part of his ongoing offseason preview series, Tim Dierkes as MLB Trade Rumors profiled the Yankees earlier today. His bottom line — "It looks like most of the money will be spent on starting pitching, but Teixeira would sure look nice in pinstripes" — is right in line with what we've been saying for the last few weeks, and Dierkes' omission of Manny Ramirez in the Yanks' offseason plans is, despite the allure of the bat, probably more reflective of reality. · (32) ·
Over the summer, Eddie Bajek at Detroit Tigers Thoughts managed to reverse engineer the Elias Sports Bureau formula for ranking free agents. He's been providing us with tidbits ever since. Now that the season is over, though, we can be more sure about where each player will land. Today, Eddie takes a look at the AL pitchers and where they rank.
Pettitte was actually the ninth-highest rated overall starter in the AL. Ahead of him are, from one through eight, Roy Halladay, John Lackey, A.J. Burnett, Josh Beckett, Daisuke Matsuzaka, Scott Kazmir, James Shields, and King Felix. Pettitte is well within the Type A bounds. After him come Javier Vazquez and Fausto Carmona, followed by Mike Mussina. The Type As end five spots after Mussina with Erik Bedard. Strangely enough, Chien-Ming Wang checks in as a Type B. I guess missing half the season hurt his ranking. Jon Garland and Paul Byrd are the only other AL free agent starters to garner even Type B status.
Over on the NL side, obviously CC Sabathia tops the rankings. He's joined in his Type A status by four other hurlers: Ben Sheets (14), Oliver Perez (16), Derek Lowe (17), and Jamie Moyer (18). So it looks like when Jon Heyman says the Yankees will pick two of the available starters, they're selecting from among the Type As. Thankfully, this is in a year where the Yankees have at least one protected first-round pick (not that losing a pick should stop you from signing a guy like CC). Brad Penney, John Smoltz, Randy Wolf, Greg Maddux, and, surprisingly, Braden Looper garner Type B status.
It's interesting to see how these players are ranked. Some of it seems rather strange. A.J. Burnett as the third highest rated pitcher in the AL? Pettitte as the ninth highest? I know the stats are based on multiple years, but still, it seems odd in some places. In any case, I'll be sure to post the future rankings as they come in.
Just for shits 'n' giggles: The last ranked pitchers in each league were Mark Prior in the NL, and Andrew Brackman in the AL.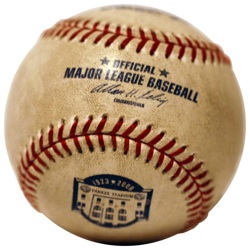 This Saturday, Guernseys will be selling off a whole bunch of Yankee Stadium memorabilia. The Manhattan-based auction house had announced the auction in September, but this weekend, they landed a gem of a baseball.
The man behind the final home run ball controversy has opted to sell the ball, and he'll do so this weekend at Madison Square Garden. Steve Harsman expects to fund his children's education through the proceeds from the ball, but in today's economy, he probably won't get the hundreds of thousands of dollars that collectors have recently shelled out for high-profile baseballs.
The ball's auction page includes quite the heart-warming tale about Harshman. Check out the Yankee Stadium catalog here, and make your way to MSG this weekend if you find yourself with money to spend on Yankee Stadium memorabilia.