That game was shaping up to be very bad, yet it turned out to be very, very good. The Yankees came from behind for a 9-4 win over the Red Sox on Wednesday night thanks in large part to their bullpen, which was far more effective than Boston's. That was a satisfying win. Yes, yes it was.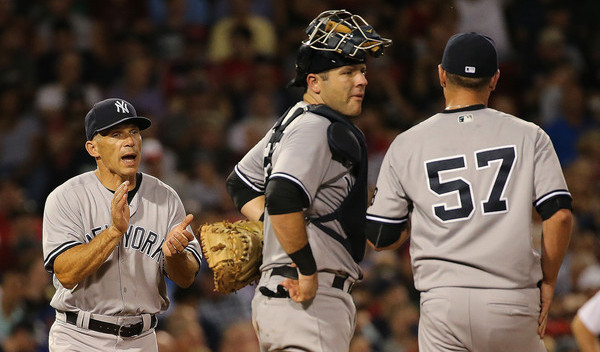 Johnny Wholestaff (W, 1-0)
Even good games bring bad news these days, unfortunately. Following a quick 12-pitch 1-2-3 first inning, Nathan Eovaldi was removed from the game with right elbow discomfort. He was sent back to New York for tests, which is never good. Looking at the big picture, losing a starter sucks. As far as Wednesday was concerned, the Yankees had to get eight innings from their bullpen without a true long man available. Yikes.
First out of the bullpen: Chasen Shreve. He tossed a scoreless second inning before giving up a run in the third. Next up: the recently claimed Blake Parker. He helped Shreve allow that run in the third, then allowed one of his own in the fourth. Both runs scored on fielder's choices too, which is always annoying. They were potential double plays that weren't turned for whatever reason. Blah. The Yankees were down 2-0 and on their fourth pitcher by the fourth inning.
Nick Goody finished up the fourth, tag-teamed the fifth with Tommy Layne, then Layne and Tyler Clippard got together to allow two more runs in the sixth. Didi Gregorius swatted a solo homer in the fifth, so those two runs charged to Layne made it 4-1 Red Sox. Clippard stranded runners on second and third in the sixth by getting Hanley Ramirez to pop-up, and that turned out to be a huge moment in the game given everything that followed.
Five-Run Seventh
The Yankees blew some scoring chances early in the game, the kind you figured would come back to bite them at some point. They wasted a leadoff single in the first, blew a two on with no outs chance in the fifth, then got nothing out of having two on with one out in the sixth. Double plays by Brett Gardner and Starlin Castro short-circuited those rallies. Annoying!
The offense made it up for it with their five-run seventh inning. Six hits and a walk did the trick. Let's recap that game-changing inning with an annotated play-by-play:

(1) This rally came together very quick. Gregorius started the inning with a single, then bam, first pitch single by Gary Sanchez, and bam, second pitch single by Austin Romine to score a run. The bottom of the order got things started. The Yankees were in business before you knew it.
(2) Alex Rodriguez got to play! Joe Girardi determined A-Rod gave them the best chance to win against a hard-throwing righty in his first at-bat since August 2nd. Alex worked himself into a hitter's count before flying out harmlessly to right. It was just off the end of the bat. It was a productive out though; Sanchez was able to tag up and get to third base with one out in the inning. Small bites. (Because that's all this offense has been capable of most of the year.)
(3) The Jacoby Ellsbury single was huge. Biggest hit of the inning, I thought. A-Rod's fly out and Gardner's strike out meant the Yankees were on the verge of blowing their best scoring chance of the game, but Ellsbury was able to pull a two-strike pitch by Hanley at first base and into right field to score a run and keep the inning alive. If he makes an out there, the Yankees are still down 4-2 with only six outs to go. Instead, he cut the deficit to 4-3.
(4) Chase Headley's game-tying single was pretty ridiculous. I don't know what happened to Fernando Abad — maybe he caught a spike during his delivery? — but he slowed down noticeably during his motion and threw Headley was amounted to a 61 mph eephus pitch way up in the zone. Look at this thing: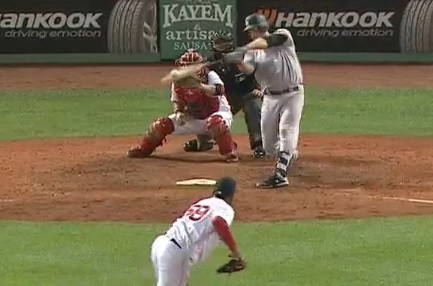 You'd think a 61 mph pitch would really screw up a hitter's timing, but Abad slowed his delivery so much that it was easy to pick up. It looked like a batting practice pitch. Headley yanked it to left field to score the runner from third and tie the game.
(5) Ellsbury's hit was important because it scored a run and kept the inning alive. Castro's hit was just as important because it gave the Yankees the damn lead. That's a pretty big deal. He jumped on Junichi Tazawa's first pitch hanger and pulled it down the line to score two runs, giving the Yankees a 6-4 lead. Quite a comeback, that was.
The Late Innings
It warms my heart to see Adam Warren being awesome and effective again. He just had to get away from those cursed Cubbies, that's all. Warren retired all six men he faced in the seventh and eighth innings, and he was dotting the corners with his fastball expertly. Two strikeouts looking and four pieces of weak contact. He's up to nine scoreless innings with the Yankees. That'll do, Adam.
The Yankees thankfully tacked on three more runs in the eighth inning. Fenway Park is a crazy place and that 6-4 lead didn't feel all that safe, especially with bullpen having already been decimated. Sanchez scored the first run of the eighth with his first career home run, an absolute monster shot to dead center. Look at this thing. Just look at it:
Hell yes, Gary. Hell yes. Statcast measured that blast at 426 feet and 107 mph off the bat. The numbers aren't as impressive as it looked, so ignore them and watch the video a few more times. What a bomb.
The Yankees scored their other two eighth inning runs because Robbie Ross Jr. couldn't throw strikes. He allowed a first pitch single to Rob Refsnyder, wild pitched him to second, walked Ellsbury on four pitches, then allowed two more runs on wild pitches. Ross had no idea where the ball was going. At one point he threw six balls in the span of seven pitches, and they were not competitive pitches. They were nowhere close to the zone. Sanchez's tater and the two wild pitch runs gave the Yankees a 9-4 lead.
Dellin Betances, who was the last man standing in the bullpen — Anthony Swarzak was unavailable after throwing 40 pitches Tuesday — retired the side in the order in the ninth. New York's bullpen: 8 IP, 9 H, 4 R, 4 ER, 6 BB, 5 K. Not great, but it's better than what Boston's relief crew did: 3.2 IP, 9 H, 8 R, 8 ER, 3 BB, 2 K. The Yankees looked to be in big trouble after Eovaldi had to leave the game. Seven relievers did a nice job not letting things get out of hand, and giving the offense a chance to battle back.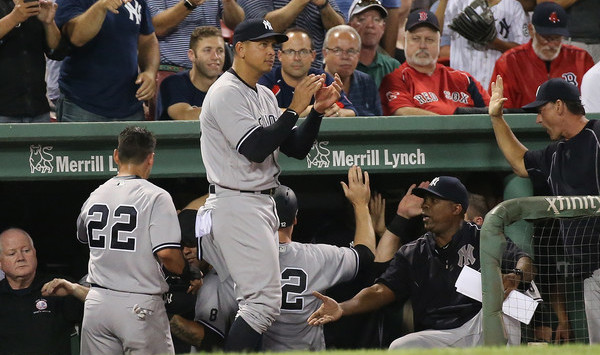 Leftovers
Have yourself a night, Gary Sanchez. He went 4-for-5 with that mammoth home run. The kid is alright. The Yankees had 15 hits total, and every starter had at least one except Aaron Hicks. He batted twice before being pinch-hit for by A-Rod, who was then replaced by Refsnyder in right field. Headley, Gregorius, and Romine each had two hits. The Yankees didn't do much against Drew Pomeranz, but man, they pounded the bullpen.
You know things are going well when Ellsbury gets an outfield assist. He retrieved Mookie Betts' double in the sixth, quickly threw to the cutoff man, and Gregorius fired a bullet home to cut down Xander Bogaerts trying to score from first. It's not a true assist in the "Ellsbury threw him out at the plate" sense, but the guy need all the help he can get in the outfield assist department. I'll allow it.
And finally, I'd expect the Yankees to call up a fresh reliever or three tomorrow after the way Girardi has to use his bullpen tonight. In fact, Luis Cessa's lady friend Twittered out that he's on his way up, so there's one fresh arm. I'd bet on one or two more guys joining him as well.
Box Score, WPA Graph & Standings
ESPN has the box score and updated standings, and MLB.com has the video highlights. Don't miss our Bullpen Workload and Announcer Standings pages too. Here's the win probability graph. At one point in the sixth inning the Yankees had an 8.6% chance to win the game. Hooray for outliers!

Source: FanGraphs
Up Next
The Yankees have been alternating wins and losses since the All-Star break, and they'll look to buck that trend in the series finale Thursday night. They want to win this three-game set. A-Rod is scheduled to be in the lineup for that one. (Assuming Girardi doesn't change his mind again, of course.) Michael Pineda and Eduardo Rodriguez — not the injured Steven Wright — are the scheduled starters.