Now that's how you rebound. The Yankees suffered a tough loss Friday night and they lost Luis Severino to an arm injury as well, but they shook it off, came to the park Saturday, and beat a really good pitcher. The final score was 2-1 Yankees. They've won six of nine on the homestand.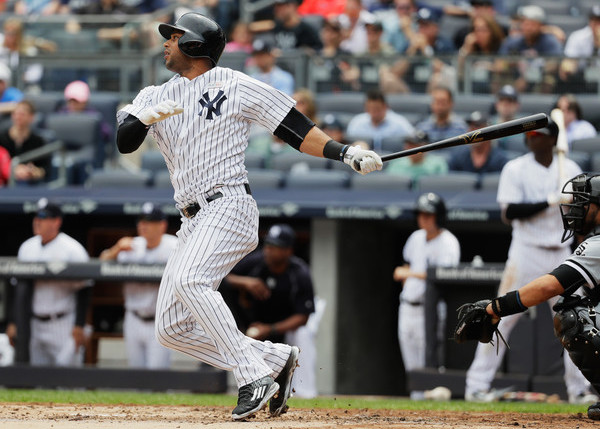 Two Unlikely Runs
The Yankees built two runs out of nothing in the second inning. Jose Quintana got two quick outs to start the inning and was ahead in the count 0-2 on Chase Headley, so the odds of scoring were really low. Headley was able to battle back to work a walk, then Aaron Hicks drove him in with a loud double over Adam Eaton in right field. Headley's slide into home was hardly textbook — it was more of a flop than a slide — but hey, whatever works.
Didi Gregorius was able to plate Hicks with a ground ball single through the right side to give his team a 2-0 lead. The Yankees caught a really tough break when Austin Romine's line drive into the right-center field gap hopped over the wall for a ground rule double, forcing Gregorius to stop at third. He was going to score pretty easily. Replays showed Didi was just about to round third as the ball was hopping over the fence.
I know I'm going to sound like a homer, but I feel like that's one of those plays where the runner should be allowed to score from first on the ground rule double. Gregorius was running on contact with two outs and the ball was just still in the field of play as he approached third. Plays like this aren't going to be made reviewable — instant replay is for black and white plays (fair or foul, safe or out, etc.), not judgment calls — but the umpires can use a little common sense, right? Whatever.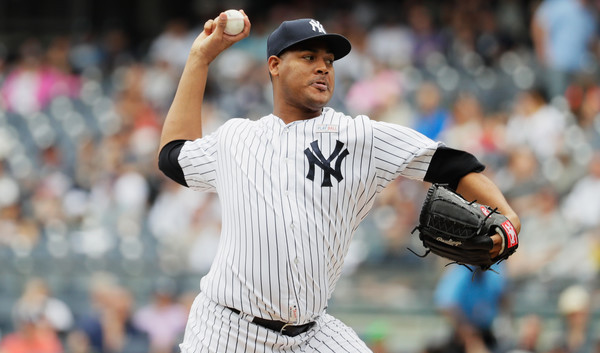 Ivan The (Ground) Baller
Ivan Nova has given the Yankees a really nice lift in his two starts so far. Last time out he held the Royals to one run in 4.2 innings while on a pitch count, then, on Saturday, he limited the White Sox to one run in 5.2 innings. The run came on a solo homer by Todd Frazier and it was pretty much Nova's only mistake of the game. He left a first pitch fastball up and Frazier smacked it into the first row in left field. It sounded like it was going to go about 15 rows back. It happens.
Nova recorded 17 outs Saturday and 13 were on the ground, and only two of the final 14 batters he faced hit the ball out of the infield. Those two were Frazier's homer and a stranded double by Brett Lawrie. Nova got quick outs too. Twelve of the 22 plate appearances against him were over within three pitches. One run, four hits, one walk, two strikeouts, 13 grounders, two fly balls? Pretty excellent.
Because he was so efficient, Nova threw only 74 pitches in his 5.2 innings, but Joe Girardi opted to go to his big three relievers with the Yankees up by one. I was actually surprised Girardi let Nova face Frazier in that sixth inning after he went deep last time up. Ivan walked him to put the tying run on base — Nova threw him two nice curveballs, but Frazier spit on them for balls, they were good pitches — and that was end of his day. You done good, Ivan.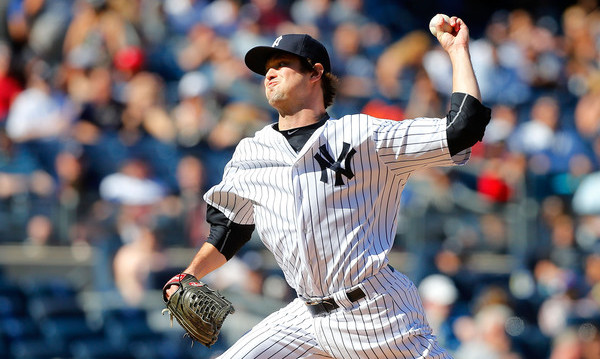 Saved By The Big Three
The Yankees had some chances to tack on runs but just couldn't do it. Most notably, Gregorius led off the fifth with the double, and the team stranded him with a line out and two strikeouts. Romine hit a ball awfully hard to right field, but Eaton reeled it in with a nice sliding catch. Romine has been hitting lasers all over the field lately. How about that?
So, with the one-run lead and ten outs to go, Girardi went to Dellin Betances with the tying run on first. Betances struck out Melky Cabrera to end the sixth and then he struck out the side in the seventh. That'll work. Andrew Miller came in for the eighth and struck out two in a scoreless frame. Jose Abreu took two ridiculously hopeless swings to strike out to end the inning. The tying run was on base at the time. Miller wrecked him.
The ninth inning went to Aroldis Chapman and he fanned two in a perfect inning. PitchFX says he topped out at 102.5 mph. Frazier was the first hitter Chapman faced. Kinda cool. They were teammates with the Reds all those years. Betances, Miller, and Chapman combined to strike out eight of eleven batters faced. Miller allowed a single and a fielder's choice in the eighth. Cut him.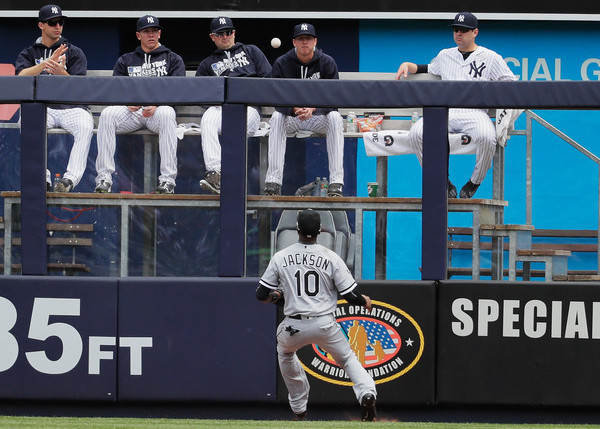 Leftovers
The 7-8-9 hitters (Hicks, Gregorius, Romine) went a combined 5-for-9 (.555) with three doubles. Didi went 3-for-3 with a double against Quintana, which is hella impressive. Meanwhile, the top six hitters went combined 0-for-19 with two walks and five strikeouts. Yuck. Headley and Carlos Beltran drew the walks. The bottom of the lineup carried them against Quintana.
Just for the record, I was totally on board with pulling Nova after only 74 pitches. Like I said, I didn't even think he would face Frazier. The back-end relievers were rested, the Yankees had a chance to steal a game against a great pitcher, and they have their ace going Sunday. Good time to max out the big three relievers for ten outs.
Jacoby Ellsbury, who has been out a week with a hip problem, returned to the field in the eighth inning. He took over in center and Hicks slid over to right for defense. He wasn't tested because the bullpen was striking everyone out.
Box Score, WPA Graph & Standings
The box score and updated standings are at ESPN and the video highlights are at MLB.com. Make sure you click on over to our Bullpen Workload and Announcer Standings pages as well. Here's the ol' win probably graph:

Source: FanGraphs
Up Next
The Yankees and White Sox will wrap up this series with the rubber game Sunday afternoon. Masahiro Tanaka and former Oriole Miguel Gonzalez will be on the bump. The Check out RAB Tickets if you want to catch the final game of the homestand live at the ballpark.