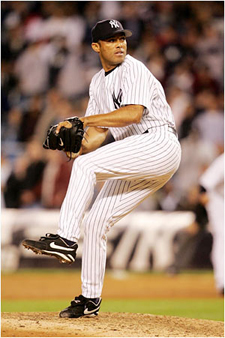 We are truly blessed. For the past 13 years, we've had the privilege of watching Mariano Rivera work his magic out of the bullpen. While he may never hold the career record for saves, he is the greatest relief pitcher in the history of baseball. You won't find too many people, Yankee lover or hater, who will argue that point. In an aspect of the game wrought with volatility, Mo has been a pillar of consistency and excellence.
Let me take this a step further. Some might not agree with me, but I think in due time many of them will come around. Not only is Mariano Rivera the greatest relief pitcher in the history of baseball, he is the best pitcher, period, in the history of the New York Yankees. This is no disrespect to Whitey Ford, Ron Guidry, and the other workhorses of Yankees lore. They all have their places in history. Mo, however, is a once in a lifetime talent. I can't even begin to imagine life in 2011.
While we've been examining what went wrong with the 2008 Yankees, Mo was among the few things that went right, though that doesn't begin to describe his phenomenal performance. You might even be able to call 2008 the best, if not most dominant, season of Mariano Rivera's career. He certainly earned the first year of his contract.
We'll start with his raw ERA, 1.40, the second lowest of his career. The lowest came in 2005, 1.38, so there's hardly a difference. Well, scratch that. The difference is that in 2005 Mo got hosed out of a Cy Young because Bartolo Frickin' Colon won 21 games. Johan Santana also has beef. His ERA+ was actually better this year, 308, though it was 307 in 2005. He also allowed the fewest runs of his career, 11, even surpassing 2002, when he threw just 46 innings. His six walks were also a career-low.
None of those, however, is the most astonishing stat of them all. For that, I point to his WHIP: 0.665. I couldn't believe it the first time I saw it. Seriously? That has to be some kind of record, right? Thanks to ESPN, we can check at least back to 2000. Surprisingly, there are a few closer than I had thought, but none as low as .0665. Want another has-to-be-a-record? Mo's K/BB ratio was 12.83:1. Only Ben Sheets has hit 10.00 since 2000.
As if that wasn't enough, he did it all with calcification on top of his AC joint, causing inflammation. How someone deals with that for 70 innings is beyond me. He'll undergo arthroscopic surgery on Tuesday, but will be ready for Spring Training. Thank Mo for that.
It was an utter joy to watch Mo pitch ninth innings this season, as it has been since 1996. Each year, he continues to amaze. You'd never think a lanky guy like Mo, with only a fastball in his repertoire, could author such a dominant career. Yet he has, and there's more to come. It has been a blessing and a privilege to watch Mariano become perhaps the greatest pitcher in Yankees history.
By

Please, all I ask is that they put up a fight tonight. (Lineups) · (380) ·
By

A day after Joe Torre's Dodgers completely housed the Cubbes and sent them packing, Ozzie Guillen looks to avoid the same fate with his Chicago team. It's supposed to rain for another few hours in the Windy City, which is rather fitting. Carlos Pena returns to the lineup for Tampa, and feel free to use this as an open thread to talk about whatever while we wait for this one to start. (Matt Garza vs John Danks, lineups) · (79) ·
HWB Waikiki (7-6 loss to North Shore, walk-off style)
Damon Sublett: 1 for 5, 1 R, 3 K
Jeremy Bleich: 3.1 IP, 6 H, 3 R, 3 ER, 4 BB, 1 K, 7-1 GB/FB – 39 of 69 pitches were strikes (56.5%) … threw first pitch strikes to 12 of the 19 batters he faced … all three runs scored on RBI groundouts

Remember how I've been saying the Arizona Fall League starts on Monday? I'm wrong, turns out it starts Tuesday. My bad. Phil Hughes is one of the league's top plot lines this year.
By

We'll have some Yankee content later, but with three playoff games on tap and the Giants set to play the Seahawks, baseball is far from the minds of New Yorkers. In an hour, the Phillies will try once again to advance in the playoffs for the first time since 1993. Joe Blanton faces Jeff Suppan. Feel free to turn this thread into an open thread. Nothing is taboo. · (67) ·
By

Torre's boys are looking to sweep. Can they pull it off? Rich Harden will try to stop 'em. Comment away here while we find out. (Lineups) · (157) ·
In what will be the first of four attempts at Division Series sweeps, the Phillies and Brewers are set to square off tonight. The Phillies haven't won a playoff series since they won the 1993 NLCS. Jamie Moyer, the inspiration of Mike Mussina, will throw tonight for the Phils while David Bush goes for the Brewers.
For all of your Yankee needs, we looked today at Bobby Abreu's contract, a rebound start by Andrew Brackman and Kevin Maas.
Game time is 6:37 p.m.
Phillies
Rollins SS
Werth RF
Utley 2B
Howard 1B
Burrell LF
Victorino CF
Feliz 3B
Ruiz C
Moyer P
Brewers
Cameron CF
Hall 3B
Braun LF
Fielder 1B
Hardy SS
Hart RF
Weeks 2B
Kendall C
Bush P
When the free agent frenzy begins, Bobby Abreu will be front and center among the Yankee free agents. He's done very well in New York, and he's coming off a 20-20 season in which he yet again drove in 100 runs and hit .296/.371/.471. It is not easy to replace a player who puts up Bobby Abreu-like numbers.
But Bobby Abreu is no spring chicken. He'll turn 35 prior to Opening Day and doesn't fit the Yanks' purported youth movement. The Yanks, however, still have to field a team of nine viable starters, and in that regard, a short-term solution involving Bobby Abreu wouldn't be bad. It certainly would be a better and safer move than allowing Xavier Nady to claim the right field job uncontested.
Abreu, however, has different plans in mind. He, according to Mark Feinsand, wants a three-year deal from the Yanks.
Abreu has said several times that he would like to remain with the Yankees, having enjoyed his 2-1/2-year stint in pinstripes. But the 34-year-old also is seeking at least a three year-contract, leading most baseball insiders to believe the outfielder will wind up in a new uniform this winter.

According to a source, Abreu has been upset by some recent media reports and speculation suggesting that his days in the Bronx are over. Abreu is vacationing with his family in the Bahamas and is expected to return to the area this weekend, although his situation won't be settled until next month at the earliest, as he figures to test the free agent market.

GM Brian Cashman said he has not discussed any contract issues with Abreu or his representatives, so he wasn't in a position to say how many years Abreu is seeking. But Cashman…stressed that he is "a big fan" of the outfielder. "I thought he was a welcome addition," Cashman said. "He solidified right field, was an offensive force and has been a steady performer. He's a professional, and his demeanor is outstanding. He's done a great job."
There are a few things going on here. First, this is the standard "negotiate through the media" technique. Abreu's reps — or whoever this anonymous source is — now claim he wants "at least" a three-year contract, but 35-year-old Bobby Abreu would probably not get any more than three years on the open market.
The Yankees meanwhile have something of the upper hand here. They like Abreu, but the team also seems content to let him walk. They also hold the arbitration trump card. The Yanks could offer him arbitration and then re-sign him for a year. They can also offer him arbitration, let him walk and claim a draft pick. It's a win-win for the team.
I've always had something of a soft spot for Abreu. I know his defense isn't all that, but replacing his bat would not be an easy task. Xavier Nady had a terrible September after his red-hot August, and his career line of .280/.335/.458 is a far, far cry from Abreu's .300/.400/.500 line. I wouldn't be surprised if the two split the difference, and the Yanks bring Abreu for two years. If they let Bobby go, I wouldn't be too shocked either if Manny Ramirez then ended up pinstripes.
Ah, the machinations of the off-season.
By

What a perfect little article for a boring baseball Saturday (until later, of course). The Daily News's Anthony McCarron catches up with Kevin Maas, he of the record-breaking home run pace. I know I have that Topps Record Breaker card sitting around somewhere. Anyway, Maas is back at home in California, raising a son and daughter by himself, working at Charles Schwabb. He talks to McCarron about life during and after baseball, including the Maas top girls in right field and his being in attendance for Aaron Boone's home run. Oh, and he mentions that he never did steroids. · (1) ·
By

Mariano Rivera will have his arthroscopic shoulder surgery on Tuesday, according to Ed Price. This is a minor procedure that doesn't actually involve much cutting, and Rivera will be all set for Spring Training. · (6) ·