By

Mariano Rivera will have his arthroscopic shoulder surgery on Tuesday, according to Ed Price. This is a minor procedure that doesn't actually involve much cutting, and Rivera will be all set for Spring Training. · (6) ·
Allow me to interrupt coverage of the world's most boring Division Series playoff round to opine for a minute on attendance. Maury Brown over at the Biz of Baseball analyzing the 2008 attendance numbers, and the findings, at least to me, are interesting.
The 2008 Major League Baseball regular season is the second highest attendance mark in history, drawing 78,624,324, falling just 1.14 percent below last year's record of 79,502,524 in paid attendance, a sign that baseball's popularity remains exceptionally strong. While the figure is the second best ever, forecasts at the beginning of the season were for a total attendance in excess of 80 million. Still, the strong attendance figure comes at a time when the economy has been hit exceptionally hard, gas prices impacted travel, and the weather wreaked havoc at open-air stadiums, lowering walk-up ticket purchases…

Next season, MLB will most likely not reach this year's attendance figure. With both the new Yankee Stadium and the Mets' Citi Field coming online with reduced seating capacities than the outgoing facilities, attendance for the two strongest attended teams will drop.

Still, MLB has always focused on revenues, and next year should be no exception. While attendance dropped sllightly this year, revenues were up from $6.075 billion to $6.5 billion this year. Even with the expected 2009 decrease in attendance, and concerns about the economy prevailing into next year, expect revenues to remain flat or slightly above this year's figure.
It's remarkable that baseball has managed to sustain such lofty attendance numbers over the last few seasons. With the economy in the tank, people are seemingly finding solace in the 81-game home schedule.
What's interesting about this year's attendance numbers, as Brown notes, is that they mostly follow team success. While the two Florida teams both enjoyed good seasons, they were the outliers, drawing relatively fewer fans than other good teams. But in general, the teams that won drew more fans that the teams that didn't win.
No where was this more evident than in Washington, DC. While the Nationals moved into a new stadium — once a guarantee of lofty attendance figures — the team lost 102 games. They enjoyed an attendance increase over their final 2007 numbers at the RFK Stadium pit, but they had the smallest home attendance for a team in a new ballpark since Camden Yards ushered in a Golden Age of stadiums. People just don't want to see bad teams play.
Next year, attendance numbers are bound to go down. Neither the Yankees nor the Mets can actually meet their 2008 attendance numbers. The Yanks will probably draw around 4.238 million fans next year, which would be capacity for the new stadium and a few thousand fewer than this year's totals. The Mets, on the other hand, decided to cut the size of their new stadium by over 12,000 seats. The most the Mets can draw is 3.645 million fans. Why a team in a metropolitan area the size of New York's would opt to cut capacity by so much is well beyond me.
In the end, though, baseball is alive and well. Fans are flocking to games, and no one is predicting the demise of our National Pastime.
HWB Waikiki (3-1 win over North Shore)
Damon Sublett: 1 for 3, 1 RBI, 2 K – 5 RBI in 3 games since returning from injury
Andrew Brackman: 5 IP, 3 H, 0 R, 0 ER, 1 BB, 5 K, 1 WP, 6-4 GB/FB – 42 of 63 pitches were strikes (66.7%) … threw first pitch strikes to 13 of the 18 batters he faced … but he's already a bust, so why do I bother
The Arizona Fall League starts on Monday. Most of the various Caribbean winter leagues start their seasons in a week, except for the Puerto Rican League, which starts in November. So far the only Caribbean team to post its roster is the Caracas Lions of the Venezuelan Winter League. No Yankees on that squad; it's your typical mix of prospects and journeyman.
The other night I decided upon the catch-22 of playoff baseball: I dislike the Red Sox. So I can't root for them. As the night wore on, I couldn't decide, however, which team I disliked more: Do I dislike the Angels because they can't beat the Red Sox more than I dislike the Red Sox? In the end, probably not, but it sure would be nice for the Angels to win a game.
The last time the Angels defeated the Red Sox in the postseason was on October 11, 1986 when they took a 3-1 Championship Series lead. They've now lost a whopping 10 in a row in October to the Red Sox.
Red Sox Lineup
Ellsbury CF
Pedroia 2B
Ortiz DH
Youkilis 3B
Drew RF
Bay LF
Kotsay 1B
Varitek C
Cora SS
Matsuzaka P
Angels Lineup
Figgins 3B
Anderson LF
Teixeira 1B
Guerrero DH
Hunter CF
Rivera RF
Kendrick 2B
Mathis C
Aybar P
Santana P – It's interesting to see the Angels turn to Santana at home. He was 5-5 with a 4.02 ERA in Anaheim and 11-2 with a 3.02 ERA on the road
First pitch is set for 9:37 p.m.
These aren't your grandpa's Devil Rays anymore. There's something special brewin' on Florida's left coast.
Chicago
1. Orlando Cabrera, SS
2. Nick Swisher, LF
3. Jermaine Dye, RF
4. Paul Konerko, 1B
5. Jim Thome, DH
6. Alexei Ramirez, 2B
7. AJ Pierzynski, C
8. Juan Uribe, 3B
9. Brian Anderson, CF
– Mark Buehrle, SP (15-12, 3.79)
Tampa Bay
1. Akinori Iwamura, 2B
2. BJ Upton, CF
3. Carl Crawford, LF
4. Evan Longoria, 3B
5. Willy Aybar, 1B
6. Rocco Baldelli, DH
7. Dioner Navarro, C
8. Fernando Perez, RF
9. Jason Bartlett, SS
– Scott Kazmir, P (12-8, 3.49)
In an otherwise laughable column about the precarious state of the Yankees — does anyone really think the Dodgers would trade Matt Kemp for "the regressing Melky Cabrera and the unphenomenal phenom Ian Kennedy"? — Portfolio writer Franz Lidz drops something of a Mike Mussina bombshell on an unsuspecting fan base.
Relying an an anonymous official who works for one of the current playoff teams, Lidz reports:
Whether the New York Yankees resign Mike Mussina depends almost entirely on his wife, Jana.

The rejuvenated free agent—who, at 39, won 20 games for the first time in his 18-year career—wants to play next season in the new Yankee Stadium and possibly beyond, which would enable him to make a run at 300 career victories. (He's 30 shy).

But Jana has been adamant that he retire to life on their spread in tiny Montoursville, Pennsylvania, where the family compound is a half-dozen Ruthian clouts from the road and Mike can walk into Elery W. Nau Hardware on Broad Street without having to sign an autograph.
This nugget seems to contradict everything we've heard about Moose's talks about hanging it up. The beat writers all seem to think Moose wants to go out on his own terms and of his own volition. If his wife is involved in the decision — and that's certainly not an unreasonable or unacceptable proposition — the picture changes a bit.
The Yankees could really use Mike Mussina's presence in 2009 both on the field and in the clubhouse. If this report is true and accurate, perhaps they can work out a Roger Clemens-type agreement with Mussina that would allow him some leeway on days during which he isn't scheduled to pitch. For what it's worth, this injects a new element into an issue I had thought rested on the shoulders of Moose and only Moose.
By

Last year, in attempting to nab a press pass to see Phil Hughes pitch for the Trenton Thunder, I encountered Bill Cook, the team's director of public relations. I have to say, the man went above and beyond the call of duty by reserving me a seat in the press box. Today, Hugging Harold Reynolds sits down with Cook to discuss his experience working in sports. There are some good stories in there, including one in which the Thunder drew more fans to Waterfront Park while the team was away than the home team did. Check it out, and leave HHR some love. No, not that kind of love. · (0) ·
HWB Waikiki (11-2 in over West Oahu) you know, just typing the names of these teams makes me jealous … can you imagine being so lucky that you play baseball for a living AND get to play in paradise?
Damon Sublett: 2 for 4, 1 R, 1 2B, 4 RBI, 1 BB – like he never missed a game, eh?
Austin Romine: 2 for 3, 2 R, 1 RBI, 2 BB – gunned down a runner trying to steal second
Andrew Brackman takes the mound for his second start tonight at 7pm local time, 1am EDT. Remember that site that supposedly lets you watch/listen to these games? Turns out that was for the 2007 season. No wonder it didn't work, my bad yo.
The Arizona Fall League starts Monday. Here's the Javelinas' roster.
Update (1:05pm): Baseball America posted their top 20 International League prospects; Brett Gardner came in at number 19. Not enough innings for Melancon.
By

According to YanksBlog.com, Official RAB ESPN Writer Buster Olney thinks that the Yanks' 2009 payroll and $180 million are a good fit. The Yanks, says the ESPN scribe, plan to cut about $29 million from their lofty 2008 total. With so many holes and a few appealing free agents, I'll believe this one when I see it. · (55) ·
A theme we touched on frequently this season was the poor hitting of Robinson Cano. He started off slow in 2007, but picked it up to finish strong. This year, he had a similarly slow start, but didn't really pick it up the way he did in '07. He had a good May, followed by a mediocre June, a very good July, solid August, and a bad start to September, followed by a strong finish.
| | | | |
| --- | --- | --- | --- |
| April | .151 | .211 | .236 |
| May | .295 | .333 | .432 |
| June | .287 | .302 | .416 |
| July | .327 | .352 | .495 |
| August | .290 | .336 | .490 |
| September | .287 | .303 | .404 |
To further break down September, Cano hit .167/.167/.229 from September 1 through his benching on September 14-15. From the 16th on he went on a tear, hitting .413/.431/.587. The benching might have served as a wake up call, it might not have. We can't get in Cano's head, so we don't know for sure, but it sounds like it was part of it. The other part, of course, can be illustrated.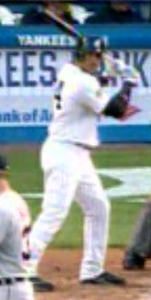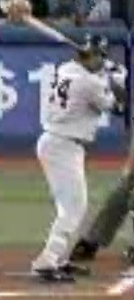 The one on the left is Cano's stance on April 29 (pardon the half-Kenny Rogers). The one on the right is at the end of September. That's quite a difference in stances. I'm figuring that had something to do with it, too. As Kevin Long said a few times this season, there were just too many moving parts in Cano's swing. Closing Cano's stance simplifies his swing, allowing him to make a more balanced strike at the ball.
So why wasn't this changed earlier in the season? It seems that's not Long's style. From Cano himself, in May of this year:
"He gives you a lot of confidence, and that's the best thing," Cano said. "He doesn't change your stance or anything. He'll tell you you're a good hitter, but he doesn't lie to you, either. If he thinks it's a bad pitch, it's a bad pitch."
This helps explain Long's reluctance to tinker with Cano. He said as much himself:
"You're reluctant to make those changes when he's had success," Long said. "He's pretty much got to (level) off before you overhaul somebody."
Long plans to join Cano in the Dominican Republic this winter to continue the refinement of this new approach.
Hopefully, he can get into the groove early in the season and silence critics before they can start up. It's clear that Cano is a top talent. He plays a premium position, and most of the time plays it well. If he can get his bat going to even 2007 levels, he'll be a staple in the lineup for years to come. If he can produce at 2006 levels, he'll be a perennial All-Star, and also win the batting crown that so many pundits have predicted.
In 2008, though, he was a disappointment. There were good times, but those were offset by horrible times. Things came to a head in September, and it looks like he turned things around. Then again, it looked like he turned things around in July, so who knows what this means for the future. At this point, though, I'm not sure the Yanks should shop Cano. His contract, his position, and his potential make him a valuable chip, but they also make him valuable to the team.