It is raining in Boston, and the start of today's game is yet again in doubt. When this party gets started, we'll be greeted with one final Sidney Ponson start, and I just can't figure out why.
On the season, Ponson is 8-5 with a 5.21 ERA. On the Yanks, he's 4-4 with a 6.20 ERA, and against the Red Sox, he's 0-2 and has allowed 11 earned runs in 8.2 innings. The Yanks are using Ponson because Andy Pettitte is out with a sore shoulder. But with two games left in the season, it's really disappointing to have to sit through another Ponson start. At least we can take solace in the fact that this will be Sir Sidney's final start for the Yankees.
The game, which counts for nothing and features a bunch of Minor Leaguers, is on FOX. I have no idea why FOX is wasting time with this game.
Gardner CF
Cano 2B
Giambi DH
A. Rodriguez 3B
Nady LF
I. Rodriguez C
Ransom SS
Miranda 1B
Cabrera RF
Ponson P
Pennant Race Notes: As the Mets and Marlins continue to battle it out, you can chat about that game here.
By

While we wait for today's Yanks' game that might end up washed out anyway, lets turn our attention to the boys in blue-and-orange across town for a few hours while they still have something to play for. It's simple: If the Mets lose OR the Phils win today, Philly wins the division. If the Brewers win today, they'll clinch at least a tie of the Wildcard. The Mets have to win there last two games to stand a chance.

It's already 1-0 Mets in the 4th, both Ricky Nolasco and teh Johan are dealin'. · (168) ·
By

The Yanks may have to look for a new Plan B. According to reports out of Toronto, the Blue Jays have offered to extend A.J. Burnett's current deal by two years and $30 million, bringing his contract to four years and $55 million. Burnett can probably get a bit more on the open market, but he's expressed his comfort with Toronto. While there's no doubt that CC Sabathia is the better pitcher, if the Yanks were to miss out on both Burnett and the Brewers' current ace, the off-season would start to look rather bleak. · (126) ·
By

After his first stint in the Bigs, Brett Gardner returned to AAA with little fanfare. While fast and solid in the outfield, he didn't do much hitting and looked like the consummate Quadruple-A player. This time around, the numbers tell a different tale. Since taking over the center field job a few weeks ago, Gardner is 13 for 40 (.325) with seven RBIs and four stolen bases. He's now doing what we expected him to do. While Gardner, as John Sickels noted this week, probably won't be more than good fourth outfielder, he's certainly making a case for himself this month. · (39) ·
The game lasted three hours and thirty eight minutes. The rain delays totaled two hours and eight minutes, and when it all ended, Michael Kay couldn't help but remind us of a game we all wanted to forget. In a score reminiscent of the Yanks' last good playoff game in the 2004 ALCS, some of the Yankees beat some of the Red Sox 19-8.
Anyone watching this game instead of the Presidential Debates — or, for that matter, anything else — did so out of love. The game featured two long rain delays, no regulars and a bunch of sloppy play. Six Yankees — Robinson Cano, Brett Gardner, Xavier Nady, Bobby Abreu, Cody Ransom and Wilson Betemit — had a multi-hit game, and everyone clicked as the Yanks clinched a better record than the NL Champion Dodgers.
In the milestone department, Bobby Abreu reached 100 RBIs yet again. While it's impressive that he is just one of three active players to accomplish this feat six years in a row, that also speaks volumes about the players hitting in front of him. If you had Johnny Damon and Derek Jeter or Jimmy Rollins and Chase Utley hitting ahead of you, you too would drive in 100 runs every year. Abreu, by dint of that magic 100 number, will land another big contract. Whether he's worth it, at age 35, is a question best left to, well, next week.
On the other side of the ball, anyone already inking Al Aceves into the rotation last year probably paused after this game. Pitching in conditions far from ideal, Aceves allowed nine baserunners in four innings, and the Sox plated four against him. Phil Coke, David Robertson and an ineffective Chris Brittain closed it out after the rains came.
Meanwhile, elsewhere in the Majors, the games proved more compelling. The Brewers defeated the Cubs, the Phillies topped the Nationals and the Mets lost to the Marlins. Were the season to end today, the Mets would not be in the playoffs. They'll now turn to Johan Santana pitching on three days' rest for the first time in his regular season career.
In the AL, the White Sox lost, and the Twins lost. Apparently, no one wants to win the AL Central. So with these compelling pennant races, tomorrow's meaningless Yankees-Red Sox game between the AL East's third place team and the Wild Card winner, between Sidney Ponson and Daisuke Matsuzaka, will be broadcast nationall on FOX at 3:55 p.m. That makes so little sense, and yet again, FOX shows why they shouldn't hold an exclusive baseball contract.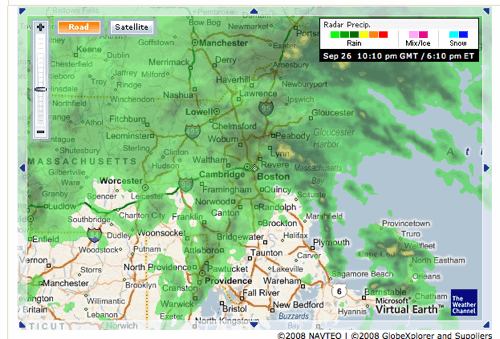 The forecast isn't brilliant for the Boston area this weekend. As you can see by the radar, at 6:15 p.m., the entire area is blanketed in different shades of green, and the rain isn't expected to let up for a few days.
So here's your obligatory game thread. If the game gets called, just turn it into an open thread. Anything goes here.
Damon LF
Jeter SS
Abreu RF
Rodriguez 3B
Giambi 1B
Nady DH
Cano 2B
Moeller C
Gardner CF
Aceves P
Lasting Yankee Stadium Memory: My contribution to Alex Belth's Lasting Yankee Stadium Memory series is up on the Banter. Stop and by and check it out.
By



I, for one, am all about the bunting concierge service. · (8) ·
By

PeteAbe's got the word. It seems likely that The Hammer of God will need his shoulder scoped to clean out some bone spurs, and the Yanks are just doing their due diligence by getting another doc on the case. Assuming it's nothing more serious than this, Mo will be ready go to next spring.

Oh, and please stop it Girardi. Giving misleading information about injuries doesn't make them go away. Grow up and tell the truth like you were taught as a child. [/rant] · (14) ·
By

Not in the big leagues, in Hawaii. Baseball America has the story. The Yanks' 2007 first rounder still hasn't thrown a pitch in a game thanks to Tommy John surgery and an appendectomy, but his undeniable talent is worth the wait. Game time is 7pm local, so unless my math is wrong, that's 1am Sunday on the east coast. Regardless, it's exciting to see him finally get going. · (22) ·
By

The Yanks hold a $20 million option or a $5 million buy-out on Jason Giambi's contract. While the team will, in all likelihood, not exercise that option, Giambi says he would like to return to the Yanks. I'm on the fence here. The Yanks need the 134 OPS+ Giambi brings to the table, and he's certainly a much better option than Hideki Matsui at this point. But they need a better first baseman, and the team really needs to get younger. For the right price, I'd bring him back but not at the expense of any other potential moves to improve the team. · (22) ·