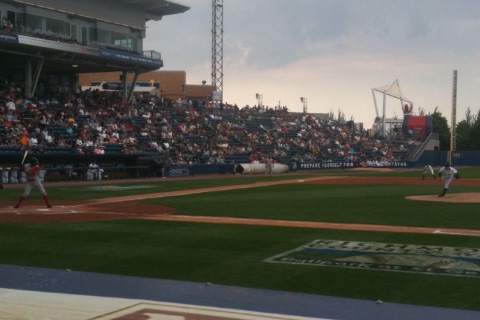 First of all, make sure you scroll down for tonight's game thread.
Secondly, I forgot to include that in yesterday's DotF, but that's a shot of Mikey O'Brien delivering a pitch during his utterly dominant start for the Staten Island Yanks on Sunday. Thanks to commenter alex k. for the pic. As you can see, O'Brien's not a big guy. Listed at just 5-foot-11, 185 lbs.
In other news, Marcus Thames is with Triple-A Scranton, presumably because he'll be starting a rehab assignment soon.
Triple-A Scranton (3-1 loss to Pawtucket)
Justin Christian, LF, Reid Gorecki, RF, Eduardo Nunez, SS & Jesus Montero, C: all 0 for 4 – Christian drew a walk … Gorecki & Nunez each K'ed twice, Montero once
Jorge Vazquez, 1B: 2 for 4, 1 R, 1 2B, 1 HR, 1 RBI, 2 K E (fielding) – three doubles & a homer in his last three games
P.J. Pilittere, DH: 2 for 4, 1 K
Eric Bruntlett, 3B: 0 for 3, 1 BB, 2 K – 0 for 21 since joining the organization
Reegie Corona, 2B: 3 for 4 – seven for his last ten
Greg Golson, CF: 0 for 3, 1 BB, 1 K, 1
Zach McAllister: 7 IP, 5 H, 3 R, 3 ER, 2 BB, 1 K, 9-9 GB/FB – 62 of 91 pitches were strikes (68.1%) … longest outing in exactly one month
Mark Melancon: 2 IP, 0 H, 0 R, 0 ER, 2 BB, 4 K, 1-1 GB/FB – 21 of his 35 pitches were strikes (60%) … good to see him coming out of that rut