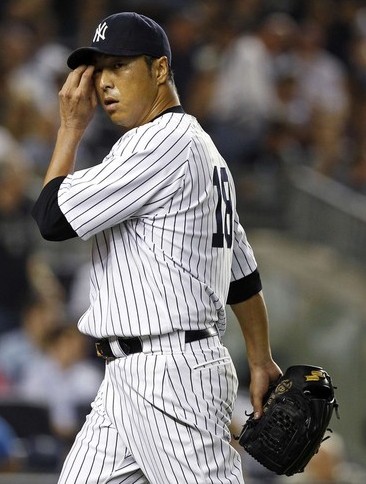 When Hiroki Kuroda struck out Andrelton Simmons to record his 18th out last night, it marked the 19th consecutive start in which the Yankees received at least six innings from their starter. It's their longest such streak since way back in 1981, when Ron Guidry was in his prime and Dave Righetti was still trying to cut his teeth in the show. Even though the offense has averaged 5.16 runs per game during this 20-5 stretch, it's been the pitching that has stolen the show.
Bulk innings are nice, but these are quality innings the Yankees have gotten from their starters. The rotation has pitched to a 2.82 ERA with a 3.23 FIP and a 3.85 K/BB during these 25 games and you can take it back even further than that. Prior to Andy Pettitte's return on May 13, the rotation owned a 4.78 ERA (4.33 FIP) with an average of 5.77 innings per start in 33 games. In the 34 games since Andy rejoined the rotation, they've pitched to a 3.41 ERA (3.74 FIP) while boosting their innings per start average up to 6.76. That's a night-and-day difference, it's massive.
Pettitte's arrival makes for a neat and fan-friendly narrative — ol' reliable Andy came back to help right the ship — but it goes well beyond him. Getting Freddy Garcia and David Phelps — the last starter to complete fewer than five innings, 34 games ago — out of the rotation was a major step in the right direction. Ivan Nova got back to getting his fastball down in the zone and stopped giving up extra-base hits like he was pitching in the late-1990s. Phil Hughes did a complete 180° with his performance and Hiroki Kuroda made whatever adjustment he needed to make. This was a staff-wide turnaround.
Maybe having Pettitte in the clubhouse did make a tangible difference. Maybe he was so much of a positive influence that Nova and Hughes turned their seasons around and that Kuroda no longer felt the need to be perfect, who knows. I'm inclined to say it was just a matter of some really good pitchers shaking off a poor stretch and getting back to being themselves*. I highly doubt the staff will maintain a sub-3.00 ERA going forward, but the rotation has become a strength and that's exactly what we expected when Spring Training opened.
* For Nova and Kuroda, definitely. For Hughes … not so much. I had absolutely zero faith in him a few weeks ago.