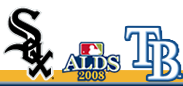 After fending off the Indians, Tigers, and Twins in three consecutive days to make the playoffs, the White Sox face off against the Rays, who are coming off a 97-win season, or the most wins in franchise history by 27. You have to admire Chicago's entrance. To beat three different teams in three straight days is quite an accomplishment. Then again, none of that would have been necessary had they not been swept by the Twins a week ago.
On the pitching end, former Yanks Javy Vazquez goes for the Sox. He didn't have a great year, posting a 4.67 ERA in 208.1 innings. He did strike out 200, though, while walking 71. His WHIP was 1.32, which is his highest mark since 2000. James Shields gets the call for the Rays. He tossed 215 innings this year to the tune of a 3.56 ERA. He's not a strikeout artist, but his 4:1 K/BB ratio (on the nose) makes him a formidable starter.
The game starts at 2:30, so right about nowish. If you're looking for a more Yankee-centered discussion, check out the last post on the Matt Holliday rumors.
Lineups:
Chicago
1. Orlando Cabrera, SS
2. Dewayne Wise, LF
3. Jermaine Dye, RF
4. Jim Thome, DH
5. Paul Konerko, 1B
6. Ken Griffey Jr., CF
7. Alexei Ramirez, 2B
8. A.J. Pierzynski, C
9. Juan Uribe, SS — yeah, I dyed me goatee, too — when I was 17
Tampa Bay
1. Akinori Iwamura, 2B
2. Bossman Junior Upton, CF
3. Carlos Pena, 1B
4. Evan Longoria, 3B
5. Carl Crawford, LF
6. Cliff Floyd, DH
7. Dioner Navarro, C
8. Gabe Gross, RF
9. Jason Bartlett, SS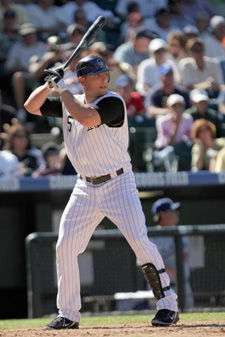 We're starting to hear the whispers now, but as we approach the end of the season and gear up for the Winter Meetings, Matt Holliday is a name we'll hear often. Perhaps there won't be a Santana-esque situation surrounding the left fielder, but it will certainly garner considerable attention. The Rockies might want to sell Holliday, who will make $13.5 million in 2009 before reaching free agency, while they can still get something for him, rather than just take the two draft picks.
Last year, we saw the Twins pretty desperate to unload Santana before the start of Spring Training. While he denied everything, rumors swirled that the lefty ace would deny any possible mid-season trade. Holliday has no such leverage. If the Rockies don't get a huge offer in the off-season, they could hold onto Holliday in hopes of dealing him in July. We saw some decent bounties for mid-season trades this year, and the Rockies surely know that. Plus, hanging onto Holliday gives them their best chance of competing in 2009.
Troy E. Renck of the Denver Post comments on the situation today. He leads with the Boston-Anaheim series, noting that both might be contenders for Holliday. Why the Sox would be mentioned, I don't know, since they have their corner outfielders in place for 2009: Jason Bay and J.D. Drew. Renck notes that if Bay flops in the playoffs they could look to trade him for Holliday, but that's something I just don't envision. Plus, with his bomb of a homer last night, it might be a moot point anyway. Yet even if he flops, I'm 99.9 percent sure that Theo wouldn't go trading Bay, due $7.5 million next year before reaching free agency, and someone like Clay Buchholz for Holliday. Doesn't make much sense at all.
Renck brings the Yankees into the fold, mentioning speculation of a Hughes/Cano for Holliday swap. We've heard this before, and again I'll note that it doesn't make much sense. If Cano returns to even his 2006 levels he could be more valuable than Holliday. This is considering his position, which is at more of a premium than Holliday's, his age, and his contract. To add Hughes to that deal, who will be under team control for quite some time to come, doesn't make sense at all. Why trade two cost-controlled players for a guy with one year to go until free agency?
What troubles me about Holliday is that many are basing their desire for him on his stellar 2007 campaign, when he put up a line of .340/.405/.607. Anyone would want that kind of production, of course. Yet his home/road splits that year were quite pronounced: 1.157 OPS at home vs. .860 on the road. He improved his road OPS in 2008, .896, but as expected fell off at home, .963. So it's not that he can't hit on the road. Rather, it's that his home numbers have been the cause of much of the hype surrounding him.
While I wouldn't be opposed to adding Holliday, it doesn't seem the price will be right this winter. By adding him, you're subtracting your starting second baseman and a potential part of your rotation. You're also adding a ton of payroll, both by presumably signing Holliday to an extension (which is no guarantee with Boras at the helm) and by going after Orlando Hudson to replace Cano. As down as some are on Cano and Hughes, I just can't see anyone really justifying such a swap.
HWB Waikiki (9-6 loss to West Oahu)
Damon Sublett: 1 for 2, 1 2B, 1 K – first game action since getting hurt on May 29th … I'm still not quite sure what exactly the injury was, I've heard everything from torn knee ligaments to a broken ankle to a broken wrist, so who really knows … the general consensus seems to be that he suffered the injury while sliding into a bag, so all of the injuries would fit that scenario
No Yankees' farmhands played in Tuesday night's game, which Waikiki loss 12-3. Considering they have the most talented team in the league (on paper), it's got to be disappointing that the Beach Boys are 0-4 and have been outscored 36-15. Andrew Brackman will take the bump for his second start either tonight or tomorrow, depends on what they do with the off day earlier this week.
Oh, and how cool is this? MLB.com now has a page for each ML club that gives stats for all their minor leaguers playing winter ball. It's about time they put something like this together, no more digging around to find guys hidden away in obscure Caribbean leagues. Just awesome.
The Arizona Fall League starts next Monday.
By

The Yankees and the City of New York — the actual owners of Yankee Stadium — have yet to announce their plans to sell off everything of any value in the House that Ruth Built. However, as Shazia Kahn at NY1 reported today, the Yankee sell off is bound to be very expensive. Personally, I'd like to buy a seat or two, but if the going rate for a pair of Shea seats is $869, I can only imagine what the Yanks will charge. · (13) ·
As part of our continuing effort to run a post mortem on the Yankees' season, we're looking at what went wrong. Earlier this week, we looked at Andy Pettitte's poor second half and the lack of production out of the catcher's spot. Today we turn to a subject near and dear to our hearts.
Last winter as the Yanks did or did not make an offer for Johan Santana — the official record on that remains a little hazy — we staked a lot on the concept of the Big Three. We were vehemently opposed to included both Ian Kennedy and Phil Hughes in the same deal, and we even sold t-shirts.
Needless to say, that didn't quite work out.
On the season, Phil Hughes and Ian Kennedy made 18 appearances for the Yankees, and most people would prefer to forget 16 of those outings. Overall, the pair went 0-8 with a combined 7.45 ERA in just 73.2 innings. They allowed 93 hits and walked 41 while striking out just 50. After a promising end to 2007, these two did not deliver as anyone expected.
Had Hughes and Kennedy turned in at least average performance — 25-30 starts with ERAs under 4.75 — the Yanks would never have needed Darrell Rasner and Sidney Ponson. They probably would have won a few more games, and the team wouldn't have ended up six games out of a playoff spot.
Of course, it's not really fair to lump these two pitchers in together. Right now, one still has standing within the organization while the other is in limbo and could very well be moved this off-season. Phil Hughes lost his season to a rib injury. He cracked his rib due to a repetitive motion stress and was on the shelf from May through August. When he finally arrived back in the Bronx, he made two very promising starts, and at 22, he remains a big player in the Yanks' plans going forward.
Ian Kennedy is a different story. Showing a mix of brash cockiness, confidence and arrogance, Kennedy just couldn't get outs at the Major League level. He was sent down to AAA twice this year and recalled twice. Each time he came back to the Bronx, he was worse than before. The Yankees don't seem to mention him too often in their plans for 2009, and he'll really have to earn a trip back to the Bronx.
But while Kennedy's stock in the eyes of the fans has fallen, he still has value to the team. The Yanks could include him a trade. He would still fetch a pretty penny, and the Yanks would probably part with him if the price were right. The team could also recognize that young pitchers can take a few years to mature at the Major League level. Kennedy has ran his way through AAA in a way that suggests he's not being challenged. In the Majors, this year, he looked overmatched, but that's hardly indicative of future successes or failures.
In the end, the Yankees weren't bargaining on a Hughes' injury and Ian Kennedy's inability to get outs. They could have sustained either one if the other had stayed healthy and effective, but they couldn't overcome both. It ended up costing them greatly, but we — and the team — will stand behind them. This year may have been a lost year for them, but the slate will be wiped clean in 2009. Next year, you can be though that the Yanks will have a better back-up plan.
By

Me? I really don't care, but it would be nice to see the Sawx lose in heartbreaking fashion. Beggars can't be choosers, I'm rooting for a good baseball game more than anything. John Lackey (12-5, 3.75) takes on Jon Lester (16-6, 3.21), first pitch scheduled for 10pm EDT. · (223) ·
By

The last time Joe Torre and Lou Piniella met in the postseason, Sweet Lou guaranteed a six-game series while the 2001 Yankees dispatched the 116-win Mariners in five. Piniella again has the superior team, record-wise, and Joe Torre is attempting to regain some of the playoff mojo that has deserted him over the past few years. Game time is at 6:30 p.m., and free agent-to-be Ryan Dempster (17-6, 2.96) will face free agent-to-be Derek Lowe (14-11, 3.24). · (140) ·
When Andrew Brackman may his professional debut last week, things didn't go quite exactly as planned. The lanky righthander lasted just 2.1 innings and gave up six earned runs on seven hits and two walks. The three strike outs were the only encouraging thing about his start, the first he's made since Tommy John surgery.
Of course, as is custom in Yankee Universe these days, a few fans flipped out at this turn of events. Some went so far as to call Andrew Brackman a bust based on the seven outs he recorded in late September in Hawaii. Other writers questioned, yet again, Brian Cashman's suspect (to them) choice of Brackman. Did the Yankees waste their first-round pick, these pessimistic commentators wondered?
The answer is a rather qualified "of course not." It is entirely unreasonable to assume that a young, unpolished pitcher making his first start in 18 months would have his best stuff. It's also entirely unreasonable to write off Brackman based on one start.
But — and this is a but too far away for it to be valid — if Brackman doesn't pan out, no one should be surprised. When the Yankees drafted Andrew Brackman in the first round of the 2007 amateur draft, Brackman became the 30th pick of the draft. History is littered with failed 30th picks. In fact, of the 44 30th picks in history, just one of them is a Hall of Famer, and few others had long Major League careers.
As Baseball Reference's handy draft database shows us, 30th picks are largely forgettable. Anyone remember Chance Caple, Matt Burch or Eric Hurley? Nick Bierbrodt certainly did wow anyone in his short Major League career.
Of the 30th picks, then, clearly the most successful was Mike Schmidt. He was the sixth pick in the second round of the 1971 draft, just the seventh amateur draft in history. Of the other 30th picks, Chris Sabo, Travis Fryman, Brian Jordan and David Wells had long and somewhat fruitful careers. In recent years, only Noah Lowry and Jack Cust have become regulars out of the 30th pick, and Cust didn't earn a starting job until he landed on his fifth team in 2007, a full decade after he was originally drafted.
So what, then, are the lessons we can take away from the not-so-stellar pedigree of the 30th draft pick? Well, for one, we shouldn't place undue expectations on Mr. Brackman. He may have been a first round pick, but beyond the top spots of the draft, in baseball, that's a largely meaningless distinction. Some 62-round selections have Hall of Fame careers; some number one picks fizzle out. Being a first-round pick doesn't guarantee any modicum of success.
It also means that we can't accuse the Yankees of wasting a first-round pick. The team opted for the best talent they thought was available at the 30-pick level. If that talent doesn't pan out, Brackman won't be alone among the ranks of fellow draftees. In fact, if he succeeds, he'll join a rather elite group of 30-pick players who had productive careers.
Finally, this hype is also a warning about the power of the Internet. Prior to a few years ago, most baseball fans would be hard-pressed to name their favorite teams' draft picks. Today, with Minor League stats readily available and draft previews landing nearly a year ahead of time, fans know more about the draft picks than ever before. But still the can't-miss guys miss, and the obscure players strike it big. You just never know which player selected late in the draft will be a big star. Courting disappointment and proclaiming draft picks "wasted" is meaningless.
By

Play offs? You wanna talk about play offs? Well, then, do it here. Many of us will be watching the games over the next few weeks, and we all like to talk baseball. This here thread is for game 1 of the Phillies-Brewers NLDS. Yovani Gallardo, 0-0, 1.88, faces off against Cole Hamles, 14-10, 3.09. I'm pulling for the Phillies here. · (77) ·
By

Longtime RAB reader Jamal G. sends along this email:

Just listening in on WFAN, and Brian Cashman said Joba Chamberlain will be a starter for the entire 2009 season. So far, he says that CMW and Joba are the only pitchers guaranteed spots in the Major League rotation.

Booya. Cashman's a genius.

Update: Here's the link to the interview. · (66) ·