By

In a typical fact-less anti-A-Rod column, Fox Sports' Ian O'Connor writes about the uneasy marriage between the Yankees and their expensive third baseman. O'Connor doesn't think that A-Rod will make it through his contract as a Yankee and anticipates the team's trading him within five years. My only questions are thus: Why would the Yankees ever trade A-Rod to a team that would be in a position to compete against them? How would the Yanks replace A-Rod's bat? A-Rod might not be the most beloved Yankee ever, but the two of them can't really exist without each other anymore. · (58) ·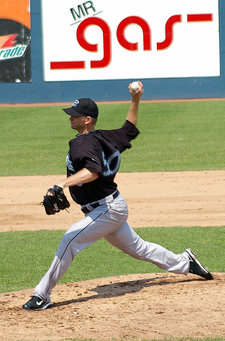 A topic we've hotly debated in the comments over the past few months is A.J. Burnett. He's eligible to opt out of the five-year, $55 million deal he signed after the 2005 season, and most people think he will. After he made his final start of the 2008 season last night, many Blue Jays bloggers bid him adieu, admitting that the chances of his return are slim. The Jays are rumored to be negotiating an extension, but at this point, this close to free agency, it's not probable.
It's not difficult to concoct an argument against signing Burnett. He'll be 32 for the start of the 2009 season, and will likely require a four- or five-year contract with an average annual value of around $15 million, possibly more. That's quite a risk to take on a guy who has just three 200-inning seasons in his career — and followed two of them up with injury-shortened campaigns. In short, taking on Burnett would be a considerable risk.
When he's on, though, he's nearly unhittable. Even with his ERA north of 4.00 this season (though just barely), he's still struck out 231 in 221 innings, walking 86 in that time. His 19 home runs is quite low, too.
One case I've heard for signing him is that he's a Yankee killer, so it makes sense to have him pitching for us instead of against us. He does, after all, hold a career 2.43 ERA against the Yankees in 77.2 innings of work. That alone, though, isn't good enough a reason to ink him. Yeah, he might hurt us if he's pitching for another AL team, though that damage is far lessened by just getting him out of the A.L. East.
You know what other team he's succeeded against? Yep. The Red Sox. In 56.1 career innings against Boston, he's pitched to a 2.56 ERA, including a 2.60 mark over 27.2 innings this year. In four starts, two of them in Fenway, he allowed just two homers, striking out 24 and walking 13. They hit a paltry .206 against him this year, and have managed just a .212 average over his career.
Does this mean that we should sign Burnett? Hardly. It does provide another point for the team to consider, though. Not only does he pitch well against them, but he pitches well against the Sox — and wasn't too shabby against the Rays this year, striking out 26 to 8 walks in 20 innings (3.15 ERA). Which, of course, makes me wonder if the Red Sox will be in on him. While I'm open to the idea of Burnett, I'm not too keen on a bidding war over him. I hope the Yanks front office isn't, either.
Image from flickr user Larry Coor under a Creative Commons license.
If you've read books like Wikinomics and The Starfish and the Spider, you know that Lego has done much over the past few years to encourage their building community. One Lego artist has decided to pay tribute to the House that Ruth Built by recreating it with plastic bricks. Sean Kenney details the experience at his Lego artist website.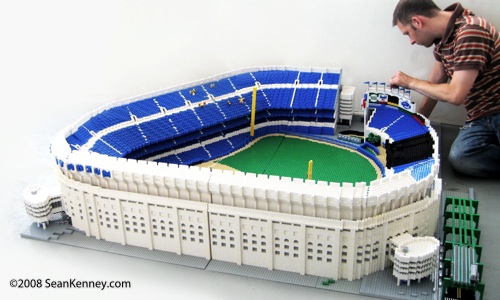 The model is five feet by five feet, rendering it at a scale of 1:150. With the help of a Manhattan gradeschooler, Kenney has snapped 45,000 bricks in place. The model should be completed within the next few months. They've been working on it since February 2006.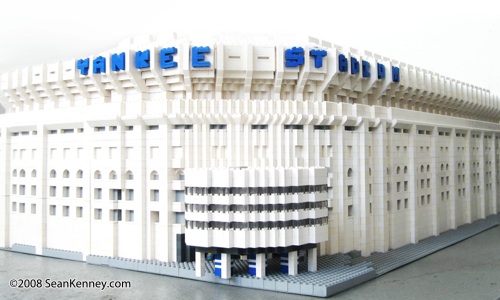 Once again, you can check out Sean Kenney's Lego artist website to check out even more photos, plus check out the other things he's building. I was a huge Lego fan as a kid, so looking through his portfolio was rather neat.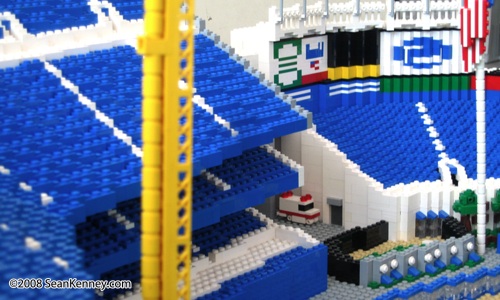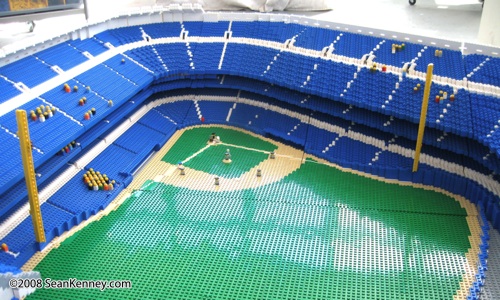 Thanks to Swarna for sending this in.
The Yankees find themselves in a rather odd position right now. They've won seven in a row and 10 out of their last 11 contests. They have the fourth best record in the AL and are tied with the Mets and Brewers for seventh best overall in baseball. Yet, they're heading home in four days, and I find myself thinking that, maybe, perhaps this would have been easier had the team now gotten so hot in September.
Right now, the Yankees are the hottest team in baseball. Over their 10-1 stretch, they're pitching to an ERA of 2.52, and opponents are hitting about as well as Melky Cabrera against them. While they're scoring 5.4 runs per game, that is decidedly better than their season pace of 4.8 runs per game. Where has this team been all year?
What the Yanks have done over the last two weeks is tease their fans. They've turned it up a notch when it was too late in the season for them to control their own destiny. We've seen Mike Mussina reach 19 wins for the first time in 12 years; we saw Phil Hughes throw eight innings in a start for the first time in his Big League career; we've seen the bullpen throw lights out ball; and we've seen the Yanks pick up that big hit — as Bobby Abreu did last night — when they absolutely needed it.
Just in case you've forgotten, none of that had happened earlier in the year. Phil Hughes in April was 0-4 with a 9.00 ERA. No one was getting hits at the right time, and the Yanks couldn't buy runs if they tried.
This run has certainly made for a fun September, but it's made for a forlorn month as well. It's made for a month of what if's. What if the Yanks had played like this not just in September but in April, May and June? What if the Yanks had won just five or six more games earlier this year? Baseball has always been a game of what if's, but for some reason, with the recent Yankee resurgence, this year seems to hurt more than the playoff losses from years gone by.
I guess we'll just have to do what the old Brooklyn Dodger fans long did. We'll wait 'til next year, and we'll get 'em then.
By

Andy Pettitte's 2008 season went out in style; he won the final regular season game at Yankee Stadium. Now, as Pettitte deals with shoulder tendinitis, the Yanks have shut him down for the season, and the rumblings about his career have started up again. Pettitte will play in 2009 for either the Yankees or no one. While I'm not sold on the idea, the team seems willing to have him back. The proverbial ball is in Andy's court. If he wants to pitch, the Yanks will have him; if he wants to hang it up, he'll have gone out with a win in the final game at the House that Ruth Built. That's not a bad way to go. · (56) ·
A night after officially exiting the AL playoff race, the Yankees got a parting gift. Phil Hughes, who hadn't pitched what you'd call a good game since April 3, bookended his season with a stellar start. He used 100 pitches to get through eight innings, an impressive 71 of which were strikes. The five hits he surrendered resulted in only two runs, as he helped himself by striking out six and walking none. This was the Phil Hughes we had hoped for.
His best innings were the third, when he disposed of the Jays with nine pitches, and the eighth inning, when he did it with eight. He wasn't exactly facing world beaters, but you gotta get the job done with those guys. In total, he had four 1-2-3 innings, and never had more than one runner on base at a time.
Leadoff doubles are killer, and Hughes paid the price for it in the first. With Joe Inglett on second and no one out, Marco Scutaro grounded out to second and Alex Rios hit a fly ball to left field, plating Toronto's first run. Hughes faced the same situation in the fourth when Alex Rios doubled to lead off, but worked out of it by retiring the next three Blue Jays.
His only other blemish came when he hung a curve to Scott Rolen in the bottom of the seventh. That's what cost him the win, though he certainly deserved it. Problem is, A.J. Burnett did, too. In the end, neither put a tally in the win column. That honor belonged to Jose Veras, who used just ten pitches to record a strike out, a fly out, and a ground out en route to a perfect ninth. Sidney Ponson, in what I guess was a tune-up for Saturday, set down the Jays 1-2-3 in the ninth.
Tonight, Hughes proved what we all know: the kid's good. What we don't know is if he can always be this good. It might take some more time before we know for sure. Do the Yankees have the patience? I suppose the answer to that question rides heavily on how the General Manager situation plays out. You know how we at RAB feel, of course.
Much thanks to Bobby Abreu and his 10th-inning grand slam. I'm glad we weren't tortured by the baseball gods with an extra-innings marathon in a meaningless game. Further thanks to Xavier Nady for proving that yeah, you can drive in runs off A.J. Burnett. Oh, and to Marco Scutaro, for throwing to first for some unbeknownst reason.
This puts the Yanks four games ahead of the Jays with four to play. They're currently 9-8 on the season against them. I'm not saying finishing in third place is good. I'm just saying I don't want to finish fourth.
It's been a while since Phil Hughes knocked down a W in the Majors. In fact, his last Big League win came on September. 27, 2007 when he and the Yanks downed the Tampa Bay Devil Rays 3-1. Tonight, in his final start of the year, Hughes will aim for his first win of the season.
Of course, it won't come easy. Hughes is going up against Yankee-killer A.J. Burnett. On the season, Burnett is 18-10 with a 4.18 ERA, but against the Yanks, he's 3-1 with a 1.78 ERA in 30.1 innings. In a way, this is an important start for Burnett because, with an opt-out clause, he can become a free agent this year. The Yanks are sure to be potential suitors for the power-throwing right hander who has just reached a career high in innings pitched.
But Burnett may not be all that the Yanks have seen this year. He's long struggled with his health, and against teams that aren't the Yankees, he's 15-9 with a 4.64 ERA in 180.2 innings this year. Those are fine numbers, but they're hardly worth the money and years Burnett will be seeking on the open market. Caveat emptor.
The Yanks aren't doing much to help out Hughes earn that win. They're tossing out the Spring Training lineup. That's what happens when the team gets eliminated from the playoffs.
Gardner CF
Cano 2B
Abreu RF
Nady LF
Giambi DH
Betemit 3B
Ransom SS
Miranda 1B
Moeller C
Hughes P
Notes: Word out of Yankee camp is that Andy Pettitte will not make his final start of the season on Saturday. In his stead, the team will throw Sidney Ponson. Couldn't they have found someone else to make that start? Phil Coke? Ian Kennedy? Joba Chamberlain? The Yanks have practically guaranteed no reason to watch Saturday's game.
By

Now, why on Earth would we be talking about a State Senator from the Great State of Wyoming on a Yankee blog? Well, he caught himself the last home run ball at Yankee Stadium and doesn't seem so willing to give it back. Perhaps we should all write to Steve Harshman and tell him to do the right thing. That ball belongs in New York with the Yankees and not in some safety deposit box in Wyoming. · (36) ·
Sweet Lou back with the Yankees?

If he can throw it for strikes, it's all good. He'll also have time to work on it in the AzFL.

"If they're not going to talk about my attitude, or incidents, then they're going to talk about my health." That's what happens, Milton, when you're freaking hurt all the time.

Jason Giambi

back with the Yankees? I don't dislike the guy, but isn't it time to part ways?
By

Baseball America's look into each league's top 20 prospects hit the South Atlantic League today, and disappointingly (is that a word?) only two Yanks' prospects made the list: Jesus Montero & Austin Romine at numbers 7 and 8, respectively. No Betances is surprising, but what can you do. The Florida State and Eastern Leagues will be posted next Monday and Tuesday, · (13) ·