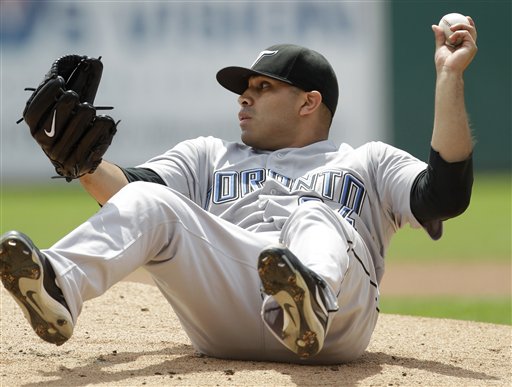 The Yankees fell into a tie for first place in the AL East last night for the first time since June 19th. They haven't been a full game out of first since June 12th, but that could happen tonight if they don't beat the Blue Jays and Ricky Romero and Tampa takes care of business against the Twins.
Romero, a changeup specialist (+1.39 runs above average per 100 thrown this year), has a reverse split this season. Lefties are hitting .267/.327/.404 off him, righties just .247/.325/.342, which is what you expect. Changeups are used to neutralize batters of the opposite hand, after all. So, naturally, Joe Girardi blindly loaded tonight's lineup with righty batters, probably looking no further than what arm Romero throws with when setting the order. Danks Theory, baby. Learn it, love it, use it.
I haven't complained about the lineup in the while. That felt good, I needed that. Anyway, here's the order…
Jeter, SS
Swisher, RF
Teixeira, 1B
A-Rod, 3B
Cano, 2B
Thames, DH
Kearns, LF
Cervelli, C
Gardner, CF
And on the bump, it's the immortal Dustin Moseley.
The game starts just after 7pm ET and can be seen on YES. It's kinda overcast here in the Tri-State, but it's not supposed to rain or anything. Try to enjoy the game.