I am an unabashed Robinson Cano fan. I've always enjoyed watching him play the game. I love the enthusiasm and energy he brings to the team, and when he's on, he's as good a pure hitter as just about anyone in the game. I think he could be the second baseman on the Yanks for the next decade.
The Yankees may have other ideas in mind. According to Jon Heyman, the Yanks are open to moving Cano:
There's more talk lately that the Yankees may consider trading Robinson Cano. The main reason apparently isn't that he recently earned a benching for failing to hustle, but more because he has tremendous trade value despite his off-year and the Yankees have multiple needs. The Dodgers, managed by Cano's first manager, Joe Torre, are said to be interested. The New York Post mentioned that possibility last offseason, well before Cano's terrible year.
If the Yanks move Cano, Heyman speculates, they could go after Orlando Hudson. The current Diamondback will be a free agent this winter and will be turning 31 in December.
Now, off the bat, I won't hold it against the Yanks if they opt to shop Cano. It never hurts to ask other teams what they would give up for some of the blue chippers in the system. But I'd be very hesitant to pull the trigger on a deal. This season, aside, Robinson Cano is an anchor around which the Yanks could construct a team, and the Yanks better make sure they get something really good in return.
But there's another aspect of this move to consider as well. The man who would replace Cano will have a tough job. True, Robinson Cano in 2008 is very replaceable, but if he regains his 2005-2007 form — and there's no reason to think he won't — Orlando Hudson can't come close to Cano.
Despite Sidney Ponson's and Darrell Rasner's presences on this team, the Yankees' biggest problem this year isn't pitching; it's their offense. Plus, they can easily fill their pitching holes via free agency this year. Whatever Cano gets them has to address either their first base situation, their outfield situation or, potentially, their catching situation. But then they'd have to find someone who can fill second base and replace the offense Cano could provide. I just don't think it's worth it to fill a hole by creating another at the Big League level. I have nothing against trading the kids in the right deal, but the offer would have to blow me away if I were to move Cano.
By

In this week's Ask BA, Jim Callis answered a rather fun question: if the 2006 draft was held again, who would be the top picks? Taken 41st overall that year, Joba would jump up to #3 overall behind Timmy and Evan Longoria. The actual top three picks that year were Luke Hochevar, Greg Reynolds and Longoria. Woo hoo.

Everyone bashed the 2006 draft because it appeared to be a shallow talent pool, but looking back on it … man, there were some premium power arms available in that class. Timmy, Joba, Max Scherzer, Clayton Kershaw, Brandon Morrow, Brett Anderson, that's quality right there. Then there's guys like Travis Snider and Lars Anderson. Goes to show that no matter how crappy a draft class may look, there's always talent available. You just need to be able to identify it. · (16) ·
Last month, we reported that the Yanks and Indians would be opening the new Yankee Stadium on April 16. Today the Yankees released their preliminary scheduled and confirmed this early report. So mark your calendars for that third Thursday in April.
For the most part, these 2009 schedules — available here — contain few surprises. After numerous snowed out and rained out early April games, the season doesn't start until April 6. The Yankees' first game in Baltimore, and it is the first of four home openers of which the Yanks will partake in the season's first ten games. They also help open Kansas City's home season on Friday, April 10 and the Rays' home season on Monday, April 13.
Otherwise, there are few surprises. The Yanks draw the Phillies, Mets and Nationals at home for interleague play and will travel to CitiField, Miami and Atlanta at which point Chien-Ming Wang will hopefully not attempt to run the bases. Boston will make its first appearance in the new stadium on May 5 when they drop in for a two-game set. They don't return until August, and the Yanks play 10 games against the Red Sox over the last 8.5 weeks of the season.
Now that we know when the games are, I wonder if anyone will be able to get tickets. I guess we'll find out later this winter.
By

A reader wrote this morning to say that he has two tickets to tonight's game: "4th row uppderdeck in section bx670. Row B seat 21/22. They are solid seats for upper deck in fair ground of lf." The pair is going for $100, which is a great price for Stadium tickets these days. You'll have to be able to meet this gentleman in Midtown on Madison Ave. at some point today for the exchange. Please, only serious replies to this thread. First one to leave a valid email address in the email field of the comments gets hooked up. · (7) ·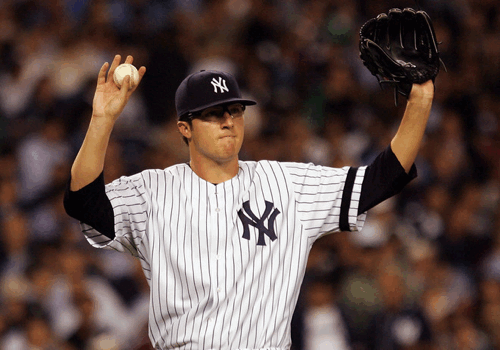 Chicks dig the specs. (Photo via Getty Images)
I'm not going to blindly praise Phil Hughes for his start tonight. Everyone watching the game saw flashes of Phil's potential, and they saw him struggle a bit with two strikes. But I'm not going to irrationally slam a 22-year-old who has dominated the minors and can get Major League hitters out. Right now, Phil Hughes is living somewhere in that not-so-happy medium between the two extremes.
After missing most of the season, at the big league level at least, with a rib injury, Hughes made a start on Wednesday in place of Darrell Rasner or Sidney Ponson or whatever crappy fill-in the Yanks would have had penciled in tonight. He threw 89 pitches in four innings, 57 of them (64 percent) for strikes. He allowed one earned run on four hits and two walks and struck out four. Clearly, the K/9 IP is good. Clearly, the walks are a bit too high.
Hughes' problem tonight was one that a lot of young pitchers have as they break into the Majors: He couldn't put hitters away with two strikes. This time, instead of falling behind and walking his opponents, as he had been doing in April, he didn't get too fancy. He kept pounding the zone with his cut fastball but couldn't drop in the curveball often enough for a strike. He threw too many pitches early on, but after a 33-pitch first inning, he needed just 56 to get through the next three frames.
I'm not going to gloss over Hughes' outing and proclaim him the best thing since sliced bread. But right now, he had the stuff to get outs, and he's still one of the youngest starting pitchers in the Majors. If he slots in to the back end of the rotation next season and produces, the Yanks, with Wang, Joba and some other pitcher in front of him, will have no complaints. That is, of course, a big "if," but no one will ever convince me to give up on a 22-year-old with this much promise.
Meanwhile, the Yanks won again, and I get the distinct feeling that the team is pulling off a "too little, too late" run here at the end of the season. Since returning home from the West Coast, they've won four of six against October-bound teams, but in the end, they'll miss the playoffs anyway.
As the Stadium's run draws to a close, one night after Derek Jeter broke the record for hits at Yankee Stadium, A-Rod became the second player to hit 35 home runs in 12 seasons, tying some guy named Babe Ruth. While the home run didn't really count because A-Rod hit it and the Yanks were already up by three runs, the ghosts of Yankee past were out in full force again tonight.
On the pitching side, as the Yanks' bats didn't wake up late, the bullpen was again fantastic. Brian Bruney, Phil Coke, Joba Chamberlain and Edwar Ramirez combined for five innings of two-hit ball. Coke again looked stellar. He does a fantastic job hitting the target. Joba looked dominant, striking out one and throwing 10 pitches in an inning of work. With such a low pitch count, he should have thrown the ninth too, but such are the mysterious ways of Joe Girardi. All in all, this was a solid win for a team playing for third place.
The Yankees elimination number is just three, so any combination of three Yanks losses or Red Sox wins, and it's officially over. Not that we're holding out hope at this point. For the Yankees to make the playoffs would take a collapse on the level of…nah, I won't go there.
On the mound tonight is Phil Hughes, in his first major league start since going down with a fractured rib in late April. Phil has been stellar his past few starts in AAA, winning two playoff games, including the clinching game of the International League Governor's Cup.
It's not exactly a big night for Phil. With the Yanks basically out of it, there's no pressure. Yes, it would be wholly disappointing for him to look like he did in April. But if that's the case, well, it's no the end of the world. He'll get another start or two before the season closes, and he'll get plenty of work in winter ball. All we really care about is him doing well in 2009.
For the skeptics out there, though, it's best that he gets through at least six innings with two earned runs tonight. And when he gives up those runs, hopefully it's in the later innings. If he gives up a run in the first, I fear for my text message inbox. I can see the "Fraudchise" messages pouring in.
Your lineup:
1. Johnny Damon, LF
2. Derek Jeter, SS
3. Bobby Abreu, RF
4. Alex Rodriguez, 3B
5. Jason Giambi, 1B
6. Xavier Nady, DH
7. Robinson Cano, 2B
8. Ivan Rodriguez, C
9. Melky Cabrera, CF
And on the mound, back to number sixty-five, Phil Hughes.
By

Thanks to Scott at 3 Kids Tickets, we've got a pair of tickets to give away for tonight's start. Not only would you get to see one of the final games at the stadium, but Phil Hughes is making his first start since the beginning of the season. The seats are in Tier Reserve, Section 27, Row S, and the first person to answer the following question correctly in the comments and leave a valid e-mail address in the e-mail field will win the tickets.

Connect Phil Hughes to the first batter to come to the plate at Yankee Stadium in 1923. The connection should follow the traditional Kevin Bacon game. For example, to connect Don Mattingly to Mickey Mantle, you would say that Mattingly played on the 1983 Yankees with Bobby Murcer who played on the 1965 Yankees with Mantle. Get to it; time's a-wastin'. · (21) ·
By

Just a quick tidbit. You can now follow River Ave. Blues on Twitter. Just head to twitter.com/riveraveblues. We're not going to spam it with all of our posts, but we will have discussions and take questions. It's actually a great way to get in your off-topic comments.

Update: You can also now get River Ave. Blues updates in your inbox. Mosey on over to this Feedburner link, drop your e-mail address into the appropriate spot, and sit back and wait for those e-mails. Neither us nor Feedburner will use your e-mail address for any other purpose. You can also just use the box at left to subscribe as well. Please note, this service will deliver just new posts to your inbox and not new comments. · (6) ·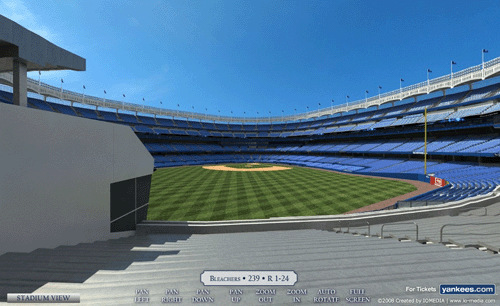 Via New York Magazine's Daily Intel blog comes the lovely news about the bleachers at new Yankee Stadium: A whole bunch of unlucky fans won't be able to see because the restaurant will be in the way. As you can see from the above screenshot, that pesky restaurant is going to obscure the sight lines.
Now, we've heard about this problem in the past, but the existence of that oh-so-fun Stadium seat selector confirms the bad news. Folks sitting in the some bleacher sections won't be able to see the entire outfield. Fans in left won't have a view of right, and fans in right won't have a view in left.
While the impacts only a few of the bleacher denizens — the people sitting in the sections adjacent to these bad sections can still see — a significant number of bleacher seats in a new stadium will have obstructed views. But, hey, at least the people in the center field restaurant will be able to see. Right?
After the jump, the view from right field.
By

The Associated Press tracked down a Yankee fan who was there for the first game at the stadium and will be there for the final game this Sunday. Joe Mignogna, now 90 and a resident of Delaware, went to Yankee Stadium on April 18, 1923 when the Yanks and Red Sox opened the Stadium. He was five at the time and says that his family got their tickets from then-owner Jacob Rupert. Mignogna's grandfather was one of the construction foremen who built the original stadium. As we hear the memories and tales of Yankee Stadium, this one's a great story. · (1) ·