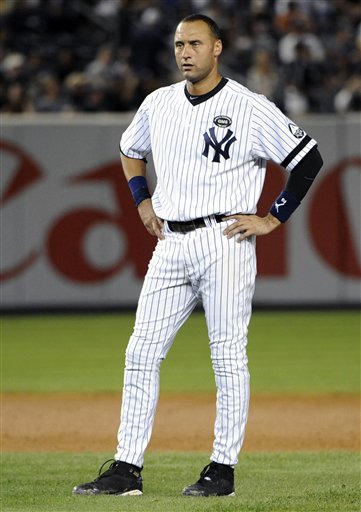 Seriously, cut the crap and win a damn game already. Stop worrying about clinching a playoff spot and resting people and magic numbers and all that crap and just win. Just win, that's it. Just a win. A good old W. Please, just freaking win. It's the last home game of the season, give the fans a reason not to boo you off the field.
Here's the lineup…
Jeter, SS
Swisher, RF
Teixeira, 1B
A-Rod, 3B
Cano, 2B
Posada, C
Berkman, DH
Granderson, CF
Gardner, LF
And on the mound, it's Panic movehil Hughes.
Oh good, and ESPN Sunday Night Baseball game. Jon Miller, Joe Morgan, and Orel Hershiser, everyone's favorite booth trio. Game starts a little after 8pm, and if you want to talk about tonight's Jets game, we have a thread for that. Enjoy.