Everyone knows Stan's. The sports bar and merchandise stores lie under the elevated tracks of the 4 train, across River Ave. from Yankee Stadium. But when the Yankees move north across 161st St. next year, the businesses will be on unchartered territories. The center of action around the stadium will shift uptown, and a trip to Stan's won't be on the way to the stadium.
Yesterday, at the game, my dad wondered how this move would impact local businesses, and I thought that tradition would maintain these places. Lisa Kennelly spoke to the local business owners, and they're not as confident as I am. The Yankees are opening up restaurants, steak houses and Martini Bars at the new stadium and will become a high-powered and wealthy competitor to the local business across the street.
The bars are confident that they'll attract enough business to stay open, but the merchandise retailers fear that fans won't want to walk a block or two out of the way for items they can buy at the Stadium. "If fans can go directly to the stadium and shop for everything, they may just stay there," Joe Bastone of the Yankee Tavern said to Kennelly.
Hopefully, these businesses can survive. A trip to Stan's has long been a part of the journey up to Yankee Stadium, but with the center of attention moving up the block, it's going to be an uphill climb for these Bronx baseball businesses.
For the next nine years, we'll continue having the same debate over and over again: Is A-Rod clutch? Clearly, he's not doing himself any favors this year. His lack of timely hitting is pretty indisputable this year, though he has brought his average with RISP up to .268, from .248 at the end of August.
Many people think that clutch is unquantifiable and/or a luck-prone stat and disregard it. That's been a popular sentiment since Baseball Prospectus became relatively mainstream. While I'm not sure where I fall on the issue, I do know that there seems like a perfect stat to qualify clutch situations: Leverage Index.
We saw this stat last year, when we ran some WPA graphs after early-season games. I've linked to the definition of Leverage Index above, but the premise is that the higher the leverage index, the more critical the situation. This takes into consideration score differential, outs, runners on, and inning. Basically, it answers the question: How important is this at-bat to fate of my team?
Last week, Carl Bialik, The Wall Street Journal's Numbers Guy, examined A-Rod's clutchiness. He uses A-Rod's OPS in high, medium, and low-leverage situations. He funs:
His career OPS in high-leverage situations is .975. In medium-leverage, it's .960. And in low-leverage, it's .972. That's consistent with the American League as a whole during his career, when each year batters in high-leverage situations hit somewhere between 1% worse and 6% better than they did in low-leverage situations.
Since we're talking about A-Rod's failures this year, Bailik shows us that yes, A-Rod hasn't been that clutch in 2008″
In 2004, he hit 19% better in high-leverage situations than in low-leverage ones. In 2005 and 2006, he hit 17% worse. Last year, he hit 15% better. And this year, he'd hit 32% worse, through Monday.
Bialik went to Jim Albert, Bowling Green State University statistician, for further findings.
The problem is small sample size: In a typical season with the Yankees, Mr. Rodriguez only gets about 130 plate appearances in clutch situations. That's also why we can't learn much from his 44 at bats in the last three postseasons, when his performance was abysmal.

Prof. Albert was apologetic about his findings: "Sorry for not giving you better news — no significance is generally not front-page stuff — but this illustrates the dangers of trying to make too much from this type of situational data."
Take what you will from this. For me, it's just more uncertainty in the perennial clutch debate.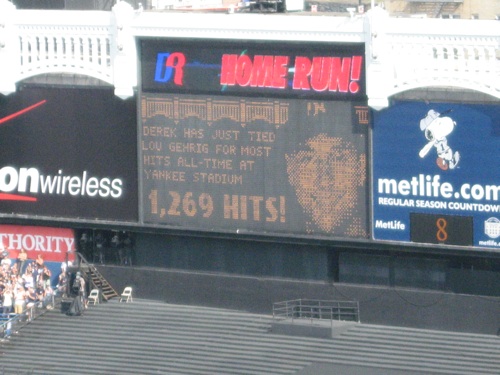 Derek Jeter has put on a hitting clinic this weekend. (Photo by Benjamin Kabak)
For Yankee fans born after 1939, Lou Gehrig exists in legend. His is an image in black-and-white photos, grainy TV footage and, of course, seminal speeches. He was, even as he approaching death, the luckiest man on the face of the Earth. We know him as a retired number, a plaque and a Yankee Great.
Today, as the Yankees battle for the pride of third place, we all saw another Yankee Great in action. In my mind, it's hard to link Derek Jeter with Lou Gehrig simply because Gehrig is who he is. But there's Derek Jeter, and in seventy years, when someone else great comes along, they'll talk about Derek Jeter with the same reverence we reserve for Lou Gehrig now.
When the Yankees came back to the Bronx after their four-town road trip, Derek Jeter needed to collect ten hits in ten games to establish himself as the all-time hits leader at Yankee Stadium. The man he's shooting to pass is, of course, Lou Gehrig. Well, Jeter has responded in a big way. In his last 14 ABs spanning the first three games of the last homestand in Yankee Stadium history, Jeter has collected 12 hits.
In the fifth inning today, Jeter tied Lou Gehrig's record of 1269 hits, and he did it in grand fashion. As has long been Derek's wont, Number Two lofted a ball the opposite field and over the right-center field wall for a home run. It was Derek's 206th career home run and the 106th he's hit at Yankee Stadium. More than a bunt single or a booming double, this home run allowed Jeter to trot around the bases, enjoying the adulation of a crowd who knew they were watching one of the all-time Yankee Greats accomplish a once-in-a-lifetime feat.
Meanwhile, the Yanks handily downed the Rays today. As our team limps to a middle-of-the-pack finish, they wrapped up the season series with the Rays, winning two of three this weekend and 11 of 18. Carl Pavano, strong enough until tweaking his hip, picked up his third win of the season. The oft-injured righty says he'll make his next start on Friday. His career is probably depending on it.
Four batters into the Yanks' first, A-Rod launched a grand slam deep into the right field bleachers. The Yankees had a lead. They wouldn't look back, and with Derek's name atop the Yankee Stadium hit list, and Mariano Rivera on the mound, the final sight my parents — lifelong Yankee fans — would see at the House that Ruth Built was a strike out as a Rivera cutter bore down on Willy Aybar. What a way for my parents to say their final good byes to Yankee Stadium.
By

Mike Ashmore's got the word. After missing most of the last 2 years due to Tommy John surgery and various other ailments, Sanchez will become the first player the Yanks received in the Gary Sheffield deal to reach the bigs. The 6'6″, 270 lb monster will work out of the pen, as you'd expect. I can't wait. · (28) ·
Double-A Trenton (5-1 win over Akron) Trenton wins the best-of-five series 3-1 … it's their second consecutive Eastern League Championship
Reegie Corona, Ramiro Pena & Frankie Cervelli: all 1 for 3 – Corona drove in a run with a sac fly & scored another … Pena was hit by a pitch & swiped a bag … Cervelli drew a walk, scored a run & picked a runner off first with a snap throw
Austin Jackson: 1 for 4, 1 RBI, 1 K – had himself a helluva postseason
Chris Malec & PJ Pilittere: both 1 for 4, 1 R – PJ drove in a run
Colin Curtis: 2 for 4, 1 R, 2 K – hit .414 in the postseason
Edar Gonzalez: 0 for 2, 2 BB
Kevin Russo: 0 for 3, 1 RBI, 1 E (fielding)
Jeff Marquez: 6 IP, 5 H, 1 R, 1 ER, 3 BB, 5 K, 1 Balk, 7-6 GB/FB
Jason Jones: 3 IP, zeroes, 4 K, 2-2 GB/FB – first relief appearance (and save) of the year couldn't come at a better time
Triple-A Scranton won the Governor's Cup. They'll play the Sacramento River Cats (A's) in the Bricktown Showdown on Tuesday, with Ian Kennedy facing Brad Knox. The Bobby Murcer Award will be presented to the game's MVP for the first time this year; the game will be televised on ESPN2.
High-A Tampa's season is over; they did not qualify for the playoffs. The Daytona Cubs won the league championship.
Low-A Charleston's season is over; they did not qualify for the playoffs. The Augusta Green Jackets (Giants) won the league championship.
Short Season Staten Island's season is over; they were eliminated in the first round of the playoffs. The Batavia Muckdogs (Cards) won the league championship.
The Rookie GCL Yanks' season is over. The GCL Phils won the league championship.
DotF will return Tuesday for the Bricktown Showdown, but then it'll be on hiatus until Hawaii Winter Baseball starts on Sept 27th. The Arizona Fall League doesn't start until October 7th, and the Yanks still have to assign two more pitchers to the league. I'll also post stats from the various Caribbean Winter Leagues from time to time as well. Otherwise that's it for 2008.
It's been one hell of a season, no?
By

In the fouth inning of today's game, Jason Giambi dove for a ground ball and deflected it into short right field. Robinson Cano, who would have fielded it cleanly had Giambi left it alone, watched as Xavier Nady rushed in from right field and Cliff Floyd took second base on the play. An inning later, Cano was out of the game, benched for a lack of hustle.

Now, I don't buy into this whole unsubstantiated rumor that Robinson Cano is inherently a lazy person. I think he's complacent, and I think he knows that, when he's going right, he's one of the game's best pure hitters. But I have to wonder why it took Joe Girardi 149 games this year to get Cano to focus. We can only imagine what would have happened had Girardi taken this step 135 games ago. · (31) ·
By

After pummeling squeaking out a win against the Phins last week, Gang Green welcomes the Brady-less Patriots to East Rutherford today for their home opener. I'm sure Bill Belichick has prepared his team by reviewing lots and lots of film, but Brett Favre & Co. fear no Patsies.

It's going to be a slow afternoon in Yankeeland, so comment on the J! E! T! S! here. · (86) ·
Thanks to his 6 for 7 effort in yesterday's day-nighter, Yankees' captain Derek Jeter sits a mere three hits behind Lou Gehrig for the most hits in Yankee Stadium history. Considering he's hit .364-.440-.591 against Edwin Jackson in his career, it's not out of the question that Jeter could tie, and perhaps even pass Gehrig's record this afternoon.
In a season where there's not much left to cheer for, Derek's pursuit of history comes right when the fans need something to root for. Every time he steps to the plate from here on out will be soundtracked by a thunderous DER-EK JE-TER clap clap clapclapclap chant, and if you've ever been in the Stadium for one of those, you know how cool it is. Go get'em Cap'n.
1. Damon, LF
2. Jeter, SS
3. Giambi, 1B
4. A-Rod, DH
5. Nady, RF
6. Cano, 2B
7. Pudge, C
8. Ransom, 3B
9. Gardner, CF – yay
And on the mound for the 5th straight start for the first time since 2005, Carl Pavano.
Notes: Phil Hughes has officially been named the starter for Wednesday's game against the ChiSox says PeteAbe, happy days … Joe Girardi wants Brian Cashman to return … Yanks win today and they'll be just 10 GB of the Rays for the division lead with 12 games to go … Double-A Trenton is one win away from it's second consecutive Eastern League Championship, but more on that later
By

Jake Mooney, author of The Times' City Section Dispatches column, ventured up to the Bronx this week. While there, he explored how fans are saying their fond farewells to Yankee Stadium. It's still hard to believe that, in seven days, the Yanks will be playing the last baseball ever at the House that Ruth Built. · (0) ·
Because I need to go to sleep and it's late, bullet-recap time:
With Phil Hughes on call for Wednesday, there is absolutely no reason to keep Sidney Ponson around the Bronx. If he makes another start for the Yankees, I might cry.
Just to drive home this point, over his last time outings, Ponson is 2-4 with a 7.15 ERA. He's allowed 78 baserunners in his last 51.1 innings and 46 over his last 19 innings pitched. That's stunningly bad.
Derek Jeter entered this homestand needing just 10 hits to pass Lou Gehrig for the most all-time hits at Yankee Stadium. He collected six of them in two games. I'm guessing he reaches Gehrig's mark.
This Phil Coke kid looks pretty good, no?
At this point, the Yanks should trot out their game two lineup more often. Stick Cody Ransom out there; give Wilson Betemit some much-needed ABs; play Brett Gardner. They can't do worse than the regulars, and for nine innings tonight, they did something the Yanks' usual starting nine hasn't done too often lately: They won.
Have I mentioned how much I dislike watching Sidney Ponson pitch?