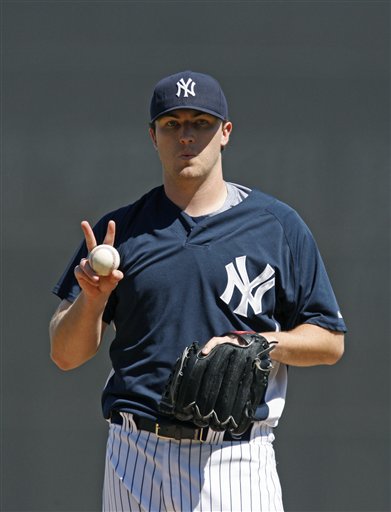 I don't know about you guys, but it feels like an eternity since I watched the Yankees last play a game. I guess the draft will do that to ya.
There's no better way to come back from a rather wretched trip to Toronto with an off day followed by a Phil Hughes start against the last place Orioles. I'm curious to see how Hughes' approaches the O's hitters today, because it's his second time facing them in an as many starts, and third time this season overall. In his first start he went fastball heavy and really had to battle through 5.2 IP of work, but last week he mixed the curveball in more and cruised through seven innings.
He'll be opposed by Kevin Millwood, who the Yanks worked over last week. He also leads the AL with 14 homers allowed, tied with some guy named Ian Kennedy for the second most in all of baseball. Dan Haren, of all people, has surrendered the most with 16. Expect a big series from Nick Swisher, he rakes in Camden Yards for some reason. Here's the starting nine:
Derek Jeter SS
Nick Swisher RF
Mark Teixeira 1B
Alex Rodriguez 3B
Robinson Cano 2B
Jorge Posada DH
Curtis Granderson CF
Francisco Cervelli C
Brett Gardner LF
And on the mound, St. Phil with his 7-1 record and his 2.54 ERA.
First pitch is scheduled for 7:05pm ET, and the game is on My9 tonight, not YES. Enjoy.