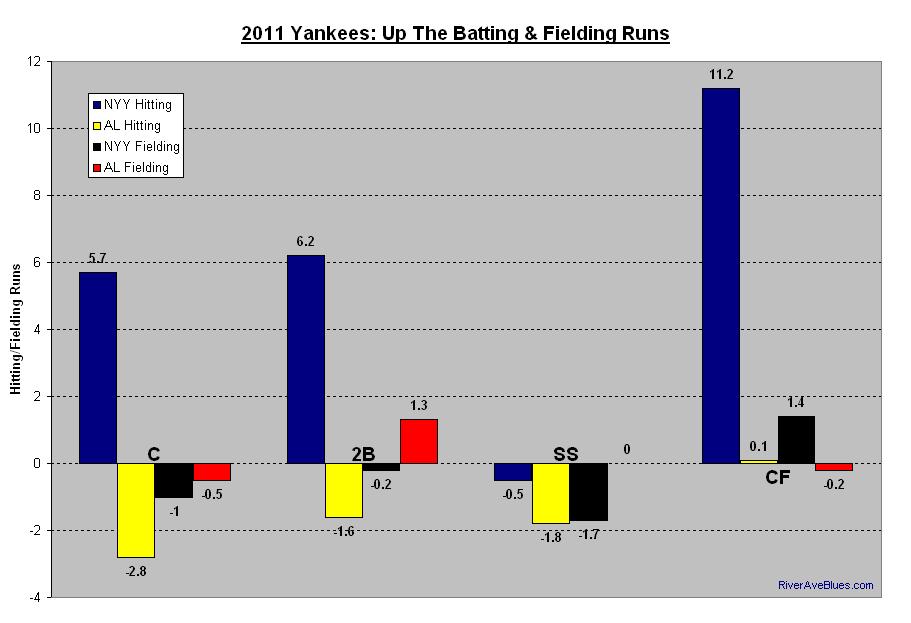 The late-1990's Yankees dynasty was built on strong up-the-middle players. Bernie Williams was a center fielder that hit like a corner outfielder. Derek Jeter was so far better than the league average shortstop it wasn't even funny. Chuck Knoblauch had his throwing issues, sure, but he got on base 37.4% of time from 1998-2000 while manning second. A young and sprightly Jorge Posada posted an on-base percentage similar to Knoblauch's (.376, to be exact) while chipping in double-digit homers on an annual basis from behind the plate. That's the kind of production team's dream of getting from those spots.
Given the nature of those positions, the offensive expectations are much lower relative to the corner spots. The increased awareness of the value of defense has lowered those expectations even more in recent years. The Yankees have gotten tremendous production from those four positions so far this season, which is part of the season why they're in first place and have been for the better part of a month.
It all starts with Curtis Granderson, who's been the best hitter on the team this year and one of the best in the game. Yankees' center fielders have produced 11.2 batting runs this season (Brett Gardner did have some spot starts, so he gets some credit), 11.1 runs better than the AL average. They've also been more than a run-and-a-half better than average defensively. To be a combined 12.7 runs better than average at one position at this point of the season is insane. The catchers (8.5 batting runs better than the AL avg) and second basemen (7.8) have been far above-average as well, with most of the credit going to Russell Martin and Robinson Cano, respectively. Derek Jeter's been bad overall, but he's helped Yankees' shortstops contribute 1.5 more batting runs that the average AL shortstop. I wish I knew what that was before Sunday, but oh well.
Although the Yankees have been slightly below-average defensively at short, second, and behind the plate, the difference is more than made up by the offense. Combine the offensive and defensive contributions across the four positions, and the Yankees have been 28.2 runs better than the league average at the all-important up-the-middle spots. That's essentially three wins, just 32 games into the season. Almost a run a game. Crazy. The graph above shows the individual breakdowns, so make sure you click it for a larger view. Now the Yankees just need to work on improving the other up-the-middle position, and that's the guys on the mound.