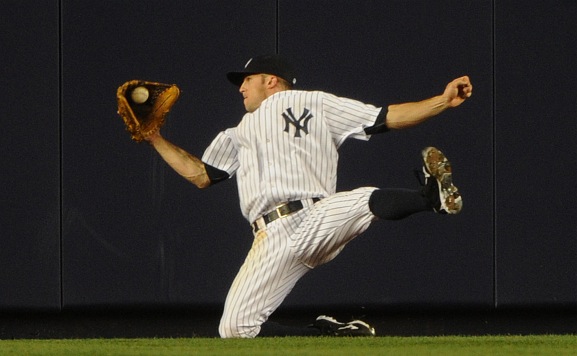 If the Yankees can work a win tonight and split the short series with the Rays, they'll own an 8-5 record (.615) against their two biggest AL East rivals. That would be a huge coup at this point in the season, especially because 1) the team is far from its healthiest, and 2) they don't meet either opponent for over a month. Thankfully, they have a few things going for them.
Last night's rally bodes well for today. For those unfamiliar, this comes from Paul O'Neill, who during one game a few years ago said something I found peculiar. The Yanks were getting killed by the Sox, 9-1 entering the ninth. Keith Foulke came on for some garbage innings, and the Yanks went to town on him. Kevin Reese lef off with a single, and although the next two hitters made outs, the Yanks did manage a rally. A-Rod hit a two-run shot to make it 9-3. This is what prompted O'Neill's comment. He said that when a team's getting blown out and comes back to score a few in the ninth, they're bound to make noise the next day.
Sure enough, after two more runs made it a 9-5 final, the Yanks came back and scored seven the very next day, winning despite a Scott Proctor meltdown. A-Rod hit another homer that day. That fascinated me. I've made it a point to keep track of these occurrences, and every single instance since then has confirmed the theory. If the Yanks have been getting blown out and end up scoring runs in the ninth, they've invariably come back to win the next game.
Do I believe this is an immutable law? No. But it is an interesting phenomenon. Ken Singleton said something similar last night. It doesn't guarantee victory in any way. It's just an interesting notation I've made during the past three-plus seasons.
* I'm also pretty sure that if you search through game threads, you'll see me mention this from time to time. This is definitely not the first time I've mentioned and explained the O'Neill Rule in the game thread.
The Yanks will have to do it against James Shields, who has been something else lately. In his last four starts he has pitched 29 innings and has struck out 38 to just two walks. He's allowed just seven extra base hits during those starts, only two of which have been homers. Of course, all four of those starts have come against the Mariners and Athletics. He faced the Yankees earlier this year, lasting 5.1 innings and allowing two runs. The Yanks jacked up his pitch count, though, getting him to 103 before Joe Maddon removed him.
Andy Pettitte takes the ball for the Yanks, and it couldn't come at a better time. The Rays have had plenty of problems with lefties this season. They're facing not only a very good lefty, but also the AL's ERA leader at 1.79. Pettitte has been the stopper in years past, and it would be huge if he could hold the losing streak to two games.
Nick Swisher's back, which is great news, especially since a righty is on the mound. Thames took batting practice, and while he's not in the lineup it doesn't look like he's DL-bound.
Lineup:
1. Derek Jeter, SS
2. Brett Gardner, CF
3. Mark Teixeira, 1B
4. Alex Rodriguez, 3B
5. Robinson Cano, 2B
6. Nick Swisher, RF
7. Juan Miranda, DH
8. Francisco Cervelli, C
9. Randy Winn, LF
And on the mound, number forty-six, Andy Pettitte. Number forty-six.