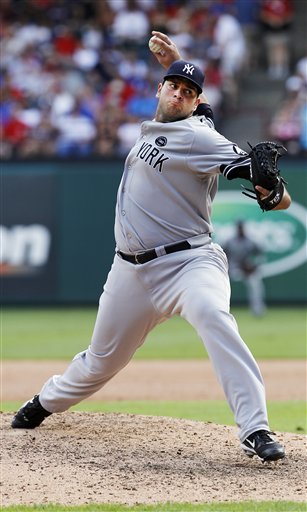 Friday and Saturday we watched in almost disbelief as Rangers' manager Ron Washington made pitching change after pitching change at a comical rate. He had extra arms available because of September call-ups, and dammit, he was going to use them. Last night though, we watched Joe Girardi be handcuffed by a short bullpen, one that added just one arm when rosters expanded this month.
What's the bullpen situation going to look like tonight? You have to figure Kerry Wood will be unavailable (pitched in three of the last four games), ditto Boone Logan (also appeared in three of the last four). Chad Gaudin's a definite no-no after throwing 31 pitches in two-thirds of an inning last night, his third appearance in the last four games. So that leaves Girardi with Mariano Rivera, Joba Chamberlain, David Robertson, Jon Albaladejo, and Sergio Mitre. What happens if rookie Ivan Nova gets knocked out in the second inning? What happens if the game goes extras again? There's no extra bodies around to soak up meaningless innings, which forces the core guys to work more than they should. Given the great lengths that Girardi goes to to rest his team, you'd think seats in the bullpen would be a premium because of all the extra arms.
Obviously, Romulo Sanchez's poorly timed elbow injury hurt the September pitching situation a bit, but that's life. Teams have to deal with injuries all the time. But to only have one extra arm in Jon Albaladejo, a short reliever at that, at this point in the season seems like a rather terrible use of the roster. And this goes beyond the pitching as well, I don't want to keep jumping all over the bullpen. With Brett Gardner and Nick Swisher nursing injuries for quite some time now, why isn't Chad Huffman with the team? Yeah, Greg Golson and Colin Curtis are up, but what's the harm in calling up Huffman just for depth? He doesn't have to play, but it sure would be nice to have him just in case.
You can add players  in September to make life easier on the regulars, so why aren't the Yankees doing it? Yes, the 40-man roster situation presents a bit of a problem, but that's a pretty lame excuse. I understand not wanting to call up someone like Andrew Brackman or Hector Noesi, an actual prospect, but every team has dead weight on the 40-man, the Yankees included. Reegie Corona can't hit a lick (.259/.333/.344 in 2,959 minor league plate appearances) and is made completely expendable by Eduardo Nunez and Ramiro Pena, so he can be taken off the 40-man in favor of someone like say, Royce Ring, who would give Girardi the basic September right of a second lefthander out of the bullpen.
The newly acquired Steve Garrison is another guy that could be removed from the 40-man roster in favor of a player that's more useful to the big league team right now. Think about how the Yanks acquired Garrison for a second; the Padres designated him for assignment and they claimed him off waivers. Since the Yanks had the best record in baseball at the time, they were the last team that could have claimed him, so literally every other team passed on Garrison first. Chances are they'll do the same less than a week later, no? That 40-man spot could be better used on someone that help the team right now, down the stretch, even in a limited capacity.
Roster spots are precious, like outs in a game, but September makes everyone's life a little bit easier given the ability to call up extra players. The Yankees really aren't taking advantage of those extra spots right now, certainly not on the pitching side of things, and it's come back to bite them a bit recently. When your starting rotation is full of one ace and bunch of question marks, getting some extra arms seems like common sense. Considering how far ahead they are in the race for a playoff spot and all the players nursing injuries, the Yanks seem to be really dropping the ball when it comes to maximizing the roster this month.