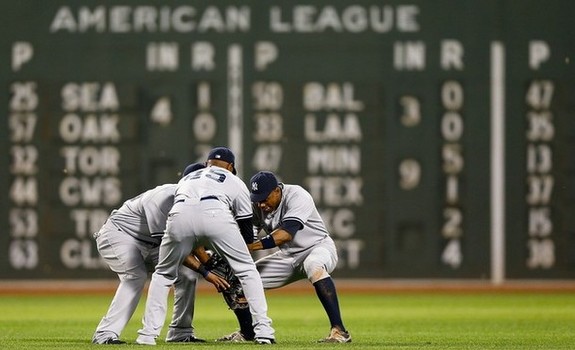 * Before the All-Star break, I mean.
The Yankees played their 81st game of the season a few days ago, but the first half unofficially comes to an end later tonight. Regardless of what happens in the series finale against the Red Sox, the Bombers will head into the All-Star break at least five games up in the division — seven up on the Rays, eight up on the Sox — and with no worse than the second best record in baseball. It's a pretty great spot to be in.
Obviously the Yankees have their warts, just like every other team. The runners in scoring position stuff is starting to work itself out, but the bullpen is overworked and some significant players — specifically CC Sabathia, Andy Pettitte, and Brett Gardner — are on the disabled list. Top prospects Manny Banuelos and Jose Campos are hurt while Dellin Betances has imploded, so they don't have that high-end prospect to auction off in a midseason trade if needed.
We could spend all day picking the team apart and coming up with reasons to worry, but you can do about every sports team ever. For some reason sports fans tend to focus on shortcomings rather than just appreciate what things are. The Yankees have room to improve like everyone else but are already one of the best teams in the game, not like everyone else. They're heading into the All-Star break with a relatively big lead despite all the RISPFAILs and injuries. They're not perfect but they're still great, and that's pretty awesome.