This Wednesday night's lineup was announced before the game, most of us were left scratching our heads. Nick Swisher at leadoff? Ramiro Pena, Eduardo Nunez and Frankie Cervelli in the lineup? Yikes. It certainly qualified as the C lineup, but a few hours later it did not matter. The Yankees won big again, which is all they seem to do these days.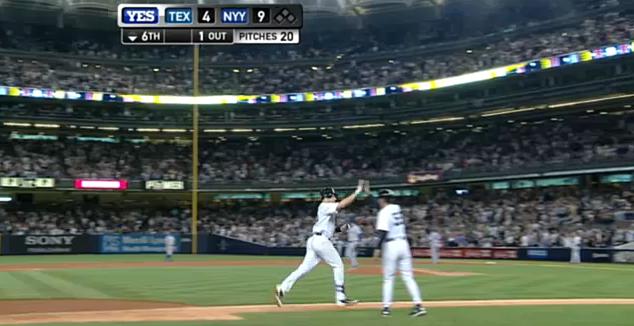 Player of the Game: RoboTex
For all the (deserved) love we've given Curtis Granderson this year, Mark Teixeira has been right there with him all season, homer for homer. After falling behind two-zip in the top of the first, Tex knotted the game back up with a two-run shot to deep left field after the Grandyman took a breaking ball to the back. Derek Holland tried to get a fastball inside but it just wasn't far enough inside, so it ended up right in Tex's wheelhouse. That erased an early deficit and then five innings later Teixeira put it out of reach. New York was up 6-4 in the sixth and Nick Swisher was standing on first when Mark Lowe tried to squeeze a fastball inside. Tex pulled his hands in and hooked it to right field, this one much more of a no-doubter than the first.
Two homers and four runs driven in are a good week for most players, but that was the first six innings of Teixeira's Wednesday night. He also singled in the eighth and made a beautiful unassisted double play on an Adrian Beltre line drive to end the seventh. All told, Tex went 3-for-5 with three runs scored and the two long balls, tying him with Jose Bautista and Granderson for the Major League lead with 21 homers. This was the 11th time Tex homered from both sides of the plate in the same game, tying him with Chili Davis and Eddie Murray for the most in baseball history. Isn't that something? I'm surprised Mickey Mantle didn't have like, 25 or 30 games like that in his career. Crazy. Also, his 296 homeruns are the most by a switch hitter in his first nine seasons in history. Again, crazy.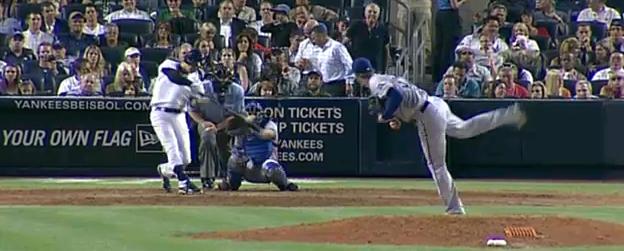 Honorable Mention: Eduamiro Penunez
Day Two of the Derek Jeter Is On The Disabled List era went even better than Day One. Eduardo Nunez did make a boneheaded error on a not so routine but not so difficult ground ball to start the fifth, but he also hit his second homer of the year in the fourth inning, a solo shot off a hanging breaking ball to knot things up at four. He also had a single, a walk, and two stolen bases. Not a bad day for the birthday boy (he turned 24). Nunez is now 4-for-8 in two games as Jeter's temporary replacement.
His partner on the left side of the infield for the night was Ramiro Pena, who was giving Alex Rodriguez a half day off as designated hitter. I noticed two things about Pena almost immediately when he came to the plate for the first: his batting stance is different (reminded me of Carlos Guillen's) and he's a little bulkier. Not fat, I mean like he filled out some. Whether the changes are real or I have a bad memory doesn't matter, because Rakin' Ramiro brought his hot streak from Triple-A Scranton to the Bronx with him. He went 2-for-4 on the night, clubbing his second career homerun in the sixth, an absolute no-doubter into the right field bleachers off a 97 mph fastball from Lowe. Insane, you knew it was gone right off the bat. I don't know where this is coming from, but I like it.
Shaky Nova
Ivan Nova's relationship with his starting rotation spot is a love-hate one. He alternates brilliant outings with bad ones and merely acceptable ones, and this game probably falls into that third category. The Rangers hit several balls hard off him, Ian Kinsler (a leadoff single in the first and a leadoff homer in the third) in particular. Josh Hamilton also clobbered a ball to dead center for a double over Grandy's head, and a few other guys made hard hit outs. All told, Nova walked three and allowed seven hits in his 5.2 IP of work, though he did get 13 of his 17 outs either on the ground or on strike three. I thought Joe Girardi pulled him at exactly the right time, right before he faced Kinsler (for what would have been the third time) with two men on in a two run game. Nova's job is safe now that Bartolo Colon is hurt, but his inability to get the strikeout or consistently retire left-handed batters will be a season-long battle.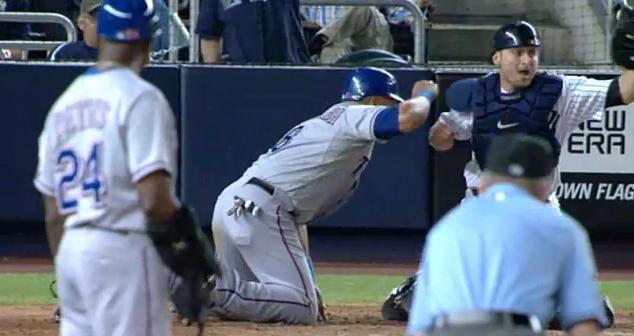 Leftovers
Luis Ayala replaced Nova in that sixth inning, giving up a single back up the middle to Kinsler. Granderson made a gorgeous throw from center and Cervelli did a nice job of blocking the plate to simultaneously keep Yorvit Torrealba from scoring and end the inning. Bad job by Ayala, great job by Grandy and Cervelli in what was just a two run game at the time.
Speaking of Yorvit, did you catch him mouthing off to Andruw Jones because he thought he was stealing signs in the fifth? I've never considered stealing signs or location that heinous of a crime as long as it stays on the field. If you start getting into stuff where guys in the bullpen use binoculars and relay signs or something like that, well that's not cool. But the runner on second? Fair game. Do a better job of hiding your signs.
Swisher went 1-for-3 with two walks from the leadoff spot, meaning that the leadoff hitters have gone 4-for-7 with three walks in Jeter's absence. Not coincidentally, the Yankees have scored 24 runs total in those two games. A-Rod drew a pair of walks and both Jones and Cervelli picked up a single and walk. Sadly, that means Frankie will remain on the roster for the foreseeable future. Robinson Cano went 2-for-3 with a garbage time homer off Neftali Feliz, so all four members of the infield homered in this game. I can't imagine that happens much, especially when the two future Hall of Famer aren't playing the field for various reasons.
It doesn't mean much now given the final score, but a big moment in the game (at the time) was Kinsler failing to tag A-Rod as he ran by in the fifth. Alex walked with one out in the fifth, then managed to scoot by the Rangers' second baseman on a Cano ground ball. Jones singled him in one batter later to break a four-all tie and make it 5-4 Yankees. Again, not all that important given what happened later in the game, but it looked like a huge play at the time. Oh, and to just wrap up the offense, the Yankees also pulled off a double steal not once but twice. A-Rod and Cano did it in the first, Nunez and Cervelli in the seventh. Only one of those four runners came around the score though.
How about Cory Wade? Granted, it was a total garbage time appearance, but he went right through his three batters quickly and effectively in the eighth, showcasing his money making curveball to strike out Torrealba to end the inning. There's a non-zero chance he works his way into some leveraged work, so it was nice to see his Yankees' career get off to a good start.
And finally … Al Leiter's real name is Alois? Huh, I always assumed it was just Albert. Well, you know what they say, when you assume you make an ass out of u and me.
WPA Graph & Box Score
MLB.com has the box score and video highlights, FanGraphs some other stuff.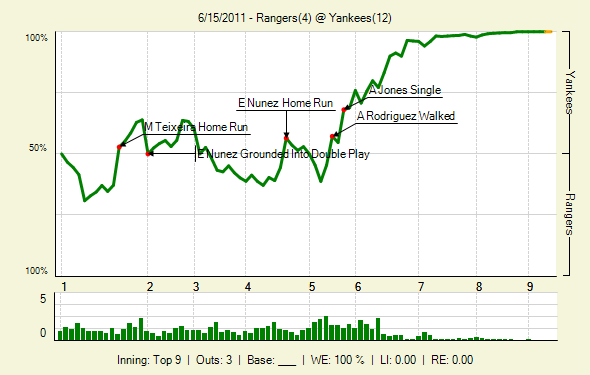 Up Next
The Yankees will go a for the sweep Thursday afternoon, a getaway day before the NL leg of interleague play begins in Chicago. Brian Gordon will make his Yankees' debut against C.J. Wilson at 1pm ET.