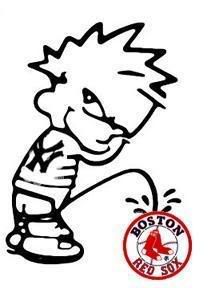 So how hot are the Yankees right now? They're so hot that they picked up a half-game in the standings during their off-day yesterday. They've won 11 of their last 14, outscoring their opponents 64-35 in the process, and they managed to shave a full six games off their deficit in the division race. And make no mistake about it, it's very much a race. The last 60 games of the season should be a blast.
Primo pitching matchup in that hideously ugly high school field where even the birds are unruly, as the wicked awesome Josh Beckett takes on Joba "ZOMG teh 8th inning!!!1!!1!!" Chamberlain. Joba's posted a 2.64 ERA since becoming a starter, good for 8th in AL, and he's held opponents to a .653 OPS against. Basically, he's turned everyone into Melky Cabrera (.654 OPS). How's that for some perspective?
Boston gets David Ortiz back in their lineup tonight for the first time since May 31st, but everyone should be paying attention to the Joba vs Kevin Youkilis matchup; those two have a bit of a history, most of which involves Youkilis whining like the bitch he is. Hopefully Joba gives him a little double-chin music tonight.
Remember guys, the only thing that matters is if you win or lose, not how you play the game.
1. Damon, DH
2. Jeter, SS
3. Abreu, RF
4. A-Rod, 3B
5. Giambi, 1B
6. Cano, 2B
7. Melky, CF
8. Molina, C
9. Gardner, LF
And on the mound, Joba "fist pumps show I care" Chamberlain.
Notes: I can't remember the last time the Yanks & Sox played a series this late in the season in which neither team was in first; hell, I don't even know where I'd go to look that up (it's probably this game though) … wanna talk trade rumors? then do it in this thread … there's going to be lots of comments this weekend, so please review our Commenting Guidelines before telling us how much you hate Dustin Pedroia … we Yankees' fans are going to deserve a medal after this weekend, we get Michael Kay tonight, Buck & McCarver tomorrow, then Joe Morgan on Sunday (yikes) … the game is on MY9 tonight, not YES
By

You want your rumors; we'll give your rumors. Or at least, we'll dispel them. PeteAbe reports that the Yanks are not interested in a catcher or Barry Bonds but are still hoping to land Jarrod Washburn. Jon Heyman writes that the Yanks are "considering" Bronson Arroyo, won't be able to pry A.J. Burnett from the Jays and said no to a trade with Seattle involving both Melky Cabrera and Brett Gardner. He also says those Robinson Cano rumors have not an ounce of truth to them. So there you go. Have fun. · (105) ·
By

Based on the rumors, as Ken Rosenthal reports them, the Yankees are interested in upgrading at catcher. Kenny says that Gerald Laird of Texas could be a potential match for the Yanks; we advocated for Josh Bard. Now while Laird has shown some ability to hit this year, his career numbers — .257/.308/.387 — are none too inspiring. >

But the bigger problem is the Yanks' position. Everyone knows the team is looking for an upgrade over the Molina/Mueller tandem. Why would anyone be willing to sell for a reasonable price? Teams with excess catchers always have the upper hand in trade talks, and the Yanks would be buying from a position of weakness. Don't expect a move behind the plate. · (54) ·
So that Ian Kennedy start. Pretty impressive, eh?
In case you're joining us already in progress, Kennedy, the exiled and highly-regarded pitching prospect, came within one out of a seven-inning no-hit, no-walk performance for AAA Scranton this evening. He ended the game throwing seven, allowing no earned runs, one hit — a run-scoring double after a Chris Basak error — no walks and seven strike outs. He threw 61 of 92 pitches for strikes and was about as good as it gets.
With this start, Kennedy thrust himself back into the Bronx picture. No longer can we ignore him every five days, pretending that he isn't there. In fact, Kennedy's rehab and subsequent progress at AAA had to, inevitably, lead to this point. While he started out July on a mediocre foot, since landing in Scranton, Kennedy finds himself sporting a 2.73 ERA. He has struck out 19 over 26.1 innings and has a WHIP of 0.99. Remember that number.
Over the next few days and weeks, Kennedy's name will begin to resurface more frequently in New York. If he pitches well, he will become a replacement option for either Sidney Ponson and his 1.72 WHIP in the Bronx or Darrell Rasner, coming off a nice start but still sporting a 6.42 ERA over 47.2 innings since June 1. Kennedy's name will also appear in other forms. With this outing tonight, he has re-established himself as one of the biggest trade chips in the Yankee organization. He doesn't appear to be untouchable as Phil Hughes, Austin Jackson, Mark Melancon and Jesus Montero are, and teams will be drawn to his talent and ability as well as his pedigree.
So what are the Yanks do to? At some point, they'll have to replace Rasner, Ponson or both. The two just don't have the numbers or stuff to be what the Yankees need with Chien-Ming Wang out, and Kennedy is now a prime candidate to replace either sooner rather than later. But if the right trade offer comes along, Kennedy could be gone.
Despite his early-season Major League struggles, I'd still like to see the Yankees hold on to Kennedy. Thrity-seven innings do not a career make. But will the brass see it the same way? Only time will tell. One thing, though, is for certain: Ian Patrick Kennedy is back on the radar.
Triple-A Scranton
Game 2 (4-1 win over Richmond in 8 innings, walk-off style)
Alberto Gonzalez, Chris Basak & Greg Porter: all 0 for 3 – The Former Attorney General drove in a run, drew a walk & K'ed … Basak tripled, K'ed & committed a pair of fielding errors … Porter K'ed & committed a fielding error
Eric Duncan & Matt Carson: both 1 for 4 – Carson K'ed
Juan Miranda: 2 for 4, 1 E (fielding)
Cody Ransom: 1 for 4, 1 R, 3 K
Ben Broussard: 1 for 4, 1 R, 1 HR, 3 RBI – walk-off 3-run homer in the bottom of the 8th
Chris Stewart: 0 for 1, 1 R, 2 BB, 1 K
Ian Kennedy: 7 IP, 1 H, 1 R, 0 ER, 0 BB, 7 K, 10-3 GB/FB – 61 of 92 pitches were strikes (66.3%) … needed one more out to finish up a 7 inning no-hitter (since, apparently, errors count against perfect games, which is retarded because the pitcher can't control that, unless he's the one that makes the error), but a Scott Thorman double with 2 outs in the bottom of the 7th ended the bid for the no-no and the shutout all at once … oh well
Scott Strickland: 1 IP, zeroes, 3 K
Mighty Matt: 5 IP, 5 H, 1 R, 1 ER, 1 BB, 5 K, 9-1 GB/FB – old habits die hard
With apologies to Donald Rumsfeld for the headline…
Let's assume for a minute something rather unlikely: The Yankees will make no trades this year prior to the deadline. Therefore, the team as it is now is the team we will have after the season ends whether that be in September or October.
As the Yankees stand now, the 2008 edition will look vastly different from the one on the field come Opening Day 2009. Of the high-price free agents hitting the market this winter, the Yanks have their fare share of them. Kyle Farnsworth, Mike Mussina, Bobby Abreu, Jason Giambi, Andy Pettitte and LaTroy Hawkins (if he makes it that long) will all be off the books.
But besides the money, the Yankees will have roster spots to fill. The losses of Abreu and Giambi will create big holes in the middle of the lineup. The pending free agencies of Moose and Pettitte would leave the Yanks without two pitching stalwarts, and even Kyle Farnsworth has turned himself into a useful part this year.
Tonight, as we suffer through yet another evening with no Yankee game, let's turn our thoughts to 2009. What should the Yankees do?
They could — and probably will — work out a reduced-cost extension with Jason Giambi. They owe him $5 million if they don't pick up his $22 million option next year. But Mark Teixeira's impending free agency looms large over any discussion of first base. And somehow the Yanks will have to fill Bobby Abreu's outfield spot. Austin Jackson isn't ready yet.
Andy Pettitte will come back if he wants to come back, and I have to believe that he'll want to be there to open the new Yankee Stadium after his long tenure in pinstripes. But what about Mussina? A few months' shy of 40, he's pitching his way toward a multi-year deal if he wants it. Should the Yanks — with young pitching galore — wave good bye to Mussina? Or should they subscribe to the philosophy that one can never have too much pitching?
And then there are the free agents. CC Sabathia and Ben Sheets are both hitting the market at the same time. The lefty — healthier, better — will want Johan Santana money while Sheets is an injury risk but won't expect a six- or seven-year deal. A.J. Burnett is also an intriguing name.
So have some fun with this, and try to be realistic. Who do you want to see in the Bronx next year? What moves should the Yanks make? Who should they pursue in free agency and which of their own players should they eschew signing to new deals? And just what do you do with the enigma that is Kyle Farnsworth?
Two weeks ago, Brian Cashman had this to say about Barry Bonds:
"I guess I can say that they have engaged us in the past and I've told them that I have too many people, maybe not too many people with the same ability, but too many people at the same spot that you have a lot of dollars committed to."
However, that was before Matsui faced a setback in his rehab and Jorge realized that the pain in his shoulder is too much. With both offensive cogs likely done for the season, it looks like the Yanks don't have "too many people at the same slot." Though they brought in Dicklock Sexy, he seems to be an option only against lefties and as a late-innings defensive replacement.
Could the Yanks work out a system whereby Bonds takes a few days a week from Damon in left, in which Damon would DH, while acting as the primary DH? Could Damon move to center some days and Bonds could play left? Oi, that would be some horrid outfield defense. And where would that leave Jason Giambi? He needs time at DH, too.
It appears the Yanks will be addressing these question, and are probably addressing them as you read this. I'll offer that there are certainly worse ideas. But the idea of having Bonds in left, Damon in center, and Abreu in right is frightening. Maybe if Wang was on the mound, but we know that's not happening for a while.
By

Growing up a Yankee fan and then attending college a stone's throw from Philadelphia, I've seen my fair share of nasty fan behavior. But one thing I learned from my parents early on — and this puts my firmly in the minority among Yankee fans — is never to do the "Boston sucks" chant. Sure, Boston, for the first 21 years of my life, was an abject failure of a baseball team and objectively they did suck for a very long time. But cheering that way just isn't respectful.

Today, Kevin Cullen, a Red Sox fan and columnist for the Boston Globe, succinctly sums up the case against "Yankees sucks" chants. As he writes, "My experience has been that most people who shout "Yankees suck" are either drunk, obnoxious, or stupid and very often a combination of all three." In a way, he's speaking for us in the Bronx too. · (47) ·
By

Via Ken Davidoff, the Yanks have signed their seventh round pick, California prep catcher Kyle Higashioka, to a deal worth approximately $400,000. Rated the 77th best prospect in the state by Baseball America, they describe him as a superb defensive catcher with interesting power potential. The deal is roughly $250,000 overslot, and buys him out of a commitment to Cal. Austin Romine, Jesus Montero & Higashioka are an eviably trio of lower level catching prospects. (h/t to Patrick) · (48) ·