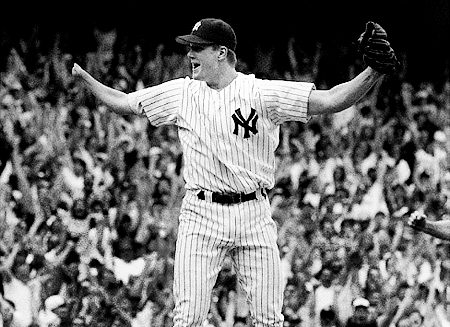 Eighteen years ago today, Jim Abbott threw his no-hitter against the Indians in Yankee Stadium. That was a long time ago and I'm sure a lot of you youngsters don't know too much about Abbott, but the guy carved out a very respectable ten-year Major League career despite being born without a right hand. Two of those ten years (1993 and 1994) were spent in pinstripes. Abbott pitched to a 4.45 ERA in 56 starts for the Bombers, but the vast majority of his career was spent with the Angels.
I was just eleven back then, but the no-hitter is one of the very first games I can really remember. They were telling stories all game about all the stuff Abbott had to overcome, how runners constantly tried to steal home on the return throw from the catcher against him early in his career because they didn't think he could get the ball from his glove to his throwing hand quick enough. It was pretty awesome, definitely one of the first (and favorite) memories of my Yankee fandom.
Anyway, here's your Labor Day Eve open thread. The ESPN2 Sunday Night Game is in Detroit for Tigers-White Sox (Scherzer vs. Buehrle), but the ChiSox lost the first two games of the series so there's not much at stake. They would have been right back in the AL Central race with a sweep, but nope, they're 7.5 back. Talk about the game or anything else you want right here. Go nuts.