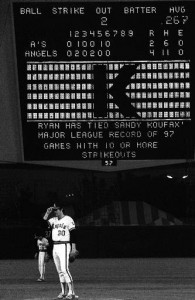 One of the greatest things about baseball is it's history, and the record of that history. Especially now in the internet age, where we can go back and look up almost anything our heart desires. Like this box score, for example. There's nothing overly exciting about that game, other than the fact that it's 90-years-old. Just having that kind of information at our fingertips is amazing, no other sport can make that claim.
Nowadays we use all of this historical info for more than just entertainment. Just as an example, we reference those fancy WPA graphs each day, and those are based on nothing but historical record. We're looking at what happened in the past to try and get an idea of what can happen in the future. It's not perfect, but it's certainly useful information.
Let's apply the same concepts to the draft and the Yankees' top ten selections this season. Using B-Ref's draft database and it's new WAR data, let's go back and see how the players taken at these spots have historically performed to get an idea of what kind of players the Yankees can expect to land. Granted, the draft has evolved thanks to introduction of agents and the relatively new concept of signability, so this exercise is in no way a prediction of what will happen.
The 2010 Draft Order can be found here, as always. The Yanks didn't gain or lose any picks as free agent compensation, so they have a pick per round this year. Nice and easy. And off we go…
First Round, 32nd overall
The best player ever taken with this pick is former Met first/third baseman Dave Magadan, who produced 22.2 WAR over a 16-year career that featured a .288-.390-.377 batting line in close to 5,000 plate appearances spread across the late-80's and 1990's. After that comes utility guy Lee Lacy, who played every position under the sun and hit .286-.336-.410 with four teams, leading to 18.2 career WAR.
Overall, the 32nd overall pick has produced 22 big leaguers (out of 45 total picks), though just 13 of those 22 managed to post a positive WAR in their careers, and just 11 produced more than 2.0 WAR. Those 11 players averaged 9.1 WAR in their careers, so they were definitely productive players. However, you're talking about one solid regular for fewer than every four picks made.