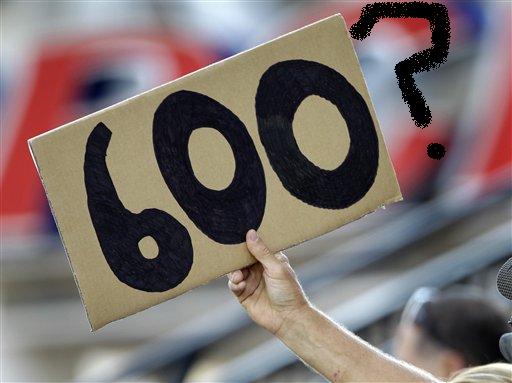 The Yankees have already clinched their second consecutive losing series, but no one wants to go into tomorrow's off day with the season's first four game losing streak. A win today gives everyone, not just the players and coaching staff, some confidence before Boston comes to town for a long weekend. Basically we just need a way to forget about the crap we've witnessed over the last few days
Joe made my life easy and already told you what the Yanks have to do to be successful against Shaun Marcum today, so I'll just refer you to that. Phil Hughes needs to avoid the homerun ball today (duh), something that's probably not going to be very easy considering Toronto's swing from the heels philosophy and the general homer happiness of the New Stadium. Just keep 'em in the game Phil, and hope the offense wakes up.
Oh, and how about some resolution to this whole No. 600 business? That would be cool, I'm sick of hearing about it from MSM media types who said now one cares only to talk about it all the damn time. Anyway, here's your lineup…
Jete, SS
Swish, RF
Tex, 1B
A-Rod, 3B
Robbie, 2B
'Sado, C
Berk, DH
Grandy, CF
Gardy, LF
And on the hill, it's St. Philip of Hughes.
Game is scheduled to start just after 1pm ET, and you can watch on YES. And remember, it could always be worse.