By

After being non-tendered on Wednesday, T.J. Beam has signed with the Pirates. The Yankees have plenty of options for middle relievers that are equal to if not better than Beam, so it makes sense that he'd sign elsewhere.

At least we kept Rasner. I figure there's a decent chance we hang onto Mighty Matt, too. · (2) ·
Lost in the brouhaha over this Mitchell Report and the fall-out was the price tag. According to popular belief (and, um, Marketwatch.com), the report cost $20 million. And as Depressed Fan noted, I think the $23,444.83 per pitch Carl Pavano made was a better use of money. What an astronomical price tag for such shoddy research.
Ed Price has a quote from Hankenstein on the Santana talks:
"We're still thinking about it," senior vice president Hank Steinbrenner said yesterday. "We haven't ruled it out completely. We're still considering it. I haven't closed the door completely on Santana."
He goes on to say that Cashman has talked to Bill Smith in the past couple of days. The report states that the Yankees would get back into the Santana Sweepstakes if they could shed Hideki Matsui's contract. That seems like a red herring. No way you let $13 million stand in the way of you and Santana if you really, truly want him.
In other news, Mark Prior's agent John Boggs has confirmed that he has received some interest from the Yanks. The only problem is that Prior is looking for a one-year deal without an option so that he can prove himself and get a shot on the market in 2009. We saw how this failed in the case of Octavio Dotel, though the Yankees surely have learned their lesson on rushing guys back from major surgery. If they take all the precautions, Prior could be an incredible help in the second half.
The Nationals and the Mets are also in on Prior. If I'm him, I'm definitely going to the Mets. It would otherwise be tough to land with a contender and have a pretty-much guaranteed slot in the rotation come June.
Hat tip to MLB Trade Rumors.
Johnny Damon's name appeared on that bogus list early Thursday that we at RAB refused to publish. On Friday, he lashed out at those who printed the list, and as you could guess, he wasn't happy.
The Post has more from Damon:
"It sucks, I am wondering if there is any legal course to turn to," Damon said. "I walk around with my shirt off. If I had anything to hide I wouldn't do that. I really don't know what to say. There seems to be some people who don't like me…

"I asked my agent about legal action, but he said it wasn't worth it. Maybe the president [of NBC] will write me a nice letter."
Jonathan Dienst, the NBC reporter who printed the list, defended the decision and apologized to Damon. "We work very, very hard to get these stories right," Dienst said to George King and Samuel Goldsmith. "We checked it and rechecked it, but what we were provided from two different places was an incorrect list, and I am very sorry for the mistake."
Let this be a lesson to journalists and bloggers. People send e-mails from unverified sources, and in this age of blogs, it's very easy to destroy someone's reputation through incredibly false information. It's better to be right than it is to be first. This is especially true when it comes to something as serious as steroid accusations. I hope Damon, Albert Pujols and the other 39 players named on that list get the apology they deserve. I won't hold my breath though.
Haren and Connor Robertson to the D-Backs for 6, yes 6, prospects: OF Carlos Gonzalez, LHP Brett Anderson, OF Aaron Cunningham, 1B Chris Carter, LHP Greg Smith (who I secretly wanted instead of Ohlendorf last year) and LHP Dana Eveland. Gonzalez, Anderson, Cunningham and Carter were recently named the number 1, 3, 7 and 8 prospect in the D-Back system by BA.
Valverde to the Astros for Chad Qualls, Chris Burke and Juan Gutierrez. Gutierrez was one of the few decent prospects the 'Stros had hanging around.
Wowza. Discuss in the comments if you wish.
T.R. Sullivan, MLB.com reporter and one-time head of the Baseball Writers Association, looks at Roger Clemens' Hall of Fame chances in the wake of the Mitchell Report. Some members of the media are already saying they won't vote for him despite the flimsy nature of the evidence. Apparently, some voters have said unequivocally that they won't vote for anyone who appears in the report no matter the context while others, such as John Hickey as the Seattle Post-Intelligencer, still believe that innocent until proven guilty should rule the day. Clemens has the luxury of five years' distance from the report before he lands on the ballot. Lucky him.
Just got in from checking the mail, and on my doorstep was a small, square plastic package. Yep. My "Save the Big Three" t-shirt. Now, I ordered it the first day they were available, so you can understand that if you haven't gotten yours yet, it's on its way. And I have to say, it's worth the wait.
The shirt itself seems heavy-duty enough. But that's not the best part. Usually, when shirts like this come in, the lettering is pressed onto the shirt. So when it goes through the wash, eventually the letters wash off. Ah ha, not with these puppies. It appears as though the lettering is dyed right into the shirt. So yeah, it'll fade in time, but putting it through the wash isn't going to result in the text falling off or anything.
I wear somewhere between a medium and a large. I ordered a large, and it fits perfectly. So if you were hesitating because you didn't know what kind of quality you're getting, you can go ahead and order one. Out of the box, it gets my seal of approval.
So order yours today. I'm wearing mine to the bar tonight.
We didn't get into this much yesterday because we had some bigger fish to fry, but with the announcement that A-Rod is returning to the Yanks through 2017 came word of his salary structure. It actually makes sense. Take a look:
2008: $27 million
2009: $32 million
2010: $32 million
2011: $31 million
2012: $29 million
2013: $28 million
2014: $25 million
2015: $21 million
2016: $20 million
2017: $20 million
I love this part of the deal: It's not at all back-loaded. For years, teams have been doling out back-loaded contracts. Take Jason Giambi's, for example. In his first seasons with the Yankees he made just $13 million a year. Last year, he made $21 million and stands to earn another lofty paycheck again as the second highest paid player in baseball.
The Yankees are paying A-Rod more or less what he's worth. By the time 2017 rolls around and he's 42, the Yanks will be paying him what seems to be a reasonable $20 million. They pay him the big bucks up front when he's still producing and the not-quite-as-big bucks at the end of the deal.
Of course, the historic performance bonuses – $6 million each for tying Mays, Ruth, Aaron and Bonds and another $6 million for breaking the record – render this point moot in a way. A-Rod could take home $44 million in 2015 or 2016. But the Yankees know that the attention, ratings and revenue from A-Rod's home run chance will more than make up for those $6 million bonuses.
All in all, this is some solid accounting and an economically sensible deal. Now, don't get me started on Torii Hunter.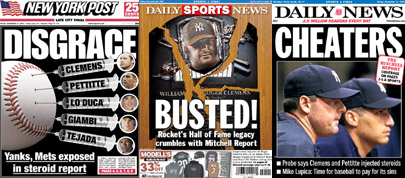 For all his experience, for all the years spent in public service and in the private sector, Senator George Mitchell still has no idea how the American media works. Right now, this lack of understanding is costing him and his precious report dearly.
Yesterday, during his staid press conference, George Mitchell stressed the future over the past. Pay attention to and follow my recommendations, he said more than once. So the next day, of course, all of the newspapers feature on their front covers pictures of the big guns in the report with nary a mention of his recommendations. Even ESPN, with their limitless internet resources, buried the recommendations underneath a giant picture of the stars named in the report.
And here we arrive at that same point I made yesterday: By naming names, George Mitchell produced a report that was counterproductive to its intent and message. By his own admission, somewhere from at least six to eight percent of Major League Baseball players used steroids. This report captures about 1 percent of all Major Leaguers over the time period identified in it.
So in naming names, Mitchell spoon-fed the media their top stories for a slow Friday. Splashed across newspaper covers nationwide are Roger Clemens and Andy Pettitte, Miguel Tejada and Eric Gagne. Never mind that the report seems to cover five of baseball's 30 teams. Never mind that Mitchell got two sources to talk due to either plea deals with the government or the threat of federal prosecution. Never mind that Sammy Sosa's name is curiously absent from a story about steroids. Mitchell found a few big names and named them.
Tomorrow, this story will be off the front page. We do have after all some hotly-contested primaries coming up, a climate change conference in Bali, a shaky economy and a war going on. And when the papers arrive tomorrow, we'll once again see no mention of the recommendations that Mitchell has set forth in the report.
Blame it on George for his naivete or blame it on Bud. Selig wanted his names. He wanted the past to be utterly exposed, and what he got was a media storm and probably around 15 percent of the names of those who used steroids.
Baseball will recover. It always does, but what should have been a day for looking forward and looking at a report that could have been effective with names redacted instead became a day for condemning the past. All we've learned is that the media loves to tear down big stars. Somehow, George Mitchell and his crack team of investigators didn't know that two days ago.