By

Barring any setback, Jorge Posada will return to the Yankees either on Wednesday or Thursday of this week. In his rehab in extended spring training this afternoon, Posada made two throws to second and said he felt good, just like he knew that he would. With the Yanks on a current streak, getting back their All Star catcher will be an even bigger boost. · (7) ·
When the Dodgers moved out of Brooklyn in 1957 and the city tore down Ebbets Field on February 23, 1960, a borough last a piece of its heart. In the ensuing 48 years, historians and Brooklyn baseball fans have spilled a lot of ink bemoaning the end of the stadium and the Walter O'Malley decision to move west.
A few weeks ago, I finished reading Bob McGee's The Greatest Ballpark Ever: Ebbets Field And The Story Of The Brooklyn Dodgers. As Brooklyn Dodger histories go, it's an appropriate companion piece to Michael Shapiro's The Last Good Season: Brooklyn, the Dodgers, and Their Final Pennant Race Together.
In one book — McGee's — O'Malley is the clear villain in moving the Dodgers; in the other, O'Malley tried to keep the team in New York, but Robert Moses was the man responsible for pushing them out of town. O'Malley wanted to build a new stadium near the current Atlantic Yards site in Brooklyn, but Moses didn't want to use his Title I powers to build a baseball stadium. While McGee villianizes O'Malley and Shapiro gives him something of a pass, the truth is, of course, in the middle. Both men were responsible for the Dodgers' flight to Los Angeles.
But for the sake of the Yankees, New York City stadium history is neither here nor there. McGee's book though is relevant for another reason. When Ebbets Field was torn down, Brooklynites were visibly upset, but the team had just seen a long period of lagging attendance. They were playing in a ballpark that many — particularly the media — had deemed old and decrepit. It would have needed extensive renovations and space for parking, something not readily available in the Crown Heights/Prospect Heights parts of Brooklyn.
One of McGee's main points is regret. Dodger fans regretted not saving the stadium; they regretted not supporting the team sooner; they regretted not doing anything about it. Fifty years after the Dodgers went west, Brooklynites — my older neighbors and my grandfather — will still speak with bitterness about the Dodgers and wistfulness about Ebbets Field.
Today, as we're facing a Yankee Stadium whose days are numbered, I have to wonder if Yankee fans will one day in the not-so-distant future look back at the House that Ruth Built with the same sort of regrets. Sure, the Yankees are moving about 50 feet away and not 3000 miles, and sure, Yankee Stadium lost a lot of its history and charm during the renovations in the 1970s. But it's still the iconic Yankee Stadium. It's still seen its World Series, its Perfect Games, its parade of baseball legends.
Don't get me wrong; the new stadium looks great from the outside and will be the standard of luxury inside. But I can't help thinking that we don't need this new stadium as badly as we think, and perhaps, when we all have time to dwell on what we've torn down and what we've lost, Yankee fans will come to regret not putting up more of a fight for their beloved old stadium too.
By

So my pick finally rolled around in the United Baseball Bloggers Mock Draft, and with it I took none other than Gerrit Cole. No brainer, he was the best player left on the board by a considerable margin (using Keith Law's latest rankings, the next best player was ranked 12 spots behind Cole). Kids with electric fastballs and good breaking balls don't last until pick #28, and the makeup stuff doesn't concern me at all (I wish someone would quantify these makeup concerns, no one has said what he's done to make people question his makeup, they just say he's got issues).

You can see all the picks here; Phuture Phils took Tanner Scheppers, the wildcard of the draft class. We were planning on doing the sandwich round, and in discussions to the do the second round as well, but some have been frustrated by the pace, so we might not get that far. I'll keep you updated if we do.

In other mock draft news, John Sickels' mock draft is being held today. I represented the Yanks last year, but I'm not doing it again this year. Too much work and too time consuming. I'll breakdown the Yanks' picks later today or tomorrow, and I'll also post who I would have taken at each spot (it's easier when you don't have to sit in front of the computer and wait for each stinkin' pick). Can't get me enough draft talk. · (21) ·
By

While the three guys behind him in the order spent Friday night hitting, Derek Jeter in the leadoff spot took the evening off from that pastime. He went 0 for 5 to drop his average down to a very un-Jeterian .272, and I have to wonder if Derek rushed back too quickly from his May 20th HBP. While Jeter says the Daniel Cabrera beanball isn't impacting his hitting, the numbers tell a different story. Since coming back the next day, the Yankee Captain is 3 for 34. That's an .088 average if you're keeping score at home, and he's slugging just .118 over that span. That's not looking so great. · (9) ·
Alright, Yankee fans, roll call time. Raise your hand if, in Spring Training, you predicted that Mike Mussina and his eight wins would be leading the Yankees. Put your hand down, you in the back.
As hard as it is to believe, Mike Mussina, 39, is the Yankees' winningest pitcher. He's confounding the analysts; he's beating Father Time; and he's certainly proving me wrong. By mixing speeds and hitting spots, Mussina is getting the job done.
Tonight, disaster nearly befell early on. Spotted to a 1-0 lead, Mussina came oh so close to falling apart when a Shelley Duncan error — his third of the season in limited duty at first base — lead to a big Minnesota inning. After the first, the Twins had scored four runs, two earned, and Mussina had thrown 36 pitches. Now, usually at this point, I'd write off Mussina, and in a text message to Mike and Joe, I did.
But Mussina, as is his wont this year, proved me wrong. Over the next five innings, Mussina would need just 73 pitches to keep the Twins from scoring again, and his line — 6 IP, 6 H, 2 ER, 1 BB, 4 K — is downright great. The final five innings looks even better: 5 IP, 2 H, 0 R, 0 BB, 3 K. Color me impressed.
(As an aside, it seemed to me on the highlight reel that a lot of the Twins' base hits in the first were aided by the turf. On grass, some of those balls are outs, no?)
Meanwhile, the Yanks, who left their baserunning shoes at home today, let the bats do the work. Bobby Abreu, Alex Rodriguez and the AL's leading hitter Hideki Matsui went a combined 9 for 12 and were on base 11 teams. Jose Molina and Melky Cabrera contributed hits as well, and the Yanks were able to plate six runs en route to a victory.
Of course, Kyle Farnsworth looked a bit dicey, and of course, the media is going to harp on this for approximately forever. But Joba's starting, and the eighth inning is a work in progress.
So the Yankees find themselves with one game left in May, and I feel like this game can set the tenor for the next month. The Yanks are now at .500, and to end the month at one game over would be a huge boost. Meanwhile, Chien-Ming Wang, winless since May 2, could use that very same boost. I'm always wary of watching Wang pitch on turf; his career numbers on turf are not too comforting, and his ERA on turf is 0.90 higher than it is on grass.
But that's a worry for later. Right now, the Yanks can sleep comfortably with their seventh win in nine games under their belts.
As the big league team faced the Twins tonight, the AAA, AA and High-A affiliates played the respective Twins' affiliates. Freaky.
Triple-A Scranton (6-3 win over Rochester)
Brett Gardner & Greg Porter: both 2 for 4, 1 2B, 1 BB – Porter scored two runs & K'ed
Alberto Gonzalez: 1 for 4, 1 RBI, 1 K
Jason Lane: 0 for 3, 1 RBI, 2 BB, 2 K
Ben Broussard: 1 for 4, 1 2B, 1 K – 4 of his 5 hits with Scranton have been doubles
Eric Duncan: 3 for 5, 3 R, 1 2B, 1 HR, 3 RBI, 1 K – you tease
Jeff Marquez: 6 IP, 10 H, 3 R, 1 ER, 2 BB, 2 K, 10-4 GB/FB – picked a runner off first … 1.70 WHIP & .307 BAA
Billy Traber: 1 IP, 1 H, 0 R, 0 ER, 0 BB, 1 K – 8 of 9 pitches were strikes
JB Cox: 1 IP, 1 H, 0 R, 0 ER, 0 BB, 0 K, 2-1 GB/FB
Scott Patterson: 1 IP, 1 H, 0 R, 0 Er, 0 BB, 2 K
The Yanks are coming into this weekend's wrap-around set at the Twins hot, having won 6 of their last 8 games. Despite that, I'm going to preview the series with one little question: Delmon Young has zero homers this year, how much you wanna bet that he hits at least one this series?
Thaaaaaaaa Yankees' lineup:
1. Jeter, SS
2. Abreu, RF
3. A-Rod, 3B
4. Matsui, LF
5. Giambi, DH
6. Duncan, 1B
7. Cano, 2B
8. Molina, C
9. Melky, CF
SP – Mikey Moose
Notes: Joba's starting on Tuesday … Jorge continues to make progress in his rehab … the air conditioner in my office is broke, and it feels like a sauna in here … did you know that Melky has a 4-yr old son named Melky Jr?
By

Get those tickets for Tuesday's game, folks, because that's Day One for everyone's favorite fist-pumper. Joe Girardi announced during the Yanks' pre-game routines tonight that Joba Chamberlain will start against the Blue Jays on Tuesday. Chamberlain will throw between 60 and 70 pitches during that start and is now considered a member of the starting rotation. The Yanks plan to add 15 pitches per outing until the 22-year-old reaches that magic 100-pitch threshold. Big days are ahead for number 62. · (26) ·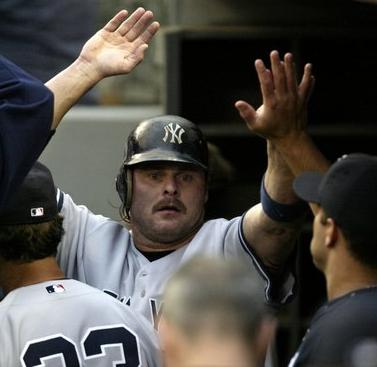 Remember April? Man, we had some heated arguments back then. Cano wasn't hitting, Giambi wasn't hitting, Damon was on and off, Jeter wasn't off to the hot start we saw the past two years. Two guys in particular, though, took the brunt of the offensive criticism: Giambi and Cano. Each time they came to the plate and failed, people were clamoring for them to find a seat on the bench. There was even a contingency of Yanks fans who wanted to see Giambi released.
Good thing they didn't get their way.
On the month of May, Giambi is hitting .339/.481/.726. That is absolutely insane. Each of those three numbers represents the top spot on the Yankees for the month. On the season, he's at .244/.393/.556, a more than respectable line that, if nothing else, shows the effects of his abysmal April.
Before the season started and during the first few weeks, some Yankees fans were up in arms about Giambi. DFA him! He won't be able to help this team! Even as we got into May and the Giambino started hitting a bit better, especially for power, the detractors were still out. At this point, though, to rail against Giambi seems a bit foolish, eh?
(Then again, guys like Jamal looked the fool when he continually defended Giambi in the early going. Baseball's a funny game like that.)
The thing is, we've seen this before. I present to you the year 2005. Giambi was coming off a 2004 defined by a stomach parasite and a benign pituitary tumor. But he was healthy in the spring, and was ready to get back into the game. Problem was, he was no good early on.
Prior to June 15, he had just three home runs. On May 22, he was hitting .215/.368/.346. Yankees fans wanted him out, and wanted him out fast. Even as we moved into late June and his OBP rose to over .400, people still weren't happy with Giambi. The stigma of steroids still surrounded him, and I heard many a person talk about how he can't compete without the juice.
Then a funny thing happened in July. He started hitting balls out of the park. Two against the Orioles on the 4th of July. One the next day. After an off-day, one on the day after that. One against Boston on July 14, in an 8-6 win. Two on July 20, two on July 21. By the end of the year, that Giambi who had a slugging percentage under .350 on May 22 finished with a line of .271/.440/.535. The complainers had shut up.
(He hit .282/.463/.655 from July on in 05. Just disgusting numbers.)
This year, it appears his resurgence is coming along a bit quicker. He's been one of the drivers of the Yankees offense, which is finally starting to look like we expected from the get go. And, most importantly, he's hitting well enough to compensate for his poor defense at first base. There are no guarantees that he keeps it up — as I said, baseball is a funny game like that — but Giambi has shown that he can in fact contribute to the 2008 Yankees.
Hopefully, Girardi's veteran rotation will help keep Giambi — as well as Matsui and Damon — fresh throughout the year. Matsui and Giambi in particular have been integral in molding the offense. With A-Rod back and Jorge on the way, maybe we can start to put up some more crooked numbers.