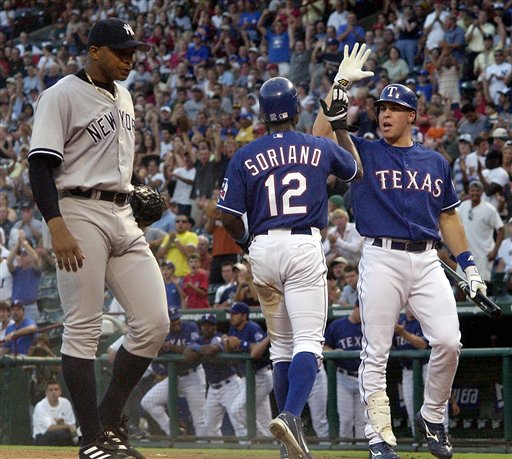 In the age of free agency and mass player movement, every regular season series feels a reunion with ex-Yankees and former teammates. Every so often an ex-Yank will do something to beat his old team and we'll shake our fist, but for the most part that player's service to the Yankee cause is much appreciated. When Hideki Matsui took Chan Ho Park deep in June, the South Bronx erupted in cheers for a Los Angeles Angel for the first time in history. Same deal with David Wells when he returned as a Padre in 2004. Tino Martinez with the Cardinals, El Duque with the White Sox, Johnny Damon with the Tigers … the list goes on and on.
The Yankees are the most well known free agent spenders, but the Rangers topped everyone in December 2000 when they inked former Mariners shortstop Alex Rodriguez to a then-record ten year, $252M contract. Three All Star appearances, one MVP award, and three seasons of financial disarray later, they were looking for a trade partner to take the game's best player off their hands … along with the $180M or so left on his contract. After a potential deal with the Red Sox feel through, the Yankees stepped in acquired Alex for All Star second baseman Alfonso Soriano and prospect Joaquin Arias. New York also received close to $46M from the Rangers through 2007 to offset A-Rod's salary.
One year before the trade, the Rangers broke in a young minor league third baseman named Mark Teixeira. The fifth overall pick of the 2001 draft eventually shifted over to first in deference to top prospect Hank Blalock, and once Alex was moved Teixeira took over as the face of the franchise. He hit 38 homers with a .281/.370/.560 batting line as a sophomore, then topped that with a 43 homer, .301/.379/.575 season in 2005. The Rangers had their new superstar, but like A-Rod money eventually got in the way.
As Tex got closer and closer to free agency, the Rangers didn't want to lose their star for nothing (or, well, two draft picks), so they did what they did with Alex and traded him. There was a different general manager in charge this time, and Jon Daniels wanted to acquire players just like himself: young. He eventually settled on a five prospect package from the Braves, one that literally change the course of the franchise and set them up for this playoff run that the Yanks are trying to stop.
Now the corner infielders for the defending World Champion Yankees, the fingerprints of A-Rod and Teixeira are still all over the Rangers. Three of the five players they received for Tex – closer Neftali Felix, shortstop Elvis Andrus, and lefty reliever Matt Harrison – are on the playoff roster, and the money they saved by dealing Alex allowed them to not only sign Michael Young long-term, but also invest in a farm system that has produced players like Justin Smoak, Julio Borbon, Derek Holland, Tommy Hunter, Mitch Moreland, and Alexi Ogando, all of whom are either on their playoff roster or were traded for players who are.
The Yankees and Twins had a loose connection when they met in the ALDS; the only significant common player between the two clubs was Carl Pavano, arguably the worst free agent signing in Yankee history. The connection between the Yanks and Rangers is much deeper however. A-Rod and Teixeira will surely be booed this weekend, but the Texas faithful should not discount their impact on the current Rangers team. They wouldn't have gotten where they are without them.