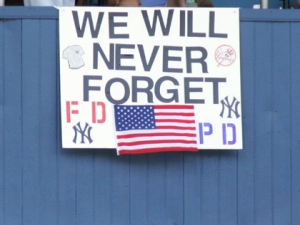 I was taking a test, my sophomore year at Penn State. I remember I had back-to-back two-hour classes at 8am and 10am on Tuesdays and Thursdays, and both classes were in the same room with the same professor. I kid you not. Such is the life of an engineering major. The professor used to take advantage of the schedule by giving us huge exams that took up the entire four hours. We were stuck in that damn room all morning, and I just so happened to be the first one in the class to finish the test. I was always good at that, I'd finish tests super fast and I'd almost feel embarrassed to hand it in before everyone else. And of course I'd doubt myself, what'd I do wrong that I was able to finish so quickly?
Anyway, I was the first to finish the test, so I left the room and went to kill time in the computer lab next door. I dropped my stuff off and ran downstairs to the little cafeteria to grab a pack of S'mores Pop Tarts, my guilt pleasure du jour back then. I remember standing on line and seeing smoke coming out of the Twins Towers on one of the little cafeteria TV's. This was around 10:45 or so, maybe even a little earlier, and I had no idea that what I was seeing on the TV was not live, it was footage from earlier that morning.
I (as well as everyone in my class) had missed everything while taking the test. Didn't hear about the first plane, didn't hear about the second plane, didn't hear about the Pentagon, didn't hear about either Tower collapsing. I couldn't hear a damn thing on that ancient TV in the cafeteria (you had to turn a knob to change the channel, I remember that very well), so I made my way back to the computer lab figuring I'd just pull up CNN.com to see what happened. All I knew was that there was a fire at the Twins Towers, that's it.
CNN wouldn't load. I tried The Post, The Daily News, The Times, and a few other prominent news outlets as well, but nothing was cooperating. I left my browser on CNN to see if it would eventually load, and as I waited a few others had finished the test and made their way into the lab. One of them was a buddy named Rick, who was a few years older than me. He was married with kids, did some time in the Air Force and had gone back to school. I told him about the fire at the Twins Towers and that I was waiting for CNN to load to see what was up. He hopped on his computer and pulled up MSNBC. I never thought to check MSNBC mostly because I wasn't one to obsess over the news in the first place. MSNBC loaded right up. I'll never forgot how I felt when I looked at his screen.
The entire time I was at Penn State, I had met just a handful of fellow native New Yorkers, but I never got close to any of them. Most of my friends were from Pennsylvania; it seemed like everyone was either from Scranton, Philly, or from somewhere just outside Pittsburgh but never actually Pittsburgh itself. I was hundreds of miles away from home, about as safe as it gets, but I was scared. Four hours ago I was stressed out about taking this test that counted for some obscene percentage of my final grade, and you mean to tell me the Twins Towers are gone now? Completely gone, leveled, as in I'll never see them again?
I spent the rest of the morning just piecing everything together. Oh, there was a plane? Two planes? Four??? As completely heartless as it sounds, I didn't care about the Pentagon or Flight 93 that morning. My mind was on back home. I was surrounded by friends and classmates but no one understood what it was like for me. New York wasn't home to them. This is where I grew up, where my family lived. My uncle worked right across the street from one of the Towers back then, was he okay? (He was) What was going on? What do I do now? Do I drive home? Go to class that afternoon? (Class was canceled) Call home? Yes, call home. Everyone was fine and accounted for. That made me feel better but not really, I still felt helpless and overwhelmed.
Ten years is a long time, and I've lived through all sorts of good and bad stuff since then, most of which I remember but not nearly as well as I remember that day. After I went back home that afternoon (not home home, just home), I watched the news all day, and I remember hearing "this is a day we'll never forget" over and over again. I found out about everything basically all at once. I didn't watch Sept. 11th unfold throughout the course of the morning. It was one huge shock. I went from thinking an electrical fire broke out in one of the Towers to finding out nothing was ever going to be the same again in an instant. I'll never forget where I was that morning, how I found out about everything, and how unbelievable it all seemed. I was so far away from home but it felt like I was right there. Like most New Yorkers, I don't think a day goes by that I don't think about that morning, even ten years later. The Yankees were as big a part of the healing process as anything else, that fall they were more than just my favorite baseball team. They were basically a coping mechanism.
* * *
Anyway, that's my 9/11 story and this is your open thread. The ESPN Sunday Night game is another matchup of two non-contenders (Cubs @ Mets, Garza vs. Miguel Batista), but that's okay, the Jets are playing. They're hosting the Cowboys at 8:20pm ET on NBC. I've always found Sunday night football to be far more enjoyable than Sunday night baseball, but that's just me. Talk about whatever you like here, anything goes.
DotF Note: I goofed last night, the NY-Penn League Championship Series starts tomorrow night, not tonight. The Staten Island Yankees will be in Auburn for the first game of the best-of-three series.