How do you solve a problem when your All Star catcher goes down? By going out and acquiring another one, of course.
According to Buster Olney, the Yanks have acquired Ivan Rodriguez in a trade for Kyle Farnsworth. Farnsworth, the beleaguered reliever, had been throwing well of late, but the Yanks had long soured on Krazy Kyle and his unreliability. In Pudge, the team gets back a catcher hitting .295/.338/.417 in 328 plate appearances this year (.377/.423/.526 over 124 plate appearances since June 8th). He's thrown out 18 of 50 would-be basestealers, a mark not quite as good as Jose Molina's but not too shabby.
Off the bat, I'd call this trade a clear win for Brian Cashman and the Yanks. They're trading one rental — a relief pitcher — for another rental — a catcher, and they're upgrading from Farnsworth's status as a Type B free agent to Pudge's Type A. Plus, starting catchers are always more valuable than relief pitchers, and a catcher who can hit better than Jose Molina is a real upgrade for this team. Pudge will become the starting catcher for the rest of the season with Molina backing him up. This should spell the end of Chad Moeller's run on the Yanks as well.
Nice pickup.
So since the Yanks have now lost with both Mike and Joe writing up the game post, it's my turn. We'll try something new.
Today, Joba Chamberlain looks to continue his incredible run of pitching success as he draws the start against the Orioles. The Yanks could really use a win before they must face the prospects of a tough four-game set against Mark Teixeira and the Los Angeles Angels of Anaheim.
Lots going on in the Yankee Universe today. So let's jump in. Don't read too much into Brian Cashman's saying he hates this game. After last night's loss, I too was hating baseball. That was one frustrating game.
Johnny Damon is, yet again, playing hurt. His shoulder, he feels, will bother him for the rest of the season. With Melky Cabrera epically struggling and Damon's playing hurt, Xavier Nady should be in the lineup every day. Within that same NJ.com piece comes word that Chien-Ming Wang probably won't pitch again this season.
Dennis Sarfate is making his first career start today. The game starts at 1:05 p.m. Let's bring home a win.
Damon LF
Jeter SS
Abreu DH
Rodriguez 3B
Giambi 1B
Cano 2B
Nady RF
Cabrera CF
Molina C
Chamberlain P
In the bottom of the first last night, Derek Jeter grounded out to third on the first pitch. This prompted a discussion regarding Jeter's propensity this year to swing at the first pitch. It seems like he does it all the time. Anyone else agree? I'm sure there are at least some that have noticed this.
However, looking at Baseball Reference, this is not the case at all. In fact, Jeter has swung at the first pitch in just 31 percent of his plate appearances. That ties his career low mark, as he put up the same percentage over the course of last year.
What's stranger is that Jeter seems to do better when he swings at the first pitch more and makes contact overall less. In 1999, Jeter's best overall season, he swung at the first pitch in 41 percent of his plate appearances, a career high, and made contact 80 percent of the time. This year, as last year, he's making contact in 85 percent of his plate appearances. In 2006, when he should have been MVP, he swung at the first pitch 37 percent of the time, and made contact 82 percent.
So what's wrong with Derek Jeter this season? He's not hitting poorly, per se. A .286/.348/.404 line isn't horribly by any stretch, but we've come to expect a bit more from the captain. Is he in a decline phase? It's possible, though no one wants to admit it. It's one of the only explanations I can come up with. Anyone else seeing anything else?
Late add: His line drive percentage is down and his groundball percentage is up a little. That goes some way in explaining things.
By

The Yanks may not be selling the naming rights to their new stadium for hundreds of millions of dollars, but they are going to sell, well, everything else. Via Tyler Kepner in today's Times: "Since the All-Star break, every time a Yankees pitcher records a strikeout, the P.C. Richard whistle plays over the loudspeakers as part of a sponsorship deal." I haven't been to a game post-All Star Break yet to experience this joy, but I believe that this move — the selling of a play on the field — may be a first. TV and radio broadcasts engage in this practice, but no team that I know of has sold plays before. · (13) ·
Usually, when we talk about team efforts, we talk about winning games and seeing contributions from everyone. Tonight, let's flip that over. The Yanks' 7-6 loss at the hands of the Orioles was a true team effort.
Tonight, I'd like to spread the blame around. I'm going to blame Mariano Rivera, Damaso Marte, Wilson Betemit, Robinson Cano, Xavier Nady and Melky Cabrera for this one. Had just one of those players come through, the Yanks would have at least tied the game in the ninth. Instead, at various points over the last three innings of the game, none of those players did what was asked of the, and the Yanks lost another chance to gain ground on Boston and hold steady with the Red Sox.
Before launching into this one, I'd like to avoid blaming Darrell Rasner. While John Sterling, at least three times, called Rasner's outing tonight "great," it was far from it. After putting two runners on base in the 7th without recording an out, his WHIP for the game stood at a Ponsonian 2.00. That he had allowed only two earned runs prior to turning the ball over to Damaso Marte speaks more for luck than his pitching ability. It won't hold up.
That said, he did what a fifth starter is supposed to do: He held the Orioles to four runs over six innings and kept the game close enough for the offense to win it. Everyone else dropped that ball.
Let's start in the ninth to cover half of the list. In a 6-3 game, the Yanks called on Mariano Rivera to nail down three outs in the Orioles' half of the inning. After nearly surrendering a home run to Aubrey Huff, Rivera came back with the exact same pitch, and Huff blasted what would be a very, very big run. I know Rivera's having a season for the ages, and while this game won't go down as a blown save, it cost the Yankees big.
In non-save situations, Rivera has now given up three home runs and 16 hits in 20 innings. His ERA is a still incredible 2.70, but his ERA in save situations is 0.33. He is truly a different pitcher, albeit in a limited sample size when the game is seemingly not on the line.
In the bottom of the ninth, the Yanks had two cracks to drive in the tying run with Robinson Cano and Wilson Betemit up. Cano struck out on three pitches, and Betemit followed suit. Wilson is, for the record, much worse as a righty against southpaws than he is hitting lefty against a righty. Justin Christian never had a chance to score.
But those were just the most glaring examples of failure, magnified in the ninth by one bad pitch by the Sandman. Let's go back to the eighth. Here, with two runs in and two runners on, Wilson Betemit struck out. I sense a trend. Melky Cabrera had a chance to pick him up, and he swung at the very first pitch. He was out. Surprise. Then Xavier Nady struck out too. A solitary hit out of those three — or ABC baseball by Betemit and Cabrera — would have netted the Yanks another run. When the opportunity arose tonight to score runs through outs, the Yanks missed the call.
Finally, we reach the seventh. Damaso Marte, called on to pitch out of a two-on, no-out situation when Darrell Rasner was inexplicably left in to face the top of the Baltimore order, utterly failed. He allowed both inherited runners and two other Orioles to score. Had Marte done the job, the Yanks would have been in a better position to come back. If the Yanks miss the playoffs by a game, this is as good a culprit as any to earn that "coulda, shoulda, woulda" label. It truly was a team effort.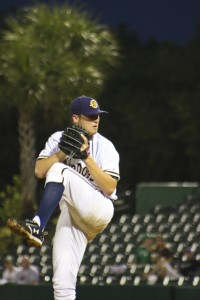 Hughes pic from tonight provided by Nick Werner. Thanks Nick!
(click the pic for a larger view)
Low-A Charleston (4-2 win over Asheville)
Phil Hughes: 3 IP, 2 H, 0 R, 0 ER, 1 BB, 1 K, 5-3 GB/FB – he threw only 14 pitches thru his first two innings, so they sent him out there for one more … 20 of 28 pitches were strikes (71.4%)
Justin Snyder, Brandon Laird, David Williams & Carmen Angelini: all 0 for 3 – Snyder, Williams & Angelini all K'ed once, Laird K'ed twice … Laird was also hit by a pitch
Bradley Suttle, Austin Romine & Jesus Montero: all 1 for 4 - Suttle doubled, drove in a run & K'ed twice … Romine allowed a passed ball & K'ed
Abe Almonte: 2 for 3, 2 R, 2 3B – threw a runner out at second from CF … hopefully this starts him back on the right track
Austin Krum: 2 for 2, 2 R, 1 2B, 1 RBI, 1 BB, 1 CS
Carl Pavano: 2 IP, 1 H, 0 R, 0 ER, 1 BB, 4 K, 0-1 GB/FB – he actually started this game … like anyone cares
Wilkins DeLaRosa: 2 IP, 4 H, 2 R, 2 ER, 3 BB, 3 K, 2 WP, 0-3 GB/FB
Chase Vacek: 1 IP, 0 H, 0 R, 0 ER, 2 BB, 2 K
Jon Ortiz: 1 IP, zeroes, 2 K
Glad to be back, people, after an extended absence from the game threads. Mike's luck has seemingly run out. Since my hatred for the Orioles extends nearly as deep as it does for the Red Sox, I figure I'll try my hand tonight. Hopefully, this brings good things. If not, Ben will be on deck for tomorrow.
(And they say baseball players are superstitious…)
The big news today is the Mark Teixeira trade. The Braves grab Casey Kotchman, who was pulled from the field prior to the Angels game in Fenway tonight. AA pitcher Stephen Marek is the other part of the Braves's haul. The bad news for the Yanks: The Angels come into town for four this weekend, and we play them six times after that. They're scary good right now, easily the best team in the AL, both in terms of talent and results.
A sentence you never thought you'd hear, courtesy of Joe Christensen of the Star Tribune: "The Twins are competing with the Tigers for LaTroy Hawkins." Any return on him is a coup.
Dan Cabrera hits the hill for the Orioles. Last time we met, on May 20, he ended the game with a 3.48 ERA. That's nearly a run and a half higher right now. His last outing was a five-inning, seven-run meltdown against the Blue Jays. Cabrera holds a career 4.62 ERA vs. the Yankees over 85.2 innings.
D-Ras takes the mound for us. Hopefully the Moeller Magic works again tonight.
Your lineup:
1. Johnny Damon, LF
2. Derek Jeter, SS
3. Bobby Abreu, RF
4. Alex Rodriguez, DH
5. Jason Giambi, 1B
6. Robinson Cano, 2B
7. Wilson Betemit, 3B
8. Melky Cabrera, CF
9. Chad Moeller, C
And on the mound, number 43, Darrell Rasner
By

Such a short article, so much information. The AP has a bunch of updates on injured Yankee and non-Yankee pitchers. Eric Milton threw 35 pitches in a stimulated game today and could pitch in the minors soon. Victor Zambrano also threw in a stimulated game at the Yanks' Minor League complex. As best I can tell, Zambrano is still a free agent working out with the Yanks and not a member of the organization yet. And finally, Andrew Brackman will throw off a mound on Thursday. He has recovered from his June 10th appendectomy.

Update 5:42 p.m. Says PeteAbe: "Chien-Ming Wang got his cast off today and X-rays revealed that his foot fracture has healed." The Wangster is set to wear a boot for a few more days and then receive insoles. He's Tampa-bound in a week and could be back in the Bronx by the first week of September. That would be a huge pick-me-up for the team come the last three weeks of the season. · (68) ·
As people have actually now taken the time to bother to read documents pertaining to the new stadium deal between the City of New York and the New York Yankees, a whole bunch of odd findings are making their ways to the press. Today's story focuses on free seats for city officials.
According to Adam Lisberg, the Daily News' City Hall bureau chief, this so-called Landlord's Suite will have room for 12 and while it while be supported by money from taxable bonds, it still should have the same "accommodations, services and amenities" as every other sutie in the new stadium. Writes Lisberg, "The city also gets the right to purchase up to 180 tickets at every home game 'for the best seats available' at face value – even for playoffs and the World Series.
While par for the course in sweetheart land deals, the Mayor's Office had to correct Mayor Bloomberg after he denied the existence of such a luxury suite. This is just more fuel for the fire of politicians looking to dig into a highly questionable land deal.
Meanwhile, following up on yesterday's story concerning the valuation of the land underneath the new stadium, SF at YFSF raises an interesting point: If the MTA got a whopping $1.05 billion for the Hudson Yards land, how are we expected to believe that the Yankee Stadium land is more valuable? Considering my undying love for the MTA, I should have caught that point myself yesterday. There's no way the Yankee Stadium land in the Bronx is $25 per square foot more than the last frontier in Manhattan that is due for subway service within the next handful of years. Fishy, fishy, fishy.
The next time Jorge Posada plays in a game for the New York Yankees, he will be nearly eight months past his 37th birthday. The next time Jorge Posada plays in a game for the New York Yankees, he will expect to be the starting catcher with three years and $39.3 million left on his contract. The next time Jorge Posada plays in a game for the New York Yankees, the debate over his contract will have more than run its course.
But let's begin. We start prior to last season when the Yankees were hesitant to sign either of their two veteran free agents-to-be to long-term contracts. Both Mariano Rivera and Jorge Posada were due for a pay raise by the end of 2007, but the Yankees, rightly concerned about their ages, opted to negotiate after the season. While Rivera had a sub-par year (for him, at least), he was handsomely rewarded and has earned his keep this season.
Posada, on the other hand, starred in a whole different tale. Jorge had a career year in 2007, turning in an MVP-caliber .338/.426/.543 line and a 154 OPS+. Always valued for his bat, Posada really took his game to the next level, and the Yanks paid dearly for it. Jorge inked a four-year, $52.4 million deal and promptly injured his throwing arm during the first game of the season.
When the Yanks signed Posada to the deal, baseball analysts were surprised. Giving a 36-year-old catcher a four-year, $52.4-million contract is hardly a sound baseball move, but the Yankees, with their deep pockets, knew they were paying for one of the team's key leaders and offensive movers. They knew that Posada, by the end of the deal, would hardly be a viable option behind the plate, but they also knew that Posada, due to an early-career platoon with now-manager Joe Girardi, didn't have as much wear and tear on his legs as other 36-year-old catchers.
Today, Posada's 2008 is a far cry from his 2007. He managed just 234.2 innings behind the dish and just 195 plate appearances. His throwing, sapped by a seriously damaged shoulder, was impacted, and his power was nearly gone by the time he opted for season-ending surgery. The .268/.364/.411 is well below Jorge's normal production levels.
Already, critics of the Posada deal are howling about the Yanks' wasted money. What team in its right mind would ink a 36-year-old catcher to such an exorbitant deal? This injury, they say, is just indicative of things to come.
Now, I admit that a four-year deal for a catcher may not have been the wisest, but I believe, for now, that line of thinking to be spurious. Posada injured himself in a way no one expected and in a way not usually associated with aging catchers. He threw out his shoulder. It happens to outfielders and pitchers. It could happen to Derek Jeter or Alex Rodriguez tomorrow.
The real question concerning Posada's deal will come in his recovery. If the doctors can clean up his labrum and if he can rehab himself back to full strength, then the deal will have looked bad for one year. If he can come back and hit, all will be forgotten. His value, after all, lies in his bat. But if this injury impacts the rest of his career, then we can bemoan the contract.