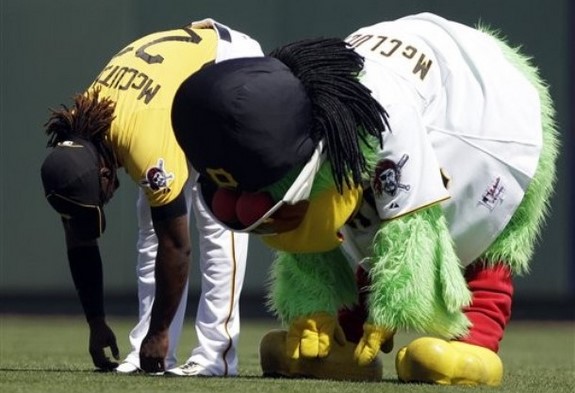 The Spring Training losing streak has been extended to a daunting two games. The Yankees lost to the Pirates 7-4 in Bradenton today. CC Sabathia started and allowed three straight singles to open the game, then retired the next five men he faced (including one double play). Phil Hughes replaced him and only recorded four outs before reaching his pitch limit. Joe had more on his outing earlier this afternoon.
Derek Jeter, Alex Rodriguez, and Mark Teixeira all picked up one hit. Jeter also took an errant pick-off throw to the ribs but remained in the game. A-Rod and Tex also walked. David Adams and Justin Maxwell both doubled, the only extra-base hits. Brett Marshall replaced Hughes and recorded five outs, then Graham Stoneburner took over with two innings of one-run ball. Chase Whitley let things get out of hand with a three-run eighth inning. Oh, and Zoilo Almonte finally made an out. For shame. Here's the box score, and here's the rest from Tampa…
Frankie Cervelli got hit in the head by a back-swing today while behind the plate, but thankfully it was nothing serious. He has a history of concussion problems, as you know. Mark Teixeira also jammed his thumb, but it ain't no thang. [Chad Jennings]
Joba Chamberlain highlighted today's bullpen sessions, his second time working off a full mound as part of his rehab from Tommy John surgery. D.J. Mitchell, Matt Daley, and Freddy Garcia all threw sides today while Michael Pineda, Manny Banuelos, Rafael Soriano, and Brad Meyers are scheduled to do so tomorrow. [Jennings]
Here is your open thread for the night. Every local hockey and basketball team is playing except for the Islanders, plus MLB Network will be broadcasting games pretty much all evening. Talk about whatever your heart desires, enjoy.