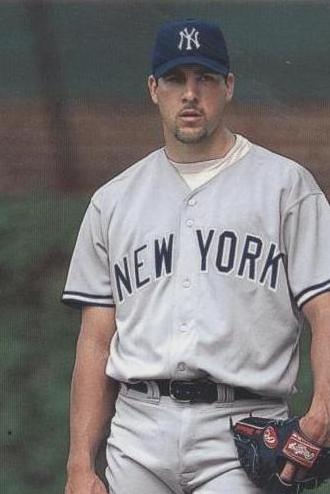 Coming off their third consecutive World Series victory, the Yankees found the 2001 season to be a little more difficult than the previous three. Their record was a solid 39-31 on June 20th, but they were three-and-a-half games behind the Red Sox in the AL East, the same Red Sox team that had gone 15-5 in their previous 20 games and showed no signs of slowing down.
The Yanks were operating with the same formula as always, a deep lineup full of players that work counts and get on base, and a powerful pitching staff highlighted by a strong back-end of the bullpen. Righty Jeff Nelson fled for the Mariners after the 2000 season, but Mike Stanton and Ramiro Mendoza were still doing fine work in front of the unmatched Mariano Rivera. Randy Choate had his moments as a lefty specialist/occasional mop up man. The middle innings, though, they were a generally a problem.
Brian Boehringer was solid for the first six weeks of the season (0.83 ERA, .578 OPS against in 21.1 IP) but fell apart in mid-May (6.92 ERA, .899 OPS against in 13 IP). He was jettisoned off to San Francisco in July. Journeyman Todd Williams had a shiny ERA (2.38) but was allowing batters to reach base 41.9% of the time, so he was sent to the minors right about the time Boehringer turned into a pumpkin. Carlos Almanzar impressed pretty much no one with his inability to miss a bat, and other fill-ins like Brandon Knight and Adrian Hernandez were completely forgettable.
The Yankees needed bullpen help to solidify those middle innings, so Brian Cashman swung a pair of trades in late-June/early-July in an attempt to shore things up. Let's cover the first one now, and come back tomorrow for the second.
June 23rd: Acquired Jay Witasick from San Diego for D'Angelo Jimenez
The 28-year-old Witasick had bounced around a bit in the years before coming to the Yanks, landing in San Diego in 2000 after a trade with the Royals and before that spending time with the Athletics. He was lights out for the Padres in the first half of the season, striking out 53 batters against just a dozen unintentional walks in 31 appearances (38.2 IP). Jimenez, once one of the team's very best prospects, had been toiling away in Triple-A for a few seasons and was deemed expendable with Alfonso Soriano establishing himself as a bonafide big leaguer in 2001.
Witasick did a poor job of introducing himself to the New York faithful, blowing a four run lead in the sixth inning of his first game in pinstripes. Granted, he did inherit a first-and-third, no outs situation from Randy Keisler and got no help from a Scott Brosius error, but still. It was a poor first impression. Witasick settled down a bit and fired off five consecutive scoreless innings (9 K in 5.1 IP), but the wheels really came off the wagon on July 13th against the Marlins.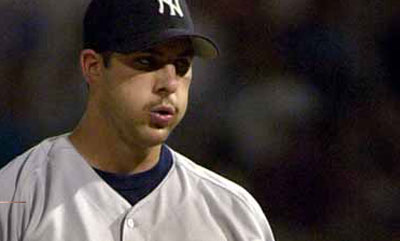 Brought into the seventh inning of a semi-blowout (Florida was up 6-0 at the time), Witasick tossed up a scoreless frame before taking a pounding in the eighth. The first four, and five of the first six batters of the inning picked up a hit, and he was left in to wear it all. The end result was a five run inning and a season ERA that climbed just about a full run.
Witasick didn't see an ounce of high leverage work the rest of the season, throwing 31 innings with a solid 3.77 ERA after that game with the Marlins, but it was all mop-up work. In one particularly brutal outing, Witasick was left in to throw 84 (!!!) pitches in relief of a lit up Ted Lilly (five runs in two innings to Oakland), walking six and allowing three runs in 3.2 innings of work.
Witasick made the playoff roster but only appeared in three games (one each round), the closest of which was a three run deficit to the A's in Game One of the ALCS. His farewell moment came in Game Six of the World Series, when he allowed nine runs and ten hits to the Diamondbacks in just one-and-a-third innings of work. The Yanks traded him to the Giants for John Vander Wal after the season.
Jimenez, meanwhile, stepped right in as the Padres every day shortstop after the trade, and hit .276/.355/.367 the rest of the way. He was unable to repeat that success in 2002 and was dealt to the White Sox at midseason. All told, Witasick was worth -0.2 bWAR with the Yanks, Jimenez -0.3 bWAR with San Diego. That obviously doesn't count the production of the players each was later traded for, but it doesn't really matter. This trade was pretty much a dud for both teams.