All six affiliates in action with two doubleheaders AND an IPK rehab appearance AND a College World Series update? Are you kidding me?!?
Anywho, Jeff Karstens was named the International League Pitcher of the Week, The Mexican Gangster was promoted to Scranton, and 15th rounder Matt Richardson signed. He was an all-glove, no-hit shortstop coming into the draft, but the Yanks are going to groom him as a pitcher. On to the updates!
Triple-A Scranton (6-0 win over Columbus)
Brett Gardner: 2 for 4, 1 R, 1 3B, 1 BB, 1 K – Chad Jennings said he scored from second on a groundout & threw a runner out at home from CF … 7 hits, 7 walks, 6 runs scored, 4 stolen bases, 2 strikeouts in his last 4 games
Cody Ransom: 0 for 1 – left the game after flying out in the first
Chris Basak: 1 for 2, 1 R, 2 RBI, 1 K
Shelley Duncan: 0 for 4, 1 RBI
Juan Miranda: 2 for 4, 1 R, 1 2B, 1 RBI – 14 hits (4 doubles) in his last 5 games
Jason Lane: 0 for 3, 1 BB
Eric Duncan: 1 for 4, 1 R, 1 2B, 1 RBI, 1 K
Matt Carson: 0 for 4 – had been 13 of his 36
JD Closser: 3 for 3, 2 R, 2 2B, 1 BB
The Ghost of Kei Igawa: 6.2 IP, 7 H, 0 R, 0 ER, 2 BB, 5 K, 6-7 GB/FB – 61 of 105 pitches were strikes (58.1%)
David Robertson: 1.1 IP, 1 H, 0 R, 0 ER, 0 BB, 2 K, 2-0 GB/FB – 12 of 17 pitches were strikes (70.6%)
Scott Patterson: 1 IP, zeroes, 0-3 GB/FB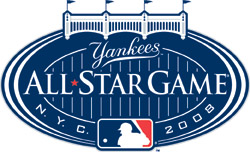 When the All Stars take the field at Yankee Stadium three weeks from tomorrow night, we'll be able to count more than a few Yankees among them. Deservedly or not, Derek Jeter finds himself the top AL vote-getter; A-Rod has a lock on his position; David Ortiz's injury should push Hideki Matsui into the lineup.
While a few Yankees — Johnny Damon and Jason Giambi come to mind — are so far getting the shaft on the popular vote front, those two should find themselves selected by the players and coaches. Meanwhile, the Yanks will see some All Star representation on the mound as well. I can't say enough about Mariano Rivera's incredible season. His numbers are just off the charts this year, and Mo deserves what will be the ninth All Star game appearance of his career. I believe Mike Mussina, 10-5 with a 3.93 ERA, will find himself aboard the All Star squad as well.
There's one more Yankee pitcher who could get All Star consideration too. A loyal reader Nick tipped me off to this idea: Joba Chamberlain, All Star. Joba right now suffers because he doesn't have the wins; his lone victory came in relief. But it's hard to argue with his numbers otherwise.
As a reliever, he threw 23.2 innings to the tune of a 2.28 ERA. He struck out 30 while walking 11 and opponents hit .190/.284/.274 off Joba the reliever. As a starter, he's thrown 18.1 innings while making his transition, and his ERA stands at 2.45. He's struck out 19, and while the 12 walks are too many, opponents are batting just .239/.354/.328 off Joba the starter. Not too shabby, eh?
So here's my question for us to debate while the Yankees enjoy their off day tonight: It's hard to believe that there are too many hurlers in the AL who would be better choices than Joba considering the nature of the game, and it's pretty easy to argue that he deserves to make it on his merits. The only knock — and it's a weak one — is his win total, but if he has a few more stellar starts as he has the last few weeks, the case for Joba becomes even more compelling. So if you were in charge of the All Star Game, would pick Joba Chamberlain as one of your pitchers?
By

Derek Jeter is the American League's leading All Star vote-getter right now. In the latest voting results, Jeter's tally comes in at 1,988,251 votes, a few thousand more than David Ortiz. Imagine how Jeter would be doing if he weren't hitting .279/.336/.379 with 9 double plays.

In other All Star news, Joe Mauer has rightfully moved past Jason Varitek, and Ian Kinsler now finds himself just 160,000 votes behind Dustin Pedroia. I really think Yankee fans should stop voting for Robinson Cano and start supporting Kinsler. It's the only way to unseat Pedroia. Youkilis leads at first with Giambi in third, 600,000 votes behind. · (14) ·
While this isn't Yankee-centric, I find this to be a nice story about some of the good things MLB, as one of the country's most popular sports, can accomplish. This morning, Major League Baseball announced a new fundraising initiative supporting Veterans returning from service.
MLB along with its Website arm and the McCormick Foundation are hoping to raise $100 million for services that support Veterans and 100,000 jobs for Veterans as well. To mark the start of this effort and honor our veterans, teams will wear new Stars & Stripes hats, shown above, over the July 4th weekend and on September 11. Money from the sales of those caps (available online) go toward the initiative termed Welcome Back Veterans.
While Paul Lukas at the Uni Watch blog finds them to be "ridiculous," I think that assessment misses the mark a bit. No matter what your views on America's overseas involvements are, many returning veterans, scarred emotionally and physically by the wars the U.S. is fighting, have not received the care they need and deserve. The hats — a token gesture — and the much-needed fiscal support that comes from the fundraising aren't about the politics behind the war; they are about aiding people who desperately need help. While Major League Baseball has long been facing an uphill battle over its perceived response to drug testing and various other issues surrounding the game, those organizing this effort should be applauded.
Josh Kalk, proprietor of the PITCHf/x blog from small ball to the long ball, has authored a piece on The Hardball Times about our one and only Phil Hughes. Kalk talks about a number of things regarding our favorite former prospect, leading off with the velocity issue. Spoiler: He doesn't have an answer.
What's more interesting is Kalk's look at Phil's release points from 2007 and 2008. Many people believe that Hughes needs to go more over the top to enjoy success in the majors. It appears he's gone the other way, at least relative to last year. It's not a big move, but if you look at the graphs in the piece, his arm angle has moved to the right, from his view, meaning he's coming from more of a side angle.
Despite this change in arm angle, Phil has been remarkably consistent with his release point this year, with all of his pitches. He tends to release his fastball a bit higher than the curve, but for the most part, according to Dan Fox, his release point is "about the size of a postcard." Kalk wonders if this consistency is actually problematic; that is, does Phil allow for the hitter to concentrate on one area and pick up the ball better because of it?
I'm not so sure about that. Clearly, there were plenty of things going wrong with Hughes earlier this season that had nothing to do with his release point. He wasn't getting nearly as many swings and misses as last year, and he wasn't throwing as many strikes. Perhaps his new arm angle had something to do with that — not necessarily that it isn't working, but that he was still adjusting to it. Maybe it was because of the injury. Or maybe he's a headcase in disguise who can't handle guys getting hits off him. Some might say he plain sucks, but I think that's a premature diagnosis.
With Wang out and Rasner falling back to earth, the return of Hughes could play an integral role in the latter months of the season. He and his pal IPK certainly haven't performed even close to expectations. But they'll certainly get another shot in the coming weeks and months.
Thanks to Glen for sending in the article!
By

After last week's hullabaloo over Pat Venditte's debut, every writer around wanted to find out more about the Yanks' ambi-pitcher. One of the better profiles I read came from Mike Ashmore, beat writer from the Hunterdon County Democrat and editor of the Thunder Thoughts blog. Ashmore spoke Eric Wordekemper, former college teammate of Venditte, and offers up some insight and a scouting report of the Yanks' unique pitcher. · (8) ·
By

I missed this one while I was out of town at the end of last week. Tim Beckham, the first overall pick in this year's draft, agreed to a record $6.15M deal, bringing in $50,000 more than The Justin Upton did in 2005. I'm surprised the deal was announced so soon, but Jim Callis doesn't think the signing will inflate the bonuses for the remaining unsigned players. Last year Rick Porcello received a $3.58M bonus as part of a four-year ML contract that could be worth $11.1M with incentives, the largest deal ever given out to a high school pitcher. Boras will likely milk the Yanks' teet dry for Gerrit Cole, but I doubt he'll get a Porcello-esque deal, even if Beckham's deal causes inflation. I do expect Cole to get more than the $2.1M given to Jarrod Parker recieved as the 9th overall pick, which was the second largest bonus given to a HS pitcher last year. · (15) ·
By

Newsday's Neil Best had something of a shocker over the weekend: It's looking very likely that Mike & the Mad Dog will go off the air in September. Apparently, Chris Russo and Mike Francesca, who hardly every do the show together anymore, don't like each other much. As the Big Lead asks, is anyone surprised that two morons on the radio can't get along? Meanwhile, we'll just have to wonder what the YES Network and RAB regular Jamal will do with their afternoons once September rolls around. · (51) ·
It seems that Krazy Kyle isn't so enthused about the Yankee fans these days. Via David Waldstein at The Star Ledger:
The Yankees reliever was forced out of the game after reaching out for a batted ball and needed three stitches, but not before giving up home run No. 601 to Griffey.

The fans cheered Griffey's overall accomplishment as he rounded the bases, and Farnsworth couldn't hide his disappointment in the gesture — especially because some fans had the gall to cheer as Farnsworth was later escorted off the mound by trainer Gene Monahan.

"I have no comment about that," he said tersely.
When Farnsworth left the game yesterday afternoon, the comments in the game thread here on RAB expressed similar sentiments. A few people wished injury about Farnsworth and hoped he would be out longer than the few days Yankee manager Joe Girardi suggested.
But a few other fans offered up different takes. As Old Ranger wrote:
Real Yankee fans don't want to see Fansy out. Only those that don't see how much he is helping the team. Not everyone can be MO, Farnsy is OK, not great but OK.
And therein lies the rub. Is Kyle Farnsworth helping the team? On the season, his numbers are decidedly average. His ERA — a poor indication of a reliever's success — is 4.05, a shade under the league average of 4.09. He's thrown 33 innings and with 30 strike outs and 12 walks, much better numbers than his 2007 effort (27 BB, 48 K, 60 IP). But he's also given up nine home runs already this year, and his WHIP stands at 1.47, a higher mark than his 2007 number (1.45). He's given up runs in 11 of his 32 appearances this year.
From a more sabermetric perspective, Kyle has a 4.7 VORP, making Kyle as a reliever a bit better than league average. Baseball Prospecuts figures he's added about 1.25 wins over replacement level, with replacement level being defined as whatever is available. For better or worse, 76 games into the Yankees 2008 season, that number puts him second in the bullpen behind only Mariano Rivera.
Now when the time comes, the Yankees may have better internal options. Of J.B. Cox, David Robertson and Mark Melancon, the odds are good that at least one of them turns out better than replacement level. My money's on Melancon, but perhaps, we'll be surprised by two or three of them. The question these pitchers may soon force is this: Are they better than Kyle Farnsworth? Right now, no one knows.
We may hate Farnsworth for the heart attacks he gives us; we may hate him because he hates us. But he's not totally useless. Yet.
Triple-A Scranton (10-1 beatdown of Toledo)
Brett Gardner: 0 for 1, 3 R, 4 BB, 2 SB
Justin Christian: 2 for 4, 1 R, 1 2B, 2 RBI, 1 BB, 1 K – even he would be a better option than Melky at this point, no?
Shelley: 1 for 5, 1 2B, 4 RBI, 1 K – Chad Jennings says he made a great diving catch at the warning track as well
Juan Miranda: 3 for 5, 1 R, 1 RBI – 13 for his last 23
Jason Lane: 1 for 4, 1 R, 1 BB – so much for joining the team in Pittsburgh
Eric Duncan: 1 for 5, 1 R, 1 RBI, 1 K, 1 E (fielding)
Chris Stewart: 2 for 3, 2 R, 1 RBI
Jeff Karstens: 6.2 IP, 2 H, 1 R, 0 ER, 1 BB, 11 K, 2-7 GB/FB - had a perfect game broken up with 1 out in the 6th
Steven White: 2.1 IP, zeroes, 3-4 GB/FB - 1 baserunner allowed in 4.1 IP since being DFA'ed