Earlier today we looked at Day Two of the draft, which featured a lot of power hitters and (physically) big pitchers. Now let's focus on Day Three, which followed a completely different theme entirely.

Day Three: Signability
Signability is a great little catch-all term that definitely has some connotations to it. It typically refers to a player that falls in the draft because of a strong college commitment and the likelihood that it'll take an above-slot bonus to get them to turn pro, so guys like Dellin Betances and Austin Jackson and Bryan Mitchell are perfect examples. The primary connotation stuck to it is that the player also has high upside, which is not always the case. The Yankees loaded up on signability types on the final day of the draft, some of whom legitimately own big time potential.
The best of the bunch is high school hurler Adam Ravenelle (44th round), a 6-foot-3, 185 lb. right-hander touted as one of the best prep arms in New England. His fastball consistently sits in the low-90's despite the need for sharper mechanics, and he's shown the ability to spin a tight breaking ball and also fire off a quality changeup. It's the kind of package you can dream on. Ravenelle is very raw and also very committed to Vanderbilt, so much so that Conor Glassey said (rather matter-of-factly) he will attend college in the fall in Baseball America's review of Day Three.
The Yankees also landed a non-traditional signability guy in Jeremy Rathjen (41). The Rice center fielder took a medical redshirt this spring after tearing his ACL, and he has the added negotiating leverage of being able to go back to school as a fourth-year junior and re-enter the draft in each of the next two years, when he'd be coming off a (presumably) healthy year. Rathjen is a physical specimen at 6-foot-6 and 190 lbs., offering bat speed and plenty of power potential to go along with above-average foot speed and defense in center. A monster performer in wood bat summer leagues, he was expected to be a fourth or fifth rounder before the injury, though I'm guessing it'll take more than a fifth round bonus ($200,000 or so) to get him to sign on the dotted line.
Another New England high schooler, right-hander Joey Maher (38), sports a heavy upper-80's sinker that figures to add a tick or two as he fills out his 6-foot-5, 200 lb. frame. The secondary pitchers are still a work in progress, but you can't teach that kind of natural movement on the fastball. Illinois righty Tyler Farrell (43) owns a 6-foot-2, 190 lb. frame that delivers fastballs up to 93 with a power curveball from a refined, old school drop-and-drive delivery. It was arguably the best two-pitch combo available out of the state this year. Chris McCue (35) has already figured out a changeup, a huge step in any pitcher's development, and the right-hander also throws low-90's gas and a downer curveball while standing just 6-foot-0 and 170 lbs. Commitments to Northeastern, Western Illinois, and North Carolina stand in the way of these three, respectively.
Outfielder Spencer O'Neil (33) apparently wants $1M to sign, which probably means the Yankees will wish him luck during his career at Oregon. He fills out a uniform well (6-foot-4, 185 lbs.) but still needs plenty of development on both sides of the ball. Righty Skylar Janisse (34) works in the 80's with his fastball and is mostly a projection pick (6-foot-4, 200 lbs.). He's committed to Oakland and isn't a priority sign. Lefty Wes Benjamin (48), outfielder Ethan Springston (47), and shortstop Kevin Cornelius (42) are more lottery ticket types; the Yankees will follow their progress in the various summer showcase events before deciding on their true worth.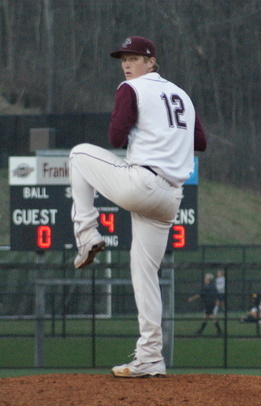 The Yankees also did a fine job grabbed some small/junior college players. Franklin Pierce righty Ryan Thompson (36) was born in Canada, grew up in the Bahamas, and spent two years at UConn before transferring this spring, a good move since his goal was to gain more exposure rather than be buried on a deep pitching staff. The 6-foot-3, 190 pounder throws a two-seamer fastball anywhere from 88-92 and also offers a slider and changeup. Thompson still has room to fill out and already has a reputation as being a guy that hold his velocity deep into games. He was expected to be more of a early-double digit rounds pick, so the Yankees got good value with the pick and will get better value if they sign him. Navarro Junior College righty Tyler Maples (49) has run his fastball up as high as 93. And as usual, the Yankees did select some college players to fill out rosters in the lower levels of the minors, namely LSU shortstop Tyler Hanover (40) and Missouri third baseman Connor Mach (46).
Following what seemed like a concerted effort to address the organization's lack of power in Day Two, the Yankees followed a more traditional path and went for more upside in the final 20 rounds on Day Three. Aside from Ravenelle and Rathjen, the two real standouts of Day Three, Farrell and McCue are the two big upside picks. Farrell has a knockout two-pitch combo already in his back pocket and McCue has already shown three legitimate pitches with potential (rare for high schoolers) even if his size isn't ideal. UNC doesn't screw around either, that's a powerhouse baseball program that only goes after the best, so that's another feature in McCue's cap.
The draft is like the regular season in that it's a marathon and not a sprint. There are fifty rounds, fifty names, and fifty door number threes. One player or bad pick can't sink a draft class, but one player sure can make it. The Yankees did a fine job of targeting upside yesterday while other clubs were filling out minor league rosters, but they lost out on the consensus best of the best by waiting until Day Three to go for that upside. Some of their early picks were reaches, so they're going to need to sign some of these late guys to have a chance at some real impact players.