Mailbag Day is going to spill over into the weekend for just one post, since it was a fun question the three of us wanted to tackle.
Hey guys, just wondering what are your picks for the awards this year. ROY, MVP, CY Young, MOY, and the Comeback POY?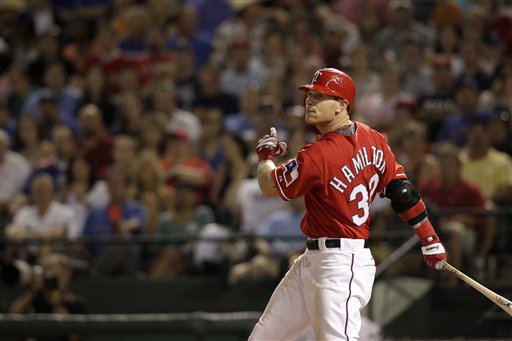 We're going to do the AL only, just because. So, without further ado…
MVP
Ben: Josh Hamilton
On emotion alone, I'd love to give this one to Robinson Cano, but Joe made a very compelling statistical argument that the Yanks' second baseman shouldn't deserve it. Because the Rangers are playoff-bound and Josh Hamilton has been an utter stud — even while missing a month of the season — he gets the trophy.
Joe: Hamilton
I know that voters will ding Hamilton because he missed September, but they didn't discount Joe Mauer missing April last year. The reason is obvious: September is viewed as this all-important month during which teams can make miraculous postseason runs — or they can collapse completely. But by demolishing the baseball from April through August, Hamilton made September a non-issue for the Rangers. They had an 8.5-game lead going into September, and if we take WAR literally Hamilton was the difference.
Mike: Hamilton
The best player on one of the best teams in the league, Hamilton hasn't played in a month and still holds a 0.9 WAR advantage over everyone else in the AL. The late injury hurts his candidacy just a bit, but he's been so far above and beyond anyone else in the league that it really doesn't matter. I'd be perfectly fine with Cano or Miguel Cabrera getting the award as well, but my preference is Hamilton. Just be glad he doesn't play for Tampa anymore.
Cy Young
Ben: Felix Hernandez
The Cy Young is another award that could go to a Yankee on emotion, and CC Sabathia wouldn't be a terrible choice. Yet, Felix Hernandez has utterly dominated the American League. He picked apart the Yankees with ease in three outings and is leading the league in strike outs. He wins it despite a 13-12 won-loss record that might dissuade those who actually vote for the hardware.
Joe: Hernandez
I want to pick CC. Without him the Yanks would be nowhere. But if Felix Hernandez had taken his place the Yanks might actually have another win or two. He has been flat-out dominant this year. There are only two knocks against him, neither of which I'm buying.
1) How can you give the Cy Young to a guy with 13 wins? When his offense is poor on an historic scale. That not only means that he's getting no run support, but that he doesn't have the benefit of ever facing the worst offense in the league.
2) That he didn't pitch with anything on the line, so there was no pressure. I've never pitched a major league game, but anyone who makes this point wears that fact on his sleeve. Do you seriously think that it's any easier on Felix because his team is in last? I think that's a generous assumption. In any case, there is not a scintilla of evidence to back it. It's just armchair psychology.
Mike: F-Her
The award goes to the best pitcher, and Felix was just that in every meaningful way. I'm not going to hold it against him that his team has the worst offense of the DH era, if anything you can argue that that put even more pressure on Hernandez and made his job even more difficult. Sabathia or Francisco Liriano would be a fine winner in most years, but what Felix just did this season doesn't qualify as most years.
Rookie of the Year
Ben: Neftali Feliz
The American League has a bunch of uninspiring choices for Rookie of the Year this year. The best offensive candidate strikes out more often than once a game and has managed to maintain a BABIP over .400 while showing limited power. I'm going with Feliz simply for the impact of it. He'll rack up 40 saves this year with an ERA around 2.77, and he gives Texas a very comfortable ninth inning option. Austin Jackson and Brian Matusz would round out my top three.
Joe: Danny Valencia
I made the case for Valencia on FanGraphs last month, but I still thought Jackson should get it. Since then I've changed my mind. Jackson gets plenty of credit for going wire-to-wire as a lead-off hitter, but by season's end his numbers look a bit less inspiring than we imagined in April. Valencia, on the other hand, came on strong after being recalled in June, and has produced 2.9 WAR in just 311 PA. I have a hard time not putting Jackson here, but Valencia has been so good in his four months that I think he's deserving of the nod, even though there's little chance he gets it.
Mike: Austin Jackson
I'm not married to this pick at all; it was just a down year for AL rookies in every way. Jackson's posted an above average .338 wOBA with 26 steals and Gold Glove defense while hitting leadoff all season, not easy to do as a 23-year-old in the big leagues. Feliz, Valencia, and Matusz are worthy foes, and frankly I wouldn't have a problem if any of them won.
Manager of the Year
Ben: Ron Gardenhire
It's very tempting to give this one to Buck Showalter. In just over 50 games, he's worked wonders with the Orioles, but he'll have to earn that next year. Both Ron Gardenhire and Ron Washington have lead good teams to titles in two easy divisions, but I think Gardenhire has had to work through and around more key injuries. He gets my vote but either skippers are deserving.
Joe: Ron Washington
After all his off-season turmoil, Ron Washington managed to keep hold of his team and guide the franchise to its first playoff berth since the 90s. He had to make some tough decisions early in the year when some players weren't performing, and for the most part they worked out.
Mike: Gardenhire
I hate this award, because who knows what kind of impact a manager really had. Gardenhire dealt with significant injuries to his best players and still guided a team that turned a four-and-a-half game deficit into a twelve game lead and a division title within the span of just 91 games.
Comeback Player of the Year
Ben: Francisco Liriano
After going 5-13 with a 5.80 ERA and 21 home runs allowed in 136.2 innings last year, Liriano has had one hell of a rebound year. He's 14-10 with a 3.62 ERA, and prior to Thursday night, the hard-throwing southpaw had allowed just six home runs all season. He's a big reason for the Twins' success and the key to their October as well.
Joe: Josh Hamilton
Last year Hamilton appeared in just 89 games and produced a .321 wOBA. This year he's the frontrunner for the MVP award, leading the AL in WAR even after missing a month. His WAR this year, by the way, is greater than his previous years combined.
Mike: Adrian Beltre
Beltre missed a bunch of time with shoulder surgery and a contused testicle in 2009, and when he did play he hit just .265/.304/.379. He came back from that and was arguably the best player in the AL this season, so he gets my vote with all due respect to the two fellas mentioned above.
* * *
So what about you guys, who do you have for the awards? Tell us in the comments.