Ah the '96 season. Easily my favorite of the Championship years. Who could forget Doc and Jimmy, Zim and Big Cecil, the rookie sensation and the rookie dud, the new manager coming in and the old icon leaving, and of course, the winning. Goodness, did that team win. They won on the first day of season, they won on the last day of the season, and they won 101 times in between. That team wasn't expected to win, but they did anyway.
Fast forward to 2008, and most consider this Yankees' team dead in the water. The six game deficit is too big, the offense is too anemic, the rotation is too thin, and the bullpen is too flaky. No one expects them to win, but let's do it anyway.
1. Jeter, SS
2. Abreu, RF
3. A-Rod, 3B
4. Posada, DH
5. Dick Lock Sexy, 1B
6. Cano, 2B
7. Melky, CF
8. Hava Molina, C
9. Gardner, LF
And on the mound, the man with a 2.74 ERA in his last 52 IP, Mikey Moose.
Notes: Billy Traber was shipped to AAA & Phil Hughes was retroactively placed on the 60-day DL to clear 25 & 40-man roster spots for DLS … Oaktown's throwing a southpaw, so obviously Jason Giambi would be more useless than Jose Molina tonight, or maybe he's just nursing a hangover … the game is on MY9 tonight, not YES …
By

Cliff Cororan: man of 6000 words. The Banter has all you need to know — and much, much more — about the Yankees at the midway point. Check it out; Cliff did a great job. · (11) ·
On July 6th with the Red Sox and Yanks locked in a game that would eventually be decided by a Brett Gardner infield single, Manny Ramirez came up to pinch hit in the top of the 9th. With the winning run on base, Ramirez had the unenviable task of facing Mariano Rivera. Manny took three pitches, all for strikes, and walked back to the dugout.
At the time, we were in awe of Mariano. He is having a season for the history books, and that strike out of Ramirez was indicative of his success. But what if Manny helped him along a bit? In a post on the Extra Bases blog today, Boston Globe writer Steve Silva writes about a conflict between Manny and the Red Sox. Apparently, Bob Lobel, the former sports director of the Boston-based WBZ, while reporting on the six-figure fine Ramirez received for shoving Jack McCormick, had some choice words to say this morning. Silva reports:
[Lobel] went on to allege that there was a perception that in a pinch-hit at bat at Yankee Stadium on July 6 — more than a week after the incident with McCormick — Ramirez took three straight called strikes to send a message to the Sox.

"The thing that most people are forgetting and haven't talked about is the strikeout in Yankee Stadium," Lobel said. "The bat on the shoulder for the three pitches from Mariano Rivera. That was a big [expletive] to the Red Sox after the fine. I'm just telling you … there are things in the front office that are perceived … I'm saying that there is a strong feeling that that [three-pitch strikeout] was the message to the Red Sox and it's a strong feeling that that's unacceptable … there's a feeling that he didn't give it his all, let's put it that way … I'm just saying the front office has not forgotten that moment. It's akin to Nomar sitting on the bench. It's the same thing. It's an at bat that resonated very strongly in the front office."
For us, this shouldn't take away from the accomplishments of Mariano Rivera. If the Red Sox want to make "Manny being Manny" excuses, let them. Mo is Mo every time he pitches this year.
But from a player personnel perspective, this could get interesting. In 2004, Theo Epstein drew the ire of Boston sports fans by trading away the popular Nomar Garciaparra. While I doubt he would do the same with Manny Ramirez this year, the Sox and Manny have a contract to negotiate, and incidents such as this one and another involving the Front Office won't endear Manny to the Sox.
So here's something to muse: With the Yanks' outfield in a state of flux and Manny seemingly on the outs with the Red Sox ownership, how would you feel about Manny in pinstripes for a season or two? The temptation will be very, very strong among the Steinbrenner family if Manny hits free agency in November.
By

…but not to the Bronx quite yet. According to Ken Davidoff, the Mets' new park CitiField could be the 2013 All Star Game host. I'm looking forward to seeing the Mid-Summer Classic return to the Big Apple. This week of baseball festivities was just plain old fun. · (9) ·
A lot of Yankee fans are looking at 2008 and taking solace in its similarities to 2007. After all, last year at the All Star break, the Yanks were 43-43, 9.5 games in back of Boston and eight out of the Wild Card. This year, they're six out and 5.5 behind the Wild Card leaders.
If only baseball were that simple. First, we have the problem of the run differential. Last year at this time, the Yankees had been one of the unluckiest teams in baseball. Having scored 464 while allowing only 393 in 86 games last year, the Yankees should have been 49-37, a six-game swing above their actual record.
This year, the Yanks have scored 436 runs and have allowed 412 in 95 games. So while they're pitching has been better this year than last, the Yanks are playing right where their run differential would have them — at 50-45 and in third place in the AL East.
This run differential is but a minor problem compared to the overarching issue. Last year, in the second half, the Yanks ran over a weak slate of teams en route to their 13th straight postseason appearance. This year, they aren't so lucky. Pete Caldera gives us the bad news:
In these final 67 games, beginning Friday night against Oakland at the Stadium, the Yankees will face teams that currently own a combined .536 winning percentage. Only the Blue Jays have a tougher second-half schedule.
That is not good news. Between now and the trade deadline, the Yankees face the A's, Twins, Red Sox (in Boston) and the Orioles. They play in New York against the Angels to open August and then hit the road for 10 games in Texas, Anaheim and Minnesota before things get any easier.
So right now, starting this evening, it's make-or-break time for the Yankees. They need a strong start to the second half to push forward toward the playoffs, and if they sag against the A's and Twins this week as they did against the Pirates and Blue Jays last week, it's going to be a tough climb against tough competition.
Robinson Cano, Bobby Abreu and Melky Cabrera are going to have to hit; Jeter will have to pick it up; and Mike Mussina will have to hope that this Fountain of Youth he's discovered doesn't run dry as the season drags on. While Baseball Prospectus' Playoff Odds reports puts the Yankees' playoff chances at eight percent and Cool Standings puts it at 15 percent, this won't be easy. Here we go.
Got a special treat for you tonight. Loyal reader Giselle was watching the Double-A Trenton game on TV up where she lives in Massachusetts (they were playing the Red Sox's Double-A affiliate), and she offered write-up the Trenton game and add some of her observations.
Check it out and let her know what you think in the comments. Be gentle, it's her first time.
8-1 win over Portland. 10 hitters came to the plate in the 6th and scored 5 runs off of 6 hits (4 doubles).
Reegie Corona and PJ Pilittere: Both 0 for 4, each K'd once. Corona grounded into a dp.
Ramiro Pena: 2 for 5, 3 K's 1 RBI, scored a run. Caught stealing and was given an error on an Uggla-like bad hop.
Austin Jackson: 4 for 4 walk, 2 doubles, rbi, 2 runs scored. Kept his perfect OBP intact after being down 0-2 in the 9th w/ 2 outs.
Chris Malec: 3 for 5, double, rbi, 2 runs scored.
Colin Curtis: 2 for 4, doubled, 2 rbi, scored a run. Threw a runner out at 2nd. (he got the force out at second cause the runner didnt know the ball was gonna drop. whats that scored as? stupidity?) [Note by Mike: Yes, the official scoring is SR, or "stupid runner"]
Edwar Gonzalez: 0-3 with a walk, a rbi, and a run scored. Threw a runner out at 2nd.
James Cooper: 2 for 4, K'd once and scored a run. Infield hit in the 8th.
Walter Ibarra: 1 for 3 with a walk, rbi, and a run scored. Couldn't bunt a runner over to third, ended up doubling him home to score the first run.
Chase Wright: 5.1 IP 5H 1R 1 ER 1BB 6K, 4-5 GB-FO ratio.
Jose Valdez: 0.2 IP 1K zeroes.
Zachary Kroenke: 1 IP 1H 0R 0BB 1K
Anthony Claggett: 1 IP 1H 0R 2BB 2K. Pitched himself into and out of trouble.
Oneli Perez: 1 IP 3K. Three up, three down.
By

This week, while watching both the Home Run Derby and the All Star Game from Tier Reserved Section 31, I got to thinking about the seats in Yankee Stadium and the seats in the new stadium. While we know that the Tier Boxes at the new stadium won't be quite the same as they are in the current stadium, there is one consolation: The sightlines have to be better.

In my seats this week, if I sat straight, I was facing the spot behind second base in the outfield and not the pitcher's mound. I also couldn't see the outfield from right-center to the foul line. It made for quite the Derby-watching experience. So maybe, with nearly every seat at the new park offering unobscured views of the field, this new stadium will make for a more enjoyable game-watching experience once we get over the fact that it's not the Yankee Stadium we know and love. · (3) ·
Your mission tonight: comment on the following picture. We can do captions, comments, what have you. Tommiesmithjohncarlos, I'm expecting a lot from you.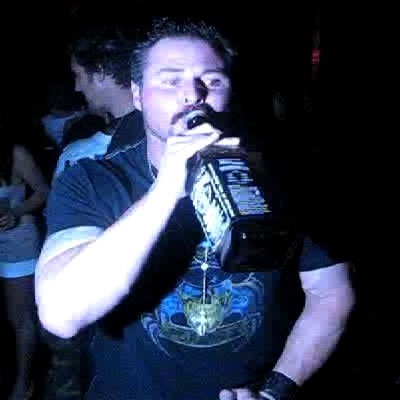 By

The numbers are in, and this week's 15-inning All Star marathon at Yankee Stadium was a huge ratings hit. As Maury Brown at the Biz of Baseball reports, an estimated 14.54 million viewers watched the game, the most viewers of the Mid-Summer Classic in the last six years. Brown also notes that Monday's Home Run Derby was the highest rated cable TV broadcast of the year and that merchandise sales — including the popular Statues on Parade — and FanFest attendance reached record highs as well. Brown does offer up an interesting question to ponder: How can MLB top this year's Yankee Stadium send-off next year and in years to come? · (13) ·
By

Buster Olney reports that Richie Sexson and the Yankees are a good fit have reached a tentative deal. The righty, released last week by Seattle, will get paid the pro-rated minimum by the Yanks and could be in the lineup on Saturday when the Yanks face A's lefty Greg Smith.

The Mariners had let Sexson go over concerns surrounding his attitude and his .218/.315/.381 offensive line in 292 plate appearances this year. But the Yanks' view Sexson's right-handed bat as a balancing force in a lineup that has struggled against southpaws this year. In 71 plate appearances against lefties, Sexson is hitting .344/.423/.623 this year. And if Sexson doesn't stick in New York, it's only money. · (151) ·