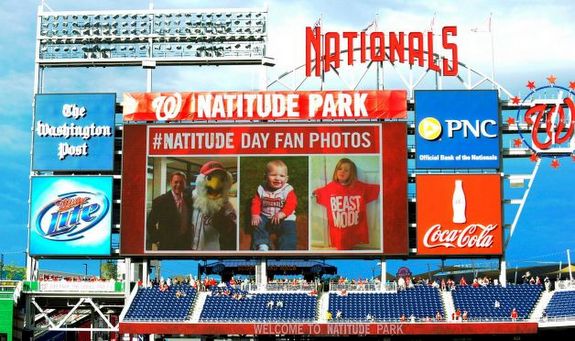 I have to admit, I'm kinda disappointed the Yankees are going to miss both Stephen Strasburg and Chien-Ming Wang this weekend. I think most of us have had this series circled on the calendar since the schedule was released, but I was really looking forward to seeing Strasburg's awesomeness and the nostalgic aspect of CMW. For shame.
What Have They Done Lately?
Win and whole lot of it. The Nationals have won six straight games just like the Yankees, including a pair of three-game sweeps on the road in Boston and Toronto. That's some accomplishment. Washington has the second best record in baseball at 38-23, trailing only the Dodgers. Their +42 run differential is the third best in the NL.
Offense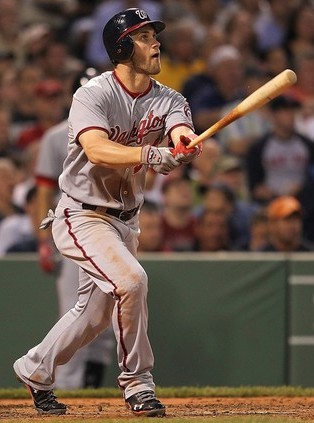 You'd never know the Nationals were one of the best teams in baseball by looking at their offense. They average just 3.93 runs per game, a bottom ten mark in baseball and the second worst by a team with a winning record. As a team, they own a .308 wOBA and a 91 wRC+, and are near the bottom of the league in stolen bases (37) and homers (62). Injuries to Jayson Werth and Wilson Ramos are partly to blame, but sheesh.
It all starts here with Bryce Harper. The 19-year-old wunderkind has a 150 wRC+ in 117 plate appearances since being recalled at the end of April and quite simply, he's been one of the best players in baseball since arriving. He's amazing. Adam LaRoche (124 wRC+) has been their best non-Harper hitter and is their only other guy in their lineup that can safely be considered above average this season. Ryan Zimmerman (76 wRC+) has missed time with injury and Mike Morse (40 wRC+) has yet to get going after coming off the DL. Those are supposed to be their big bats.
The Nationals have gotten some decent mileage out of rookie Steve Lombardozzi (88 wRC+) and the middle infield tandem of Danny Espinosa (98 wRC+) and Ian Desmond (100 wRC+). Rick Ankiel (72 wRC+) gets most of the reps in center but former Yankee Xavier Nady (19 wRC+) will see some action against lefties with Harper moving to center. Jesus Flores (61 wRC+) has taken over behind the plate following Ramos' injury. The bench — Tyler Moore (135 wRC+), Roger Bernadina (104 wRC+), and backup catcher Jhonatan Solano (227 wRC+ in four games) — is full of recent call-ups with strong numbers is very small samples. With all due respect to Zimmerman, Morse, and LaRoche, Harper is the guy the Yankees have to stop.
Pitching Matchups
Friday: RHP Phil Hughes vs. LHP Gio Gonzalez
The Yankees have historically pounded Gio, but this isn't the same guy. The southpaw has been one of the best pitchers in all of baseball this year, pitching to a 2.35 ERA (2.06 FIP) with a sky-high strikeout rate (11.02 K/9 and 30.4 K%) and a strong ground ball rate (49.1%). His walk rate (3.72 BB/9 and 10.2 BB%) is still high but you can live with that given his propensity to miss bats and generate grounders. Gonzalez throws both a two and four-seamer in the low-to-mid-90s and he can reach back for 97-98 in tight spots. His curveball is one of the best in the game, a true bender right at 80 mph. A mid-80s changeup is an infrequently used third pitch. Gio will still walk himself into trouble occasionally, but at age-26 he's really starting to put it all together.

Saturday: LHP Andy Pettitte vs. RHP Jordan Zimmermann
Kind of a forgotten man given everything going on around him, Zimmermann has very quietly been one of the best pitchers in baseball over the last two seasons. His 2.91 ERA is backed up by a 3.87 FIP that is due to an unusually high homerun rate (1.16 HR/9 and 14.9% HR/FB), though he keeps the walks down (1.51 BB/9 and 4.1 BB%) and limits the damage to solo shots. Zimmermann is more of a ground ball guy (51.7%) than a strikeout guy (6.52 K/9 and 17.8%), and he recently told David Laurilia that that's a conscious decision. A low-to-mid-90s fastball is his weapon of choice, and he'll use it to set up his mid-80s slider and upper-70s curveball. He'll also break out the occasional mid-80s changeup. I get the feeling that a lot of people will see Zimmermann for the first time this series and be surprised by how good he is.
Sunday: RHP Ivan Nova vs. RHP Edwin Jackson
The best free agent deal of the offseason, Jackson has pitched to a sparking 3.02 ERA with peripherals that are right in line with previous years: 3.50 FIP, 6.95 K/9 (19.6 K%), 2.46 BB/9 (16.9 BB%), and 44.9% grounders. He's a two-pitch pitcher stuck in a four-pitch pitcher's body, meaning he relies heavily on his mid-90s heat and mid-80s slider but will also throw a mid-80s changeup and an upper-70s curveball on the rarest of occasions. The Yankees have seen Jackson plenty through the years, both the crummy Devil Rays version and the good White Sox version.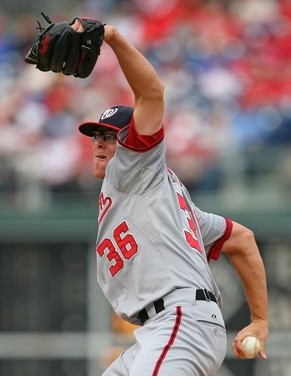 Bullpen Status
Like the Yankees, the Nationals have a fresh bullpen because they had Thursday off. Former Yankee Tyler Clippard (1.92 FIP) has stepped up in the closer's role while elbow woes have shelved Drew Storen, and he's being setup by right-hander Craig Stammen (2.74 FIP) and left-hander Sean Burnett (2.31 FIP). The only other righty in manager Davey Johnson's bullpen is Brad Lidge, who has not been all that good this season (5.57 FIP).
In addition to Burnett, Johnson has a trio of southpaw relievers to deploy in various situations. Mike Gonzalez (2.39 FIP) has thrown just three innings since being recalled and is their middle innings matchup guy. Tom Gorzelanny (3.28 FIP) will work full innings and face batters on both sides of the plate, and former fifth starter Ross Detwiler (3.96 FIP) handles most of the long relief work. Overall, Washington's bullpen owns a 3.00 ERA with a 3.49 FIP.
The Yankees are getting David Robertson back today, so thank goodness for that. You can check out our Bullpen Workload page for the exact details, but having Robertson back will help because guys like Boone Logan, Cory Wade, and Rafael Soriano have been worked hard of late. Needless to say, it'll be great to see him back. For the latest and greatest on the Nationals, we recommend Federal Baseball.
RAB Meetup Info
If you're like me and will be in the nation's capitol this weekend, we're going to have a little meetup on Saturday night after the game. Here are the details.