The Yankees say they've had independent contractors check their concrete. (Ashley Gilbertson for The New York Times)
As many builders do during big-ticket construction projects, the Yankees have kept an eye out on the quality of the materials used in the new Yankee Stadium. They've also managed to uncover some form of corruption, and in Saturday's Times, a story about the concrete used in the stadium construction is plastered across the front page of the Old Grey Lady.
Testwell Laboraties Inc., the company hired to provide the Yankees and the Freedom Tower with concrete, is, according to William K. Rashbaum's piece, under investigation for falsifying test results and flat-out omitting others. Rashbaum reports on the Manhattan prosecutor's efforts:
The investigation has uncovered problems with tests the company conducted on concrete poured over the last two years at the new Yankee Stadium in the Bronx and the foundation of the Freedom Tower in Lower Manhattan, along with as many as a dozen other projects, said several of the officials, who spoke on the condition of anonymity because the investigation is continuing.

The investigation has also raised questions about past work done by the company, Testwell Laboratories Inc., at a wide range of sites around the city. Construction and inspection practices in the city are already under scrutiny as a result of a series of fatal accidents and arrests on corruption charges…

The investigation centers on allegations that the company in some instances failed to do preliminary tests, including some known as slump tests, and later falsified the results of more sophisticated compression tests, officials said. A building boom in the city, meanwhile, has fueled the demand for concrete — supplied by an industry that still bears the taint of decades of mob domination.
Ah, the mob. Nary a construction project goes through in New York without some allegation of mob involvement, and that's why the Labor Racketeering Unit in the Manhattan D.A.'s office is on the case.
For their part, the Yankees say they've hired an oversight company to ensure Testwell's materials are up to par, and in fact, this action brought about the city investigation. Per Rashbaum:
Howard Rubenstein, a spokesman for the Yankees, said that a company hired by the team to monitor the stadium project, a common practice in large construction endeavors in an effort to uncover fraud and abuse, discovered problems with Testwell's work and began its own internal investigation. The monitor, Ed Stier of Thacher Associates, took the information he developed about the tests to the authorities.
In the end, this is simply construction oversight by a city rather on edge following two fatal crane collapses in recent months, and I don't blame them. The Yankees, hoping to get the most out of their $1.4 billion investment, are being cautious. Only the best for the House that George Built will suffice.
As far as losses go, tonight's was fairly expected. The Yanks were facing the NL's ERA leader, and the team had just won seven in a row. But in a way, this loss is a bit infuriating too. With Boston and Tampa Bay both losing, the Yanks lost a chance to gain some ground. If only the breaks had gone their way.
The biggest play in the game was, besides a few early caught stealings, Johnny Damon's non-error on a fly ball he'll tell he should have caught. Leading off the fifth Edwin Encarnacion hit a hard line drive at Damon, and as the Yanks' left fielder went for the catch, he lost the ball in the glare from the lights at twilight in the Bronx. Encarnacion was awarded a double.
A few batters later — after an intentional walk that Mussina did not want to issue — Jolbert Cabrera picked up his third of four hits and drove in two runs. While he would score — and Ken Griffey would oddly high-five the umpire — the damage was done, and those two runs, the Reds' second and third of the game, would hold up. (Later on in the game, Cabrera would leave the game with a severely dislocated finger after sliding head-first into second base. Feet first is the way to go.)
For the Yankees, they just couldn't get any breaks. Jason Giambi missed a game-changing home run in the 7th by about a quarter of an inch when he lofted a deep fly ball to left-center field, and Wilson Betemit drove one deep only to see Jay Bruce haul it in with his back literally to the wall.
The story of the night heading into the game was Volquez, and he did not disappoint. He gave up two earned runs on seven hits while walking one and striking out five. The Yanks lost, but they didn't gain any ground. I'll take eight wins out of ten games any time of the season.
Game Notes Jason Giambi made the final out of the game as the potential tying run and went 0 for 4 on the night. He is now 0 for his last 12 since homering twice against San Diego on Tuesday. While we may have spoke too soon, I'd expect a hot streak from Giambi soon.
My respect for DotF's gone up a notch with Mike gone. This takes a looong time to compile, and I'm only doing the short version. More from me in a bit when I opine on the Yankees' 4-2 loss to Edinson Volquez and the Reds.
AAA Scranton-Wilkes Barre lost to the Toledo Mud Hens 8-4. (Box Score)
Dan McCutchen – 5 IP, 9 H, 6 R, 5 ER, 1 BB, 5 K, L (1-5) – Struggling a bit at AAA
Juan Miranda – 5 for 5, 2 2B, 2 RBI – Daaamn. He pulled a Jolbert Cabrera.
Shelley Duncan – 0 for 4, 1 BB – Shelley is 1 for 14 with 6 walks since returning to AAA
When tonight's Reds starter Edinson Volquez made his Major League debut, he was 21 years old and a phenom out of the Texas Rangers' system. He struggled mightily that year, going 0-4 with an ERA of 14.21.
Over the next two years, he would improve but not by much. In 2006 and 2007, he was 3-7 with a 5.90 ERA. While his strike out totals improved in 2007 to a shade under one K per inning, the Rangers opted to trade the youngster for Josh Hamilton last winter. It's been a win-win trade for both teams.
On the season, Volquez has been one of the top NL pitchers. He's 9-2 with a 1.64 ERA. In 88 innings, he's given up 29 fewer hits per innings pitched, but he's walked a batter an inning every two innings. His 105 strike outs are rather impressive.
Volquez is a study in patience with youth. He made his debut just a few weeks after his 22nd birthday, and now he has matured into a pitcher everyone thought he would be. Keep that mind when next you disparage Phil Hughes for a bad start this year.
On the mound for the Yankees is Father Time himself, going for his 11th win. Mike Mussina will have to pitch a tight game to give the Yankees an opening they'll need against Volquez. Game time is 7:05 p.m.
Damon LF
Jeter SS
Abreu RF
Rodriguez 3B
Matsui DH
Giambi 1B
Cano 2B
Cabrera CF
Molina C
Mussina P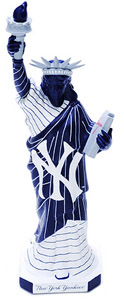 Back in 2000, as part of a charity auction, cows decorated by people from all over adorned the streets of New York as part of the Cow Parade. This year, with the All Star Game in town, MLB is releasing its own version of the cow parade: baseball-themed replicas of the Statue of Liberty.
Throughout the city starting today, observant New Yorkers can find 42 different Statues celebrating the 30 teams, the Brooklyn Dodgers and various other New York City baseball related designs.
I like this idea. While it's clearly a bit gimmicky, it's a nice way of honoring the city while marketing baseball, and if it's one thing we've learned over the last few years, it's that baseball needs to find a few feel-good marketing campaigns to run. Much like they did with the cows, fans will hunt down these statues for photo ops, and the casual person happening upon one of these statues will stop and notice it.
Per the press release, find the statues here, among other places:
STATUE
LOCATION
All-Star Game
MLB, 245 Park Avenue
American League
Statue of Liberty
National League
Ellis Island
Brooklyn Dodgers
Topps, One Whitehall Street
New York Giants
Toys "R" Us, Times Square,1514 Broadway
New York Mets
Penn Station, 2 Penn Plaza
Yankee Stadium tribute
Yankee Stadium
Atlanta Braves
World Financial Center Plaza
Boston Red Sox
Sports Museum of America, 26 Broadway
Chicago Cubs
20 Broad Street, near N.Y. Stock Exchange
Pittsburgh Pirates
888 7th Avenue, near Carnegie Hall
St. Louis Cardinals
1290 Ave. of the Americas, near Radio City
Tampa Bay Rays
Champs, 5 Times Square
Of course, you can also buy replicas online as well. The one commemorating the last season in Yankee Stadium is pretty neat.
By

We've got a free extra to tonight's game. Seats are in the bleachers. First person who wants the ticket to leave a comment in this thread with a valid e-mail address in the e-mail field (where it will stay private) gets it. Please be in New York and able to go the game tonight. Ready, set, go. · (5) ·
By

It's time for the once-a-month look back at Kei Igawa! This time, it's brought to you by Rainer Sabin and The New York Times. Reading about Kei's predicament in Scranton and his constant trips to New York to visit his wife, I feel bad for the Yanks' expensive left-handed flop. He just wants to do well. · (19) ·
For those of you who get to the bottom of the DotF comments, there's some video on the Pat Venditte incident from last night. It's a bit long, but if you want to make him play the hitter for a fool, fast forward to the last few seconds.