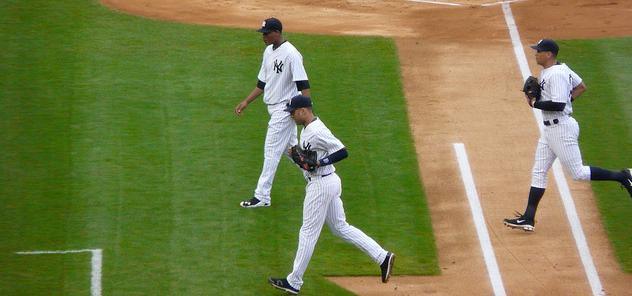 Given the state of the rotation heading into Spring Training, it's hard to believe that we can sit here on July 1st and say that the Yankees have too many starting pitchers. I guess that's what happens when you catch lightning in a bottle with not one but two retreads, and the untested rookie exceeds relatively modest expectations. Bartolo Colon will come off the disabled list tomorrow following a brief battle with a sore hamstring, and Phil Hughes figures to be activated sometime in the next week after missing all but three (awful) starts with shoulder inflammation. That makes six guys for five spots.
Prior to yesterday's game against the Brewers, Joe Girardi said a six-man rotation was "something we're going to think about," mentioning that it's easier said than done. "Do we feel a guy needs an extra-day off? Do you skip a guy just to give him a little extra rest in one spot? There's just some different things that you could do to be creative with the rotation if you do a six-man. Do, all of a sudden, you need one guy in the bullpen because your bullpen was fried the day before? Those are all things you have to consider if you do that. It's all things we have to figure out in the next couple of days. It's somewhat complicated, but we need to figure it out."
Six-man rotations are great in theory, but very rarely are they put into practice (this year's White Sox are an obvious exception). It seems to me that the most creative thing the Yankees could do is roll with a modified six-man rotation, one in which CC Sabathia starts on traditional five-day rest regardless of whose turn it is to pitch. That way you maximize the number of starts CC makes, which is never a bad idea. If Colon comes back from the disabled list throwing like he was earlier in the year, then it's probably a good idea to start him every five days as well.
That leaves the other four guys making sporadic starts around Colon and Sabathia. Could be six days rest this turn through the rotation and eight days next time. Pitchers are creatures of habit and like to have a set routine between starts, and the variable rest will only disrupt that. Perhaps they could come up with some kind of weird tandem starter system, where every five days two starters are combining to throw all nine innings. The first guy throws the first five innings, and the next guy finishes it off. They could even alternate roles every other starts. Sounds great on paper, but that's one of those things that'll never ever ever work in a Major League game.
The Yankees are in a tough but enviable position. They have some surprising pitching depth, even if half of the rotation only figures to pitch like a four or five starter. The easiest move would be to demote Ivan Nova – either to the bullpen or to Triple-A so he can remain stretched out – since he's the kid with those precious minor league options. Is it fair? No, probably not. Nova's pitched well of late and doesn't really deserve to lose his spot, but sometimes that's the way the cookie crumbles. I'd hate to see the Yankees mess around with Colon and/or Garcia when there might be only so many bullets left in those arms.
Ultimately, this is just a temporary situation. Something will happen, most likely sooner rather than later, that will take someone out of the rotation, be it injury or poor performance or both. These things always have a way of taking caring of themselves, I promise you. The depth looks great now but before you know it it'll be gone, and all this talk of a six man rotation will look silly. I say just send Nova down, it's the simplest and cleanest move. Don't worry, he'll be back before long.