By

Laura Posada, wife of the Yankees' All Star catcher, said that the Yankees are Jorge's first choice. While Jorge says he's glad to see Joe Girardi managing the team, the Yanks will have to come up with the dollars to sign Jorge. With the Mets in the picture he won't come cheap, and I've already gone on the record with my belief that the Yanks should not over pay in dollars or years for Posada. With the Marlins and Blue Jays also desirous of Posada's services, this could get interesting. · (7) ·
J.C. Bradbury, author of the excellent Sabernomics blog, has an interesting response up to the Jeffrey Gordon piece from Sunday's Times. Bradbury writes that the Yanks are definitely not going to reverse their position on A-Rod:
What is at stake here is not a single player's contract, but the organization's long-run credibility at keeping its word. If the Yankees cave, the repercussions will echo into the future. Why would any player ever not opt out of his deal in the future if he knows the Yankees will give in? Not following up on your threats is bad for your reputation as a tough guy.
Bradbury is dead-on in this analysis. The Yankees simply cannot afford, long-term, to back down for their established stance on A-Rod. Hopefully, Hank and Hal have realized this reality as well.
By

Courtesy of loyal reader and frequent commenter Brian comes a tip to this article on the Dodgers' Official Site about Joe Torre. In it, relief pitcher Joe Beimel relates a conversation he had with his new manager's all-time favorite middle reliever:

I talked to Scott Proctor today. He said to be ready to pitch a lot. He [Torre] likes to use the bullpen.


I can only imagine how that conversation went. Poor Scott Proctor. He must be beside himself. · (5) ·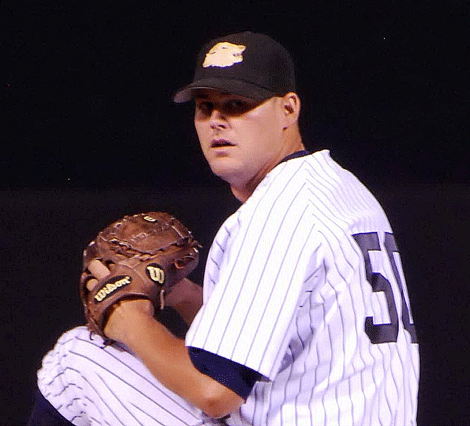 AFL Peoria Javelinas (6-2 Loss to the Phoenix Desert Dogs)
Brett Gardner: 1-4, RBI, SB Tied for the league lead in SB's with 14. Robbed of a hit (Line Drive) by the third baseman.
Juan Miranda: 1-4, 2B, R (the box score incorrectly shows 2-4) Lined a double off the LF wall
Reegie Corona: 0-3, BB, R Robbed of a double by McCutchen on a shoe string catch. Hit the hard all night but nothing to show for it.
Steven Jackson: 2IP, 2H, 2ER, 3K, 1BB All three SO's were on great sliders.
There were a couple scouts that were pimping the Yankee prospects during the game. It could be just coincidence or it could have something to do with the GM meeting that are taking place right now. They were very complimentary of BG, calling him the 'fastest player in the league' and said that he's been 'hitting the snot out of the ball'.
Andy Pettitte has, according to his agents, declined to exercise his 2008 option. While the initial reaction among Yankee fans is one of panic, there's comparatively little to worry about here. Pettitte will either pitch for the Yankees in 2008 or retire.
Randy Hendricks, his agent, issued the following statement:
"I have spoken with Brian Cashman, who has reiterated what Hank Steinbrenner said about the Yankees wanting to give Andy all the time he needs to decide about next season. Accordingly, we are declining to exercise the option for 2008 and Andy will declare free agency in order to free up a roster spot for the Yankees.

"If Andy decides to play, I am confident we can reach an agreement with the Yankees within 24 hours. The only options, as Andy has stated, are the Yankees or retirement. He appreciates the Yankees' willingness to give him the time he feels he needs. I do not expect him to make a decision for quite some time."
Don't panic. Pettitte isn't jumping ship. It was anticipated that he would take a little bit longer than ten days to determine his future. I'm still betting he'll be back.
Update: PeteAbe has a little bit more from Brian Cashman. The Yanks GM has politely asked Pettitte to decide within the next two months. That seems quite reasonable to me.
It's clear that the Yanks want Andy to stay. They see big things for him in his role as staff ace next year, and his departure could radically change the Yankees' offseason plans. Johan Santana is just moving higher and higher up their Wish List.
"Obviously we want Andy to stay with the Yanks and pitch for us in '08," Cashman said. "In fact I'd say I need him to. He's an important piece for us."
Clearly, the Yankees have a hole at third base. They also have a few spare outfielders sitting around as well as a large stockpile of good, young prospects. Somehow, someway, this hole will be filled.
Right now, the rumors as the GM meetings begin in Orlando involve the Yankees and the White Sox. The Yankees are rumored to be interested in Joe Crede; the White Sox are intrigued by Johnny Damon. Over at The Bronx Block, EJ Fagan believes, as I do, that the Yanks can do better than Crede, and John over at Yanksfan vs. Soxfan notes the Crede-Brosius comparison.
I understand the appeal of Crede when it comes to Scott Brosius nostalgia. Crede is a glove man at third who has shown some flashes of hitting ability at the plate. Crede turns 30 in April; Brosius was 31 when he arrived in New York.
But let me tell you the dirty little secret about Scott Broisus: Despite his postseason success and career year in 1998, he wasn't very good as a member of the Yankees.
In 1998, Brosius was an All Star for the Yanks. He hit .300/.371/.472 with a career-high 19 HR and 98 RBI. It looked like the Yanks had landed themselves an unheralded star in a lineup of top performers. But it all came crashing down after that.
From 1999-2001, Brosius hit .254/.316/.411 with 46 HR. Take out 2001, and those numbers are even worse (.239/.303/.394). Now, I loved Scotty-Bro just as much as the next Yankee fan. He was a great number nine hitter in a pretty powerful lineup.
But 2007 is not 1998. In 1998, the Yankees were trying to replace Wade Boggs. He was a great hitter, but he wasn't the centerpiece of the lineup. In 2007, the Yankees are trying to replace their number four hitter and third baseman at the same time. There are plenty of better options out there, and the Yanks, with all of their resources, shouldn't settle on Joe Crede this early in the offseason.
In his yearly tradition, Dave Pinto has posted his Probabilistic Model of Range for the 2007 season. Over the next week or so he'll post the results for each player by position. Today, though, he goes over teams as a whole. I'll point to Pinto's brief explanation of PMR:
Basically, for each fieldable (non inside the park home runs) ball put in play, six parameters are used to determine how difficult it was to field the ball. A probability of turning the ball into an out is calculated, and those probabilities are summed. That gives us expected batted balls turned into outs. We turn that into a predicted DER (defensive efficiency record), compare that to the actual DER and calculate a ranking.

The model is based primarily on visiting player data, smoothed, distance on fly balls. Only 2007 data was used to construct the model.
Now, the Yankees were far from the top spot in DER. However, the difficulty of balls put in play against them moved them to the top spot. What does this tell us about the team?
Well, for one, they don't strike out a ton of guys, ranking 12th in the American League in 2007. Hopefully this changes with Joba and Hughes in the rotation next year.
The question this poses to me: Did the Yankees pitching get lucky last year? PMR would suggest yes. A lot of the "difficult" plays the Yankees made over the course of the year could just as easily have gone for hits. Such is the nature of baseball. Sometimes the ball has eyes, sometimes it goes right to a fielder. All you can do is hit the ball hard, and it appears that's what happened against Yankee pitching last year.
Thankfully we're heading into 2008 with an altered rotation.
I promise you that I will stop talking about A-Rod just as soon as something else happens in Yankee-land. Maybe the GM meetings will bring us some relief this year. I hear the Yanks want this guy from the Twins — Johan Somebody or other.
Anyway, the latest news comes to us, unsources, from The Boston Globe, part owners of the Boston Red Sox. Hooray conflict of interests. The news is in Nick Cafardo's rather extensive Notes column. Cafardo writes, in the Etc. section, about A-Rod:
If Alex Rodriguez could handpick the team he plays for, Boston might well be No. 1 on his list. According to a source who has talked to Rodriguez recently, he'd love to play for the Sox because he thinks they can win multiple championships… Whither the Yankees? "That's something I will keep between Brian Cashman and myself," Boras said. "I'm not making any more comments about the Yankees."
There's just so much to say about this little tidbit. Let's start with A-Rod's thinking that the Red Sox can win multiple championships. Clearly, A-Rod's been doing his homework on the Red Sox, and he has decided that the Red Sox's framework and organization best suits his own desires of finally nabbing that elusive ring. Never mind the fact that A-Rod's old team owns the most championships in baseball history and is a perennial playoff contender. He wants to go to the World Series champion now, and he's going to run crying to his mommy if it doesn't happen.
See, A-Rod just knows what everyone else knows: The Sox have built up quite the team. Rich Lederer on The Baseball Analysts wrote a two-parter on the bright Red Sox future (Part I, Part II), and Baseball Prospectus has quite the love for Boston (Kevin Goldstein, New York's own Jay Jaffe, John Perotto). It's so disingenuous of A-Rod to want to go to Boston. In other words, it's just like him.
Now, I also think there isn't a snowball's chance in hell that A-Rod winds up in Fenway. First, the Red Sox management is just too smart to give A-Rod a ten-year deal worth $30-35 million a year. They don't want to pay 38-year-old A-Rod that much, let alone 41-year-old A-Rod. Theo Epstein, John Henry and, for all his idiotic talk about the Yankees-Red Sox rivarly, Larry Lucchino just don't do that anymore.
Meanwhile, if A-Rod thought he had it rough with the New York fans, just wait until he experiences the full wrath of the Red Sox fans. They would expect this greedy turncoat to go 4 for 4 with 4 HRs every day.
Finally, in this three-sentence tidbit from Cafardo, we get another glimpse into the A-Rod/Boras relationship, and it's starting to sound a little bit like Boras thinks he blew it with the Yankees. The closer to Cafardo's entry is a veiled comment about Brian Cashman that one could interpret to mean that Boras and Cashman are indeed talking secretively about A-Rod's potential return to the Yankees.
Yeah, right. The Yankees have made it perfectly clear that A-Rod is dead to them. They aren't turning back from that stance any time soon.
Boras, you see, is using the media to intimate that the Yankees are in play because that serves to drive up A-Rod's price. As long as that glimmer of a possibility exists, Boras can use it as leverage. But the Yankees have seemingly out-smarted A-Rod and Boras by maintaining a hard-line stance. The Yanks are not negotiating. Good luck to you, Scott, they said. And I have to think that Boras is maybe beginning to believe that the best deal he'll see this winter for A-Rod is the one the Yankees originally offered before A-Rod opted out. Wouldn't that be sweet, sweet revenge?
AzFL Peoria was off.
HWB Honolulu was rained out. The game will not be made up.
Carribean Leagues
Frankie Cervelli: 1 for 10, 1 R, 1 2B, 2 BB, 4 K in 4 games
Edwar Gonzalez: 10 for 46, 3 R, 1 2B, 1 HR, 5 RBI, 1 BB, 2 SB, 1 CS in 14 games
Jesus Montero: 15 for 39, 8 R, 1 2B, 3 HR, 7 RBI, 5 BB, 5 K, 1 SB in 11 games
Edgar Soto: 1.1 IP, 3 H, 4 R, 4 ER, 3 BB, 1 K in 2 games
Marcos Vechionacci: 19 for 60, 8 R, 4 2B, 2 3B, 2 HR, 9 RBI, 4 BB, 7 K, 1 SB in 17 games
Guillermo Villalona-Bryan: 0 IP, 2 H, 2 R, 2 ER, 0 BB, 0 K in 1 game
Skimpy updates because the Yanks just cut a bunch of guys. I'm pretty confident they'll resign Scott Patterson though, so here's his update:
Scott Patterson: 6.1 IP, 7 H, 0 R, 0 ER, 0 BB, 4 K in 5 games