By

Tim from MLBTR found a report saying that the Yanks forked over a 2-yr, $2M deal to the now 38-yr old, Mitchell Report named ex-slugger. Juan Gone may have made the biggest blunder in the history of the universe when he rejected the Tigers' 8-yr, $140M contract offer in 2001, a deal that would still have 2 years remaining. I don't believe the report for a second – the Yanks have zero use for another DH, let alone a DH that hasn't seen a Major League pitch in over 2 years. Chalk this one up to a slow news time.

Update: Nevermind, turns out December 28th is "el Día de los Santos Inocentes" in Puerto Rico, or "The Day of Holy Innocents." It's their April Fools Day. Oh those clever Puerto Ricans. · (12) ·
By

PeteAbe has a humorous little post up predicting how the Yanks' 2008 season will play out. My favorite part "Nov. 15: Hughes named Cy Young winner. 'I owe it all to the faith an insomniac blogger had in me,' he says." Phil, you have no idea… · (3) ·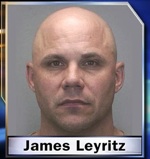 Jim Leyritz was reportedly arrested on suspicion of DUI and vehicular homicide early Friday morning. Miami's Local 10 has more:
Police said Jim Leyritz was behind the wheel of a Ford SUV that collided with another vehicle at the intersection of Southwest Seventh Avenue and Second Street in the Himmarshee area of downtown Fort Lauderdale.

The impact caused the other car to roll over and the female driver of that vehicle was ejected and she died after being taken to Broward General Medical Center, police said.
Leyritz, a fan favorite when he played in the Bronx, currently works for MLB.com. Things do not look good for the King right now.
Twins rookie GM has some case of cold feet. According to ESPN.com's Jayson Stark, White is sitting on offers from the Yankees, Red Sox and Mets but doesn't plan to move on them for several weeks.
Stark writes:
The Twins continue to stay in contact with the Red Sox, Yankees, Mets and Mariners about a Johan Santana deal. But those talks have moved so slowly it's now possible a Santana trade may not get done "for several weeks," according to one source with knowledge of the discussions…

The Twins are now telling other teams that they may hold Santana until spring training to get the package they want. But it's also possible at some point that Santana and his agents may step in and say that if a deal isn't completed sooner, he may no longer be willing to waive his no-trade clause.

So for now, the biggest prospective deal of the offseason remains stuck in quicksand. And that won't change until one of these teams flinches.
Interestingly, the Mets seem very much in these trade talks. This is exactly the kind of move Omar Minaya needs to make after the 2007 collapse and subsequent failure to do much of anything this season.
So for now, nothing doing. Again.
By

Want to catch a glimpse of New York baseball history? Head on over this weekend to the Museum of the City of New York for their exhibit The Glory Days: New York Baseball 1947-1957. I went on Thursday, and it's a fantastic exhibit. I'll have pictures and a full post later, but I wanted to toss this up now because the exhibit closes on Monday. Check it out. · (3) ·
The list won't hit the website until January 7th, but the good ol' print edition of BA's magazine showed up in the mailbox today. Here's who they got for the Yanks' top 10:
Joba
Austin Jackson
Jose Tabata
IPK
Alan Horne
Jesus! (montero)
Jeff Marquez
Rock 'n Rohlendorf
Personally, I wouldn't have Marquez or Gardner in the Top 10, and I wouldn't have Ajax ahead of Tabata, at least not until Tabata stops hitting .300 as a teenager. I'm stunned at how far Dellin Betances has fallen, the dude was ranked #3 last year, one spot ahead of Joba. Overall, it's solid list, and I suspect the pundits at BA find numbers 2-6 pretty interchangeable. So what do you think? Did they get it right?
Jairo Heredia | RHP
Background
Jairo was born in San Cristobal, DR, but grew up in Santo Domingo, the same Dominican town responsible for David Ortiz, Fausto Carmona, Albert Pujols, Aramis Ramirez, Melky Cabrera and dozens of other major leaguers. The Yanks signed him as a 17-yr old during the 2006 International signing period in early July, and forked over a $285,000 bonus. It was the fourth largest bonus the Yanks handed out last summer, behind Jesus Montero ($1.6M), Carlos Urena ($350,000) and Jose Pirela ($300,000). For some unknown reason he was originally known as "Hairo Heredia" after signing, but it was later corrected to "Jairo," which is his true birth name.
Rich Lederer at The Baseball Analysts makes the Hall of Fame case for Tim Raines. By the time Raines arrived in New York, he was playing out the waning days of an excellent career, but he still be up some impressive numbers in limited playing time. During his career, he was often overshadowed by Rickey Henderson and should earn a spot in the Hall.
Over at the Lo Hud Yankees Blog, Peter Abraham this evening penned a piece with which we here at RAB clearly agree. Abraham wrote that the Yankees should just say no to Johan Santana.
Of course, we believe that. Hell, we're even selling t-shirts for just that purpose.
But in the course of his argument, Abraham strays a bit from his analysis. He writes: "Santana could be great again. But he was 15-13, 3.33 last season and will be 29 in March."
Now, as far as my reading of this statement goes, Abraham's use of the "but" indicates that Johan Santana was not great in 2007 because he won only two more games than he lost. It's a classic sportswriters mistake. Johan Santana didn't win more games because the Twins' offense was terrible. They were 25th in runs scored and 27th in team OPS.
Despite this poor offensive production, Johan Santana still managed to win 15 games. But that's neither here nor there. Let's look at some of the other stats the once-great Johan Santana put up. His 3.33 ERA was 7th overall in the American League, trailing John Lackey by 0.31 runs. His 1.07 WHIP was tops in the AL, and his 235 strike outs trailed Scott Kazmir by just four. His strike out-to-walk ratio was 4.52, good for fourth in the American League.
In a word, Johan Santana in 2007 was great.
Now, there are plenty of reasons — starting with Phil Hughes and ending with the luxury tax issues — for the Yankees to avoid a trade of Johan Santana right now. And if his agent were smart, he'd tell Santana to stay healthy for another year and cash in during a full-fledged bidding war in 2008. But we shouldn't start pretending that Johan Santana wasn't great in 2007 because of a poor won-loss record. Make no mistake about it: Johan Santana is one of the top pitchers in the American League. Stick him on the Yankees or the Red Sox, and his 2007 line would probably feature 20+ wins and another Cy Young Award. Greatness, indeed.