There's nothing quite like a four game series with a last-place team to help right the ship, and the Yankees next had the luxury of watching another last-place club roll into the Bronx for a three game set tonight. Javy Vazquez, really the only question mark on the team that doesn't reside in the bullpen, gave it a go for the first time against the Orioles this season, and he gave the Yanks everything they were hoping for and then some.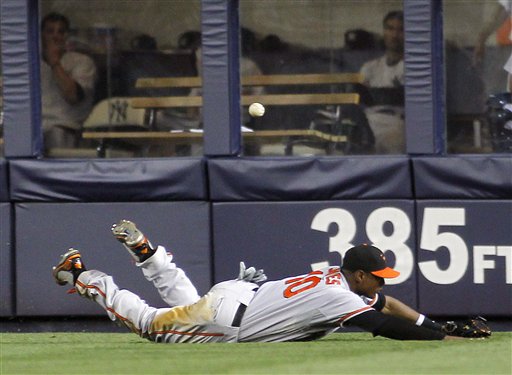 A-Rod With A Clutch … Uh …. Ground Into A Two-Run Error?
Remember when the Yankees used to wear down opposing starters and get to the other team's bullpen by the 6th or sometimes even the 5th inning? Yeah, those days are long gone. Nine of the last ten opposing starters have completed at least six innings against the Yanks, not counting David Huff having to leave the game after taking a shot to the melon (he's fine, we can joke about it now). Brian Matusz did the same tonight, and he even recorded the first two outs in the 7th before exiting with men on second and third.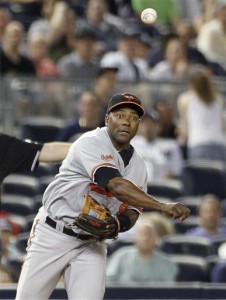 He was relieved by former starter David Hernandez, who did exactly what he was supposed to do: he got a first pitch groundball from cleanup hitter Alex Rodriguez. Unfortunately for Hernandez, and Matusz as well, Miguel Tejada made a poor throw over to first and Ty Wigginton made an even poorer attempt at scooping the ball, leading to two runs crossing the plate and Alex being safe at first. It was just the way the Yankees planned to score the go-ahead runs, I'm sure.
In reality, the Yankees got away with squandering some opportunities earlier in the game. Derek Jeter's one out ground rule double in the 3rd went for naught, and a first and third with no outs situation in the 6th was wasted on a pair of infield popups and a strikeout. They're getting away with blowing these opportunities because they have an easy schedule right now, but they have to start capitalizing soon. Bad teams find a way to lose, and that's exactly what the Orioles did tonight.
You Jav To Hand It To Him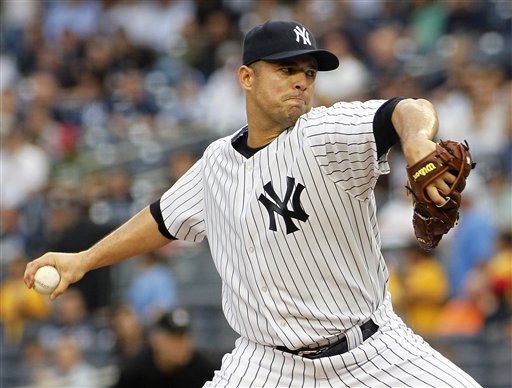 The month of May was an odd one for the Yanks' fourth starter turned fifth starter. Javy sandwiched a pair of brutal outings around two stellar ones, with a one batter faced/one strikeout relief appearance mixed in for good measure. No one's really sure what to expect from him each time he takes the mound, and it's a little bit more extreme than Good A.J./Bad A.J. We're talking Great Javy or Awful Javy here.
Well, Great Javy made an appearance today, mowing down the Orioles until Corey Patterson (of all people) hit a solo homer to tie the game in the top of the 6th. Vazquez was cruising the entire way, throwing just 12 pitches in the 1st, 11 in the 2nd, 12 in the 3rd, nine in the 4th, 17 in the 5th, and 19th in the 6th, until he had to bear down and get himself out of trouble in the 7th. With the bases loaded (thanks to an intentional walk) and one out, Javy struck out Adam Jones for the second time, then got Julio Lugo to ground out harmlessly to short to end the threat. Earlier in the season, there would have been a total meltdown in this situation, but instead he bore down and got out of it. That's a great sign, because it shows he's building confidence and challenging guys and not pitching scared.
All told, Vazquez threw 103 pitches on the night, 63 of which were strikes. Remember, four of those pitches were intentional balls, so his ratio is a touch better than it appears. He completed seven innings for the just second time this season, allowing just four hits and the one run on the solo homer. He struck out seven and recorded nine ground outs to just three air outs. And yet, Javy almost didn't get a win.
Until the two-run error in the 7th, the Yankees had scored a total of just four runs in Vazquez's last four starts, so in the grand scheme of things it really didn't matter how well or how poorly he pitched in those games. If your team doesn't score runs for you, you're not going to win. Period. Vazquez almost got hosed out of another potential win tonight, but he stuck it out and kept his team in it deep into the game.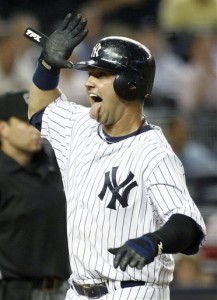 Hip Hip Hooray
Jeter's double in the 3rd was the 450th of his career, moving him past Bernie Williams for second place on the Yankees' all-time list. He's still 84 two-baggers behind some guy named Lou Gehrig.
Ho hum. Another day, another two hits for Robbie Cano. His hit streak is up to 15 games, and his batting line is a stellar .366-.406-.615 on the season. The OBP and SLG are almost exactly what Prince Fielder put up last year, but of course Robbie's not a first baseman.
Curtis Granderson picked up his fifth hit since coming off the DL, and four of those have come off lefties. The homer off Matusz tonight gives him three extra base hits off southpaws since returning, which is encouraging. It was also his first homer off a lefty since he took Joe Saunders deep last April the 22nd.
Nice and easy 1-2-3 8th inning for Joba Chamberlain on just eight pitches, and I was petrified the entire time. He got the job done, and that's all that counts.
How about that groundout by Nick Markakis in the 9th? Mariano Rivera brought the cutter up and in, shattering the bat and allowing the ball to travel about 20 feet. That was vintage Mo right there, just devastating.
WTF? Booo!!!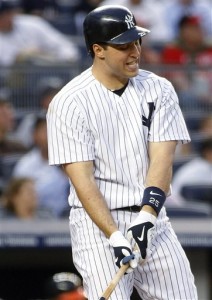 Mark Teixeira became the latest player to leave a game with an injury, as a foul ball off his foot ended his night in the 3rd. The good news is that x-rays came back negative and he's just day-to-day with a bruise, but the bad news is that Jorge Posada's x-rays were negative when he suffered the hairline fracture on the bottom of his foot a few weeks ago. It took an MRI/bone scan to find the problem.
Marcus Thames and Frankie Cervelli popping up on the infield with men on the corners in that 6th, especially since they were both ahead in the count. Just terrible at-bats.
I remember complaining about walking the bases loaded at least once before in this space already this season, and sure enough they did it again in the 7th tonight. I know Javy got out of it, but damn, you're asking for trouble when you do that. Getting away with it tonight just means they'll try it more in the future.
WPA Graph & Box Score
MLB.com has the traditional box score while FanGraphs have everything else.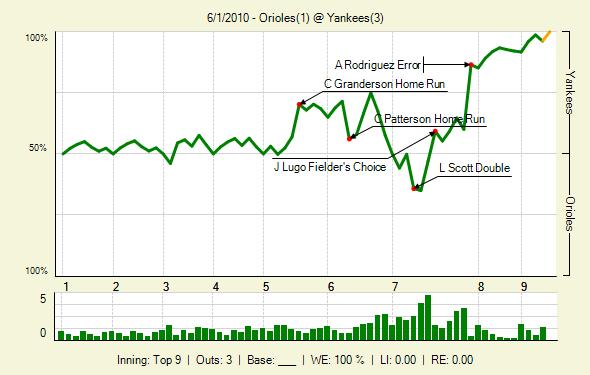 Up Next
Same two teams tomorrow night, with Phil Hughes taking on his former high school teammate Brad Bergesen.