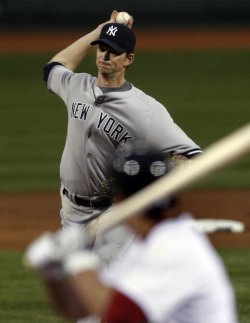 Tonight marks A.J. Burnett's 15th career start against the Red Sox and his seventh as a Yankee. Part of the reason the Yankees signed Burnett to a five-year, $82 million contract after the 2008 season was his track record against the AL East, particularly against Boston. He pitched 56.1 innings in eight starts against Boston as a Blue Jay, striking out 53 and allowing just 16 earned runs. With the Yankees he has pitched 29.2 innings, allowing 31 runs. He's really had just one good start against them, which was the 7.2 innings of shutout ball he pitched in the infamous 15-inning affair last season. Tonight he gets a shot to add another quality one, as he'll face Josh Beckett.
Of Burnett's 14 starts against the Red Sox, four have come against his former Marlins teammate Josh Beckett. The first time they met Burnett was in a Blue Jays jersey, and it was both pitchers' first month in their first seasons with a new team. Beckett, homer-happy as he was that season, allowed three Blue Jays to take him deep, resulting in five earned runs in 7.1 innings. Yet he left the game with the lead, to be blown by Mike Timlin and eventually surrendered completely by Keith Foulke. Burnett lasted just four innings on his end, allowing three runs and striking out five.
The two did not meet at all during the rest of Burnett's three-year stint in Toronto. They both took the mound in April, 2009, facing off for the first time as Yankee and Red Sock. If you'll bear the pain necessary to recall the memory, both starters pitched horribly. Burnett looked like he was cruising until he ill-advisedly threw Jason Varitek a first-pitch fastball, which Varitek deposited in right field for a grand slam. All told Burnett lasted five innings, allowing eight runs. Beckett, too, lasted just five innings, matching Burnett's eight runs. The Sox won the battle of the bullpens.
Their next meeting, that June, was a much more lopsided affair. Beckett tossed six shutout innings, striking out eight Yankees. Burnett completely melted down, allowing five runs, three earned, in 2.2 innings. It took him 84 pitches to record those eight outs, thanks mostly to his five walks. That was part of a particularly frustrating stretch of schedule. After a slow start the Yanks had actually taken first place, but that loss evened their record with the Sox. This was, as you'll again painfully remember, part of the 0-8 stretch the Yanks had against the Sox.
A little more than two months later they met again, and Beckett again brought his best. The Yanks managed just four hits and two walks through seven innings, striking out seven times. Burnett, though, was a bit better, allowing just one hit, a leadoff infield single to Jacoby Ellsbury, through 7.2 innings. He walked six, but a few of them seemed to be strategic. Both pitchers handed it over to the bullpen, and in the 15th Alex Rodriguez ended it with a two-run home run off of Junichi Tazawa.
Burnett has faced the Red Sox twice this year, both times pitching pretty poorly. He lasted just five innings in the second game of the year, allowing four runs, three earned. A month later he again started in Boston, this time allowing nine runs, eight earned, in 4.1 innings. I wish I could say that was his worst start of the year, but that's just not the case. In both of those outings he faced off against Jon Lester. Tonight it's a return match with Beckett.
It seems like it always comes down to these two, Burnett and Beckett, even though this is just the fourth time they've faced each other as Yankee and Red Sock. Surely there has to be a happy medium between the August and April starts from last year. No one wants to see both starters surrender eight runs, and no one wants to sit through a 15-inning affair, especially an ESPN one that includes extended commercial breaks and an hour-late 8 p.m. start. But knowing Burnett in general and Beckett against the Yanks, we have no clue what to expect.