By

Friday may be a historic day for baseball in New York City, but the two pitchers the Yanks are tabbing to start are anything but. Prior to last night's victory over the Pirates, Yanks manager Joe Girardi announced that Sidney Ponson will start Friday night's game in Shea Stadium while Dan Giese will start the afternoon affair in the Bronx. Ponson will face Pedro, and Giese will face Mike Pelfrey. I'm holding my breath. · (19) ·
So this Joba guy. He sorta sucks. He can't win any games. He can't pitch out of the sixth inning. And, as I said to my dad this evening, without him in the bullpen, the Yanks don't know what to do with the 8th inning.
Wait. Wait. What are you saying? Joba pitched 6.2 shut-out innings tonight? Joba struck out seven while walking just one? Joba gave up only six hits, only one for extra bases? I'm not sure what to make of this.
Sarcasm aside, Joba pitched into the seventh tonight, going 114 pitches, and emerged with his first win as a starter. Tonight's game against the Pirates — the team that's scored the fifth most runs in baseball — marked Joba's fifth start. He has now thrown 25 innings as a starter and has an ERA of 1.80. He has allowed 22 hits and has struck out 26. While the walks had been high prior to tonight, the 7:1 K:BB ratio is very encouraging. Joba — who will one day take his lumps — has arrived.
Offensively, it's hard to complain about a 10-0 game, but it's easy to highlight the hot Yankees. Derek Jeter went 3 for 3 to raise his average to .286. The Captain is now working on a 13-game hitting streak, and he's batting .359 with an OBP around .400 during that stretch. That's more like it.
Bobby Abreu broke out of his Nick Blackburn-induced slump in a big way, going 3 for 5 with 4 RBIs. Robinson Cano is now 14 for his last 33 (.424) and finds himself just .013 batting average points behind Melky Cabrera, who has done quite well in the leadoff spot over the last two days.
In the end, it boils down to one thing: After Tuesday's 12-5 debacle, tonight was just what the Yankees needed. They jumped out to a two-run lead after the top of the first and never looked back. They got Joba his first win, and the guys who haven't been hitting did tonight. With Mike Mussina going later this evening, I'm feeling pretty good about this game after a bad first night in Pittsburgh.
Triple-A Scranton (5-1 loss to Columbus)
Brett Gardner: 1 for 4, 1 R, 1 BB – you know what I think…
Cody Ransom: 2 for 3, 2 BB, 1 E (fielding)
Matt Carson: 3 for 4, 1 2B, 1 3B
rest of lineup: combined 0 for 21, 1 RBI, 3 BB, 6 K – Shelley drove in the run with a sac fly … Jason Lane drew all 3 walks … Chris Stewart committed a throwing error & allowed a passed ball
Dan McCutchen: 6.2 IP, 7 H, 4 R, 3 ER, 3 BB, 4 K – 65 of 106 pitches were strikes (61.3%)
Billy Traber: 2.1 IP, 4 H, 1 R, 1 ER, 0 BB, 1 K, 5-1 GB/FB
Tyler Clippard: 4 IP, 4 H, 1 R, 1 ER, 5 BB, 2 K, 2-8 GB/FB – sorry, old habits die hard
The Yanks face off against lefty Zach Duke tonight. Duke had a strong start to his career in 2005 — one of my buddies did a nice write-up of him during his rookie campaign. After pitching 215 innings of league average ball in 2006, he struggled mightily in 2007, and missed July, August, and half of September. At 92 innings this year, it seems that Duke has found himself again, pitching to a 3.91 ERA, though that 1.48 WHIP could come around to haunt him down the road.
What can I say about the Yanks, other than they need to win tonight? They did score two in the ninth last night, so I guess we get to put the ol' theory to the test tonight. Fate will be in the hands of Joba Chamberlain, who has pitched rather well since making the conversion to a starter.
Questions for tonight:
Will Derek Jeter avoid grounding into a double play if presented with the opportunity?
Will Melky draw a couple more walks in the leadoff spot?
Will we be able to string together a few hits, rather than leaving our men on base?
Will A-Rod come back with a vengeance after taking an 0 for 5 last night?
If the answers to those four are all yes, we might be onto something.
Your lineup:
1. Melky Cabrera, CF
2. Derek Jeter, SS
3. Bobby Abreu, RF
4. Alex Rodriguez, 3B
5. Jason Giambi, 1B
6. Jorge Posada, C
7. Robinson Cano, 2B
8. Justin Christian, LF — felt good to type that
9. Joba Chamberlain, P
I guess there doesn't need to be a pitching announcement…damn NL.
Notes: per Ed Price, Ian Kennedy will throw a rehab start for Tampa on Saturday. Phil Hughes played catch for the first time since suffering his broken rib. Price says we're still six weeks away. I'd believe it.
By

Joe Torre's overwhelming love of Scott Proctor — a love that caused Brian Cashman to trade Proctor away form the Yanks — wasn't just a figment of the collective imagination of jaded Yankee fans. As the Fifth Outfielder details today, Joe Torre really has overused an ineffective Scott Proctor to a fault. Now we have proof. · (6) ·
Ever think about taking a hike from the Bronx out to Flushing? Of course you didn't. Only a deranged person would conceive of such an idea. I kid, of course. Sam Borden, former beat reporter for some tabloid paper we don't care to mention (sorry, Mark!) and current columnist for the Journal News, is taking the expedition this Friday during the Yanks-Mets doubleheader. It's about a 10 mile walk, and Sam plans to take it all by foot.
He's taking donations for the American Cancer Society. You can head on over to his page to make a donation. He's looking for $4,000, and is nearly 3/4 there, with 31 donations totaling $2,924. If you want to walk along with Sam, he has instructions on the page. Below is a map of the route: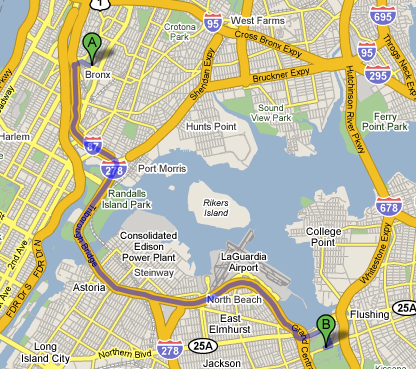 It's a good cause and a neat idea. So if you're thinking about blowing a few bucks in the next few days, this is as good a way as any.
While some groups have criticized the Yankees and the City of New York for deceiving the Bronx community on issues relating to the new Yankee Stadium and replacement park land, officials from the Parks Department are signing a different tune. In a City Council hearing yesterday, Liam Kavanaugh, the department's first deputy commissioner, said that the replacement parks are behind schedule because the department was not prepared for the difficult nature of the work.
Timothy Williams reported the story for The Times:
A parks department official, called before the City Council to explain why an effort to replace recreation space lost to construction of the new Yankee Stadium has been plagued by delays and cost overruns, said on Tuesday that the department's inexperience with such complex projects was partly to blame…

[Kavanaugh] said the agency had had trouble carrying out its plan to place some of the replacement parks in unusual locations, including one atop a stadium parking garage. "It is not something we are fully familiar with," he said…

When Councilman Alan Gerson asked why the agency had not done a more thorough analysis of replacement park sites to determine what they contained before starting construction, Mr. Kavanagh said that in many cases, the department had lacked access to do proper studies. Mr. Gerson said, "All the reasons you cited are reasons why we should do full-fledged estimates before funding is in place.''
Currently, various aspects of the park replacement project are delayed as much as two years, and due to rising construction costs, the budget is now at nearly $175 million, up $80 million from initial estimates. City officials and park activists are not pleased to hear this news, and the Parks Department bore the brunt of this debacle. That they could be unprepared for this construction effort is a bit mind-boggling.
While the Parks Department will eventually build the replacement parks, the land figures are still less than what was lost to the new Yankee Stadium. At least, however, there's another agency in the city nearly as inept as as the MTA.
By

So far, it seems, the Yankees have been relatively isolated from the maple bat problem. While Johnny Damon in particular goes through bats like they're bananas, we have yet to see anyone in the stands or on the field injured as has been happening throughout baseball. Now, MLB and the Players Union are going to attempt to do something about the maple bat problem, and Yahoo! Sports' Jeff Passan runs down Tuesday's meeting of Safety and Health Advisory Committee. (Alyson Footer has a good write-up too.) MLB is being slow to act, and I just hope nothing too serious has to happen before the game is ready to make some changes. · (8) ·
Tonight's embarrassing 12-5 loss at the hands of the Pittsburgh Pirates took a turn for the worse approximately eight pitches into the game. Tom Gorzelanny had started the game off with a strike but then issued four straight balls to Melky Cabrera. Derek Jeter saw two more balls go by, and then, as any good hitter would do, he took a pitch until he saw a strike and then unleashed a bullet into right field on the next pitch.
If only.
Rather, Jeter swung at a 2-0 pitch and hit into an inning-changing double play. This would come to represent, for the Yankees at least, the drive of the game, but Jeter wouldn't be taking home a prize from Chevy for it.
Nearly three hours later, when the game mercifully ended, the Yankees found themselves at the wrong end of a 12-5 drubbing by a team that hadn't seen its offense explode as it did for weeks. This was truly one of the lower points in the season, and as Joe Girardi said during the post-game interviews, "The whole game bothered me. We stunk is the bottom line. We stunk."
While the pitching was terrible — and we'll get to that in a second — the more infuriating part of this game was the Yankee offense. The Yanks' bottom third — Robinson Cano, Justin Christian and the pitcher's spot — went a combined 5 for 10 with two walks. Had the top of the lineup not gone 0 for 16 prior to a 9th-inning outburst by Jeter and Bobby Abreu, the Yanks could have slugged it out with the Pirates. But it was not to be.
On the mound, the story of the night was Darrell Rasner. The righty lasted just 5 innings, giving up 7 earned runs on 10 hits. He didn't issue a walk, but does it really matter? For the month of June, Rasner finds himself 1-4 with a 7.00 ERA. He's allowed 39 hits in 27 hits and isn't confusing anyone anymore. After a stellar May — 3-1, 1.80 ERA — Rasner is crashing back to reality rather quickly.
Right now, the Yankees don't have options behind Rasner. Either Sidney Ponson or Jeff Karstens will get the ball on Friday, and if either of them pitch well enough, they may get a chance to make a few spot starts in Rasner's place. Alan Horne and Al Aceves aren't quite yet ready to jump from AAA to the Bronx; Ian Kennedy is still a few weeks away; Phil Hughes and Carl Pavano — don't laugh — could be ready at around the same time but not until August.
So what's a team to do? (Other than dump LaTroy Hawkins, that is.)
For now, the Yankees will have to ride it out. It would help if the top of the lineup would produce against the Pirates though. But, hey, in a 12-5 game, there's enough blame for everyone.
Triple-A Scranton (4-2 loss to Columbus)
Brett Gardner: 1 for 3, 1 R, 2 BB, 2 K – on base (ready for this?) 17 times in his last 5 games
Cody Ransom: 2 for 5, 1 R, 1 K
Shelley: 1 for 4, 1 2B, 1 RBI, 1 K
Juan Miranda: 1 for 3, 1 2B, 1 RBI, 1 K – breaks up a 5 game multi-hit streak
Jason Lane: 2 for 3, 1 2B, 1 BB – picked off second
Eric Duncan: 1 for 4, 1 E (fielding)
Nick Green & JD Closser: both 2 for 4 – Green K'ed & committed a throwing error
Alan Horne: 6 IP, 7 H, 4 R, 3 ER, 4 BB, 2 K, 1 HB, 10-6 GB/FB – 61 of 105 pitches were strikes (58.1%)
JB Cox: 1 IP, zeroes, 1 K, 1-1 GB/FB
Heath Phillips: 1 IP, zeroes
Scott Strickland: 1 IP, 0 H, 0 R, 0 ER, 1 BB, 1 K – 12 baserunners & 14 K in his last 14 IP