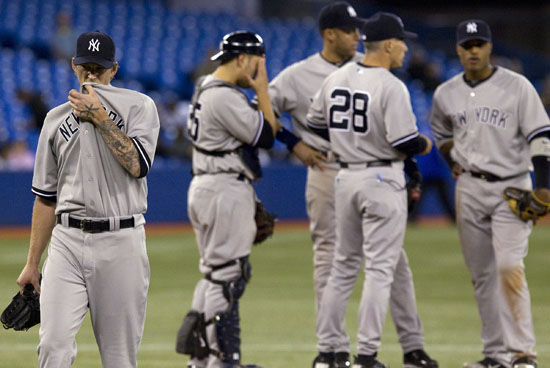 You are Joe Q. Starter. So far, you've given up 2 ER in 8IP and your team, the Tennessee Corndogs, is up 3-2. You've managed to load the bases with one out and your manager is coming to the mound to take you out of the game. You resist quite a bit, but he yanks you anyway. The problem is, everyone knows your team has a terrible bullpen, and the first thing Adam J. Reliever does in the game is give up a grand slam. You are charged with three of those runs, lose the quality start and the win, and your team goes on to take the loss. Bummer.
We all know ERA has some weird quirks – that's why FIP has grown fairly prominent, especially in the sabermetric community – but I've always been very interested by the concept of inherited runners. Admittedly, the starter should have some kind of responsibility for the runners left on, but it seems extremely unfair to me for one pitcher to take responsibility – any kind of responsibility – for another pitcher's actions. The Yankees are lucky this year that they have a strong bullpen and a high-strikeout fireman in David Robertson, but obviously he won't ride in on his white horse and save A.J. Burnett's rear end every day. The league average strand rate is about 70%, so D-Rob will be getting out of two bases-loaded jams and giving up a grand slam in the third. Whoops.
What the bullpen is doing with a pitcher's inherited runners can have a pretty interesting effect on a pitcher's ERA – and whether or not we like how ERA is calculated, it's still a statistic that factors into most important pitcher-related decisions. It still tells us a lot, especially combined with FIP/xFIP. It still correlates very nicely with Cy Young victory – most Cy Young winners have ERAs under 3. The complaints that ERA also encompasses the strength of the defense has already been pretty hashed out, but how can you possibly blame one pitcher for the home run of another? I'm certainly not going to blame anything Ivan Nova does on CC Sabathia or  Freddy Garcia. It doesn't seem fair if one pitcher leaves the bases loaded and a second pitcher gives up a bases-clearing double and then gets out of the inning. If all the runs are earned, both pitchers screwed up – but you're laying all the blame on the starter and none on the reliever.
Let's play with some numbers. I'll be using BQR (bequeathed runners) and BQS (bequeathed runners scored) from Baseball Reference. In 2009, Burnett had a 4.04 ERA, which is pretty good. He pitched 207 innings and allowed 93 ER. That year, he left 19 BQR, and only one of them – a single one! – scored. If we bump this up to the league average of 30% and round up, seven of of them score, and Burnett's ERA crawls up to 4.34. That's a fairly significant uptick. Similarly, Burnett was exactly league average in 2010, where 6 of his 18 BQR were converted to BQS. If we bump up the relieving effort behind him and say only 2 of them score, then Burnett's 5.26 ERA goes down to 5.07, which, while still a career worst, is a definite improvement.
Relievers have a complimentary stat: IR (inherited runners) and IS (inherited scored). Even Mariano Rivera has a career average IS of 29%, though this is buoyed by a particularly bad 2003 (49%!) and 2000 (42%). In 2010, his IS% was a slightly more godlike 19%. Last year, the fireman Robertson held an exactly league-average IS% of 30%, letting 10 of 33 runners score. Pedro Feliciano has been an excellent LOOGY, holding an IS% under 20% for the past two years and a career average of 24%. Unless Feliciano comes back this year, we're stuck praying for Boone Logan to work his career average 29% down a few ticks. Last year, he let 8 of 33 runners score, good for a decent 24%.
I'm not saying that starters shouldn't take some kind of responsibility for the runners that they leave on, but in the case of ERA, you're basically flat-out pinning the blame of a bases-clearing triple on the pitcher who did not give it up. This is just another aspect of ERA that the pitcher has no control over. We all groan when we see Joba coming in in one of his bad phases, but I couldn't imagine sitting there watching someone else compound my failure. A starter must already feel crappy about getting into a jam and not being trusted to or not thinking that he could get out it, and then some other guy just comes in a screws everything up even worse. We talk about luck and defense helping and hurting pitchers all the time, but having another guy exacerbate (on a bad day) or perfectly clean up (on a good day) your mess is certainly another element where a team can help or hinder a player's ERA.