By

Well, at least it's only a "slight" tear. Anyone out there have any idea how long this takes to heal? I couldn't find anything on google. My guess is Chase Wright, not Danny McCutchen, gets called up to fill his roster spot. · (17) ·
The MLB and MLBPA have come to terms on new drug policies pursuant to the findings in the Mitchell Report. For starters, all fines imposed through this plan will be donated to the Partnership for a Drug Free America, as well as the Taylor Hooton Foundation. The players will also make a $200,000 donation "to an anti-drug charitable or research organization." Yes, yes, but what about the new regulations?
1. Increased Independence – the Independent Program Administrator ("IPA") is appointed for a multiyear term and can be removed only in very narrow circumstances.

2. Increased Transparency – the IPA [ed. note: not to be confused with delicious India Pale Ale] will annually and publicly report key statistics related to the program and record retention requirements will be lengthened.

3. Testing – 600 additional tests will be conducted each year and the number of off-season tests will double on average.

4. Flexibility – the agreement institutionalizes an annual review process to allow the parties to respond to new developments.

5. Education – the IPA, in consultation with the parties, will develop an annual mandatory education program for players.

6. Amateur Draft – Baseball's testing program will be expanded to cover top prospects.
So are these changes going to revolutionize how MLB polices drug activity?
At least Selig was speaking some sense:
"It is time for the game to move forward. There is little to be gained at this point in debating dated misconduct and enduring numerous disciplinary proceedings. Educating children and their parents about the dangers of performance-enhancing substances is a much more productive endeavor."
I can't disagree with any part of that.
By

Baseball uniform numbers a curious thing. Some players wear numbers in honor of their home; Benny Agbayani's number 50 comes to mind. Others wear numbers to make something of a statement; think about Bernie Williams, Puerto Rico and the number 51. Others wear numbers to honor their favorite players; Jason Giambi's 25 commemorates Mickey Mantle's 7. Yesterday, Tyler Kepner got to talking with Johnny Damon and found out that the Yanks' left fielder's 18 is for Darryl Strawberry. Who knew? · (11) ·
When I walked past a newsstand on the way to the subway this morning, my eye fell upon the cover of today's Post. "Buried shirt puts Sox pox on new stadium," it read.
When I got in to work and had a chance to read this article, I had to stop for a second and ask myself if the Post was joking. Labeled an EXCLUSIVE, Alexander Hamilton's one-time great newspaper was trying to sell this story as real news:
A devilish Boston fan working on a concrete crew at the $1.3 billion stadium covertly buried a Red Sox T-shirt under what will become the visiting team's locker room to jinx the Yanks, two construction workers told The Post yesterday.
"In August, a Red Sox T-shirt was poured in a slab in the visitor's clubhouse. It's the curse of the Yankees," one worker said. "Nobody knows about it. It's in the floors, it's buried."

The workers say they now fear that they unwittingly helped hex their beloved Bronx Bombers. "I don't want to be responsible for sinking the franchise," said a second worker, who witnessed the sabotage. "I respect the stadium."
Really, The Post? Is this the best you could come up with? Is this even true?
Meanwhile, the rest of the article is filled with equally idiotic statements. "Look at the curse of A-Rod. The Yankees haven't won since [Alex Rodriguez] came to their game. There's probably more to that than a T-shirt," Peter Nash, author of a history of Red Sox fans, said. Well, the Yankees haven't won since Denny Neagle was on the team either but no one's talking about the Curse of Denny Neagle. Give me a break.
Howard Rubenstein said it best though: "It sounds like a tall tale, and it would take more than a Red Sox T-shirt to put a curse on the Yankees."
And somewhere Alexander Hamilton rolled over in his grave.
Disclaimer: I do not actually believe the Yankees should do this. But I'm in a good mood after a solid win, and I feel like pulling out a hypothetical.
So Jose Molina's been hitting the ball pretty well in his six games this season. It's easy to get excited about that, especially at a time when the rest of the team has been struggling to produce runs. Plus, he's a superb defensive catcher.
What I'm about to suggest is kind of crazy…okay, really crazy. Please, don't take me seriously. I cannot stress this enough. But imagine if Molina is on the verge of one of those fluke years, where he hits like .320. Hey, it's happened before.
Bear with me…imagine Molina is our starter. Jorge can then become the full-time first baseman. Would he be any good there? I can't imagine him being worse than Shelley Duncan on defense. He looked fine last year when he started the game there in Colorado. At the least, it would give us offensive stability at the position.
Plus, he could be the backup catcher. So he catches twice a week and plays first base or DH for the rest, with a day off here and there. Giambi can slot in a couple of days a week, when Jorge catches, sits, or DHs.
This has the added bonus of curbing some wear and tear on Jorge. He's signed through 2011, so we might as well keep him fresh as possible. With no viable starting catcher likely to emerge by next year, we're going to need Jorge there (can't count on another fluke year from Molina; what do you think I am, nuts?).
That also makes either Shelley or Ensberg obsolete. Not sure what to do on that front. But it's nice to have a little flexibility.
Of course, that's all completely predicated on the prayer that Molina somehow manages to hit .320. A man can dream, though. A man can dream.
We now return to your regularly scheduled, not-quite-batshit-insane programming.
By

Andy-Joba-Mo supported by six runs, three of them via the long ball. You couldn't script a better game before Fenway. The Yanks knocked out 12 hits and held the Royals to one run en route to a 6-1 victory. The Yanks now head into Boston at an even .500, tied with the Red Sox, and we are all spared the agony a three-game sweep at the heads of the Royals would have brought upon Yankeeland. And how about that Melky Cabrera kid? He sure can hit, no? · (4) ·
Triple-A Scranton (11-5 win over Louisville)
Brett Gardner: 1 for 5, 1 R, 1 K, 1 CS
Justin Christian: 1 for 4, 2 R, 2 RBI, 1 BB, 1 CS – threw Jay Bruce out at the plate
Jason Lane: 2 for 4, 3 R, 1 2B, 1 HR, 2 RBI
Shelley: 4 for 5, 3 R, 3 2B, 1 HR, 3 RBI – uh, think he was happy about being sent down?
Juan Miranda: 1 for 4, 1 R, 1 RBI, 1 BB, 1 K – Eric Duncan rides the bench for now
Nick Green: 3 for 4, 1 2B, 1 RBI, 1 K
Alan Horne: 2 IP, 4 H, 4 R, 1 ER, 0 BB, 2 K, 1 E (throwing) – it's some form of biceps injury, could be a strain, could be a tear, could be something else
Dan Giese: 2 IP, 3 H, 0 R, 0 ER, 0 BB, 2 K, 1 HB
Chris Britton: 2 IP, 2 H, 0 R, 0 ER, 0 BB, 2 K
Edwar Ramirez: 1 IP, 2 H, 0 R, 0 ER, 0 BB, 2 K, 1 HB, 1 WP – 8 K in 4 IP
Jon Albaladejo: 2 IP, 2 H, 1 R, 0 ER, 0 BB, 1 K – 18 of 20 pitches were strikes (90%) … now that's what I like to see
Update: Chad Jennings sent this nugget along:
Horne MRI tomorrow morning. Not making the trip to Durham. Has no idea what's wrong but he's relieved it's not his shoulder or elbow. He said he expects to miss his next start, but he doesn't know for sure.
So Joe Girardi decided to mix things up tonight. That's good. It's not a surefire remedy to a slumping lineup, but at least it's an attempt to get things started. However, I'm not so sure I'm on board with the changes.
First, Giambi and Abreu sit against the lefty. That's fine and good. As I've noted, I wouldn't mind seeing him sit against lefties a bit more. Giambi hasn't been doing much of anything, so keeping him on the bench is of little concern.
But Matsui in right field? We better hope no balls are hit to right field with a runner on first. And you can be damn sure a runner on second will take third on even a shallow fly to right. You don't want to lose Melky's range in center, but you have to think that a Matsui-Damon-Melky outfield would at least keep baserunners a bit more honest.
Onto the batting order…Jorge hitting cleanup? Normally, this wouldn't be an issue. But he hasn't hit a lick this season. At least Cano — batting 7th and behind Jose Molina — has registered a some hits in the past couple of games.
I guess the hope is that this will mix things up enough to get some people, like Jorge, going. To that end I cannot complain. And there are worse things than taking some defensive risks for a single game. So despite my qualms, there's certainly some virtue to what Girardi's trying to do here.
Anyway, here's the alchemic lineup:
1. Johnny Damon, LF
2. Melky Cabrera CF
3. Alex Rodriguez, 3B
4. Jorge Posada, DH
5. Hideki Matsui, RF
6. Jose Molina, C
7. Robinson Cano, 2B
8. Morgan Ensberg, 1B
9. Alberto Gonzalez, SS
And on the mound, number forty-six, Andy Pettitte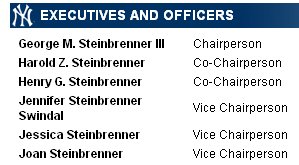 Until today, the Steinbrenner family had varying degrees of power within the Yankee Front Office. Hal was the General Partner, Hank a Senior Vice President and Jennifer Swindal the Senior Vice President for New Stadium Public Affairs.
This afternoon, the Yanks announced a little organizational reorganization, and now, all of the Steinbrenners — including two not previously on the Front Office masthead — all carry some form of chairperson in their official titles. Said George via his press guru Howard Rubenstein:
"I am excited to announce these titles. I am pleased to work with my two sons, Hal and Hank. With me, they will jointly oversee the club on a day to day basis. I am also gratified to recognize the leadership of my daughter Jenny in the club's charitable endeavors and her involvement with new stadium matters; as well as the contributions of my wife Joan and daughter Jessica in assisting me.

"Together with my executive team, the New York Yankees are prepared for the future and the exciting challenges the next several years will bring."
While this move is mostly semantics, it helps solidify family control over the team. George Steinbrenner has looked frail recently, and with the stadium's dedication in Tampa, the Yankees are in full honorific mode. Perhaps the family knows what the rumors have long said about George's health.
By

After consulting with famed surgeon Dr. James Andrews and team doctors, Jorge Posada learned that his shoulder is only strained. According to Yanks' manager Joe Girardi, Posada will probably be out somewhere around a week before he's ready to catch again. Right now, the Yankees should proceed cautiously with Jorge; they need him healthy this year. · (7) ·