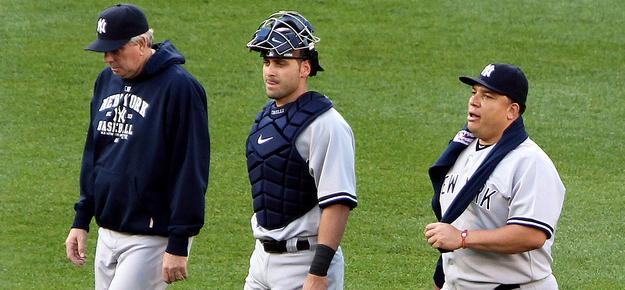 Ten days later, the west coast road trip is over. Or at least will be once this game ends. The Yankees are guaranteed a winning trip after last night's game, but boy does 6-3 look a whole lot better than 5-4. Here's the starting nine…
Derek Jeter, SS
Curtis Granderson, CF
Mark Teixeira, 1B
Alex Rodriguez, 3B
Robinson Cano, 2B
Nick Swisher, RF
Jorge Posada, DH
Brett Gardner, LF
Frankie Cervelli, C
Bartolo Colon, SP
First pitch is scheduled for 3:35pm ET and can be seen on YES. Enjoy.
Rotation News: Joe Girardi announced before the game that Freddy Garcia, A.J. Burnett, and CC Sabathia will be his starters for the upcoming series against the Red Sox. Ivan Nova was scheduled to start the third game, but they're using Monday's off day to flip flop him with Sabathia. Good call.
High Socks For Hope: They're going to show a segment on David Robertson's visit to his home town of Tuscaloosa following the recent tornado devastation. The High Socks For Hope website is up and running, and you can donate there if you want.