By

Get those tickets for Tuesday's game, folks, because that's Day One for everyone's favorite fist-pumper. Joe Girardi announced during the Yanks' pre-game routines tonight that Joba Chamberlain will start against the Blue Jays on Tuesday. Chamberlain will throw between 60 and 70 pitches during that start and is now considered a member of the starting rotation. The Yanks plan to add 15 pitches per outing until the 22-year-old reaches that magic 100-pitch threshold. Big days are ahead for number 62. · (26) ·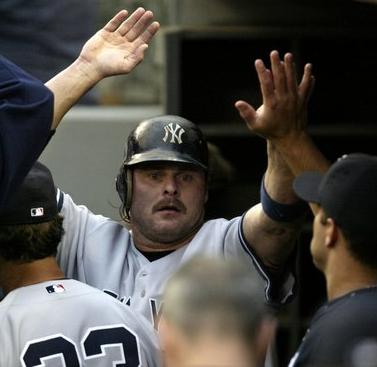 Remember April? Man, we had some heated arguments back then. Cano wasn't hitting, Giambi wasn't hitting, Damon was on and off, Jeter wasn't off to the hot start we saw the past two years. Two guys in particular, though, took the brunt of the offensive criticism: Giambi and Cano. Each time they came to the plate and failed, people were clamoring for them to find a seat on the bench. There was even a contingency of Yanks fans who wanted to see Giambi released.
Good thing they didn't get their way.
On the month of May, Giambi is hitting .339/.481/.726. That is absolutely insane. Each of those three numbers represents the top spot on the Yankees for the month. On the season, he's at .244/.393/.556, a more than respectable line that, if nothing else, shows the effects of his abysmal April.
Before the season started and during the first few weeks, some Yankees fans were up in arms about Giambi. DFA him! He won't be able to help this team! Even as we got into May and the Giambino started hitting a bit better, especially for power, the detractors were still out. At this point, though, to rail against Giambi seems a bit foolish, eh?
(Then again, guys like Jamal looked the fool when he continually defended Giambi in the early going. Baseball's a funny game like that.)
The thing is, we've seen this before. I present to you the year 2005. Giambi was coming off a 2004 defined by a stomach parasite and a benign pituitary tumor. But he was healthy in the spring, and was ready to get back into the game. Problem was, he was no good early on.
Prior to June 15, he had just three home runs. On May 22, he was hitting .215/.368/.346. Yankees fans wanted him out, and wanted him out fast. Even as we moved into late June and his OBP rose to over .400, people still weren't happy with Giambi. The stigma of steroids still surrounded him, and I heard many a person talk about how he can't compete without the juice.
Then a funny thing happened in July. He started hitting balls out of the park. Two against the Orioles on the 4th of July. One the next day. After an off-day, one on the day after that. One against Boston on July 14, in an 8-6 win. Two on July 20, two on July 21. By the end of the year, that Giambi who had a slugging percentage under .350 on May 22 finished with a line of .271/.440/.535. The complainers had shut up.
(He hit .282/.463/.655 from July on in 05. Just disgusting numbers.)
This year, it appears his resurgence is coming along a bit quicker. He's been one of the drivers of the Yankees offense, which is finally starting to look like we expected from the get go. And, most importantly, he's hitting well enough to compensate for his poor defense at first base. There are no guarantees that he keeps it up — as I said, baseball is a funny game like that — but Giambi has shown that he can in fact contribute to the 2008 Yankees.
Hopefully, Girardi's veteran rotation will help keep Giambi — as well as Matsui and Damon — fresh throughout the year. Matsui and Giambi in particular have been integral in molding the offense. With A-Rod back and Jorge on the way, maybe we can start to put up some more crooked numbers.
By

That's a rather lengthy title, eh? Anywho, I'm representing the Yanks in what amounts to a huge mock draft involving bloggers from each team. There's some blogging heavyweights involved, including Geoff from Ducksnorts (the godfather of baseball blogging), Jason from Prospect Insider, Kiley from Saber-Scouting and Bryan from Baseball Prospectus, so I think it's pretty cool that I was asked to represent the greatest sports' franchise in the history of the universe. There's a site set up for all the action, which you can find here. If you want to cut to the chase, the picks are being made here, and the discussion is here.

We plan on doing the first and supplemental rounds, and the picks are being stretched out a bit to accommodate everyone's schedule (we should be done by Sunday). I'll post my picks with analysis and the reasoning behind them once they're made. · (18) ·
By

During the Yanks' extra-innings lost in Baltimore on Tuesday night, Mariano Rivera did something he had not done all season: He walked a batter. Amazingly, the world did not end. With that walk, Rivera ended a stretch of 19 straight appearances this season. It was the longest such streak to start a season for Rivera, and stretching back in 2007, Mo hadn't allowed a base on balls since over his previous 23 appearances. But that wasn't even the longest streak of his career. From June 12, 2007 to August 15, 2007, Rivera went 24 appearances without issuing a walk, and from June 26, 2005 to August 31, 2005, Rivera went 31 appearances covering 35.1 IP without issuing a free pass. Damn, this guy is good. · (4) ·
It's a quiet night in Yankeeland. We're awaiting word on Tuesday night's starter, and the Yanks had an off-day on Thursday as they journeyed to Minneapolis for a wrap-around weekend set with the 28-25 Twins.
But across the city in Shea Stadium, Joe Torre made his return to New York. He managed the Dodgers to a loss against the Mets and was received warmly by the Shea Faithful. Jack Curry sat down for an extensive look at Joe's life post-Bronx:
But Frank Sinatra never had to manage a baseball team in New York, New York. While Torre was renowned for his lengthy interview sessions and seemed to enjoy the interaction with the news media, he said that the coverage surrounding the team changed about eight years ago. Torre could not pinpoint why. He just felt as if the game details often became secondary to other issues. Torre recounted how the Dodgers plunked Boston's Manny Ramírez with a pitch in an exhibition game and it was barely noticed.

"New York is great for the good times and memorable for the bad times," Torre said.

Three nights after Randolph heard a smattering of "Fire Willie" chants, Torre was serenaded like a returning king. After a pitching change in the seventh inning, Torre received a partial standing ovation as he walked from the mound to the dugout. He lifted his cap to the fans.
While Torre couldn't pinpoint what changed, I can. The invulnerable Yankees lost in the postseason eight years ago, and they haven't really managed to win that Holy Grail, that 27th championship, since then. What happened in 2001 was hardly Torre's fault. Mariano threw the ball away; Scott Brosius didn't throw the ball to first; the roof took away a potential Shane Spencer home run.
But as the Yankees stocked up on talent — when Jason Giambi came in and the Yanks had to replace Tino and Paul O'Neill — the media began to nitpick every move the $200-million team made, and Torre bore the brunt of that scrutiny.
Today, we're on the verge of wrapping up month two of the Joe Girardi Era, and it's gotten off to something less than the smooth start for which we were all hoping. The Yanks enter Minnesota in last place, one game under .500. They're only 4.5 games behind the Red Sox for the fourth AL playoff spot, and I have to believe that the team's fortunes will improve.
As I watched some of the Dodgers-Mets game from the gym before the Lost finale took my attention away from baseball for a few hours tonight, I asked myself if I wished Joe Torre were still managing in the Bronx. My answer was still no. I loved Joe in New York, and I think it's too bad that he couldn't still be around to manage the team into the new stadium. But I still think it was the right move for him and the Yanks to part ways.
Today, he and Girardi are both managing teams with high payrolls and sub-.500 records. But only in New York is the manager, the General Manager and everyone else under the sun under fire for this start. In Los Angeles, Joe Torre just sounds more at home, green tea and all.
By

Picking up on a thread in the DotF comments, Jose Tabata was indeed removed from tonight's Trenton Thunder game for disciplinary purposes. John Nalbone has the story, but details are scarce. No word if the Yanks' prospect will face a second suspension this year yet. · (11) ·
Some housecleaning:
Triple-A Scranton (5-2 loss to Pawtucket)
Brett Gardner & Bernie Castro: both 1 for 3 – Gardner K'ed & was caught stealing
Alberto Gonzalez: 0 for 4, 2 K
Jason Lane & Chris Stewart: both 0 for 3, 1 K – Lane was hit by a pitch, stole a base & scored a run
Ben Broussard & Justin Christian: both 1 for 4, 1 K – Christian scored a run
Greg Porter: 2 for 4, 1 2B
Danny McCutchen: 4.2 IP, 3 H, 3 R, 3 ER, 1 BB, 4 K, 5-5 GB/FB – AAA hasn't been so kind
Steven White: 2.2 IP, 2 H, 2 R, 2 ER, 3 BB, 2 K, 1 HB, 1-5 GB/FB – 27 of 50 pitches were strikes (54%)
David Robertson: 0.2 IP, 0 H, 0 R, 1 BB, 1 K
A few years ago — it must have been around 2002 or 2003 — I was sitting in the Tier Reserve for a mid-summer game. In front of me, one of the regular beer guys — muscular guy with tattoos up and down his arms — had stopped to serve a customer in the top of the 6th. As the inning ended, he was pouring beer, and a familiar refrain floated out of the Yankee PA system. "I hate this song," he muttered to himself.
Now, I don't like to use the word "hate" in labeling things. It's a strong word, and it always seems fairly irrevocable. Once you hate something, you can't really change your mind later on without seeming wishy-washy.
But I knew exactly how this guy felt because by that point, I too hated the Village People's Y.M.C.A. I still do. At the exact same time in my life — the 1995-1996 school year on the Bar Mitzvah circuit and 1996 Yankee season — this song entered my life with a vengeance, and it's never left. Every season, about 20-30 times a year, I'm subjected to this song and countless thousands of people attempting to sing along with it.
It's not that it's a bad song; I appreciate its place in disco history and its relevance for the gay community in 1970s America. But it's also not a very good song, and enough is enough. There are some songs that can be played over and over. There are others — such as Nickel Back's This Is How You Remind Me — that are insufferable. The Y.M.C.A. is one of the latter.
If anyone is to blame for sustaining the Y.M.C.A. craze well beyond any normal limit, the Yankees would shoulder that load, and a recent Spin magazine profile drives that point home. Jeff Pearlam — hat tip to BBTF — traces the page two, he traces its prevalence at sports events to Yankee Stadium circa 1996. Here's how Joseph Malloy, a former General Partner with the Yankees, describes the origins of the now-tired sixth-inning grounds crew shtick:
It was the opening of Legends Field, our spring-training stadium in Tampa, and a couple of the grounds crew guys approached me with the idea of bringing a little excitement to the exhibition games. In the middle of the fifth inning, when they dragged the infield, the guys wanted to do the arm motions to "Y.M.C.A." I hadn't heard the song for a long, long time, but the crowd absolutely loved it. I thought, "Hmmm, this might work in New York."
Malloy, who had no idea that the song is chock full of reference to a gay lifestyle at Y (duh), got more than he bargained for. Juan Gonzalez in the Daily News wrote:
[The grounds crew] began to dance, strut, and gyrate around second base while they dragged the field. The capacity crowd roared with approving laughter. We all cheered and applauded, and for a moment we all felt a little warmer inside. It was baseball poking fun at itself, reminding us all that this huge, multibillion-dollar, cutthroat business is, after all, about people having a good time.
And truth be told, it was fun. For a season. Now in its thirteenth year as a Yankee Stadium gimmick and one that has spread well beyond the confines of the House that Ruth Built, it's tired and played out. The grounds crew isn't nearly as into it, and it's just one more noisy thing to throw at the fans in between innings.
The players themselves don't seem to go for it either. "I hate Y.M.C.A. I've been over it since I first heard it," J.P. Howell told Pearlman. I know you how you feel, J.P.
As the Yankees look north to their new ballpark this year, they should assess the state of between-innings entertainment and decide which, if any, of the distractions should cross the stay and which should stay behind at the old stadium comes down. The Y.M.C.A. is tops on my list. Let's bury it in the remains of the House that Ruth Built.
Via Jayson Stark:
Kei Igawa isn't quite as buried on that Yankees' depth chart as Carl Pavano, but it's close. And he's already homesick. We've heard from two different baseball men recently that Igawa asked the Yankees over the winter if there was any way he could return to Japan. The Yankees quietly explored their options, got nowhere and gave up. They're still on the hook for nearly $11 million to Igawa through the 2010 season.
Now, this isn't an original idea. RAB commenters have mentioned it; my mom has mentioned it. But how hard could the Yankees have tried to ship Igawa back to Japan?
Kyle Kendrick's experience aside, a trade back to Japan for Igawa would be fairly unprecedented. Japanese League players — Alfonso Soriano and Hideo Nomo, I'm looking at you — have "retired" in Japan so that they could sign MLB free agent contracts, but never in the history of the game has an American team traded a player back to his home country.
At this point, it's clear that the Yanks have just about slammed the book on the Kei Igawa Era. He has never been an effective Major Leaguer, and he's not a part of any of the Yanks' long- or short-term plans. He's owed just $11 million over the next two and a half seasons, a paltry sum by Yankee standards. So why not just release him?
Well, the Yanks don't want to let him go because they're afraid that some other team will pick him up for the league minimum and catch lightening in a bottle. By now, though, considering that the Yanks have even explored sending him back to Japan, it's clear that Igawa is nothing more than a warm body to fill space at AAA. He's probably going to end his brief American career as the highest-paid AAA starter ever, but that's better than watching him get shelled in the Bronx.