HWB Honolulu (10-4 win over Waikiki)
Ajax: 2 for 4, 1 R, 1 3B, 1 RBI, 1 K – 10 hits & 6 RBI in his last 6 games
Bradley Suttle: 1 for 4, 1 R, 1 2B, 1 K – sighs of relief all around…he's now 1 for 25 in Hawaii
George Kontos: 5 IP, 4 H, 1 R, 1 ER, 1 BB, 5 K, 3-6 GB/FB – knocks that ERA down to 4.50
JP's AzFL update is here.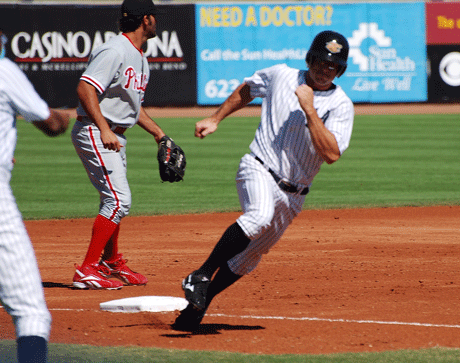 The Javelinas beat the Saguaros 8-3
Brett Gardner: 1-3, 1 Triple, 2 BB, 1 K, 1 R
Reegie Corona: 1-3, 1 Double, 1 BB, 1 K, 1 R
The Javelinas are now 3-1 on the season after another convincing victory. They're batting .328 as a team and are led by the top two hitters in the league, coming into today's game. After today's results, Gardner is hitting a cool .500 through the first four games of the season.
By

A-Rod, according to The Post, may drop somewhere between $39 and $41 million on a seven-room townhouse on East 80th St. between Fifth and Madison Aves. If he's spending that much money on an Upper East Side pad, does he really plan to leave New York? · (16) ·
By

This one comes from Tuesday. Don't know how we missed it. Peter Gammons reports that the Yanks have already had talks regarding Johan Santana (subscription required). The conversation was based around Chien-Ming Wang. Gammons reports no conclusions, but if I'm the Twins GM, the first letter of my response would have started with "F," and the second word would have been "off." · (24) ·
Everyone has said it, even the man himself: Brian Cashman is going to have the toughest off-season of his career, and easily the most daunting off-season of any other GM in baseball. He has to choose a direction in which to take the New York Yankees. As you'll soon see, it won't be an easy decision, and much of it will be out of his hands.
Essentially, there are two paths he could take: keep the veteran core and let the youngsters work their ways into the lineup, or gut the team and start over — or at least to the extent that's possible. The problems with these paths are clear. He doesn't have much control over the former. If Steinbrenner gets his way, Torre is gone, which may preclude our veteran troika of Mo, Po, and Pettitte from returning. The logical thing to do then would be to choose the latter path. However, George wants a ring, and that path is not conducive to victory in 2008. If George doesn't understand this, it would probably cost Cashman his job.
(Official prediction: Cashman convinces George that if he wants to contend for a ring in '08, he has to bring Torre back. The Boss acquiesces, and we bring back the troika. A-Rod, of course, is a complete wild card in either scenario.)
Let's take a journey down each path to see what lies ahead. True, we won't be able to get a vivid image of the landscape, but we can at least formulate an idea of what 2008 will be like. As always, please leave your takes in the comments. This is just a starting point.
By

From the Boston Globe:



"To say we're no longer underdogs seems to be going too far," says club president Larry Lucchino, tempering annual expectations. "We're in the division where Goliath resides."



Ah yes, those poor unfortunate underdog Red Sox. How they manage to survive in today's game with a $160,000,000 payroll is beyond comprehension. Sorry to burst your bubble Larry, but the cutsy little "oh poor us, we can't compete with the big bad Yankees" schtick go old like, 4 years ago. Grow up, you're starting to sound like an 8-yr old girl.

(hat tip to Pinto) · (0) ·
I have to say, HWB was alot more exciting last year, when Joba, IPK, Jeff Marquez, Mike Dunn and pre-injury Chris Garcia & Mark Melancon were doing their thing.  
HWB Honolulu (8-7 win over Oahu)
Ajax: 0 for 2, 1 R, 2 BB, 1 K, 1 SB, 1 HBP - on base 13 times in his last 7 games
Bradley Suttle: 0 for 3, 1 BB, 2 K – 0 for 21…I've give him the benefit of the doubt and chalk this up to "pressing"
Anthony Claggett: 3 IP, 2 H, 1 R, 0 ER, 0 BB, 1 K, 7-1 GB/FB – the only thing that's really holding him back is the lack of strikeouts (only 77 K in 117+ IP this year)
JP's got your AzFL update; how ridiculous has his coverage been? Just awesome.
By

Eric Werdekemper will be replacing Ross Ohlendorf on the Peoria Javelinas roster. He was already in the dugout for todays game. He doesn't have the ceiling of Olhendorf but he's always posted good numbers since he was drafted in the 46th round of the 2005 draft. He was recently honored as the 2007 FSL Most Valuable Pitcher · (3) ·