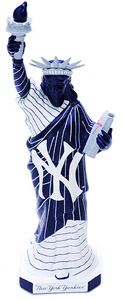 Back in 2000, as part of a charity auction, cows decorated by people from all over adorned the streets of New York as part of the Cow Parade. This year, with the All Star Game in town, MLB is releasing its own version of the cow parade: baseball-themed replicas of the Statue of Liberty.
Throughout the city starting today, observant New Yorkers can find 42 different Statues celebrating the 30 teams, the Brooklyn Dodgers and various other New York City baseball related designs.
I like this idea. While it's clearly a bit gimmicky, it's a nice way of honoring the city while marketing baseball, and if it's one thing we've learned over the last few years, it's that baseball needs to find a few feel-good marketing campaigns to run. Much like they did with the cows, fans will hunt down these statues for photo ops, and the casual person happening upon one of these statues will stop and notice it.
Per the press release, find the statues here, among other places:
STATUE
LOCATION
All-Star Game
MLB, 245 Park Avenue
American League
Statue of Liberty
National League
Ellis Island
Brooklyn Dodgers
Topps, One Whitehall Street
New York Giants
Toys "R" Us, Times Square,1514 Broadway
New York Mets
Penn Station, 2 Penn Plaza
Yankee Stadium tribute
Yankee Stadium
Atlanta Braves
World Financial Center Plaza
Boston Red Sox
Sports Museum of America, 26 Broadway
Chicago Cubs
20 Broad Street, near N.Y. Stock Exchange
Pittsburgh Pirates
888 7th Avenue, near Carnegie Hall
St. Louis Cardinals
1290 Ave. of the Americas, near Radio City
Tampa Bay Rays
Champs, 5 Times Square
Of course, you can also buy replicas online as well. The one commemorating the last season in Yankee Stadium is pretty neat.
By

We've got a free extra to tonight's game. Seats are in the bleachers. First person who wants the ticket to leave a comment in this thread with a valid e-mail address in the e-mail field (where it will stay private) gets it. Please be in New York and able to go the game tonight. Ready, set, go. · (5) ·
By

It's time for the once-a-month look back at Kei Igawa! This time, it's brought to you by Rainer Sabin and The New York Times. Reading about Kei's predicament in Scranton and his constant trips to New York to visit his wife, I feel bad for the Yanks' expensive left-handed flop. He just wants to do well. · (19) ·
For those of you who get to the bottom of the DotF comments, there's some video on the Pat Venditte incident from last night. It's a bit long, but if you want to make him play the hitter for a fool, fast forward to the last few seconds.
Is it too early to think about 2009? It seems as though, in Yankee-land, it is not.
Toward the end of Jayson Stark's latest (and voluminous) Rumblings & Grumblings, the ESPN columnist drops in a note about Jason Giambi and the Yankees:
Price of the Giambino: Two months ago, we would have set the odds of Jason Giambi's returning to the Bronx next year at approximately, well, zero. But we're hearing the Yankees have sent signals to Giambi that, assuming he stays healthy and reasonably productive, they would be amenable to bringing him back next year. There's zilch chance they'll pick up his $22 million option. But a modest one-year offer, on top of his $5 million buyout, apparently is no longer out of the question. Who'd have thunk it?
Who'd have thunk it? Well, outside of our own Jamal, approximately no one. We knew Giambi wasn't going to be terrible all season; we didn't realize he would start putting up MVP-caliber numbers over a significant stretch of the season.
Now, I don't need to rehash Giambi's numbers since he broke out of his slump. I've done that recently here and, in a more in-depth post here this week. Suffice it to say that Jason Giambi is having a stretch right now that ranks among his best in pinstripes.
So what are the Yankees to do next year and beyond? The Yanks hold a $20 million option or a $5 million buyout for Giambi. There's almost no chance that the Yanks would opt to exercise that option. Stark's sources speculate that the Yankees would be more inclined to exercise that buy out and sign Giambi to a much lower one-year deal.
There are of course a few factors involved in this decision. One of those factors lies with Jason Giambi. If Jason continues to mash this year, the odds are pretty good that he could land a deal longer than one year. He'll have to decide if he wants to stick around New York or go for a longer contract. I highly doubt the Yanks would be willing to do more than a year-to-year situation with Giambi. Maybe they would give him a two-year deal with a lower salary but some high incentives.
The other factor, of course, lies with the Yankees. If Jason Giambi can be a productive offensive player, the Yankees will definitely look to bring him back. He hasn't been terrible in the field this year, and he more than makes up for it at the plate. Furthermore, the Yanks seem to believe that Hideki Matsui is no longer as durable as he once was and are hoping to prolong Jorge Posada's career by spelling him behind the plate as often as possible. Giambi could do a bit of 1B/DH platooning next year.
But if the Yankees want to go young — or younger — and take a long, hard look at Mark Teixeira in the off-season, they probably wouldn't opt to retain Giambi and Matsui. Despite the age difference, I'd almost take Giambi over Matsui with that lineup. Of course, economics play into it too. If the Yanks are going to be paying Giambi $5 million not to renew his contract, they'll probably want some of that money to go to on-field production and would thus be more willing to bring him back for the right price.
In the end, of course, despite Stark's assertions, it's way too early to be making this decision. We still have over half the season to go, and questions of frailty surround Jason Giambi. It's interesting to think about it, and if Giambi stays healthy and keeps producing, the Yanks will have to make a decision this October that probably doesn't have a right or wrong answer.
Mike is out of commission for the next few nights. So I'm taking over the Down on the Farm reins for a few days. Don't worry; I'm not staging a coup. I'll have a link to the box scores and a few stat lines but not nearly as many as Mike features. Feel free to add more depth in the comments.
AAA Scranton-Wilkes Barre lost to the Toledo Mud Hens 4-3(box score).
Alan Horne – 6 IP, 4 H, 4 R, 3 ER, 3 BB, 4 K – He threw 96 pitches but only 53 for strikes in a losing effort
David Robertson – 2 IP, 1 H, 2 BB, 1 K
Shelley Duncan – 1 for 4 with his 7th AAA HR of the year
The Mud Heads featured former Yankee farm hand and Major Leaguer Fernando Seguignol as their clean-up hitter. The Yanks owe a thanks to the 33 year old as he was once traded by the Yanks to the Expos for a pitcher named John Wetteland.
By

So things are good in Yankee-land tonight. While the Yanks have the evening off, an afternoon win brought the Bombers their seventh victory in a row. With a plethora of open threads lately, we figured now would be a good time for some site evaluations. Thanks to Mike's tireless draft coverage, we've had a huge month traffc-wise, and today, Joe debuted first RAB podcast.

So I want to take this opportunity to ask you, our readers, to evaluate the site with a critical eye. If you think we're doing a great job and shouldn't change a thing, thank you, but we're not fishing for congratulations. We'd rather reserve this thread for comments about what we aren't doing or aren't doing well. What would you do to improve the site? What would you like to see added to our coverage? Leave your ideas in the comments, and we'll sift through 'em over the next few weeks. The feedback would be a massive contribution to the site. · (95) ·
Just two days ago, I wrote up a 14-strike out game tossed by Andy Pettitte and the Yankee bullpen. It was the first time in nearly two years that the Yanks had reached that lofty K plateau. Little did I know they would reach — and exceed — that level again less than 48 hours later.
Behind a strong, 100-pitch outing from Joba Chamberlain, four Yankee pitchers combined for a whopping 15 strike outs of the San Diego Padres. Joba started off the fun with 2 K's in the first and hardly looked back. On the day, he threw a few too many balls (42) and issued a few too many walks (3), but in 5.2 innings, Joba struck out nine and gave up just four hits. Outside of a rough first outing, his transition into the rotation has been about as smooth as we could expect.
On the season, Joba has yet to pick up a win as a starter, but to anyone who follows the team, that matters very little. The Yanks are now 3-1 in Joba's four starts, and the right-hander has thrown 18.1 innings while striking out 19. For all the analysts who said Joba couldn't keep up his velocity and strike out totals, Chamberlain is doing a good job of proving them wrong so far.
Of course, it's still early on in Joba's career, and he's still finding his way as a Major League starter. The walk total — 12 in 18.1 innings — is, point blank, unacceptable. It will get better.
After Joba's departure, Jose Veras, Kyle Farnsworth and Mariano Rivera combined for 3.1 innings of scoreless, one-hit relief. The trio struck out six with Mariano Rivera's continuing to utterly dominate the Padres. He faced San Diego three times this week and nailed down seven strike outs.
Offensively, the Yankees took advantage of the Padres' weakness. While Josh Banks continued his stellar pitching this season, the Yanks exploited the Padres' catchers. Melky Cabrera scored the Yanks' first run of the game off a walk, two stolen bases and a sacrifice fly. A Derek Jeter stolen base put him in position to advance to third on a Bobby Abreu ground-out and score on an A-Rod single. Who says the Yanks can't run?
With that win, the Yanks win their seventh in a row. It is their longest winning streak since they won nine in a row against the White Sox, Pirates and Diamondbacks in June of 2007. The Yanks, it seem, love beating up those weak NL teams.
Riding high on a win streak and just 2.5 games behind the Wild Card-leading Tampa Bay Rays, the Yanks will meet the Reds, another last-place NL team, this weekend. Edinson Volquez and his sub-2.00 ERA go on Friday. The Yanks are finding ways to win big and small, and I'm lovin' every minute of it.