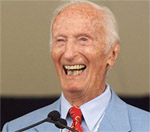 Of the many injured Yankees, the one nostalgic fans miss the most is soon-to-be centenarian and long-time Voice of the Yankees Bob Sheppard. Sheppard has been on the DL, so to speak, since the end of September with a very bad illness.
But today, we learn some good news: Sheppard hopes to be back in the booth by July 1, and he definitely wants to be in the booth for the All Star Game and for the opening of the new stadium. No word on if the Yanks plan to schedule any rehab appearances for the Hall of Famer in Trenton or Scranton.
Via PeteAbe, we find a site called Busted Halo and an interview with Sheppard. Sheppard, who won't give out his age, is rumored to be 98 years old and has been announcing games for 57 seasons. In the interview, Sheppard talks about his illness:
Up until my recent illness, I have been physically fit for somebody my age. But last January for some reason or other, life caught up with me, and I began losing weight. I had a very serious problem with my lungs because of a bronchial problem and I was hospitalized. I had lost weight. I had gotten down to 103 pounds!
He talks about returning to the Bronx:
According to the doctor, when I reach, "my fighting weight" about 145-150, he will allow me to go back to Yankee Stadium and finish the season. So my target date to be back is July 1. There is an All Star Game to be played at Yankee Stadium on July 15th and one of my goals is to be there and announce it. I did one years and years ago at Yankee Stadium but I can't recall it. So now this would be something to remember. I do want to be there next year when we open a new Stadium. And I'd like to be the one who says, "Good Afternoon Ladies and Gentlemen…Welcome to the NEW…Yankee Stadium."
From the way he talks, it sounds like Sheppard's illness was more serious than anyone had really reported. I'm glad to hear that Bob's on the mend, and I'm eagerly awaiting his return to Yankee Stadium. It's just not the same without him.
Thankfully, I have this piece by Larry K. from Save Phil Hughes.
Although I was into baseball as early as seven years old (I actually still have all 792 baseball cards of the Topps 1988 set in an album in storage somewhere), and I have vague memories of occasionally watching the pitiful teams of 1989-1991, my rabid devotion to the Yankees didn't fully develop until closer to 1993/1994.
I vividly remember my heartbreak in August 1994 upon reading in the Daily News that the players had indeed gone on strike after threatening to do so all year, especially given that the Yankees incredibly had the best record in the American League, and Paul O'Neill was leading the league in batting average. (Joe's note: I was at the final game that season. Sadness.)
The 1995 season is the first I can recall really getting hardcore into Yankee games on a regular basis. It was also the year I'd attend my first playoff game, and boy was it ever a classic — Game 2 against the Mariners at Yankee Stadium. My childhood idol Donnie Baseball blasted a home run in the bottom of the sixth, and Jim Leyritz would go on to hit a walkoff shot in the bottom of the 15th, the first of many of The King's legendary playoff moments. Unfortunately, like every Yankee fan, I've never been able to purge that horrible image of Ken Griffey, Jr. rounding third and sliding into home with the winning run in Game 5. Thankfully the following season was one for the ages, but I don't need to reminisce about 1996 here. We all know how it went down.
As I became crazier and crazier about the Yankees in the mid-90s, my intellectually curious self sought to augment my enjoyment of the games with supplemental material, like any good baseball fan would — and the only avenues available at the time were New York's daily newspapers. I quickly discovered that the Times' sports section was a routine disappointment and the Post's — while an improvement over the Times — still felt lacking.
And so it was the New York Daily News that became my holy grail of Yankee coverage. Everything about the News' coverage of the Yankees felt superior — the game recaps, the columnists, the analysis, the secondary stories, the notebook. Even to this day, on the rare occasion that I pick up a physical copy of one of the dailies, I always gravitate towards the News.
Of course, as anyone reading this knows, these days the mainstream media has essentially become irrelevant. I first discovered Bronx Banter, the granddaddy of all Yankee blogs, during the 2004 season, and was instantly hooked. Alex Belth's analysis and perspective seemed so fresh and advanced, and was only bolstered when Cliff Corcoran came along and truly upped the ante.
Now once any junkie gets hooked, they always need more, and fortunately the Banter provided a plethora of links to other insightful folks blogging about the Yankees. Shortly thereafter I discovered the brilliance of the Replacement Level Yankees Weblog and the Pinstriped Bible and Blog, and it escalated from there. Steve Goldman's careful and critical sabermetric analysis of the team in particular really started to change the way I watched the game, as a greater understanding of advanced statistical metrics significantly enhanced my enjoyment.
Later on Peter Abraham's Lohud Yankees Blog hit the scene, providing fans with an unprecedented level of updates and access, and to this day remains the pinnacle of mainstream media coverage of the team.
As I continued to devour these and several other Yankee blogs on a daily basis, eventually I came across a new site that quickly established itself as the new go-to Yankee site for me: the one you're reading right now, River Ave. Blues. Right off the bat I knew I had found gold, as these were three guys who just got it. They're an incredibly intelligent, even-keeled trio (their eternal optimism even during this latest stretch of offensive ineptitude is something every Yankee fan should strive for), and their multiple daily contributions have truly become essential reading for any informed Yankees fan. It's gotten to the point where just about everything Ben, Joe and Mike write is almost exactly what I'd say about any given Yankee topic myself, essentially rendering my opinion useless. (ed. note: I accepted this guest submission before reading this paragraph.)
Anyway, getting to the point I'm trying to make (and yes, I do have one) is that all of the terrific amateur work being done online by these highly informed and astute Yankee fans has truly rendered the mainstream media useless. Outside of Pete Abe and maybe Tyler Kepner at the Times, there really isn't a single writer in the mainstream media worth reading. I used to have respect for Mark Feinsand, but the Daily News has made sure to strap its baseball dunce cap tightly on his head. And it's kind of appalling that the people who are actually paid to report on the team are one-upped multiple times every day by folks who write about the team free of charge. If there were any justice, perhaps one day we'll see our boys at RAB getting paid to do what they do best.
And Bill Madden, who back when I first starting reading the News in the 90s seemed like the most knowledgeable and best baseball writer in the city, has resorted to spewing inane drivel like this column, in which he incredibly believes that Joba Chamberlain is far more valuable as an 8th inning setup man as opposed to a starter. I mean, this argument has been rehashed to death. If you understand the value in moving Joba to the rotation (which, thankfully, the Yankees do), then congratulations, you actually have a brain, and have a decent understanding of how baseball works.
By

That number, according to dnScoop, is how much RAB is worth. The Juiced Sports Blog claims that we're the 84th most valuable blog on the blogosphere, and that's pretty freakin' cool. If anyone's interested in buying the site, we're open to negotiations.

(h/t to Pinto) · (23) ·
Here's the short recap that Mike and I came up with on IM a few minutes ago: Pettitte good. Giambi good. Millar suck. Joba good. Mariano good.
That's quite the recipe for a win. The Yanks got a solid 6.2-inning effort from their starting pitching, some timely hitting from the offense and some solid relief work to leave Baltimore with a win.
My only gripe with this game was the way Joba Chamberlain was handled. The Yanks were loathe to use Chamberlain with a lead in an extra-innings game last night, but tonight, they were happy to use him to throw 28 pitches in 1.1 stellar relief innings before Joe Girardi did the by-the-books move and called on his closer to end the game.
When Joba came in with two outs in the seventh, I was rooting for a Goose Gossage-type 2.1-inning save. Alas. It was not to be. But Joba got his work in, and a win is a win is a win. I'll take it.
Game Notes: With his home run tonight, Giambi has now hit 188 home runs on the Yankees. He had 187 as a member of the Oakland Athletics. It's hard to believe; I still seemingly associate Giambi with the A's teams from the early 2000s.
Pedro vs Price … Price wins.
Triple-A Scranton (9-4 win over Pawtucket)
Brett Gardner: 1 for 3, 1 R, 1 RBI, 2 BB1 K, 1 SB
Alberto Gonzalez: 3 for 5, 1 R, 1 2B, 4 RBI, 1 K – you know, Derek Jeter has been playing like crap lately…
Jason Lane: 2 for 5, 1 R, 1 RBI, 2 K
Ben Broussard: 0 for 2, 1 R, 2 HBP – taken out after being hit by a pitch in the 7th … but I think it was for defensive purposes, he was playing RF
Cody Ransom: 2 for 5, 1 R, 1 HR, 3 RBI, 2 K, 1 SB
Eric Duncan & JD Closser: both 1 for 5 – Duncan K'ed … gulp … 4 times
Greg Porter: 2 for 4, 3 R, 1 2B, 1 BB, 1 K
The Ghost of Kei Igawa: 7 IP, 8 H, 2 R, 2 ER, 0 BB, 4 K, 9-10 GB/FB – 73 of 100 pitches, a very un-Kei-like rate
Heath Phillips: 0.1 IP, 3 H, 1 R, 1 ER, 2 BB, 0 K, 2 WP – I want Ben Kozlowski back
Scott Patterson: 1 IP, zeroes
A list of my least favorite teams in the majors:
1. Red Sox
2. Mets
3. Orioles
That we're losing a ton of games to these teams this season is not pleasing. Not one bit. So it would help my irritability level if we could win just one damn game in this series. This way, I won't have to apologize for being in a cranky mood tomorrow morning.
Good news, if you want to take it that way: IPK's strain is very mild (and coupled with bursitis). He could be back in 15 days. We'll see how the pitching landscape looks at that point. I'm not nearly as hard on him as you guys are, clearly. He threw 2/3 of his pitches for strikes last night, and really only made two mistakes. Granted, they were big mistakes, and ones that a major league pitcher simply should not make. My issue, though, is that he can more easily get away with those mistakes at AAA. So what will he learn down there?
(Which is why this is such a touch issue, because you don't want him hurting the major league team. But he's got to take his lumps. But there has been noticeable improvement in each of his last three starts. At some point, he's got to tie it all together, right?)
Joba goes for 50 to 55 pitches tonight. With Kennedy out, and recent rumors abound, signs point to him starting on Monday or Tuesday. With the off-day tomorrow, they could just skip the fifth slot and go Moose Friday, Wang Saturday (though the official site has it at TBA), Ras Sunday, and back to Pettitte on Monday. I would think Joba would go Tuesday, possibly with Steven White called up as a long man — I think/hope Ohlendorf is done in that capacity.
For now, Chris Britton is up. And Mo called a meeting with the relievers, on account of them sucking the past few days.
Your lineup (finally):
1. Johnny Damon, LF
2. Derek Jeter, SS
3. Bobby Abreu, RF
4. Alex Rodriguez, 3B
5. Hideki Matsui, DH
6. Jason Giambi, 1B
7. Robinson Cano, 2B
8. Chad Moeller, C
9. Melky Cabrera, CF
And on the mound, number forty-six, Andy Pettitte
By

While the Yanks are on the road tonight, fans in the city can still gather to watch the game. The Yankees are hosting the second annual Pinstripes in the Park gathering in Bryant Park tonight. The grounds — between 40th and 42nd Sts. on Sixth Ave. — open at 5 p.m and so do the beer gardens. Also set to appear are Al Leiter, Graig Nettles, Bucky Dent and Mike Torrez. It gets crowded so get there early if you want to watch the Yankees lose play on the big screen in the park. · (2) ·
By

I'm not sure about you guys, but I'm enjoying the guest columns so far. There's a certain angle they're taking that we don't normally have here at RAB. So I'd like to keep it going. If you have an idea, pitch it to me (the email address is on the left). We'll talk through the idea, and see if we can work something out.

Here's the important note, though. If you have sent me a guest column and have not heard back from me, please email me and let me know. I plan on running one from Mr. Bill tomorrow. So him excluded, if you have emailed me a completed piece, or if we were exchanging ideas and communication cut off, let me know. We'll get the ball rolling again. · (4) ·
By

LaTroy wasn't too happy with this performance last night. Gee, I wonder why. "It was just bad," he said after the game. "I didn't do the job, plain and simple. I'm embarrassed. It would be one thing if I made good pitches, but I didn't. I made terrible pitches." Meanwhile, Mark Feinsand notes that there are recent historical comparisons should the Yanks opt to release Hawkins soon. Both Paul Quantrill and Mike Stanton — making a combined $7 million — were let go at the end of June 2005. I guess that gives J.B. Cox, Mark Melancon or someone else about a month to make an impression in the minors. · (27) ·
By

When the eleventh inning rolled around last night with the Yanks clinging to a one-run lead, the Yanks could have turned to Joba for the save. By stretching him out at the big league level, the Yanks have some flexibility with regards to his usage. That Joe Girardi opted to go to LaTroy Hawkins instead isn't some testament to his stubbornness. Rather, Girardi knew Kennedy was hurt, and outside of Joba, the other option for Kennedy's next scheduled spot would be Kei Igawa. What would you do there?

Meanwhile, last night's game showed not the impact of transitioning Joba into the rotation but rather the impact of an early-season pitching injury. Had Brian Bruney not hurt himself earlier in the year, the entire tenor of that game – and many others this month – changes. Bruney is sometimes the forgotten man, but losing him hurt. · (45) ·