The draft is just 13 days away, so between now and then I'm going to highlight some players individually rather than lump a few together in one post.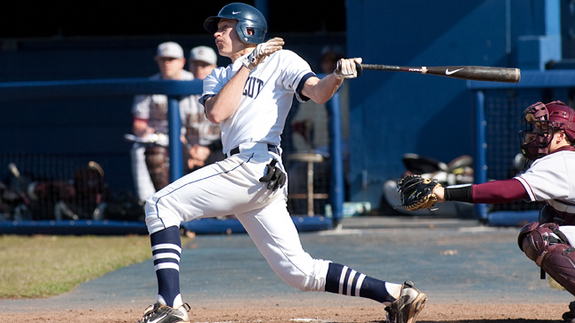 Nick Ahmed | SS
Background
After a decorated high school career at East Longmeadow High School just north of the Connecticut-Massachusetts border, Ahmed has been a three-year starter at UConn, one the country's rising baseball programs. He doesn't get the attention that teammates Matt Barnes and George Springer (two projected first rounders) get, but Ahmed put himself on the map this spring after packing some muscle onto his now 6-foot-2, 205 lb. frame over the winter. After hitting just .295/.350/.371 in his first two years at school, he is hitting .322/.422/.450 as a junior.
Scouting Report
Ahmed's total package is greater than the sum of the parts. His best tools are his legs and arm, as he has very good running speed and a strong, accurate, and reliable throwing arm at short. Ahmed isn't a textbook defender and won't wow you with the glove, but he has solid range and turns everything he gets to into outs. He has little power and knows it, so his offensive game relies on bat control, getting on base, and stealing bags. Everything plays up because Ahmed plays very hard, almost to a fault. He suffered a collapsed lung in a collision at first base late last month, but the injury is not a long-term concern. Here's some video.
Miscellany
Players that figure to stick at shortstop and be at least average there have big time value, even if the offensive package is nothing to write home about. There are definite concerns about Ahmed's ability to handle upper level pitching, especially since a 2010 stint in the wood bat Cape Cod League did not go well (.212/.308/.253 in 161 PA), but it's risk worth taking in the middle rounds. He did not crack the latest prospect rankings from either Baseball America or Keith Law and is expected to go somewhere in the third or fourth round. Some think he's a utility player down the road.