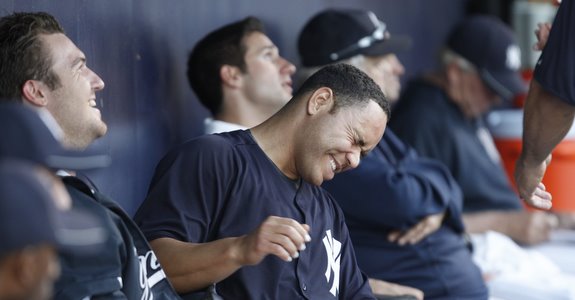 Once Cliff Lee joined those youngsters in Philadelphia and Andy Pettitte hung them up, we used up thousands and thousands of words trying to identify pitching targets for the Yankees. And now here we are, a week before Opening Day, and Brian Cashman told Chad Jennings that teams have been calling him about the Yanks' excess pitching. Go figure.
"It's been very quiet for the most part," said Cash. "But now obviously, 'tis the season where teams are trying to fill out their rosters, make their decisions, make sure that whatever they have, that there aren't any better opportunities available outside their camps. There are conversations now. Everybody's just picking the phone up and checking in with each other, myself included." The Yankees essentially have four pitchers (Bartolo Colon, Freddy Garcia, Ivan Nova, and Sergio Mitre) for three spots (two starters and long reliever), so maybe they can salvage a C-prospect or something for Mitre rather than releasing him ahead of Monday's 45-day termination pay deadline. I'm not going to get my hopes up though.
Anyways, here is your open thread for the night. SNY is showing an encore of today's Mets-Cardinals game, plus MLB Network will have the Nats-Tigers later on. Both the Islanders and Rangers are playing meaningful regular season games as well. At least the latter is, anyway. Talk about whatever, go nuts.