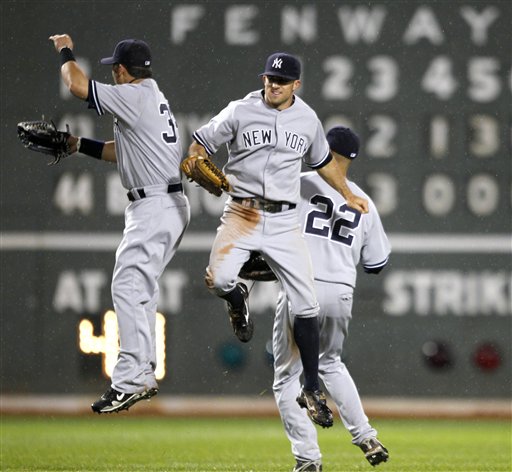 The first six times these teams met this season, they played up in Boston. Now it's time to bring the rivalry back the Bronx. Considering that the Red Sox won just two of the first six games on their home turf, they should be very, very afraid. Joe Girardi's team is showing no mercy, trotting out its two best starters in the two-game set.
Phil Hughes, who shut down these same Red Sox just ten days ago, gets the ball tonight, looking to improve upon his league-leading 1.38 ERA. He'll be opposed by the guy Boston paid $51,111,111 just to talk to, Daisuke Matsuzaka. He pitched well last time out, but he was facing a terribly impatient Blue Jays lineup (31.2% swing rate on pitches out of the zone, highest in the game) that fell right into his nibbling act. The Yanks are on the complete opposite end of the plate discipline spectrum (24.8%, fourth fewest) and won't be so forgiving.
Here's the starting nine…
Jeter, SS
Gardner, CF
Teixiera, 1B
A-Rod, DH
Cano, 2B
Cervelli, C
Thames, RF
Winn, LF
Pena, 3B
And on the mound, St. Phil.
First pitch is scheduled for 7:05pm ET, and can be seen on YES locally and ESPN nationally. Ben and I will be sitting up in the Grandstand (Section 416, Row 6 to be exact) while Joe kicks it with all the high rollers in the Legends seats. Come say hello if you want, we won't bite. Otherwise, enjoy the game.