By

While you and I don't think baseball is a boring sport, TV ratings for the game's big-ticket events — the playoffs and World Series come to mind — have been trending downward recently. Yesterday, the Freakonomics blog tried to look at ways to make the game more "interesting." The piece fails, in my opinion, because it focuses instead on new strategies and not overall ways to draw more casual fans to the game. Yes, managers are getting more creative with their pitchers. We've seen relievers play the outfield and return to the mound; we've seen pitchers bat eighth; and we've seen starters come in as relievers if the weather's bad. But do any of those moves really draw in more fans or do they simply excite the baseball geeks in all of us? · (7) ·
By

In an Ed Price notebook today, we learn that a few anonymous sources claim that Jorge's injury is not season-ending. An official diagnosis is forthcoming. More interesting and concrete, however, is the news about the Yanks will handle Jose Molina. They recognize that Molina cannot catch every single day; he is, after all, a career backup catcher. Expect Molina to play three days in a row with Chris Stewart sinking or swimming during those other games. Molina's health and freshness is riding on Stewart quite a bit. · (11) ·
It went a little bit something like this: infield single, infield single, line drive single, HBP, ground out, ground out, infield single. And all of a sudden, the Yanks had a 4-2 lead. They wouldn't look back.
Behind another solid outing by Mike Mussina, the Yanks salvaged a split of their four-game trip to Cleveland. Moose worked his way through five innings, and what we saw today is what we'll get from Mussina. He tired around 85 pitches; he gave up 7 hits; he struck out just two. But he kept the Yankees in the game.
As long as Mussina's not throwing against the elite offenses, he seems to be a good back-end starter for the Yanks. He's 3-3 with a 4.72 ERA, and I'll be happy if he can keep that ERA around that 4.50-4.75 mark. Anything else is gravy.
After Moose, the bullpen took over. Jonathan Albaladejo, Kyle Farnsworth, Joba Chamberlain and Mariano Rivera combined for four innings of work, three of which were 1-2-3 innings. Tonight's inning was Kyle Farnsworth's fourth 1-2-3 appearance of the season. Hell hath frozen over.
Rivera meanwhile continues to wow everyone all the time. In ten games, he's thrown 11 innings and has allowed four hits. He's walked no one and has 11 strike outs. He has eight saves already this year.
On the other side of the ball, the Yankee offense again packed little punch. Outside of that sixth inning, the Yanks managed just one hit, and after the wind knocked down a few first-inning blasts, they hardly hit the ball with much authority throughout the remainder of the game. A Hideki Matsui RBI double in the 8th would be the loan rocket. But a win is a win is a win, and the Yanks return home after a brutal stretch of the schedule at 14-13, one game out of first and two games ahead of their 2007 pace.
But for all of this, the win pales in comparison to the news that came out of Yankee camp after the game. When Johnny Damon pinch hit for A-Rod in the eighth, we all knew something was up. And something is up indeed. According to Kat O'Brien, A-Rod has reaggrevated his quad injury. He felt it in the fourth, and it got worse as the game wore on. The slugger says he won't be able to play on Tuesday, and he feels he rushed back from the initial injury.
In other bad news, the Yankees, according to Tyler Kepner, fear that Posada could have damaged his labrum by playing through his shoulder injury recently. The Yankees and Posada are awaiting word of the catcher's trip to Dr. James Andrews. It is important to note that this not an age-related injury. Posada tweaked his shoulder on an awkward throw to second on Opening Day. That could happen anytime. Cashman detractors will criticize the Yanks for tossing a 36-year-old catcher a four-year deal, but this injury is not a good selling point for that side of the argument.
The Yanks will take the win, but it's a bit bittersweet as two of their top sluggers work their ways through injuries. A trip home has never sounded so nice right now.
D-Ras is your Triple-A International League Pitcher of the Week. Well deserved.
Triple-A Scranton (5-2 loss to Buffalo)
Brett Gardner, Juan Miranda, Eric Duncan & Jason Brown: all 1 for 4 – Gardner walked & K'ed … Miranda walked once & K'ed twice … E-Dunc & Brown each K'ed twice
Bernie Castro: 3 for 5, 1 K, 2 SB
Nick Green: 0 for 5 – batted third … no joke!
Jason Lane: 1 for 3, 1 R, 1 BB
Cody Ransom: 2 for 5, 1 R, 1 HR, 2 RBI, 1 K - 10 of his 23 hits have gone for extra bases
The Ghost of Kei Igawa: 5 IP, 7 H, 4 R, 4 ER, 2 BB, 3 K, 7-5 GB/FB – 32-8 K/BB ratio … who knew?
Steven Jackson: 1 IP, 0 H, 0 R, 0 ER, 1 BB, 1 K
Scott Patterson: 1 IP, 2 H, 1 R, 1ER, 0 BB, 2 K, 1 WP – 12 baserunners in his last 8.2 IP … very un-Patterson-esque
Scott Strickland: 1 IP, 1 H, 0 R, 0 ER, 0 BB, 1 K
Oh, lefties, how the Yankees hate you.
While the Yankee offense has sputtered all season, against lefties, their numbers are particularly brutal. In a combined 186 at bats, the Yanks are hitting .247/.325/.339 against lefties. They've managed just three home runs off of southpaws and just nine extra-base hits overall. Against righties, the team is hitting a not-quite-so-robust .267/.332/.454 in 692 at bats.
So after facing a tough lefty yesterday and managing just one run on four hits, the Yanks are in for yet another lefty starter. Tonight, they're facing Aaron Laffey, a soft-throwing lefty making his 10th Major League start and first against the Bombers. Laffey's a high-80s guy with a decent sinker. I hope it's not one of those games where I want to hurl my TV out the window by the end of the third inning.
To counter Laffey, the Yanks are turning to none other than Mike Mussina. Moose threw a great game against Chicago last week. Can he put together back-to-back starts against good-hitting teams? Time will tell. The weather — a game-time temperature of 47 degrees — does not bode well.
Meanwhile, it seems as though Chris Stewart, the Yanks' fourth-string catcher, will don number 38. I'm not sure what Chris Britton will take in his place, but I do expect fans of Matt Nokes and 1984 Jose Rijo to boo Stewart tomorrow night at the stadium. How dare he takes Randy Choates' old number? (For more on Stewart, check out this profile.)
Cabrera CF
Jeter SS
Abreu RF
Rodriguez DH
Giambi 1B
Matsui LF
Ensberg 3B
Cano 2B
Molina C
Mussina P
Game Notes: The Shelley Duncan two-day experiment is over. Jason Giambi — 0 for 10 against lefties this year — is in the lineup, and Hideki Matsui's two-day vacation is over…RAB is now tabloid-free. Find out more in this post.
When in the Course of baseball events, it becomes necessary for one people to dissolve the hyperlinked bands which have connected them with another, and to assume among the powers of the earth, the separate and equal station to which the Laws of The Game and of Baseball's Gods entitle them, a decent respect to the opinions of mankind requires that they should declare the causes which impel them to the separation.
We hold this truth to be self-evident, that all fans are created equal, that they are endowed by their Creator with certain unalienable Rights, that among these are truth, logic, and the pursuit of further knowledge.
That to secure these rights, publications are distributed among men and women, deriving their just powers from the consent of the readers, That whenever any publication becomes destructive of these ends, it is the Right of the People to alter or to abolish it, and to institute new publications, laying its foundation on such principles and organizing its powers in such form, as to them shall seem most likely to effect their Knowledge and Sanity. Prudence, indeed, will dictate that publications long established should not be changed for light and transient causes; and accordingly all experience hath shewn, that readers are more disposed to suffer, while evils are sufferable, than to right themselves by abolishing the forms to which they are accustomed. But when a long train of abuses and usurpations, pursuing invariably the same Object evinces a design to reduce them under absolute Despotism, it is their right, it is their duty, to throw off such publications, and to provide new Guards for their future enjoyment.
Such has been the patient sufferance of these readers; and such is now the necessity which constrains them to alter their former publications. The histories of the New York Post and Daily News are histories of repeated irrational thoughts and fallacies, all having in direct object the dumbing down of fanbases. To prove this, let Facts be submitted to a candid world.
—-
Let it be known that from this day forward, with the few exceptions to be noted, RAB will no longer acknowledge the bodies of work created by New York tabloids. We take this stand in the name of sanity for all Yankees fans, and further for all who enjoy the game of baseball.
Every day, these publications assail our better senses and bring us little in the way of opinion and insight. We are constantly bombarded with fabricated rumors, flimsy analysis, and half-baked opinions that do not pass muster to the educated fan.
So, in the interest of saving our readers time and anguish, we will forego even making mention of these publications. However, in the further interest of providing our readers with the most comprehensive view of the New York Yankees, we include the following exclusions:
Blog posts from Daily News beat writer Mark Feinsand, which contain factual statements which may be of interest to RAB readers.
Updates on the new stadium which happen to be exclusive to a tabloid publication.
As the nature of scoops has changed, so has our dependence on traditional outlets. What appears one place may appear in many within minutes. This gives us a greater body of source work on which to base our stories. So we can, from this point forward, simply ignore the works which we consider insulting to our and our readers' intelligences.
Update: For clarity, this applies to the NY Post and the non-Feinsand portion of the Daily News. Pete Abraham does not write for a tabloid, and is under no fire here.
When Jorge Posada went on the DL yesterday, the Yankees had to resort to recalling their fourth-string backup catcher up from the Minors. The team had to DFA third-string backup catcher Chad Moeller on Friday to clear some roster space, and as the Yanks await the ten-day waiver period for Moeller, they had to call up some guy named Chris Stewart.
For even the most avid of Yankee fans, the name Chris Stewart is sure to raise a few eyebrows. "Who is this guy?" I wondered to myself yesterday when word of his call up came down. So I went looking.
Chris Stewart is a 26-year-old catcher out of Riverside Community College in California. He was drafted in the 12th round and 373rd overall by the Chicago White Sox in 2001. He toiled through the White Sox's system and made his Major League debut on Sept. 6, 2006. As a September call-up for the Sox, he went 0 for 8 in six games. He did throw out two of the three runners who tried to steal off of him.
The White Sox shipped him to the Rangers in January of 2007, but Stewart didn't fare much better in Texas. He started the season as Gerald Laird's backup and made it all the way to June 9 before getting his ticket punched to AAA Oklahoma City. With the Rangers, Stewart went 9 for 37 over 17 games. Two of his hits went for doubles; the rest were singles. He also walked three times. Behind the plate, he threw out four of the 12 runners attempting to steal off of him but was charged with three passed balls as well.
As a Minor Leaguer, Stewart's offense has been less than stellar. This season with Scranton, he's 12 for 40 (an even .300) with a .404 OBP but only a .375 slugging. For his career, he's hit .253/.314/.361 with just 21 home runs over 1583 plate appearances. Behind the dish, he's had his problems too. Despite being tagged as the White Sox's best defensive catcher in 2005, he's been charged with 61 passed balls over the 361 games he's caught. On the plus side, as Baseball America reported last year, he led the Southern League in throwing out 52 percent of would-be basestealers in 2005 and ranked second in the International League in 2006 with 49 percent.
While Darrell Rasner seems to like throwing to Chris Stewart, he is very much a back-up back-up back-up catcher. He's a no-hit catcher with a decent arm who's improved behind the plate a bit but doesn't seem like a future Gold Glover. He won't get much playing time in New York, if any, and I'm guessing we'll see Chad Moeller return once he is eligible to do so. The list of available catchers is slim, and the Yanks are a bit stuck for now. Here's hoping Jose Molina doesn't go down anytime soon.
By

Tyler Kepner, writing on the Bats blog, reminds us that not only will we miss Jorge Posada's offense while he's on the DL, but we'll miss his toughness as well. It's hard to overstate what Posada means to this Yankee team. He's a feared switch-hitter in the middle of the order with an excellent feel for his pitching staff. While a few Yankee fans may criticize them for signing an old catcher to a four-year deal, this injury is not age-related, and it's a blow the Yanks will have to absorb for now. · (8) ·
By

While 16 percent of the baseball season has come and gone already, some folks are still rolling out thes season previews. Yesterday, Baseball Think Factory unleashed its Yankee blogger roundtable on the world. Joe, Mike and I all participated in the 20-question exercise. Check it out. And for the record, if Jason Giambi keeps on hitting, I won't consider him "a baseball train wreck" for much longer. · (21) ·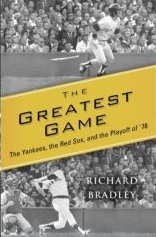 Before delving into the game, Richard Bradley, author of The Greatest Game: The Yankees, the Red Sox, and the Playoff of '78 (Free Press, $25), sets a high bar for himself. How exactly does one go about determining the "greatest game" ever with such certainty?
In my life — which started a good four and a half years after the 1978 playoff game — I've seen two perfect games, an amazing World Series game 7 and a 3-0 playoff series lead evaporate. Depending upon your perspective, most of those games could be considered the greatest game ever, and when Buster Olney wrote about that World Series game 7, he just called it the last night of a dynasty.
Bradley has no qualms about his claim. Game 163 of the 1978 regular season — played only by the New York Yankees and the Boston Red Sox in Fenway Park — stands as baseball's greatest game. For nine innings, two bitter rivals duked it out with the victor becoming the heavy favorites to win the World Series.
For Yankee fans alive at the time, that game stands as one of the greatest baseball games of all time, and in his book Bradley takes his readers through both the game and the season. In alternating chapters of game play and 1978 baseball history, Bradley sets the stage for an epic showdown. It's Carl Yastrzemski's last hurrah, and the culmination of a Bronx Zoo-type season in the Bronx. It's Yankee grandeur and success against the Red Sox's decades of failure. It's Mike Torrez trying to prove his former employees wrong, and it's Bucky Dent trying to prove his manager wrong.
Bradley starts out inside the minds of Goose Gossage and Yaz. What takes this book that extra step are his sources. Bradley relied on a lot of interviews with players. It brings up questions of historical memory: What does Goose Gossage remember in 2007 of a game 29 years earlier? How do Mike Torrez and Bucky Dent recall seminal moments in their careers after volumes of ink have been spilled over the game's most famous rivalry? But for now, we can let the players take it away.
And take it away they do. Bradley describes the characters involved. There's the irascible Billy Martin, the pugnacious Thurman Munson, the arrogant Carlton Fisk. He discusses recent Yankee history and recent Red Sox history. We learn about Reggie Jackson and Dwight Evans, about Lou Piniella and Catfish Hunter, about Yaz's time in Fenway and Don Zimmer's managerial failures.
For avid baseball readers, Bradley's book treads some familiar ground. Jonathan Mahler's excellent Ladies and Gentlemen, The Bronx is Burning covers the Bronz Zoo Yankees and the 1977 season is detail, and Bradley rehashes that in an early chapter. But Bradley's book is the logical literary sequel to Mahler's seminal tome. Bradley's writing and reporting takes you inside the minds of the players of this game, and for those of us who are fans of the game — alive or not in 1978 — the book takes us back to that crisp fall day in October 1978 when two teams laid it all on the line for a chance to move on.
Was the game really the greatest one ever? Two aces without their best stuff faced off against each other; the lead changed a few times; an unlikely hero emerged in Bucky Dent. A closer — Gossage — nearly blew the game, and a late-inning home run by Reggie Jackson would be the difference. Carl Yastrzemski was fitting the last out just as Gossage and Yaz imagined the game would unfold. For all that, it's still tough to top that 2001 World Series Game 7.
But this book is also about baseball at a moment in its history. It's is about baseball on the cusp of change. It's about how the onset of free agency would forever alter the game's economics but how playoff baseball remains the pinnacle of the sports world.
You didn't have to be there or be alive to still feel the goosebumps as Bucky F***in' Dent blasts a three-run home run over the Green Monster to give the Yanks a lead they would not relinquish. It was a good day for Yankee fans.