Chad Jennings managed to run down a list of where some key minor leaguers have been assigned. The notables:
Double-A Trenton: Phil Coke, Reegie Corona, Steven Jackson, George Kontos, Chris Malec, Dan McCutchen, Carlos Mendoza, David Robertson, Kevin Russo, Josh Schmidt, Eric Wordekemper, Chase Wright
That's a decent infield, lots of versatility … I expect Marcos Vechionacci to man the hot corner full-time … they won't be blowing many late game leads in Trenton this year, wowza is that a solid 'pen … Wright was the victim of the rotation numbers crunch in Triple-A Scranton
High-A Tampa: JB Cox, Mike Dunn, Mitch Hilligoss, Jon Hovis, Mark Melancon, Ivan Nova, Braedyn Pruitt, Damon Sublett
Cox will be sent up to Scranton as soon as the weather warms up … looks like Hilligoss will continue to play short, which only ups his value … I suspect Pruitt will play his way out of the lineup by midseason, and could be replaced by Bradley Suttle at some point
Low-A Charleston: Austin Romine, Jesus Montero, Carmen Angelini
Romine and Montero will likely split time behind the plate and at DH, which will help keep them fresh both short and long term, but it's not ideal developmentally for their receiving … Angelini's just the man
Disabled List: Francisco Cervelli, Anthony Claggett, Christian Garcia, CJ Henry, Kevin Whelan
Whelan is out with a sore shoulder, ditto Garcia, who's never been able to stay healthy for an extended period of time … not sure what's up with Claggett or Henry … Cervelli's out with the wrist obviously
None of the assignments are final, but for the most part they all seem reasonable. I'm curious to see how Charleston's rotation shakes out, with guys like Dellin Betances, Jairo Heredia, Zach McAllister, Adam O. and Ryan Pope all legit candidates.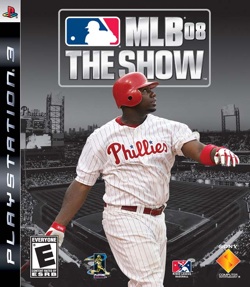 What would Opening Day be without a giveaway contest? Nothing. So here at RAB, we're presenting the Opening Day PS3 MLB'08 The Show Giveaway Contest. And this time, we'll run a tighter ship than we did with the photo caption contest last year.
The Prize: Copies of MLB '08 The Show for PlayStation 3. Even if you don't have a PS3, enter for the fun of it.
The Contest: Predict the New York Yankee firsts for the 2008 season. In the comments to this post, enter by taking your best guess at who will record following firsts for the Yankee season:
Hit (and what you think that hit will be)
Run
RBI
Extra-Base Hit
Stolen Base
Home Run
Strike Out
Walk
Error
Winning Pitcher
Save
Losing Pitcher
The Fine Print: Each answer is worth one point, and the top three finishers will each win a prize. In the event of a tie, we have up to five copies of the video game to award. In order to be eligible to win this contest, you must leave a valid e-mail address in the e-mail field on the comment submission form. One entry per person please. This contest is open until 1:05 p.m. Eastern time on Monday, March 31, 2008.
By

Blah blah blah here's the link yadda yadda yadda. Check it out, it's worth the read, don't miss it, you know the drill. · (5) ·
By

As the Yanks prepare for their last opening day at the House that Ruth Built, Tyler Kepner checks win with a great piece on the hidden parts of Yankee Stadium that only the players know. Find out where the Yankee Stadium seats are fixed, where Jeff Nelson has left his marked, and why Goose Gossage thinks the new stadium is "something they had to do" and "just a shame." It's a great read. · (9) ·
A little while ago this evening, RAB set a new single-month record for page views and unique views. We've now had over 256,000 page views in March, and we want to thank all of you, our readers, for making this site so successful. Since the Yankees were bounced from the ALDS in October, we've had well over 1.25 million page views, and since we started RAB, we've had 2,043 posts and 27,474 comments (and counting). With the season set to start on Monday — and a new RAB give-away contest coming on Sunday — we're set for a great season here just as the Yanks are set on the field. So thank you to everyone.
By

Two articles of note on Joe Girardi today: Gerry Fraley in the Rocky Mountain News takes a look back at Joe Girardi's career path. Girardi, the Rockies' first catcher, gives credit to his Colorado years for his recent successes. Meanwhile, in Florida, as Joel Sherman writes in today's Post, the players feel that Girardi got a bum rap from the Front Office and actually did a well with the young Marlins team. All eyes will be on Girardi this season, for better or worse. · (1) ·
By

This isn't exactly Yankee-related, but it's good stuff nonetheless. Former Major Leaguer and all-around smart guy Doug Glanville will be contributing on and off this season to The New York Times as the season unfolds. Glanville knows what he was: a very good baseball player who had the luck and fortune to play for a few years at the Major League level. He quit when he felt the time was right and is quite good as bringing non-players into the game. His first column went up earlier this week. Good stuff. · (1) ·
When the Yankees made their roster announcement last night, I breathed a sigh of relief. Up until the last minute, it looked as though the Yanks were going to take on a sub-par pitcher — Kei Igawa or Darrell Rasner — just to say they had a "long reliever."
In my opinion, that's an unnecessary cog. Why waste a roster spot on a pitcher just because? Considering the Yanks' offensive potential this year, no deficit should be too big for the Bombers.
But, as Mike reported late last night, the bullpen came together nicely. For the first few days of the season, the Yanks will go with eight relievers; the four who were already inked in will be joined by Billy Traber, Ross Ohlendorf, Brian Bruney and Jonathan Albaladejo. While Scott Patterson probably should have made it over Albaladejo, that spot will go to Andy Pettitte when he is activated from the DL on Sunday.
While Peter Abraham see this roster as an indication that things haven't changed with Joe Torre out, I disagree. The Yanks went with the arms who impressed in Spring Training, and they went with the bats on the bench. They've put together a powerful team, but at the same time, this is a team — especially in the bullpen — on a short leash. With numerous pitchers in the minors who can throw strikes effectively, a player who struggesl will get shipped out pretty quickly.
And that's where Brian Bruney comes in. Last year, we had pretty much written off Bruney. We couldn't decide what was worse: his attitude or his control. And when he was banished to AAA after throwing walk after walk, he threw a fit about it.
This year, he came to camp ready to pitch. He's in great shape, and his pitchers are showing life. In 9 Spring Training innings, he gave up 9 hits and 2 ER while striking out 12 and walking 3. He's been throwing strikes in the mid- to upper-90s all spring, and it's not an understatement when I say that an effective Brian Bruney could be a very valuable cog in the Yankees bullpen this year.
Bruney is one of the Kyle Farnsworth-type players who GMs cannot resist. He throws hard but has no idea where his pitchers are going. When they're in the strike zone, they're nearly unhittable, but oftentimes, their outings as disastrous.
The key to Bruney this year will be his walks. He's walked 114 in 148 Major League innings for a K/9 IP of just a shade under 7. That's awful. If he can keep that number around 3 or 4 per 9 IP, the Yanks will finally see Bruney realize his potential.
There's no doubt that the Yanks are taking some calculated risks this year. Some key pieces on this team's pitching staff are, by and large, unproven youngsters or veterans on the cusp of AAAA status. But the crazy thing is that this just might work.
By

While we know that Bob Sheppard won't return to the Bronx until this summer, another long-time voice of the Yankees is out indefinitely as well. Bobby Murcer, The Daily News' Bill Madden reports, will miss Opening Day. The side effects of his recent treatment for brain cancer has left him too weak to return to the broadcast booth. Murcer plans to return this year; he just doesn't know when yet. We're all hoping he gets well soon. · (3) ·