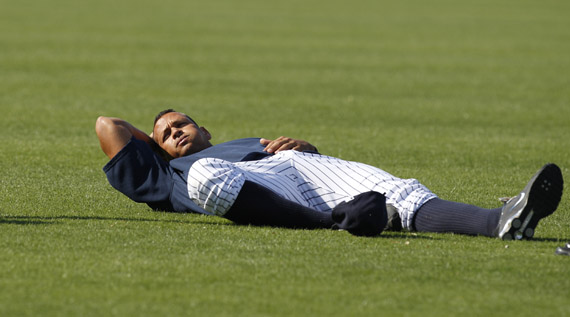 We're about two weeks from Opening Day and we've had plenty of spring storylines to discuss, both of the important and eye-rolling variety. Joba is fat. Joba is injured. Manny Banuelos is amazing! Bartolo Colon is fat (but also good?). AJ Burnett is cured (or not)! Michael Kay's endless angst regarding Posada's move to DH. Derek Jeter's contract. Derek Jeter's house. Derek Jeter's swing. And of course, Hank. No lull in Yankee baseball is apparently complete without Hank Steinbrenner opening his mouth and sticking his foot as far down his throat as it will go.
Hold on, there's something missing. There's something that we've all become accustomed to in our Spring Trainings and it's not here. As a matter of fact, it seems like there is a noted absence of one particular quantity.
Where's A-Rod?
Wait. You mean there's absolutely no A-Rod scandal this spring? How about this offseason? Cameron Diaz, his girlfriend, fed him popcorn in his luxury Super Bowl suite? That's it? The best you can come up with for Alex Rodriguez, destroyer of baseball, tradition-mauler extraordinaire, is his girlfriend fed him popcorn?
For years, we've become accustomed to Spring Training being about – or at least featuring, in some way – how Alex Rodriguez sucks. In 2007, it was about the 2006 ALDS, where he infamously got on base a grand total of twice in his fifteen plate appearances (.071/.133/.071): a single and a hit-by-pitch. If the Yankees had won, this probably would have been framed as The Yankees can win without A-Rod!, a narrative that we see every so often. Instead, they were effortlessly swept out of the ALDS by the magical 2006 Tigers, who beat them by four runs or more in three of the four games. It was, quite obviously, Rodriguez's fault. Duh. In 2008, it was his World Series opt-out and subsequent massive contract signing (also a Hank news item), the Best Worst contract that we are still dealing with today and will be dealing with for a long, long time. 2009 was probably the worst, what with the steroid drama explosion combined with the hip surgery. Not only was Rodriguez going to come back old and feeble after his labrum was fixed, he was also obviously going to be incapable of hitting any more home runs – even though his leaked steroid use was during his Texas years. Even his 2009 postseason tear and finally achieving True Yankee™ status couldn't stop the steroid drama from rolling into 2010, with the indictment of Dr. Galea in October.
For the first time in at least four years, we're having an Alex-Rodriguez-drama-free Spring Training. It is glorious. It seems like this is work of his new PR team, which has adapted the much more fan-friendly campaign of having him hit a lot, look good, talk about how much he loves helping the team, and crack the most well-placed popcorn joke ever. I don't actually know if he has a new public relations team for real, but it's hard to argue with the change in results. Even if he sometimes comes off as being a bit fake, that's certainly preferably to being a cheater (twice), unclutch, an attention whore, and/or only in it for the money.
The only thing we have to say about new and improved Alex Rodriguez is that he is thin and Cameron Diaz feeds him popcorn while he's at the Super Bowl. That's it? That's really the only thing the massive Alex Rodriguez hate machine can come up with? Wouldn't you want Cameron Diaz to feed you popcorn in your zillion dollar luxury suite for the Super Bowl? I suppose there's always the standard fallbacks of his Best Worst contract and his down season that included thirty homers and 125 RBIs, but these are overplayed and overshadowed by more recent problems in both departments. The Rafael Soriano contract has taken over the spot for 'most talked about bad contract,' and Derek Jeter's terrible season was far, far worse than A-Rod's. To make things better for the superstar, Soriano is requesting not to pitch in games and Jeter is batting a measly .303/.343./364 in comparison to Rodriguez's .406/.424/.906, with one home run in each of the past three games he's played in. Here's hoping that in 2012 Spring Training, we'll be talking about how he hit a home run in each of the four winning World Series games and donated a bazillion dollars to charity.
While it's safe to say A-Rod will never be ignored by the media, his relatively quiet, team-supportive attitude and absolute victory over the popcorn 'scandal' seems to predict that there's a new Rodriguez in town. Without him stirring his own pot, the media is seemingly is finding less crap to talk about him. Instead, this new guy is interested in hitting a lot of home runs, winning another World Series and making as few waves as possible, and hey, what more can you ask for from a ballplayer?