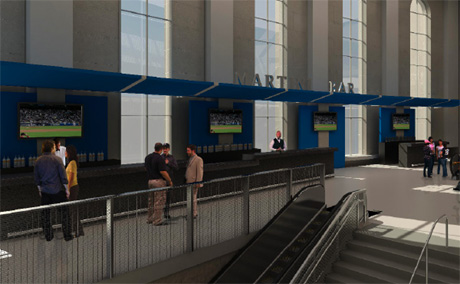 Derek prefers his shaken, not stirred.
Tired of the new Stadium yet? Me neither. Let's jump in.
With season previews abounding in New York papers these days, there's no shortage of stories about the new Yankee Stadium. Last week, we enjoyed learning about the martini bar and other luxurious offerings that will come with the new Yankee Stadium Experience. Today's story comes to us from Sam Borden of The Journal-News, and it focuses on the more practical aspects of the new Yankee Stadium.
In it, we learn about the Yanks' approach toward designing this new stadium. They wanted, according to team COO Lonn Trost, to restore aspects of the old Yankee Stadium that were abandoned during the renovations in the early 1970s and keep other long-time attributes. For example, the eagles that currently adorn the stadium entrance will fit right in on the new stadium and will appear more like the 1923 originals which were removed in the 1970s.
Beyond beyond the cosmetics, Trost and Borden talked field dimensions and seating bowl configurations as well:
Home plate will be moved 20 feet closer to the seats; the black seats in center field, which were unoccupied and served as the "batter's eye," will be replaced by a large sports bar with black-tinted windows; the numbering of the sections will be revamped, meaning that now section 201 actually will be next to section 202, as opposed to the odd-numbers-in-right-field, even-numbers-in-left setup that currently exists…

Monument Park? It'll be moved, too, though it's actually moving back closer to where it was in the original park, when it was literally in deep center field in fair territory (players ran among the monuments on deep fly balls). In the new Stadium, it'll be in center field again, but this time behind the wall…

Instead of being walled-off from the field, the concourses will be open, so that everyone will always be able to see what's happening during the game. There also will be approximately 500,000 square feet of amenities for fans to enjoy, Trost said, in a "great hall" between the stadium entrance and the field level.
Contrary to what I reported yesterday, Trost said that the dimensions would stay the same. "The dimensions of Yankee Stadium were not going to change. They just weren't," Trost said, sounding a bit enthusiastic about measurements that have been in place only since 1988.
Borden wraps up the piece with a kicker about the attendance. We finally have a figure: Attendance at the new Yankee Stadium will be 52,326, down around 4000 from the current stadium's capacity.
This I do not like. While it's much better than what the Mets are doing — who decided cutting a New York sports stadium down to 44,000 was a good idea? — the Yankees are selling out every game in the Bronx. So their solution is to cut the number of seats? That doesn't fly.
"We could have added more seats, but they would have had to just been higher and further from the field," Trost said to Borden. "We didn't want to do that. We wanted to make sure that each fan had a great view and could truly enjoy the new park as much as possible."
And that, my friends, is selling a lie.
By

Chad Jennings is always thinking. He's got a decent idea for the start of the season, wherein the Yanks would place Andy Pettitte on the DL. He'd be eligible to return on Saturday, so it wouldn't hurt the Yanks rotation. They'd go Wang on Monday, Moost Wednesday, Hughes Thursday, IPK Friday, Pettitte Saturday. Of course, this doesn't have the effect of splitting up Wang and Pettitte, which many think will be good for the bullpen. It does, however, open up another bullpen spot for a few days, which could be valuable in the season's early going. · (21) ·
The news on Wednesday surrounding Bob Sheppard's health was sparse but promising. A few news outlets reported that Sheppard, while planning to miss Opening Day, would be back this season as soon as his health and wife allow it.
Well, George Vecsey of The Times went one step futher, and yesterday, he published an excellent column about the Voice of the Yankees. The lede is fantastic: Vecsey calls Sheppard's house only to have Bob answer the phone. I would probably flip out if Bob Sheppard were to answer the phone in that very distinct voice.
Sheppard, Vecsey notes, was very sick last year. He couldn't talk; he had to go the hopsital; and he eventually found himself down to 103 pounds. At 97 — Sheppard's reported age — that is quite the health scare.
The Yankees say they believe Sheppard will return in July even though Bob's aiming for June. The team may opt to keep him on the DL until the All Star Game just to make sure he's healthy. As Vecsey writes, Bob Sheppard is Yankee Stadium:
Robert Leo Sheppard has been a highlight of any trip to the big ballyard in the Bronx since opening day, April 17, 1951, when he announced the name of Joe DiMaggio right after the youngster playing right field, Mickey Mantle. Roger or Reggie or Bernie might not hit a home run on any given day, but Sheppard would deliver the starting lineups, in a voice that would make everybody else in the joint sound like we were Archie or Edith Bunker speaking some other language…

The players want to make the majors just to hear Sheppard announce their names. Reggie Jackson still hasn't gotten over hearing Sheppard, on a busman's holiday, do a guest inning in Anaheim, Calif., back in the late '70s. Reggie, in the on-deck circle, nearly flipped, hearing that voice 3,000 miles from home.
Lonn Trost, the Yanks' COO, summed it up best: "If there was a scale of importance, Bob would be at the top. We feel uncomfortable without Bob and we hope he is with us for another 118 years."
Only one more week until the minor league season starts, which of course means the return of DotF. Until then I'll just whet your appetite with some random notes from around the netweb.
Via Chad Jennings and the Baby Bombers comes word that the Yanks have released a few minor leaguers, most notably RHP's Guillermo Villalona-Bryan, Nick Peterson and Elvys Quezada. Bryan was High-A Tampa's Opening Day starter last year, over the likes of IPK and George Kontos, while Peterson's claim to fame is holding down Short Season Staten Island's closer job in 2006 until Mark Melancon showed up. With Quezada now gone, only Eric Duncan, Tim Battle, Steven White, Mike Gardner and Jeff Karstens remain from the Yanks' 2003 draft crop.
Jennings also has some great quotes from Alan Horne, who's dominated this spring while working primarily on his slider and changeup, easily his third and fourth pitches. He could be putting himself in position for a monster season.
I've finally settled on this year's "Watch" subject, but an assist goes out to longtime reader Greg G. That's all you'll get for now, this year's Watch will be unveiled next Wednesday.
TJ rehabbers JB Cox and Chris Garcia have been throwing in minor league games this spring; Cox has looked particularly impressive, although Garcia struck out the side in his first inning back. Humberto Sanchez won't see game action until May because he's recovering from a knee surgery he had last fall in addition to his TJ recovery. Cox, Garcia and Melancon will all start the year with Tampa to take advantage of the warm weather, and I suspect that's where Sanchez will go once he's ready. Cox will head to Scranton once it warms up, and Melancon could pitch his way to Double-A Trenton by June. Garcia should stay on Florida's west coast all year.
Things aren't going so well for Kevin Whelan. He left the Arizona Fall League early because of a sore elbow, and now he's likely to start the year on the DL because of a sore shoulder. Whelan's got sick stuff and a considerable ceiling, and there's no reason for the Yanks to rush him back with all the relievers they have at Triple-A.
Mike Ashmore has been doing a great job of breaking down BA's list of the Yanks' top 30 prospects list. I don't know how much does it, but I applaud Mike's ability to keep his site updated so frequently with such in-depth content.
Some quick draft notes: Pepperdine RHP Brett Hunter is going be out until at least mid-April with a dreaded forearm strain (a common precursor to TJ), which will certainly affect his draft stock. Hunter has touched triple-digits in the past, and was ranked the the second best college righthander in the draft (behind Aaron Crow) by BA. Keep an eye on his condition as the draft gets closer. Personal cheeseball Gerrit Cole continues to just dominate California prepsters; this kid is as good as it gets.
Speaking of Crow, check out his last three starts here, here and here. I was dead wrong when I said he was over-rated a few weeks back, that's first overall pick type stuff right there.
Last bit of college talk, I promise. How's this for some pitching: San Diego freshman Kyle Blair set the school record with 16 K against Hawaii Hilo, only to have ace Brian Matusz tie that record three games later. Number three start Josh Romanski then threw a no-no two days after that. Crazy.
Have you checked out Saber-Scouting yet? It's great new site that mixes the world of sabermetrics (boo) with traditional scouting (yay), and is written by guys that actually know what the hell they're talking about. Check out their scouting report on uber-stud Kyle Gibson.
Did you see NoMaas' Dr. Phil graphic? Instant classic.
Last, but certainly not least, please consider pledging for The Big Three K's Craniosynostosis if you haven't already. It's our good deed for the year, and it's a worthy cause and takes almost no effort on your part. Thanks in advance.
By

Kat O'Brien notes that Jeff Karstens will start the season on the DL after straining his groin today. Having recently recovered from a similar injury, I can tell you that those take a while to heal. Meanwhile, I guess this means that either Darrell Rasner or Kei Igawa will win a spot in the bullpen. I think the Yanks would be better off with Ohlendorf or Patterson, but the tradition of having a long man — while seemingly foolish — seems to be carrying the day. We'll know more soon. · (20) ·
By

The last regular season home opener at Yankee Stadium will be filled with all the pomp and circumstance we would expect. The West Point Glee Club will sing the national anthem, and two F-18 Hornets will fly over the Stadium. The icing on the cake — or the straw that stirs the drink — however will be Reggie. Mr. October is set to throw out the first pitch. · (15) ·
By

In an exclusive by RAB favorite George King, former Yankee bullpen catcher and A-Rod confidante vouches for Alex's good name. "In four years I was with him 24 hours a day, and not one time did I ever hear, see or get wind of anything having to do with performance enhancing drugs, steroids, HGH, anything," Borzello said. And this, folks, is what we've come to. Because a bitter and jealous Jose Canseco writes it in a book that had to struggle to find a publisher, friends now feel the need to clear A-Rod's name. Canseco won't offer up any proof of what he writes; whatever happened to innocent before proven guilty? · (8) ·
The three of us here at RAB try our best to make the site as fun and informative as possible, and judging by how popular it's become, it's safe to say that we've done a pretty good job. Usually we take that popularity and use it to rub our egos while wallowing in our own self-righteousness, but it's about time we did something constructive with it.
Craniosynostosis is a birth defect characterized by the premature closure of sutures in an infant's head, which causes an abnormally shaped skull and in severe cases, places excessive and damaging amounts of pressure on a growing child's brain. One in every 2,000 children are affected, with males being affected three times more than females. Jorge Jr., son of Yankee great Jorge Posada, was diagnosed with craniosynostosis when he was just ten days old, and has since undergone five surgeries to the correct the condition.
The Jorge Posada Foundation was launched in 2000 with the goal of providing emotional and financial support to families with children affected by craniosynostosis, as well as to provide funding for research and create further awareness of the condition. Since it's inception, The Jorge Posada Foundation has raised millions of dollars and provided immeasurable support to those in need, but there's still so much more that can be done. And that's where we come in.
This season we're going to hold a pledge drive where readers of RAB agree to donate an amount of money (set by them) for each strikeout recorded by The Big Three. At the end of the year we'll collect the pledges and donate all of the money to The Jorge Posada Foundation in the name of "The Readers of River Ave. Blues." So say that Hughes, Joba and IPK combine to rack up 500 strikeouts on the season, and a reader agrees to donate five cents per strikeout, then 500 K x $0.05 = a $25 donation. That's it, piece of cake. Any denomination is welcome, and all donations are fully tax deductible.
If you're interested in pledging, shoot me a line at mike (at) riveraveblues (dot) com. Please put "Pledge Drive" or something to that effect in the subject line, and be sure to provide an email address that I'll be able to contact you at for the forseeable future. I'll keep track of the pledges throughout the season, and contact everyone when the time comes. PayPal transfers seem to work best, but we'll also accept donations in the form of money order or personal check. Until we get a better system figured out we're going to have to do this on the honor system, so please, serious pledges only.
Eventually we'll get a permanent link up on the site somewhere where you can read about what we're doing whenever you please. We're not going to have any strict limitations on this, so if you get the urge to pledge in August for the rest of the season, that's fine. If you want to pledge but not have your contribution exceed a set amount, that's fine too. We'll get it to work so that everyone wins. The more pledges the merrier, and this gives all of us another reason to root hard for The Big Three.
Jorge's been there for the Yankees and their fans since 1995, so it's time to be there for him. Come join us in fighting this terrible condition, and if nothing else, do it for Jorge Jr.
In fifteen minutes, the last televised Spring Training game and the final home game in Tampa begins. The Yanks will face off against the Pirates before heading down to Miami for two games against the Marlins in Dolphin Stadium. Sadly, those will probably be the two best-attended games of the season for the Marlins.
Before today's game, the Yanks will rename Legends Field to honor George M. Steinbrenner, and Andy Pettitte will probably make his 2008 debut in game four of the season against the Devil Rays in Tampa Bay. While Brett Gardner heads to AAA after an impressive spring, Kei Igawa pitches for his spot on the Yankee roster this afternoon.
The game is on YES and MLB.tv. Gameday is available here if you want to follow along. The next game thread hits on Opening Day. I can't wait.
Damon DH
Jeter SS
Duncan RF
Rodriguez 3B
Posada C
Matsui LF
Ensberg 1B
Betemit 2B
Cabrera CF
Pitching
Igawa
Karstens