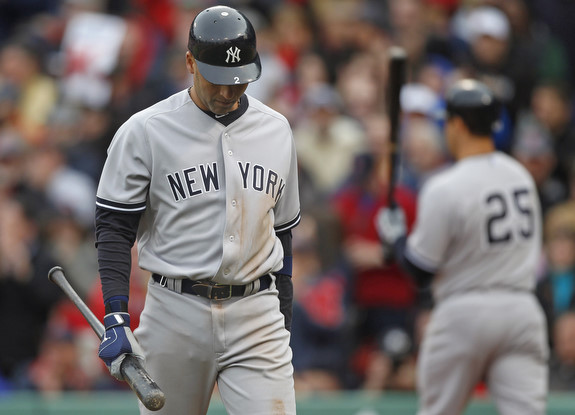 This isn't about Josh Beckett. When a pitcher is throwing 94, 95, 96 with command to both sides of the plate and that curveball, no offense is going to muster anything off of him. It shouldn't be a surprise that the Yankees were two-hit (with a walk and a barely hit-by-pitch thrown in) last night. It'll happen over the course of 162 games, just accept it and move on to the next game.
No, this about a problem the Yankees have had since the first game of the season: the guys at the top of the lineup aren't getting on base. Yes, it's only been nine games, but when the two worst hitters in the lineup are getting more plate appearances than everyone else, it's not exactly the kind of problem they should sit around and wait for it to correct itself. Brett Gardner has a measly .265 OBP, and even that is propped up by his four on-base effort in Saturday's game. In the other eight games of the season, he's gotten on base less than 17% of the time. He's also struck out nine times, five times looking. A guy that made contact on nearly 92% of his swings on pitches in the zone last year can't be staring at strike three over the plate. They teach you that in little league; it's okay to strike out, just do it swinging.
Derek Jeter, the number two hitter against righties and leadoff man against lefties, is another matter entirely. Four out of every five balls he's put in play this year have been on the ground, and his spray chart is even more ominous…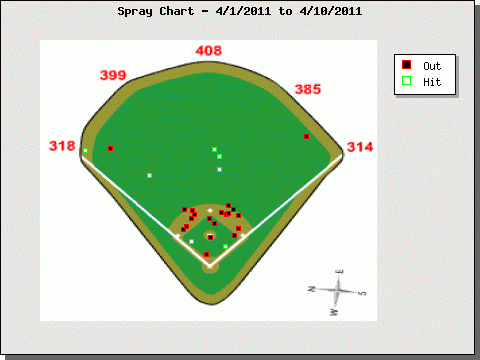 There's three balls hit moderately deep. Three out of 30 balls in play. That is a problem whether you think it's just a small sample size slump or the death of Jeter's career. He's gotten on base 30% of the time in the early going, hardly top of the order production. At this point, Jeter's spot in the batting order is determined by his iconic status and his reputation, not his ability to help the team score. It's harsh, but that's life yo.
Of course, it's not just the Gardner and Jeter that are struggling. Mark Teixeira went 0-for-Boston and has gotten on base three times since last Tuesday (two walks and a hit-by-pitch against seven strikeouts in 18 plate appearances). Jorge Posada hasn't gotten on base in any way since last Monday, striking out eight times in his 15 plate appearances since. Curtis Granderson has been basically homer-or-bust. Nick Swisher is the only non-Gardner/Jeter regular without a homer and has been on base just five times in his last 24 plate appearances. That's a lot of slumping bats in the lineup at the same time.
The saving graces have been Alex Rodriguez, Robinson Cano, and Russell Martin on a micro level and the homers on a macro level. Some well-timed dingers have covered up for the lineup's general ineptitude; two out of every three runs the team has scored this season has come on a homer. It's great that they have the ability to do that, but it's not a sustainable winning formula. The Yankees' team .311 OBP is actually fifth worst in the league, and their .242 BABIP is second worst in all of baseball. The good news is that won't last forever, there's just too many talented players.
That's something that'll fix itself over the course of the season. In the here and now, the current arrangement with Gardner and Jeter coming to plate more often than everyone else is hurting the Yankees. It's not my job to figure out the best solution, but you'd have to think getting Martin higher up (second?) would be one course of action. I don't think Gardner will maintain a .238 BABIP all season, not with his speed, so at some point the hits will start dropping in. Jeter's .233 mark probably is unsustainable as well, since ground balls go for hits more often than any other kind of ball in play other than line drives. Until those two wake up with the bat, they're just hurting the team offensively by batting so high up.