So that was the worst loss of the season. The Yankees got the big hit, handed a lead to their bullpen … and still lost. The Indians walked off with a 5-4 win in 16 stupid innings Tuesday night. The Yanks have lost four straight and eight of their last 12 games. Hard to think they'll be in first place much longer.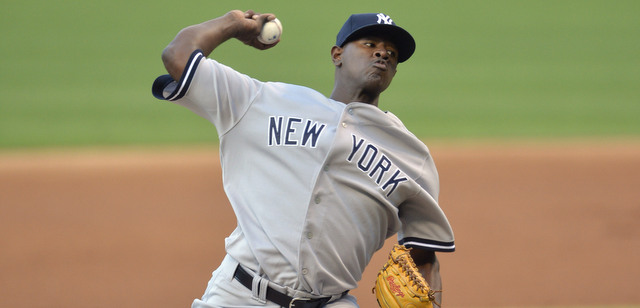 Six Strong
The first two innings of this game were pretty scary. Luis Severino looked very much like a 21-year-old rookie in over his head, and by that I mean missing his spots (by a lot) and falling behind in the count. Six of the first ten batters he faced reached base — Didi Gregorius helped him out by starting a spectacular 6-4-3 double play in the second — and at one point Severino threw first pitch balls to six straight batters. It wasn't pretty. He needed 45 pitches to get his first six outs.
Then, in the fourth inning, Severino seemed to settle down and get on a nice little roll. He retired ten of the final eleven batters he faced and looked better all around. Severino did a better job locating and keeping hitters off balance — it seemed like he used his changeup much more often the second and third time through the lineup — and generated a lot of weak contact. The beginning of the game was not good at all. Severino was all over the place, but he recovered nicely, and that's good to see from a kid making his second start.
31 Innings
The Yankees went 31 innings without scoring a run before Stephen Drew swatted one of his trademark "keep me on the roster another few weeks" solo home runs leading off the sixth inning. 31 innings! The last run the Yankees scored prior to Drew's homer was Mark Teixeira's solo homer in the second inning of Friday's game. Remember that? When they had to review it to make sure it actually went over the wall? Yeah, it had been a while. That one run felt like a minor miracle. It cut the deficit in half and brought the Yankees to within 2-1.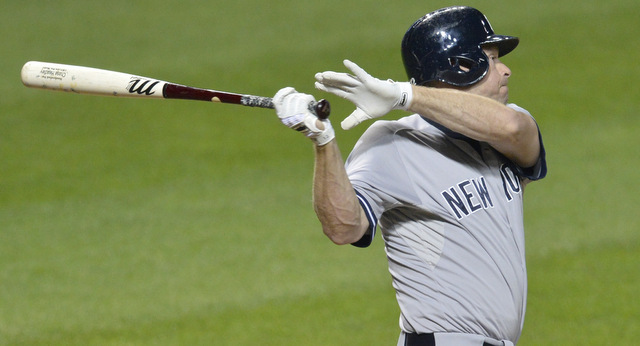 Tied … Then Tied
The score remained 2-1 into the eighth inning, when Carlos Beltran knotted things up with a line drive solo home run to right field. It hit the top of the wall and just scooted over, though who the hell cares at this point. The Yankees are desperate for runs and that was a run. A big one that tied the game. Beltran had the best at-bats of the night against Carlos Carrasco by a mile. No one else was close. He really battled.
To extra innings they went. (Brett Gardner walked with one out in the ninth and was thrown out stealing in his first stolen base attempt in two months. Good idea to run! Didn't work out though.) Indians righty Bryan Shaw came out of the bullpen in the tenth and was quite wild. He walked Brian McCann with one out, fell behind Beltran 3-0 before giving up a single, then fell behind Drew 2-0 with the bases loaded. Gregorius had served a single to load things up between Beltran and Drew.
Drew, surprisingly, did not pop-up. He instead hit a ground ball to first base and the force out was made at the plate. Now the bases were loaded with two outs. Brendan Ryan was lifted for pinch-hitter Chase Headley, who promptly worked a 3-0 count. At that point Shaw had thrown only ten of his 22 pitches for strikes. Headley took the 3-0 pitch for a strike, swung through the 3-1 pitch to run the count full, then ripped a two-run single to right. It was glorious. He's hitting .317 with runners in scoring position, you know.
Two-run lead in the bottom of the tenth means a win, right? Wrong. Andrew Miller picked a bad time for his first blown save of the season. The Indians didn't exactly smack him around — the two-run rally started with a leadoff infield single — but two runs is two runs. Michael Brantley doubled to left to put runners at second and third with no outs, Carlos Santana plated a run with a sac fly, then Yan Gomes singled to center to knot things up. Miller has now allowed seven runs in 12.2 innings since coming back from the DL. Yuck.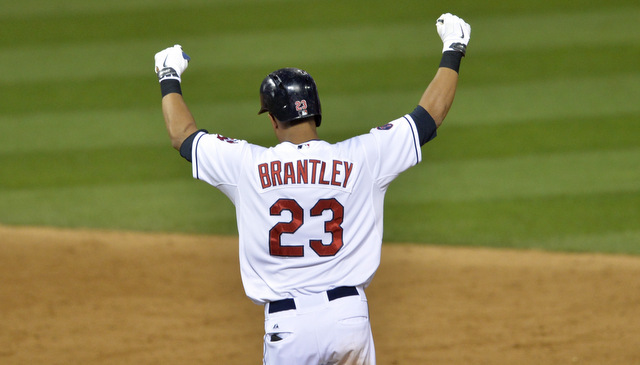 Let's Burn Out The Bullpen
You could kinda see it coming. As soon as the Indians tied things up in the tenth, it was only a matter of time until they walked off with the win, but the Yankees delayed things long enough to burn out their bullpen. Bryan Mitchell was a damn hero, striking out five in three scoreless innings while pitching out of some big jams. His reward? Likely a trip to Triple-A Scranton for a fresh arm tomorrow. Baseball can be so dumb sometimes.
The offense, of course, couldn't be bothered to do anything in extra innings. Not even work the count. The last 14 batters they sent to the plate made outs and those 14 guys saw 34 total pitches. That's 2.43 pitches per plate appearance. Those 14 batters hit four balls out of the infield. Embarrassing. Total breakdown in their approach. There were an awful lot of defeated swings those innings. Lots of "let's get this over with" at-bats. Gross. What a mess.
The Indians finally won in the 16th inning on Brantley's oh so predictable walk-off single. The Yankees haven't been able to get him out since about 2012. Branden Pinder took the loss in his second inning of work, but, aside from Miller, no pitcher on the staff deserves blame in this one. What more do you want from them? The Yankees have allowed 15 runs in their last 43 defensive innings (3.14 runs per nine innings) and are 0-4 in those games.
Leftovers
The top of the order is killing the Yankees right now. It's brutal. Jacoby Ellsbury went 0-for-7, Gardner went 0-for-6, A-Rod went 1-for-6, and Teixeira went 0-6. That's 1-for-25 combined with two walks and nine strikeouts for the one through four hitters. Awful. Just awful. Ellsbury hasn't hit a ball out of the infield in his last 17 plate appearances. Just slap a No. 14 jersey on him at this point.
Gregorius, meanwhile, went 3-for-6 and is the club's best player on the both sides of the ball right now. How crazy is that? Beltran went 2-for-4, Drew had his homer, and Headley his two-run single. Chris Young and John Ryan Murphy came off the bench — Young pinch-ran for McCann in the tenth and Murphy took over behind the plate — and went 0-for-4 combined.
The bullpen aside from Miller was splendid. Chasen Shreve, Dellin Betances, Justin Wilson, and Adam Warren all threw scoreless innings. I'm not sure why Warren only threw one inning, but then again I haven't understood anything about his usage this year, so lol whatevs. Mitchell threw his three scoreless and Pinder threw a scoreless 15th before losing in the 16th.
Box Score, WPA Graph & Standings
Here are the box score and video highlights for the game and here are the updated standings and postseason odds for the season. Also please check out our Bullpen Workload and Announcer Standings pages. They're cool. Here's the loss probability graph:

Source: FanGraphs
Up Next
Same two teams Tuesday night, in the middle game of this three game series. CC Sabathia will start against his former team for the eight time in his career. Hard-throwing Danny Salazar will be on the bump for the Indians.