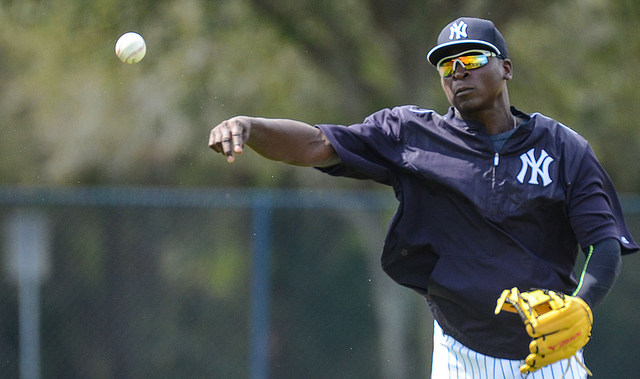 The first few days of Spring Training have been predictably dominated by Alex Rodriguez. The focus on A-Rod has gone well beyond overboard. But, if there's anything good to come out of the A-Rod attention, it's that other players in camp have been able to get their work in and fly under the radar. That includes the team's first new starting shortstop in two decades.
"People didn't pay a lot of attention to (Didi Gregorius) the first few days of camp," said Joe Girardi to Chad Jennings over the weekend. "It could change as time goes on, but I'm sure it helped him to get comfortable a little bit earlier and get to know his teammates without having to answer a lot of questions."
Gregorius is replacing Derek Jeter as the team's starting shortstop but he's not really replacing Jeter. It's not like the Yankees picked between the two. Jeter retired and the Yankees needed to find a new shortstop no matter what. They could have taken the easy way out and signed a proven veteran like Jed Lowrie or Asdrubal Cabrera, but instead they went young and traded for Gregorius. That's all.
The "Didi replacing Derek" storyline is unavoidable the same way the same storyline was unavoidable when Tino Martinez replaced Don Mattingly, but so far Gregorius has said all the right things whenever the media has been able to tear themselves away from A-Rod. "I am going to play the game, that's all. What Jeter did nobody else can do. If they compare me to Jeter, there is nothing I can do. It's my choice if I want to get it in my head," said Gregorius to Ken Davidoff.
Any pressure Gregorius feels this year should not come from being the guy who plays shortstop for the Yankees after Jeter. It should come from Gregorius himself because this season is a tremendous opportunity for him. He just turned 25 and he's the starting shortstop for the New York Yankees (!) with no one coming from the farm system to breathe down his neck anytime soon. The job is his for the taking. He should be putting pressure on himself to capitalize.
Gregorius had a similar opportunity with the Diamondbacks two years ago — the opportunity to cement himself as an MLB regular — and he responded by hitting .252/.332/.373 (92 wRC+) in 404 plate appearances. That isn't great by any stretch and I remain skeptical of Didi's bat going forward, but I get the feeling the Yankees would be pretty happy with that kind of production from Gregorius this year. At least as long as he catches the ball and shows improvement against lefties at the same time. Besides, that would be a big upgrade over what Jeter gave them last season.
Being the shortstop that follows Jeter will not be easy. The microscope will be on Gregorius all year the same way it was on David Robertson when he replaced Mariano Rivera last year. There's nothing Didi can do about that. That's baseball. All he can go is play his game, the game the Yankees acquired, and work to develop into the best player he can be. Given the opportunity in front of him, Gregorius has a chance to cement his spot in the team's long-term future, and that should be his goal. Not to make people forget the Cap'n.
"(Replacing Jeter) doesn't bother me at all," said Gregorius to Jennings. "I came here a little bit early so I could get to know everybody. I'm not worried about the attention. Of course I'm going to get interviewed no matter what I do, so it's fine. When you guys come here, like right now, I'm going to answer you guys. Whenever you guys go talk to Alex, I'll be waiting."