There are 13 questions in this week's mailbag, the final mailbag before the trade deadline. RABmailbag (at) gmail (dot) com is the mailbag email address.
Erick asks: Considering Severino continues to pitch like this, lowers his ERA and FIP more, where do you see him at the end of the year among AL pitchers? Keuchel and Sale are definitely above him. Top 5? Top 10? Where could he rank among Cy Young voting?
Dallas Keuchel has probably missed too much time to get serious Cy Young consideration this year. He's coming back from a nerve issue in his neck tonight and will make his first start in exactly eight weeks. Tough to get votes after missing that much time. The only two AL pitchers I'd unquestionably have above Luis Severino on my hypothetical Cy Young ballot right now are Chris Sale and Corey Kluber. Here's the AL bWAR leaderboard:
Chris Sale, Red Sox: +5.2 WAR
Marcus Stroman, Blue Jays: +4.5 WAR
Corey Kluber, Indians: +4.3 WAR
Luis Severino, Yankees: +4.1 WAR
Jason Vargas, Royals: +3.6 WAR
There are some natural tiers here. Sale has been out of this world great and there's a gap between him and everyone else. He'd probably win the Cy Young unanimously if the vote were held today. After Sale, there's Kluber, Severino, and Stroman in the second tier, with a big gap between them and the next few guys.
Kluber missed time with a back injury earlier this year and that puts him about 30 innings behind the other Cy Young hopefuls. Severino has a huge edge in strikeouts over Stroman — he's faced 27 fewer batters and has 36 more strikeouts — and baserunners allowed (1.09 vs. 1.31 WHIP), which I think would give him an edge in the Cy Young voting. Bottom line, Severino has been a top five pitcher in the AL this season, and that will earn him plenty of Cy Young love when the time comes.
Nathaniel asks: What about Ervin Santana? What would it take to acquire him and would it be worth it?
Yeah, as long as you don't expect him to pitch like he did earlier this season. Santana got off to an insane start, throwing 77 innings with a 1.75 ERA (4.22 FIP) in his first eleven starts. In ten starts since, he has a 5.46 ERA (5.89 FIP) in 59.1 innings. He's allowed at least five runs in five of those ten starts. Santana's overall numbers are good (3.37 ERA and 4.95 FIP), and over the last five seasons he has a 3.56 ERA (3.98 FIP). That's the guy you hope to get.
The Twins have fallen out of the postseason race — they're 4-10 in their last 14 games — and that reportedly has them shifting gears from buyers to sellers. Mark Feinsand reported yesterday the Twins will listed to offers for Santana and the recently acquired Jaime Garcia. I'd prefer Garcia because he's a rental and would come cheaper, though Santana's contract is very affordable — he's owed $13.5M next year with a $14M option for 2019 — and he'd be fine too. I'm not sure what it would take to acquire him. Maybe two good prospects plus a third piece?
Mark asks: Mike, If the Yankees don't see Gary as a long term solution at catcher, do you think they'd be better off selling high this offseason. I took a peek in FG and among catchers (min 450 Innings), he ranks 19th in FLD%, 2nd in errors (13) and 2nd in PBs (8). On one occasion I saw Joe chewing him out in the dugout after allowing a PB. Gary has played 468.2 innings behind the plate as I type this. I know he's a great hitter but I don't see him lasting long at C and I can't picture him fielding ground balls at 1B. Thoughts?
No way. I don't see the Yankees giving up on Gary Sanchez at catcher anytime soon. Stick with him and keep working with him behind the plate. I know he's had some ugly passed balls this year, but no way am I giving up on a 24-year-old player with this much talent as a catcher. Keep working with him and help him improve. Sanchez has already made a lot of progress defensively in his career. Stick with it. He wants to get better and he will in time. No first base, no designated hitter, no selling high in trades, just keep him and help him be the best catcher he can be. Sanchez is a franchise catcher and you don't start thinking about trades and position changes roughly one full season into his career because of some defensive problems. Fortunately, I don't see the Yankees doing anything drastic here. I think they're sticking with Gary at catcher no matter what.
R.J. asks: Mike, Buster Olney had an article on ESPN yesterday evening about possible "bad contracts swaps" for Jacoby Ellsbury. He did say that Ellsbury has a no trade clause and it could be difficult to trade without his consent. What if the Yankees put him on waivers after the trade deadline? Could Ellsbury block being claimed by another team if they Yankees let him go?
There's an ongoing debate about this. Technically a no-trade clause is a no-assignment clause, and everything in baseball is an assignment. A trade, a waiver claim, a trip to the minors … all assignments. The MLBPA says a no-trade clause covers waiver claims while MLB says it doesn't. This has never really come into play though. Players are very rarely claimed on trade waivers — there's zero chance a team would claim Ellsbury and his contract on any type of waivers — and those who do get claimed are usually good players their team doesn't want to lose for nothing, so they get pulled back. In the extremely unlikely event some team claimed Ellsbury on trade waivers in August, the Yankees would let him go in a heartbeat, and deal the MLB/MLBPA no-trade/no-assignments legal war.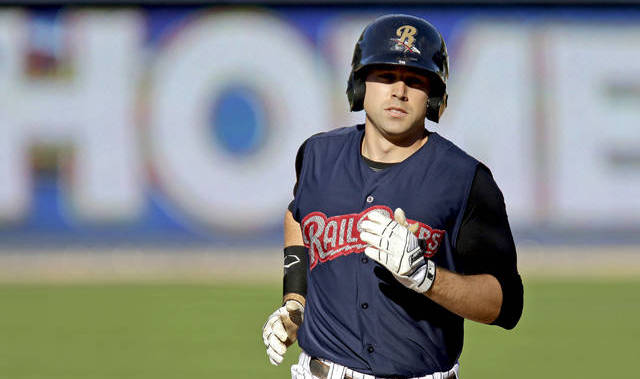 Jeffrey asks: Is Jake Cave anything anymore? Still hasn't turned 25 and hitting .380, 10 HR, 1.000+ OPS. It feels like he's destined to be in the Rays outfield and get annoyingly big hits against us for the next 10 years.
I'd like to hear from people who've seen him over the years and know what they're talking about. Anyone can read the stat line — Cave is hitting .322/.375/.592 (164 wRC+) with 21 doubles and a career high 15 homers this season — but this year was his fourth stint at Double-A and third stint at Triple-A. Has something fundamentally changed? Or is this just the same Jake Cave beating up on levels he's been playing at since 2015?
Two things to keep in mind here. One, any team could have had Cave and kept him as a two-time Rule 5 Draft guy last year. They all passed. Could have kept him as a straight 40-man roster player with no strings attached, but no one did. And two, Cave will be a minor league free agent after this season, so we'll know pretty quickly what the Yankees plan to do with him. They'll have to add him to the 40-man roster right after the season to prevent him from going out on the open market. I know what the stats say, but I'd like to know more before buying in.
John asks: Do you think it's time for, or are you expecting, the Yankees to sign Didi Gregorius to a long-term contract during the off-season?
Yes, I think it's time. I thought it was time last offseason. The price has gone up quite a bit since then because Gregorius is having another strong season, and because he's inching closer to free agency. As I said a few weeks ago, Didi can now use the Jean Segura's recent five-year, $70M extension as a contract benchmark. That wasn't possible this past offseason. Over the winter I was thinking five years and $50M might be able to get it done.
As for expecting an extension to get done, no. I don't think the Yankees will sign anyone to a long-term extension until after they get under the luxury tax threshold. Give Gregorius the Segura contract right now and his luxury tax hit next season is $14M. Go year-to-year as an arbitration-eligible player and it would be roughly $8M. Gregorius is a really good player at a hard to fill position. That makes him a long-term contract candidate. I don't see it happening until after the Yankees get under the luxury tax rate next year though.
Josh asks: Judge's Home and Away splits are pretty significant. He is doing so much better at home. What's up with that?
Going into last night's game Aaron Judge was hitting .377/.489/.825 (240 wRC+) at home and .255/.390/.500 (136 wRC+) on the road. He's been superhuman at Yankee Stadium and merely All-Star caliber on the road. I don't think there's much to this. It's probably a combination of sample size noise (Judge has 188 plate appearances at home and 231 on the road) and the fact most players perform better at home. The MLB average is .264/.335/.443 (104 wRC+) at home and .255/.323/.426 (96 wRC+) on the road. Yankee Stadium is a great place to hit. I'm not surprised a guy with Judge's power is doing more damage at home.
Brian asks: When do you predict Mateo gets promoted to AAA?
Not until next season. Jorge Mateo just got to Double-A last month and he was pretty bad in High-A for a year and a half prior to that. It's entirely possibly Mateo will make his MLB debut before his Triple-A debut. He could get a September call-up to serve as the designated pinch-runner. I don't see the Yankees rushing Mateo up the ladder. They're going to give him plenty of at-bats at each level.
Chuck asks: What do you think of trading Kahnle for Schwarber? Seems like a plus for both the Cubs and Yanks. The Cubs get a top-line reliever for their pennant run, and the Yanks get a long-term power-hitting lefty DH. I hate to give up Kahnle but we're deep in the pen; Schwarber isn't helping the Cubs now and they have to send him to the AL eventually anyway.
There's no chance the Cubs do that. Forget about me not being much of a Kyle Schwarber fan for a second. The Cubs reportedly wouldn't trade Schwarber for Andrew Miller last year. They're not going to trade him now for Tommy Kahnle, who has a half-season of excellence on his resume. Schwarber has been terrible this year, like sub-replacement level terrible, but they're not selling low. "Long-term DH" is the very last piece of the roster puzzle I am worried about. There are plenty of dudes available to plug in at DH on a one-year deal every offseason.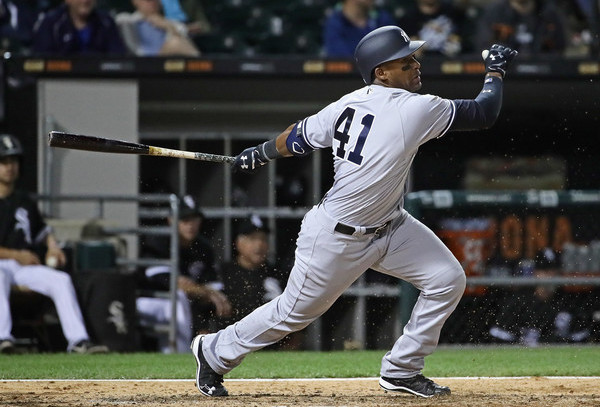 Quintin asks: What do you anticipate the plan is for 3rd base next season? Go with Headley? Re-sign Frazier? Sign a stop gap? Go the Greg Bird route and put all of your chips in the Andujar basket? I imagine it would've been Gleyber's to lose had he not gotten hurt this year, but now it may be in his best interest for him to start in AAA after missing the 2nd half of 2017.
I think the master plan is to give Miguel Andujar an opportunity to compete for the starting job in Spring Training. If Chase Headley is still around, then he would be the competition. If the Yankees manage to unload Headley (unlikely, but you never know), then they'll find another veteran option on a one-year contract. Maybe Todd Frazier is that guy. Or maybe Asdrubal Cabrera. I think the plan is to let Andujar compete for the job, have a veteran safety net, then see how Gleyber Torres is doing after spending a few weeks in the minors shaking off the rust following surgery.
Ryan asks: What are the Yankees choices when Hicks returns or in anticipation of it? Send down Frazier, Trade Ellsbury (nearly impossible), or ????
Send down Garrett Cooper. There's no need to keep a first base only guy on the roster when Headley is playing there, Frazier could always move over, and Austin Romine is an emergency option. Ellsbury is not going anywhere. The Yankees are stuck with him. Keep Clint Frazier around because he gives you the best chance to win, activate Aaron Hicks, and send down Cooper. Then use Frazier, Hicks, Judge, and Brett Gardner in a four-man outfield rotation.
Joe asks: T. Frazier's triple play lead me to thinking, which is rarer, an unassisted triple play (15 ever) or a triple play to score a run? Baseball ref indicates that there have been 712 total.
A triple play to score a run is more rare. There have only been seven recorded run-scoring triple plays in history while, as you said, there have been 15 unassisted triple plays. Also, there's no overlap there. There's never been a run-scoring unassisted triple play. And have there really been 712 triple plays in history? That seems like an awful lot. That's an average of five a year since MLB was born in 1876.
Brian asks: Does Brett Anderson make sense on a flyer if he clears waivers?
He's definitely going to clear waivers given his $3.5M salary. Signing Brett Anderson is one of those things that always seems like a good idea until you actually sign Brett Anderson. He's such an extreme injury risk, and even when healthy the last two years, he hasn't been good (9.45 ERA and 5.67 FIP in 33.1 innings). Anderson is a minor league contract only guy for me now and going forward. Should he manage to stay healthy for an extended period of time at some point, I'll reconsider my position. For now, minor league deal only. I don't want the Yankees to pick him up and consider the fifth starter's spot filled. No way, no how.