It's tough to get riled up about winning three games of a four game series (against a first place team, no less), but there's just something about games like this that are … stupid. I really don't know of any other way to describe it, it was just a stupid loss.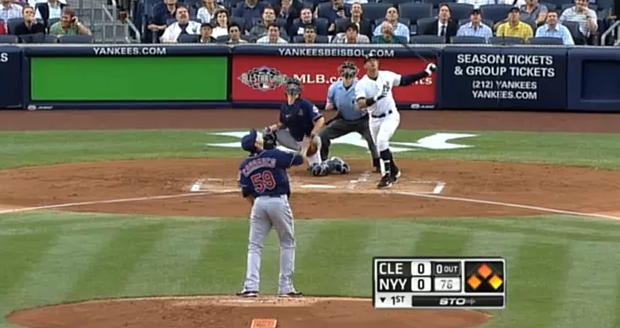 Blown Chances
After pounding Cleveland pitching all weekend long, the Yankees looked to be on their way to doing the exact same thing in the first inning on Monday night. Derek Jeter singled on Carlos Carrasco's second pitch, Curtis Granderson singled on the sixth pitch, and Mark Teixeira walked on the 12th pitch. Teams have scored an average of 2.25 runs per inning when they have the bases loaded and none out, and I'm certain that number is higher when the 4-5 hitters are due up. The Yankees instead got absolutely nothing.
Alex Rodriguez flew out to center for the first out, not deep enough to score Jeter from third even though Michael Brantley took his sweet time getting rid of the ball. Robinson Cano went down swinging after a seven pitch at-bat, then Nick Swisher ended the inning on a ground ball back up the middle that Asdrubal Cabrera made a nice, but hardly spectacular player on. Fine, that kind of stuff happens once in a while. Carrasco wasn't fooling anyone and the Yankees had scored fewer than four runs just once in their last seven games, so you figured they'd get to him soon.
Sure enough, Jorge Posada led off the second inning with a single and then Brett Gardner walked to put men on first and second with no outs. Teams are scoring an average 1.42 runs in those situations this year, but the Yankees again got nothing. Frankie Cervelli failed to get a bunt down, instead striking out. I suppose that's better than grounding into a double play, but thanks for nothing Frankie. Jeter grounded into a fielder's choice for the second out, and Granderson ended the inning with a lazy fly ball. Five men left on base in two innings.
Tex led off the third with a walk and Cano singled two batters later to put men on first and second with one out (0.89 runs score on average in those spots). Carrasco then seemed to settle down, getting Swish to ground into an inning ending double play and going on to retire 13 of the final 14 men he faced. After needing 45 pitches to get the first six outs, Carrasco used just 55 to record the next 15. I guess we shouldn't be surprised, he's a guy the Yankees had never seen before, after all. (rolls eyes)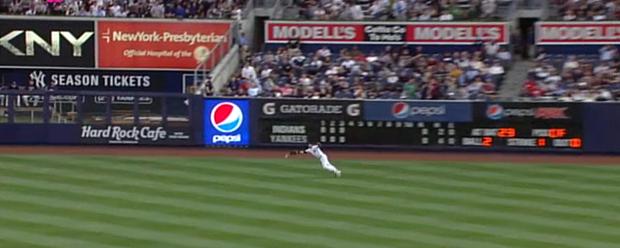 Good A.J. Gets No Reward
For the second time this year and the third time in his Yankees' career, A.J. Burnett allowed just one run in 7.2+ innings and got saddled with a loss. He struck out a season high eight, walked just one, allowed five hits, got eight ground ball outs, and coaxed 16 swings and misses out of the opposition, his second highest total of the season. The one run came on a single after Michael Brantley's line drive was just off the end of Swisher's glove for a triple into the gap. It seems like whenever Burnett actually pitches well, the Yankees just don't score him any runs. It's ridiculous, the guy deserved better than what he got Monday night.
Stupid Play Of The Game
Brett Gardner worked a full count to lead off the seventh … then bunted at ball four only to send it foul for strike three. Seriously, he could be the greatest bunter in the history of baseball and it would still be a dumb play. There's just no way to justify it whatsoever. Girardi should have yanked him from the game for the complete lack of common sense and understanding of the game situation alone.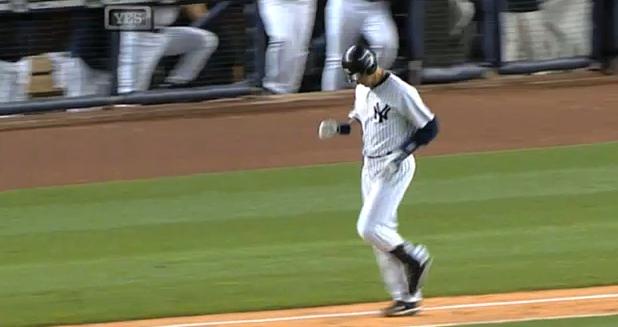 Leftovers
Jeter left the game after the fifth inning with a Grade I calf strain. As we saw with A-Rod late last year, calves can be tricky. If they aren't healed properly, they're very easy to re-injure given how much you use them in everyday life, nevermind in baseball. Jeter's one hit brought him to 2,994 for his career, but it sure sounds like Derek's pursuit of 3,000 could be on hold for a while.
Not only did Cervelli fail to get that bunt down in the second inning, he went 0-for-3 with three strikeouts and has just one hit in his last 14 trips to the plate. His season line is down to a punchless .191/.250/.298. As for some good news, Cano went 2-for-4 in the game and is quietly hitting .322/.375/.559 over his last 15 games. That's much more like it, Robbie.
The Indians have won just two of their last eleven games, and both were 1-0 scores in Carrasco starts. Go figure. The Yankees, meanwhile, can not put together winning streaks longer than three games to save their lives. They've done it just once this year, a four gamer during the west coast trip. Otherwise they have just five separate three game winning streaks in 64 games played, and that includes the four gamer. That seems low and it is compared to last year when they had seven winning streaks of at least three games (including a four gamer, a five gamer, and two six gamers) in their first 64 games.
WPA Graph & Box Score
MLB.com has the box score and video highlights, FanGraphs the other stuff.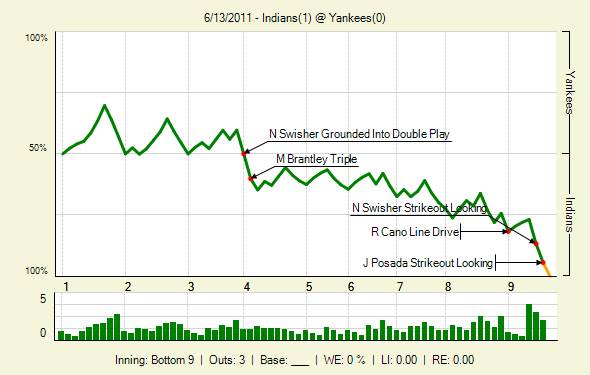 Up Next
Oh well, the series was still an overall success. Now the Yankees will welcome the Texas Rangers to the Bronx for the second and final time this season. CC Sabathia will open the series Tuesday night against Alexi Ogando.