By

If Kei Igawa never starts a game for the Yankees again, I will be a happy man. · (43) ·
By

Remember when people used to say Mo was finished when he did something like that? · (13) ·
Triple-A Scranton (6-5 win over Indianapolis) check out which old friend batted third for Indians
Brett Gardner: 0 for 3, 2 R, 2 BB, 2 SB
Alberto Gonzalez & Eric Duncan: both 1 for 3, 1 R, 2 BB – Gonzalez drove in a run & swiped a bag
Jason Lane & Nick Green: both 2 for 4, 1 K – Lane doubled twice, drove in 3 run & walked … Green drove in a run, stole a base & was hit by a pitch
Greg Porter & Matt Carson: both 2 for 5 – Porter K'ed … Carson doubled & scored a run
Heath Phillips: 2.2 IP, 4 H, 4 R, 4 ER, 5 BB, 1 K – 21 of 50 pitches were strikes (42%), eek … he also picked a runner off first
Steven Jackson: 3.1 IP, 1 H, 1 R, 1 ER, 1 BB, 3 K, 1 HB, 3-4 GB/FB – the forgotten man in the RJ deal, Jackson's a pretty good pitcher, don't dismiss him
Billy Traber: 0.1 IP, zeroes
Scott Patterson: 1.1 IP, zeroes, 3 K – now there's the Scott Patterson we all know and love
I don't think Brian Cashman will ever be able to live down those words. Yes, tonight we see the return of Kei Igawa, or Kei Igawa's ghost, or the ghost of Kei Igawa's Ghost. Expectations are low, so i'd easily take six innings, four runs from him.
We're up against The Gambler. Do I still harbor ill feelings from his failed stint in the Bronx? Eh, it's been a while. Still, you gotta love it when he gets creamed.
Couple of notes. Jorge and A-Rod got in some rehab work today, taking BP. A-Rod could be back Thursday. Posada could be back next month.
The Padres claimed Sean Henn. You know he's going to dominate out of the bullpen out there.
Chris Britton was optioned out for Kei Igawa, while Jose Veras remains. The Yankees made that move rather transparent, pitching Veras a couple of times against the Indians.
All right. Who's ready for some Friday night baseball?
1. Melky Cabrera, CF
2. Derek Jeter, SSS
3. Bobby Abreu, RF
4. Hideki Matsui, LF
5. Shelley Duncan, 1B
6. Jason Giambi, DH
7. Wilson Betemit, 3B
8. Robinson Cano, 2B — seriously? Betemit ahead of Cano?
9. Chad Moeller, C
And on the mound…I'm not sure what number he's wearing…Kei Igawa.
A sentence in a recent Tom Verducci mailbag set a few Yankees a-twitter this week. "Remember," wrote Verducci, "the Yankees preferred Ross Ohlendorf over Owings in the Big Unit trade, otherwise he'd be their No. 3 starter and DH these days!"
Now while Ross Ohlendorf clearly has a bright future as a Major League reliever ahead of him — his stuff and his recent 6 IP, 3 H, 1 BB, 7 K line are testaments to that — Micah Owings is a desirable starter with excellent stuff. Yankee fans would have every right to be a little dismayed if the team truly favored Ohlendorf over Owings. But the problem with Verducci's claim is that it's simply not true.
A few weeks earlier, Verducci's Sports Illustrated colleague and fellow columnist Jon Heyman wrote about Micah Owings' role in the Randy Johnson trade talk as well. His take, however, was completely different from that of Verducci's: "The Yankees tried hard for Owings in Randy Johnson trade talks after the 2006 season, even offering to send Arizona a few million more if they'd include him. No go."
What Heyman wrote jibes with press reports from the time of the trade in December 2006 and January 2007. At the time, New York reporters offered up differing takes. Some said that the Yankees maybe could have landed Owings if they were prepared to shell out more money for the D-Backs and accept fewer players in return. Others said that Owings was considered to be an "untouchable" in Arizona's farm system.
While Verducci's analysis seems off the mark, what Heyman offers seems most realistic. The Yanks wanted Owings as any team would, and the Diamondbacks opted to hold on to their prized prospect. With Ohlendorf on the team, a compensation pick from Vizcaino on the way and the Big Unit's health issues lately, I'd say the Yankees did just fine for themselves in that trade.
By

Major League Baseball has knocked two games off of Kyle Farnsworth's original three-game suspension for throwing behind Manny Ramirez's back during an April 17 Yankees-Red Sox game. According to the AP, Farnsworth will serve his one-game suspension tonight. · (4) ·
MLB Trade Rumors (where you can catch me every Saturday morning from 10 'til 2) has an interesting note this morning: David Wells wants to come back to the Yankees. What's worse, there are indications — whatever the hell that means — that Hank Steinbrenner is interested as well. Despite the Yankees troubles with starting pitching to this point, I can only hope this is a rumor started by a rogue publication just to stir up the fan base.
But stirred we will not be! Why not? Because we know the Yankees are smarter than this. Wells threw 157.1 innings last year, all for NL West teams, and finished with a 5.43 ERA. He's 45 years old. In other words, he's cooked. There's no way around it. In fact, I can give you a list of pitchers within our organization that I'd rather give a shot than David Wells (in no particular order):
Kei Igawa
Jeff Karstens
Alan Horne
Brett Smith
Steven White
Jeff Marquez
Carl Pavano
Dan McCutchen
Ross Ohlendorf
Humberto Sanchez
Chase Wright
Dan Giese
Steven Jackson
Phil Coke
Jason Jones
George Kontos
Ian Nova
Michael Dunn
Zach McAllister
Ryan Pope
If every one of these pitchers failed, yeah, then I'd give Wells a call.
Portrait of Wells from Frank Galasso.
By

While debating fist pumps is all the rage these days, a young man's gotta eat also. In an ESPN The Magazine special, Joba Chamberlain shares his dad's casserole recipe with the world. "I lived at home until I was 20, and dinners are some of my fondest memories. My dad would cook this casserole, I'd dish it out for everyone, and we'd all sit and watch the game," Chamberlain said to the magazine. Now you too can eat like Joba. · (14) ·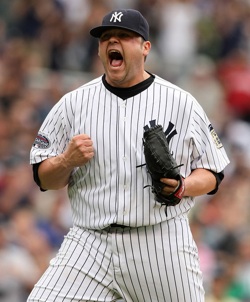 "If he wants to yell and scream after a strikeout, I guess that's what gets him going. It's May baseball. The home run was in a much bigger situation. I didn't dance and scream. If a hitter did something like that, it would be bush. It's kind of interesting how a pitcher gets away with it."
That's what Dave Dellucci whined about said to the media yesterday afternoon after the Indians lost to the Yankees. The "he" Dellucci is referring to is, of course, Joba Chamberlain. Once again, the media — and opposing players — are making mountains out of mole hills.
In the 8th inning yesterday, Joba came in with something to prove. You could see it on his face and in his body language. He was throwing the ball to get people outs, and that's what he did. When Dave Dellucci came out with two outs in the inning, everyone just knew that Joba would try to strike him out, and strike him out he did. In Joba's way, he got excited. He yelled; he pumped his first; and then he calmly walked back to the Yankee dugout.
Dellucci didn't like Joba's antics, and neither did Mike and the Mad Dog. But Joba defenders are spot on. Joe Girardi nailed the rebuttal in one regard. "That's who he is, and he's not showing anyone up," the Yanks' skipper said. "He's not looking at Dellucci, he's looking in our dugout. He's going to show some emotion. There's a lot of pitchers, when they get an out, they give a fist pump. To me, the important thing is … you're not showing someone up, and he's looking at our dugout."
Peter Abraham took that defense even farther and railed into Mike and the Mad Dog. Joba's a young and exciting player. He wears his emotion on his sleeve, and that's a-ok. Mike and the Mad Dog — and Dave Dellucci — are promoting some ridiculous ideal. Players can be excited when they succeed if, yes, it's only May and even if, yes, Dellucci's home run had a bigger impact on the game (which is an obnoxious comment to make in its own right). And if anyone doesn't think emotion comes into play, just ask Richie Sexson.
It's clear where this is going. Every time Joba does the fist pump, he'll be criticized, and when he gives up a lead and is visibly agitated, he'll get criticized. He had it coming, Chris Russo and Mike Francesca will say in a never-ending quest for attention — and ratings. That's just ridiculous, and the bluster over the first pump should — but won't — end now.
Joba pumping his first comes to us courtesy of Yahoo! Sports and Getty Images.
Triple-A Scranton (5-4 win over Charlotte in 11 innings, walk-off style) thankfully a reliever (probably Britton) will be shipped to Scranton tomorrow to make room for Igawa, because tomorrow's pitching staff would have been Heath Phillips (4 innings as the starter, tops), Steven Jackson and Scott Patterson
Justin Christian: 0 for 3, 2 RBI, 1 BB, 1 HBP – walk-off walk
Alberto Gonzalez & Cody Ransom: both 1 for 5 – Ransom tripled, scored a run & K'ed
Eric Duncan, Matt Carson & JD Closser: all 1 for 4, 1 BB – Duncan scored a run & K'ed … Carson scored a run & swiped a bag … Closser drove in a run & K'ed
Greg Porter: 2 for 5, 1 R, 1 E (throwing)
Brett Gardner: 0 for 0, 1 R – pinch-run for Porter in the 11th, stole 3rd and set up the play that led to the win
Jeff Marquez: 6 IP, 5 H, 3 R, 1 ER, 0 BB, 3 K, 1 E (throwing), 7-7 GB/FB – picked a runner off first … 60 of 83 pitches were strikes (72.3%)
David Robertson: 2 IP, 0 H, 0 R, 0 ER, 1 BB, 1 K – safe to say he won't be available tomorrow
Billy Traber: 0.1 IP, 1 H, 1 R, 1 ER – gave up a double to a lefty, and coaxed a fly out from a righty … his second straight day of work, so he won't be available for much work tomorrow
Scott Strickland: 2.2 IP, 2 H, 0 R, 0 ER, 2 BB, 1 K – both walks were intentional … not going to be available for tomorrow's game