By

When I left New York on Friday afternoon, the Yanks had just come off of a series win against the Red Sox. They had cut their deficit to 9.5 games in the AL East and were beginning to show some signs of life. Well, four games later, things are looking terrible for the Bombers. They were swept by the Angels and lost pathetically to the Blue Jays this evening. They're as bad as the Tampa Bay Devil Rays and sit in last place in the AL East, 13.5 games behind the Red Sox and 7.5 behind the Tigers for the Wild Card with six teams in front of them. What a weekend. · (4) ·
The field of 64 is out; I'm going with Texas as my early pick for the CWS Title, although I'm looking forward to seeing how far Brian Matusz & Josh Romanski (aka the best 1-2 rotation punch in the nation, remember those names for the 2008 draft) can carry San Diego.
Triple-A Scranton (2-0 win over Toledo)
Andy Phillips: 2 for 3, 1 R – only 1 RBI and 1 XBH in last 7 games…
Eric Duncan: 1 for 3
Bronson Sardinha: 1 for 3, 1 RBI – nearly 50 games into the year, and he still hovering near the Mendoza line…
Alberto Gonzalez: 0 for 3
Roger Clemens: 6 IP, 2 H, 0 R, 0 ER, 2 BB, 6 K – they should let him play in the Futures Game
Edwar Ramirez: 2 IP, 1 H, 0 R, 0 ER, 1 BB, 3 K – WHIPÂ skyrockets up to 0.82, Kper 9 plummets down to 16.83…
Jim Brower: 1 IP, 0 H, 0 R, 0 ER, 0 BB, 2 K – he's been with the organization for only 22 days, and he's already got twice as many saves (6)Â as Mo (3)…
Triple-A Scranton (8-5 win over Indianapolis)Â 
Kevin Reese: 3 for 4, 1 R, 2 RBI, 1 BB
Andy Phillips: 3 for 4, 1 RBI, 1 BB – dude lives in a Holiday Inn…
Shelley Duncan: 1 for 5, 2 K, 1 E (throwing)
Eric Duncan: 2 for 3, 1 R, 1 RBI, 1 BB – 8 walks, 1 K in last 7 games…
Alberto Gonzalez: 2 for 4, 2 R, 1 RBI, 1 K
Angel Chavez: 3 for 4, 2 R, 1 2B, 1 HR, 3 RBI – 16 for 49 (.410) with 7 doubles, a homer and 9 RBIs in his last 10 games…
Eric Junge: 5 IP, 5 H, 5 R, 5 ER, 4 BB, 5 K, 2-8 GB/FB
Ben Kozlowski: 2 IP, 0 H, 0 R, 0 ER, 0 BB, 1 K – 6 H and 16 K in last 12.2 IP…
Chris Britton: 1 IP, 1 H, 0 R, 0 ER, 0 BB, 0 K
Jim Brower: 1 IP, 0 H, 0 R, 0 ER, 0 BB, 0 K – 10 of 13 pitches were strikes (76.9%)
Just a reminder, I'm acting as the Yanks' Scouting Director in the 2007 Mock Draft over at John Sickels' Minor League Ball. If you're interested in joining the fun by helping me formulate a draft strategy and "scout" players, head over to the diary thread.   
Triple-A Scranton (6-2 loss to Indianapolis) dominated by the #1 overall pick in the 2002 draft…
Kevin Thompson: 1 for 4, 2 R, 1 HR, 1 RBI
Kevin Reese: 1 for 4, 1 RBI, 1 SB
Andy Phillips, Bronson Sardinha & Shelley Duncan (i.e. the 3-4-5 hitters): combined 0 for 11, 1 BB, 5 K – Sardinha walked…
Eric Duncan: 1 for 3
Alberto Gonzalez: 1 for 3, 1 2B – 4 of his last 7 hits have gone for extra bases
Sean Henn: 3.2 IP, 3 H, 2 R, 2 ER, 2 BB, 2 K
Colter Bean: 3 IP, 5 H, 4 R, 4 ER, 3 BB, 3 K, 2 HB
Edwar "Hell, even I'm better than Luis Vizcaino" Ramirez: 1.1 IP, 1 H, 0 R, 0 ER, 1 BB, 1 K, 1 HB – 40 K, .110 BAA in 21 IP this year…
Phil Hughes rolled his left ankle while performing conditioning exercises at the Legends Field training complex on Friday, and will have an MRI performed to determine the severity of the injury.

"He was doing his agility drill and stuck a spike; [the] spike caught," manager Joe Torre said. "They don't think it's anything, just rolled it a little bit. It may set him back a couple of days."
Couple days huh? We'll see…
(hat tip to Patrick)
Update: Sprain. Probably sets him back a week.
By

I really like posting this, because you really get a feel for who's helping the team and who's killing us over a reasonable period of time. Check out who's on top today. Cano: 400/423/720 Posada: 375/423/667 Jeter: 346/433/577 Damon: 333/429/417 Matsui: 296/321/519 Alex: 273/429/864 Giambi: 250/471/500 Abreu: 250/423/300 Minky: 235/316/471 So the Yanks are playing their style ball again. Sometimes, you're going to get games like Tuesday, when you put runners on base but just can't put it together. Fine. We can live with that. Then sometimes you get games like last night, where the pitching blows it for you. Those are the more disheartening ones. DFA Vizcaino. We've been saying it for weeks. · (0) ·
I've been busy the past few days, hence no updates. Trust me, you missed very little.
Oh, and what you saw tonight was the real Tyler Clippard. Fastball wasn't fooling anyone, lots of fly balls, and consequently, lots of extra base hits given up…
Triple-A Scranton (4-3 win over Indianapolis in 10 innings) Eric Duncan rode the pine…
Kevin Reese: 1 for 4, 1 R, 1 2B, 1 CS
Andy Phillips: 1 for 5, 2 K
Shelley Duncan: 1 for 2, 2 R, 1 2B, 1 RBI, 2 BB – 5 game RBI streak…
Chris Basak: 1 for 5, 1 RBI, 2 K – walk-off single
Bronson Sardinha:1 for 4, 1 2B, 1 K
Alberto Gonzalez: 1 for 3, 1 3B, 1 RBI, 1 K
Chase Wright: 5.1 IP, 7 H, 3 R, 3 ER, 1 BB, 4 K, 2 WP
Chris "I'm WAY better than Luis Vizcaino" Britton: 2.2 IP, 1 H, 0 R, 0 ER, 1 BB, 3 K
Jim Brower: 2 IP, 0 H, 0 R, 0 ER, 0 BB, 5 K – he's been crazy good since coming on board…
By

Memorial Day weekend is one of the lightest weekends for computer use and blog reading outside of the Christmas-to-New Years period. As the three of us are going to be either away or outside for much of the weekend, blogging will be lighter than normal. But we'll be back on Monday night with our regular slate of 35 posts a week. In the meantime, enjoy the great weather and the long weekend. Go Yanks. · (0) ·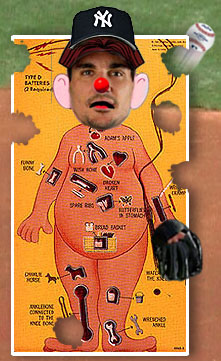 When the news came down on Wednesday that Carl Pavano will have season-ending reconstructive surgery on his elbow, no one really blinked. After two-plus seasons of Pavano's routine, no one was surprised that Pavano would be missing out on fulfilling the remainder of his four-year deal.
It's hard to believe that things weren't always like this. Following the 2004 season when Pavano hit free agency, a bidding war erupted. The Red Sox wanted him; the Tigers wanted him; the Phillies and Rangers were mildly interested. It took recruiting phone calls from the Joe Torre and Derek Jeter to lure Pavano to the Bronx. Fans and players alike acted as though it were a big coup.
Well, $39.95 million and 19 starts later, the Yanks hardly got a return on their investment. Pavano won 5 games for the Yanks. He threw 111.3 innings and had an ERA of 4.77.
Since arriving in New York, Pavano has developed a reputation as a whiner, a complainer and a selfish player. The media and his teammates have questioned his desire to play, and if he comes back from this surgery, you can bet he won't don the Yankee uniform in 2008. When he becomes a free agent in Nov. 2008, he'll be lucky to sign an incentive-laden deal with a second-tier team. A Minor League deal and a spring training invite could be all that awaits him.
The Yankees, on the other hand, are probably furious with him. This is money that could have spent elsewhere and on a player who wanted to perform. It is safe to say that Carl Pavano did not live up to the terms of his contract. So I think the Yankees should sue Carl Pavano.
I'm not familiar with the standard player contract for Major League Baseball, and I'm sure the contract as an injury clause in it. But it's really easy to claim that Carl Pavano did not honor his side of the contract and is in breach.
He was paid $39.95 million to play baseball for four years. Instead, he missed all of 2005 to various maladies including a broken rib sustained in a car accident and will now miss the rest of 2007 and most, if not all, of 2008.
Of course, no team would sue a player, but it would certainly be interesting to see how such a suit would play out. And it would be great revenge just to drag Pavano's oft-injured ass into court.
Image from Da Bronx Bombers.
With less than 2 weeks until the big event, it's time to get serious with our draft coverage here at RAB. With mock drafts popping up left and right (subscription required for the first link), I figured it was time we got in on the action. To help me out, I brought in blogging hall of famer DA Humber, who runs the fantastic and recently re-launched Baseball Central blog. If you aren't checkin' out his site everyday, you should be, cause you're missing out on some cool shit.
The rules are simple: who do we think will go where in the first round? Enough talking, let's get down to business.
1. Tampa Bay Devil Rays
DA: David Price, LHP, Vandy – Simply, the medicine the Devil Rays need. A legit frontline starter that should fly to the big league squad quickly. Dominated college and has a perfect frame and arsenal to have the Rays challenge the Twins as having the best 1-2 punch of southpaws.
Mike: Price – The D-Rays say they have 3 players in mind for the first overall pick, but you know they're just sayin' that to make the other teams sweat. In a familiar spot (Tampa has had the first pick twice before, and hasn't picked lower than 10th  in the last 9 years), they go with the consensus top talent in the draft. Pretty soon they'll have Price alongside Kazmir, Jamie Shields and Jeff Niemann, which means they're going to be a juggernaut with that talented lineup. Watch out in 2010.