By

Sometimes the jokes just write themselves. An acting U.S. Marshal in Boston is under investigation for allegedly having her deputies guard and chauffeur Joe Buck and Tim McCarver around Boston during the World Series last year. These two deputies may also have watched games one and two of the World Series from the broadcast booth. The punch lines are limitless. · (5) ·
By

A short wrap-up for you because I'm heading off to the new beer garden in Prospect Heights: Mike Mussina is thriving this year not because he's a better pitcher but because he's pitching better. It's a subtle difference, but what we're seeing this year is a clinic in pitching by an old master who many of us — including me — had written off. Mike Mussina has learned how to use his killer breaking pitches and the "slow, slower, slowest" approach to set up an average fastball. His striking out the side in the sixth was masterful.

So now, over his last three starts, Mussina has given the Yankees 18 innings. He's allowed 18 hits while walking just two batters and striking out 10. He's 3-0 over that span, and his ERA is 2.50. I, for one, am enjoying the career resurgence of Mussina, and I'm happy to see that I was wrong in calling him a dead Moose a little under a month ago. · (26) ·
Mike Mussina made his Major League debut on August 4, 1991, losing 1-0 to 43-year-old Charlie Hough. Felix Hernandez, the Mariners' young stud, was all of five years old at the time.
Today, Mussina and the 253 games he has won since that debut loss will face off against Felix Hernandez, 22, and his 32 career wins. This could be quite the match-up. On one side, we've got Hernandez — anointed the King — a power pitcher with 41 strike outs in 44.1 innings this year. His ERA is a measly 2.22. On the other side is Mike Mussina who no longer generates too many swing-and-misses. His 12 strike outs has Moose sitting pretty at 3.34 K/9 IP, a career low. Mussina today relies on guile as he attempts to get hitters to swing weakly at breaking pitches and slow change ups.
For Mussina, this style of pitching has worked lately. Remove the Red Sox from his 2008 equation, and Moose has given up 8 earned runs in 23.2 innings, good for a 3.04 ERA. That's downright great for a Yankee rotation struggling to prevent runs. Mussina won't give the Yanks much in the way of distance; he tires around the five-inning mark. But he sure can hold his own against Hernandez.
Meanwhile, the struggling Yankee offense continues to run into brick walls. After facing Eric Bedard, they draw another Seattle ace in King Felix. Opponents are hitting .238/.306/.335, and the Yankees will go with their typical lineup these days.
Johnny Damon LF
Derek Jeter SS
Bob Abreu RF
Hideki Matsui DH
Jason Giambi 1B
Melky Cabrera CF
Robinson Cano 2B
Morgan Ensberg 3B
Jose Molina C
Mike Mussina P
By

Shortly before beating the Mariners last night, the Yankees announced that the franchise had set yet another baseball first. The Yankees became the first team in Major League history to sell four million tickets four years in a row. Word is that most of the games throughout the summer are sold out, and the Yanks, averaging over 50,000 fans over their first 12 home games, could see close to 4.5 million people pass through the Yankee Stadium turnstiles. Remind me again why the Yanks absolutely need that new stadium. · (12) ·
When Chien-Ming Wang first arrived in the Bronx, it was clear from the start that Wang had the stuff to be successful. Throughout his first three seasons in the Bigs, we grew to know and love that heavy sinker and Wang's stellar groundball rate. But something's changed this year, and it's for the better.
This year, as we've seen over Wang's first seven starts, the right-hander — once so reliant on his sinker to get outs — has picked up a few stellar secondary pitches and has learned how to pitch in a way that lets him dominate a game. Look at his numbers: On the season, Wang has thrown 45 innings, and he's 6-0 with a 3.00 ERA, and over his last three outings, he's given up 4 earned runs on 17 hits in 19 innings.
Of the numbers, the most important one to me is Wang's strike out rate. In the early going this year, Wang's K totals are well above his career norm. Over his last 19 innings, he's struck out 19 batters, and on the season, he is average 6.40 Ks per 9 IP. With his normally stellar walk rate, his K/BB is now 2.46.
For the last few years, stats-minded analysts have blown their collective gaskets trying to figure out the success of Chien-Ming Wang, and were it not for my seeing him pitch every five days, I'd be right there with them. How did a guy with a career K/9 IP of under 4.00 prior to this year find a way to win more games in the Majors than anyone else over two years while keeping his ERA under 4.00? It didn't make sense.
Now, we all know that Wang's non-traditional success came via those groundballs. When he is on, he can command a double play at will, and Major League hitters look foolish topping his pitches. This year, though, with sliders, sinkers, fastballs and a few change ups, Wang has upped his pitching in a way that cements his status as the Yankee ace. He's keeping runners off base, and he's keeping balls out of play. That is a sure recipe for success.
As we all know — and as Hank Steinbrenner reminded us tonight — the Yankees have had a tough go of it lately. They're one game under .500, and the offense isn't doing much of anything right now. But every five days, Wang takes the mound, and it's a beacon of very bright light every day. Watching a pitcher put everything together is a real pleasure, and Wang is living the dream. He will lose a few games this season, and he's facing Cliff Lee and his sub-1.00 ERA next week. But it's been quite the roll for a pitcher who almost ended up signing with the Mariners seven years ago.
Saber-Scouting has a report on Ivan Nova in this notebook, make sure you check it out. Juan Miranda is the latest casualty, hitting the DL thanks to a shoulder issue. They be droppin' like flies…
Triple-A Scranton
Game 1 (6-1 win over Durham in 7 innings)
Wilson Betemit: 1 for 3, 1 2B – Chad Jennings says the double banged off the top of the wall
Bernie Castro: 1 for 3, 2 R, 1 BB – picked off third … I'm sorry, but you just can't get picked off third base, inexcusable
Brett Gardner: 0 for 3, 1 K
Jason Lane & Cody Ransom: both 2 for 3, 1 BB – Lane doubled … Ransom scored a run
Nick Green: 3 for 4, 1 R, 1 3B, 1 RBI
Chris Stewart: 1 for 2, 1 2B, 2 RBI, 1 HBP
Steven "don't call me" White: 6 IP, 2 H, 1 R, 1 ER, 3 BB, 7 K, 1 WP, 6-4 GB/FB – great job picking up his team when they have a short staff
Billy Traber: 1 IP, zeroes, 2 K, 1 HB – faced three lefties (Dan Johnson, Reid Brignac and one-time great Yankee prospect John Rodriguez) and K'ed the first two before plunking the third
A few odds and ends to tie up before the game starts, all courtesy PeteAbe (but you know you like coming here more).
Posada has what is being termed rotator cuff tendonitis. The estimate for return is early June, but Pete, as well as I, suspect they'll take a little longer, just to avoid any complications. Surgery could happen this off-season, and if it doesn't mean lost time for Jorge at the beginning of 2009, I think he'll take the option. He has pride in his contract, and I'm sure if he thinks surgery will help him in the long term, he'll go for it.
Meanwhile, it turns out that Phil Hughes doesn't have perfect vision, as he so thought. He's nearsighted, so his not being able to see the signals is explained a bit. That, and he thinks a mechanical flaw led to his rib injury. Yes, it's a ton of excuse-making. Whatever. As long as he's effective when he's back, I don't care what he or the Yankees say. Hopefully the time off will get the fans off his back.
Jose Veras is up to take Hughes's spot until Darrell Rasner is recalled for Sunday's start. To clear room on the 40-man, the clear move is to DFA Chris Stewart, especially since J.D. Closser is in the fold now. Stewart will surely go unclaimed, though once again, with Closser his presence doesn't seem as necessary. Taking Veras's spot in AAA is David Robertson. With him one step closer to the bigs, our pen situation looks even better. Now, if we can just get Girardi to understand that you can't have two-pitch relievers go through the heart of the Tigers order twice…
Kennedy is getting skipped next time through, which is the right move. I think you have to give him the start on May 10, and then go from there. I'd guess Kei Igawa is next in line for a call-up.
Your lineup, sans Cano, which will make at least a few commenters happy, as we're facing Erik Bedard tonight:
1. Melky Cabrera, CF
2. Derek Jeter, SS
3. Bobby Abreu, RF
4. Shelley Duncan, 1B
5. Hideki Matsui, LF
6. Jason Giambi, DH
7. Morgan Ensberg, 3B
8. Jose Molina, C
9. Alberto Gonzalez, 2B
And on the mound, number forty, Chien-Ming Wang.
By

For one day, Jose Veras will take Phil Hughes' spot, Chad Jennings notes. Tomorrow, Darrell Rasner will be called up to take Phil Hughes' spot in the rotation for now. Veras' promotion came about because Joe Girardi had two of his relievers throw 40 or more pitches last night, making them ineligible to pitch tonight. So now the Yanks are short an arm in the pen, and Scranton is set to play a double header with five relievers, one of whom is starting game two. That's bad roster management. · (9) ·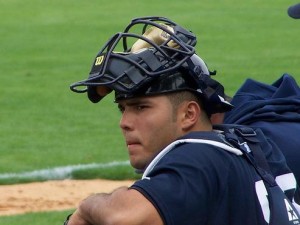 April's a wacky month. It's the only time of the year that Nate McLouth can sport a 1.047 OPS, or when Mike Mussina can boast better numbers than Roy Oswalt. Christian Lara played for two teams in a single game and Jay Johnson hit a walk-off double to make himself the winning pitcher, and I can't help but think that only April can contain that kind of madness.
April has been an interesting month in the Yankees' farm system, full of surprises and disappointments. You had Eric Hacker's pitch count ruined perfect game and Brett Gardner launching no-doubt homers. While April doesn't provide enough info to draw accurate conclusions, it does start to paint a picture of what's ahead.
Triple-A Scranton
Other than Darrell Rasner, who is now a big leaguer, the story of the month for Scranton has been none other than Eric Duncan. The 27th overall pick in the 2003 draft has had a … let's say, "rocky" career so far, but it looks like the light bulb may finally be coming on a bit. Even though he's been forced to play second fiddle to Shelley Duncan and Juan Miranda for playing time, Duncan's off to a .279-.384-.508 start. I pulling for him and I hope he can sustain it.
Robinson Cano's pathetically slow start has seemingly been the topic du jour around RAB tonight. While Joe touched on it yesterday, I want to revisit it briefly today.
After going 1 for 4 yesterday, Cano raised his average to a whoppin .155 with a .212 OBP and a .236 slugging. But things aren't bad for Cano; he's just been really, really unlucky. Or at least that's what the folks at Pinstripe Alley say. Take a look at this table, originally produced by jscape2000 on PA:
| | | |
| --- | --- | --- |
| Cano | 2007 | 2008 |
| BB% | 5.9 | 6.2 |
| K% | 13.8 | 13.2 |
| LD% | 16.9 | 17.4 |
| GB% | 52.2 | 51.1 |
| FB% | 30.9 | 31.5 |
Joe noted many of these numbers yesterday, and the trends are encouraging. As jscape wrote, "Robinson Cano hasn't been the worst player in the league, just the most unlucky.
We'd expect BABIP to be LD% plus .120. Robbie's expected BABIP is .284, his actual is .156."
In other words, Cano's slow start seems to be a case of his hitting the ball not where they ain't but where they are. Furthermore, Cano's not swinging any earlier in counts than he ever has. He has seen 3.40 pitches per plate appearances. That's down 0.02 from last year and up by 0.18 over his 2006 totals.
At some point, the balls Cano is hitting will begin to fall, and his average will rise. The Yanks could really use those breaks.