By

While Kevin Long and Robinson Cano continue to work through Cano's slump, all eyes are on Melky's stellar start. Last night, Tyler Kepner posted a piece on the Bats blog about how A-Rod influences Melky's routine. "I have followed the advice of Alex Rodriguez. I'm eating right and working really hard," Melky said. Sounds good to me. · (5) ·
This is the first in the guest column series. It is written by Dan Forti. You can check him out at Boulevard NYC, "an ongoing collaborative effort that strives to bring anyone with a creative vision together."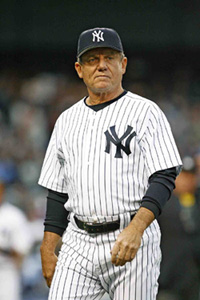 Having been a die-hard Yankees fan since 1996, not too much surprised me during the 2007 off-season. Posada, Rivera, and A-Rod all threatening to leave, but then re-sign? It didn't catch me off guard. I was even prepared for Joe Torre's surprise departure, feeling that it was time for an amicable end to the great Torre Dynasty. However, the one move that I am still surprised about, and upset over, is the loss of our former third base coach, Larry Bowa.
Before his stint with the Yankees, the average fan knew Bowa as the eccentric manager of the Philadelphia Phillies from 2001-04. While his teams had strong players such as Bobby Abreu, Pat Burrell, Jim Thome, and Jimmy Rollins, each year they underperformed. Bowa's fiery personality and in-your-face style of coaching wore down many of his players halfway through each season, and in 2004 Bowa was let go.
In comparison, Bowa's playing career was very successful: He won two Gold Gloves, led the NL in fielding percentages in six different seasons, and shared the left side of the infield with Hall of Famer Mike Schdmit. Every person who played with Bowa respected him for his passion for the game, as well as his dedication to his craft.
During the 2005 season, Bowa's knowledge for the game became apparent through his daily TV appearances on ESPN's Baseball Tonight. Bowa always provided objective and concise analysis, while adding a little bit of his own flare to each show. When Bowa jumped from BBTN to the Bronx, many wondered how his personality would fit in with Torre's calm regime.
I could never have imagined the impact that Bowa would have on this team. He was the best third base coach the Yankees ever had during the Torre Dynasty. Fans who are watching on television usually have a good idea of whether a runner at third should be sent home (various camera angles and instant scouting reports help). During Bowa's stay at third, there was not one play that I disagreed with his decision (compare that to Luis Sojo's miserable performance in the same capacity). He helped the Yankees get those extra runs, which we've always needed with our unreliable pitching.
Bowa's impact could not only be seen during each game, but also during the course of the entire season. Within days of being hired by the Yankees, Bowa reached out to the team's young second baseman, offering to be a mentor of sorts and to help him reach his untapped potential and abilities. Three weeks later, at 7:30 AM on a Tuesday morning, Bowa was hitting ground balls to Robinson Cano on an infield in the Tampa Complex. Each morning, for over an hour, Bowa would have one-on-one sessions with Cano, working on fielding groundballs, turning double plays, and mastering footwork. Bowa saw the player Cano could be, and recognized that a little of his 'tough love' could work wonders for the Dominican kid.
Two years later, Cano has evolved into an All-Star. He is one of the top hitting second basemen in the league, and is an underrated fielder (few others can turn a DP like Cano). Some critics believe that Cano's early-season slump is so bad because Bowa isn't there to keep the second baseman's head straight. Early in his career, Yankee fans have noticed that Cano is prone to mental lapses. But Bowa found a great young man in Cano, and I am confident that the two are constantly on the phone, discussing game situations and methods to endure the mental wear of a 162 game season.
Although Bobby Meachem seems to be an adequate replacement as third base coach, I'm confident that the Yankees miss Bowa's presence in the clubhouse. Joe Girardi has more intensity than Torre, but will always play second fiddle to Bowa and his ability to fire up a team. His coaching style may never be conducive to be a manager, but the Los Angeles Dodgers have one of the best coaches in baseball.
Photo by Al Lerner
In less than 11 months, fans will be streaming through these gates. (Photo by flickr user BenYankee. For more of my stadium photos, check out this flickr set)
You know me; I love writing about the new stadium. How could I possibly let an off-day go by without mentioning something — anything — about the House that A-Rod Built? Well, I can't, and MLB.com happened to provide me with one of the more in-depth pieces on the stadium we've seen in a long time.
Let's just jump right into Barry Bloom's latest on the stadium. First off, we hear that the new stadium has reached its apex, and construction is right on schedule:
They topped off the last bit of white steel, high above what will be the wrap-around scoreboard and gigundo video screen at the new Yankee Stadium this past Thursday.

And around the construction site, many of the upbeat workers are wearing dark blue buttons with the name of the famous ballpark in white capital letters set above this date: Feb. 17, 2009, less than two months before Opening Day.

"That's when we're turning the stadium over to the Yankees," said Harry Olsen, the project manager for the company that's overseeing the construction and site.
As we already know, the new stadium design is heavily influenced by pre-renovation Yankee Stadium. "This new stadium is different," Yankees President Randy Levine said, comparing the stadium in progress to the one we know and love. "There may never be another one like it."
Writes Bloom:
Yankees officials dug up those first Yankee Stadium architectural plans, and from it, they are remaking the famous curved and striped "frieze" that hovers high above the bleachers in the renovated ballpark, putting it where it once was: running around the stadium below the lights on the fringe of the upper-deck overhang, from left field all the way around to right.

Secondly, they replicated the monumental Gate 4 entrance, cast in limestone with each letter of the words "YANKEE STADIUM" set between stone emblems and chiseled in gold leaf. The limestone façade gives it a decidedly old-time texture and runs most of the way around the new ballpark.

"And it's built to last for the next 50 years or more," Olsen said.
But the real meat of the article — the devil, if you will — is in the details. We finally have the field configuration information; according to Bloom, the field dimensions will be exactly the same to those in current Yankee Stadium. Bloom says that the field will be "318 feet down the left-field line; 314 feet down the right-field line; 408 feet in dead center; 399 feet in left-center, and 385 in right-center." All of the Yankee fans worried about a boring symmetrical outfield can breathe easy.
Even more enticing is Bloom's descriptions of the seating confirguration:
It will seat 53,000, but somehow, as MLB.com learned on a recent tour that traversed almost every nook and cranny of the new facility, every one of those seats has an unencumbered view of home plate, even though the new stadium reaches about the same height as the existing one.

Most are much closer to the field than the current stadium, where the catcher squats about 70 feet from the backstop. In the new park, that distance will be about 50 feet. The grade, which seems nearly flat at 35 percent in the current lower deck, has been changed to a much steeper 45 percent. That's akin to a pitcher peering down from a mound 10 feet above the ground, as opposed to a mound that's about six feet high. There are also many fewer rows in each deck.
Every time I go to a game this year — and my trip this Wednesday will be my fifth of the season — I look across 161th St. with a mixture of wonder and trepidation. I don't want to see Yankee Stadium, one of the few places in New York City that's been a constant for my entire life, to meet the fate of Polo Grounds or Ebbets Field. I don't want to see the Yankees leave their hallowed grounds and knock down the ghosts of the Babe, the Mick and Joe D. With the echoes of 1996, 1998, 1999 and 2000 still reverberating through the stadium, it will be hard to leave for that final time in September or October.
But at the same time, New Yankee Stadium looks every bit as beautiful as a $1.3 billion baseball temple should be. I'm excited to see the new stadium and explore a new home ballpark. It will be historical, intimate and brand new at the same time. It's easy to pacify uneasy fans with the promise of a new toy, and that's just what this new Yankee Stadium is. I just wish we didn't have to say good bye to the old Yankee Stadium at the same time.
Triple-A Scranton (5-0 loss to Charlotte)
Wilson Betemit, Nick Green & Greg Porter: all 1 for 4 – Betemit drew a free pass … Porter doubled
Brett Gardner, Cody Ransom, Chris Stewart: all 0 for 4 – Gardner walked & K'ed twice … Ransom & Stewart each K'ed three times
Jason Lane: 2 for 3, 1 BB
Eric Duncan: 0 for 3, 1 BB, 1 K, 1 E (throwing)
Matt Carson: 2 for 4 – 6 for 10 since the promotion
Dan Giese: 6 IP, 5 H, 1 R, 1 ER, 1 BB, 4 K, 1 WP, 1 HB – picked a runner off first … 52 of 78 pitches were strikes, exactly 2 out of 3
David Robertson: 1.2 IP, 2 H, 2 R, 2 Er, 2 BB, 2 K, 1 WP – one off the walks was intentional … 24 of 42 pitches were strikes (57.1%)
Steven Jackson: 1.1 IP, 1 H, 2 R, 2 ER, 1 BB, 0 K – stranded both inherited runners
Today one's of those — whaddyacallit — off days for the Yanks. It's a rare occurrence indeed this season, and obviously, we won't have a game thread. So let's try an open thread instead.
With 33 games down, the Yanks have seen 20 percent of the season fade into the rear view mirror. They've once again had their early-season struggles. The offense hasn't clicked yet; the young pitchers haven't lived up to expectations. But when all is said and done, they're 17-16, three games out of first. Last year, they were 16-17 and a whopping seven games out of first place. Things are downright rosy for the 2008 Yankees through the lens of 2007.
For Yankee fans and the New York media, two groups who demand perfection at every turn in the Big Apple, 2008 is also a year of monumental change in the Bronx. We've got a new Joe in town. Joe Torre fled for LA after a fairly bitter divorce, and Joe Girardi took the reins.
Girardi's tenure has been a little shaky through April. He didn't have the smoothest of relationships with a media used to the mannerisms of Joe Torre. The Yankee propaganda machine has obscured injuries and roster moves, and press coverage in turn has been far from favorable.
On the field, Girardi has shown a tendency to keep some of his relievers out there for too long, but I think his bullpen management has been fair. He's done a far better job at balancing the relief load than Joe Torre ever did, and he continues to trot out the young kids, such as Ross Ohlendorf, far more often than Torre would.
So here's my question to you, loyal RAB readers, on this off day: How do you rate Joe Girardi's first 33 games in New York? Do you like the job he's doing? Do you pine for Joe Torre? How would you hope to see Girardi improve over his next 33 games and beyond?
By

From the "It's Never Too Early for the Hot Stove League" department comes this gem from Boston Herald columnist Tony Massarotti: The Yanks could push hard for Derek Lowe's services when the durable righty becomes a free agent this season. The Yankee fan in me would rather stab myself in the face than watch Derek Lowe pitch every five days, and I'd much rather see Yanks push hard for C.C. Sabathia. However, outside of his last year in Boston, Lowe has put up pretty good career numbers and has a six-season streak of 32 starts or more. The Yanks could do far worse in the short term if C.C. stays in Cleveland, but with Joba, Wang, Pettitte, Hughes and Kennedy right now projecting to start in 2009, it seems that the Yankee rotation is full. (HT to MLBTR) · (37) ·
By

Joe Torre's at it again. Or actually, won't be at it again. After seeing his shiny new manager signal for relievers Joe Beimel and Scott Proctor a combined 32 times in the Dodgers' first 31 games, GM Ned Coletti instituted the Kershaw Decree to protect his 20-yr old stud southpaw, who will inevitably take over the fifth starter spot later this summer. Kershaw will be limited to 25 innings per month for the remainder of the year, putting him on pace for 150 IP or so after tossing 122 last year. "We don't want to get teased and find out in September [that Kershaw's] not pitching anymore," said Torre. I'm sure the front office is thinking "We don't want to get teased and find out in September [that Kershaw's] shoulder and elbow are shredded." Saving the world's top young arms from Joe Torre, one GM at a time. · (15) ·
By

It's no secret that we here at RAB weren't the biggest fans of Melky Cabrera by the end of last season. We thought we had seen enough of Melky to recognize his ceiling and pinpoint his flaws. So far, through 118 plate appearances this year, Melky seems to be proving us wrong. He's hitting .291/.359/.505, and he leads the team with 6 HR. He's showing more patience at the plate and more power with the bat. While it's still early, Melky's been a pleasant surprise. Today, in Newsday, Ken Davidoff looks at the career path of Melky and praises the Yankees for their patience in developing the youngster. It is certainly ironic that the one piece of the Santana puzzle we were most willing to part with in December is the one producing the most for the team right now. · (24) ·
By

With Ian Kennedy on the way down, all signs are point to a Kei Igawa start in Detroit next weekend. Considering that Kennedy claims he's making progress, I'd rather just see Ian make his next start at the Big League level. For what it's worth, Igawa is 3-3 with a 3.86 ERA in 39.2 AAA innings. He's walked just 12 and has 40 strike outs, but he's still getting more outs in the air than on the ground. Igawa's never had much of a problem getting MiLB hitters out, but his stuff hasn't translated into Big League success at all yet. · (34) ·
A few hours after I got home from the Bronx, I was talking to my mom about the game. It was, we decided, one of the nicer days at Yankee Stadium. The weather was perfect; the game was fast and crisp; and, of course, the Yankees won. It was, in other words, a day on which I could easily imagine Ernie Banks waking up, stepping outside and saying, "Let's play two."
Sadly, for the Yanks, two against the Mariners was not in the cards today. They had to settle for one win and their first three-game sweep of the season. The Yanks now find themselves in second place at 17-16, three games behind the Red Sox for the AL East lead and two back of Oakland for that fourth playoff spot.
The good news for this weekend was the emergence of the Yankee offense. During the three-game set, the Yanks scored 19 runs and banged out 27 hits. With three solid outings from Chien-Ming Wang, Mike Mussina and Darrell Rasner, this weekend's sweep came easy to the Yankees. It was baseball as it should be in the Bronx, and everything was ok.
The offensive started, as it should, with the top of the order. After racking up 10 hits on Saturday, the Yanks' one through four hitters dialed it up to 11 on Sunday. Over the last two days, Johnny Damon, Derek Jeter, Bobby Abreu and Hideki Matsui are a combined 21 for 37 with 11 runs scored and nine RBIs. The table-setters are setting the table, and the clean-up crew is cleaning up. While the top of the lineup won't hit .568 all season, it certainly makes for an easy baseball game when they do.
On the other side of the ball, Darrell Rasner was everything the Yanks expected him to be and more. He got off to a rocky start, giving up a two-run home run in the first, but that would be all the Mariners would muster against the 27-year-old. Rasner threw two-thirds of his pitches for strikes and didn't walk anyone. He also managed to keep his pitch count low, throwing just 76 pitches through six innings. Ian Kennedy should take a lesson.
And that brings me to my one and only nitpick of the game. Why did Joe Girardi opt to remove Rasner from the game after six innings? Rasner hadn't thrown a game in a few days, and he's a 27-year-old. He was rolling, and he could have thrown at least another inning and maybe two. It seemed like knee-jerk management to me: Have your starter throw six good innings, and then turn things over to the bullpen.
In my book, if your starter is rolling through six innings with a six-run lead and his pitch count is at 76, just keep him in. It's far better to go with the known — Rasner's command — than the unknown coming out of the Yankee bullpen. (To take this one step further, the Yanks could have used Joba to throw the last two innings today to stretch him out. They have an off-day tomorrow, and he really has to start making some multiple-inning appearances.)
But that complaint is small beans. The Yanks won decisively; they got a good start from someone other than Wang or Mussina; and the bats seem to have woken up from their early-season slumbers. The Cliff Lee 0.96 ERA buzzsaw comes to town on Tuesday, but we'll worry about then. For now, let's just enjoy the sweep and hope for more days of solid baseball under the sun this spring.