The draft is just 12 days away, so between now and then I'm going to highlight some players individually rather than lump a few together in one post.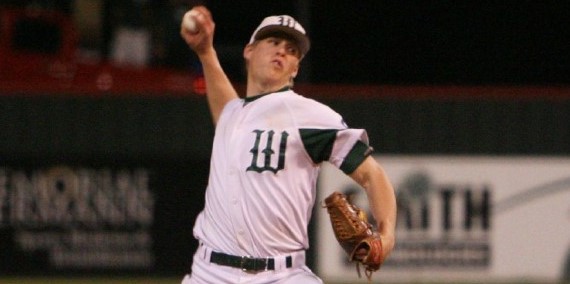 Bryan Brickhouse | RHP
Background
Brickhouse attends The Woodlands High School in Texas, which produced flamethrowing righties Kyle Drabek (18th overall in 2006) and Jameson Taillon (second overall in 2010) in recent years. Brickhouse isn't the same level of prospect as those two, but he certainly fits the power arm profile. A strong commitment to North Carolina might make him unsignable unless he gets that Drabek/Taillon kind of money though.
Scouting Report
Big and strong at 6-foot-2 and 190 lbs., Brickhouse routinely sits at 91-93 mph with his fastball and will run it up as high as 95 on occasion. He also throws a power curveball that can be unhittable when it's on, but there are times when he doesn't get on top of the pitch enough and it flattens out into more of a sweepy slider. His changeup is in its infancy stages. Brickhouse struggles with his mechanics and has yet to find consistency with his delivery, leading to arm slot and command problems. He's some video from last summer.
Miscellany
The UNC commitment is the wildcard here. The talent and everything else adds up to a second round selection, but if Brickhouse throws a big number out there I could easily see him falling into the later rounds, I'm talking double digit rounds similar to Alex Meyer in 2008 (first round arm, unsigned 20th round pick because he wanted multi-millions). The command and mechanical issues are what's keeping Brickhouse from being one of the top high school arms in the draft class, so he's a nice high-upside project for a team with money and patience.
Keith Law ranked Brickhouse as the 90th best prospect in the draft in his latest rankings while Baseball America left him off their latest top 60.