We have some resolution to the Amazing Disappearing Mark Melancon Box Score situation.
As Mike noted in last night's inauguraul Down on the Farm, Mark Melancon appeared in the MiLB.com Tampa Yankees box score last night, but the young pitcher did not throw a pitch. Considering the hype surrounding Melancon and the fact that he's one of our Tommy John pitchers, we were worried.
Yankee fans flew into a panic! What happened to Melancon? The guys on NYYFans.com couldn't figure it out; Chad Jennings had no leads. It was an information black out. And then Yankees1010 rode to the rescue, directing us to this Saberscouting post:
Mark Melancon is not hurt. He didn't enter the game after throwing warmup pitches (that I took video of and analyzed like the Zapruder film), because T-Yanks Manager Luis Sojo forgot to put him on the roster. Just a simple brain fart. Don't feel bad for freaking out though Yankee fans, until the game ended and this was figured out, Yankee brass in the stands were in a state of panic as well.
Way to be, Luis. Way to be. Don't scare us like that.
Who needs Johan Santana?
For six innings last night, Phil Hughes had the Blue Jays off balance. For six innings, Hughes mixed his pinpoint accuracy with a deadly curve with a stellar fastball. He held the Jays to two runs on four hits while walking one and striking out four. He threw two-thirds of his pitches for strikes and showed why we were totally opposed to seeing Hughes sent to Minnesota.
While the Yankee offense has yet to click, the pitching has held up quite nicely in three games. The bullpen was stellar again last night with Billy Traber recording his first Yankee out and Brian Bruney looking like a new man on the mound. He threw strikes with confidence. The Joba-Rivera show closed out the game, and suddenly, the Yanks' opponents are faced with the prospects of seven-inning games this season.
But the story was Phil. At the urging of a reader, let's look at Phil's pitch selection. Justin, a RAB regular, e-mailed me about Hughes shortly after the game ended:
Good game pitched by Hughes, but he could of been so much BETTER! He's a two pitch pitcher right now. Yes they're above average pitches but he's got a very good changeup that he's not even using (or only used twice…and both times they were effective!). Look at how effective McGowan was tonight with his changeup. He got some huge strikeouts with his change (A-Rod) and he kept the hitters off balance for the first 6 innings.
Justin believes that if Hughes deploys his changeup 10-15 times a game, he'll be even better. Right now, I'm withholding judgement. Unlike Mike Mussina with his slow, slower, slowest approach, Hughes can rely on his fastball to get outs. It's accurate; it has late life; and when he mixes in his curve, the fastball is even more effective.
Oh that curveball. Phil Hughes' curveball was a thing of beauty tonight. Looking much like it did against Texas in the second game of Hughes' career last year, the ball danced its way into the strike zone, fooling Blue Jay hitters and keeping them off balance. The curve is why, right now, I think Hughes can pick and choose his spots for a changeup that he is still refining. The curve, in fact, is something of a changeup. Hughes was sitting around 90 mph with his fastball last night and around 71 with a deadly break on the curve. Throw a 71 mph curveball and that 90 mph fastball looks pretty fast.
Today, Phil Hughes is the second-youngest player in the Majors, and at age 21, he's only going to get better and stronger as the years go by. As Hughes matures as an athlete and a pitcher, he'll gain more velocity on the fastball and more confidence in what could be a deadly weapon: his changeup. But for now, I am more than satisfied with his pitch selection and thrilled with Mr. Hughes' first start of the season.
New year, same great DotF. It's only fitting that Phil Hughes drew the start for the big league squad the day the minor league season kicked off. I remember when he was just a spunky little 18-year-old mowing down Sally League hitters… Ah, memories. Hard to believe this is my third season doing this. But enough reflecting. Let's hit the stats (full lineups as per Opening Day tradition).
Triple-A Scranton (4-0 win over Lehigh Valley)
Brett Gardner: 1 for 4, 1 R, 1 3B, 1 K, 1 SB – First hit of the year went for extra bases. I never woulda guessed it.
Justin Christian: 1 for 4, 1 K, 1 CS
Cody Ransom: 0 for 4, 2 K
Jason Lane: 1 for 3, 1 R, 1 HR, 1 RBI, 1 K
Juan Miranda: 0 for 3
Alberto Gonzalez: 1 for 2, 1 R, 1 BB, 1 K – He's been hittin' the snot outta the ball since playing winter ball.
Eric Duncan: 2 for 3, 1 R, 1 3B, 1 K – He's been crushing the ball since the last few weeks of Spring Training.
Nick Green: 1 for 3, 1 2B, 1 RBI, 1 K
Chad Moeller: 1 for 3
The Ghost of Kei Igawa: 6 IP, zeroes, 7 K, 2-9 GB/FB – 44 strikes, 16 balls … Yanked from the perfecto because of his pitch count. RAB's inside guy said he was starting to get hit hard towards the end of his outing.
Scott Patterson: 1 IP, 1 H, 0 R, 0 ER, 1 BB, 0 K, 0-3 GB/FB
Edwar: 1 IP, zeroes, 2 K – Typical Edwar.
Jose Veras: 1 IP, zeroes, 1 K
Could there possibly be any three people more amped up for Phil Hughes's 2008 debut than Mike, Ben, and me? Well, maybe this guy (though we haven't heard from him in nearly a month).
Tonight will be the first of what should be 20-some-odd starts by the 21-year-old. Expectations are sky-high: Keith Law picks him as a Cy Young sleeper (as apparently I did as well with the title), as has Peter Gammons. His spring was solid, not great, so it will be interesting to see how he reacts now that the games count. However, even if he pitches like he did in the spring, I wouldn't be disappointed. We're still early on, and as many people pointed out last night, most guys haven't reached their peak strength yet. And if you'll remember from last year, Hughes was unimpressive in his first start out for Scranton.
Posada is still out with the sore shoulder. According to Sam Borden via PeteAbe, he might DH tomorrow. Matsui slides into left, apparently breaking himself in for some playing time out there when Melky Cabrera serves his inevitable suspension.
The Yanks face Dustin McGowan tonight, another Law-picked Cy Young sleeper. He certainly has the stuff. Apparently, he was feeling flu-like symptoms yesterday, but will pitch today. Which makes sense — I don't know of many hangovers that last for two days.
Your lineup:
1. Johnny Damon, DH
2. Derek Jeter, SS
3. Bobby Abreu, RF
4. Alex Rodriguez, 3B
5. Jason Giambi, 1B
6. Robinson Cano, 2B
7. Hideki Matsui, LF
8. Jose Molina, C
9. Melky Cabrera, CF
And on the mound, number thirty-four, Phil Hughes.
By

While today is just the third day of Joe Girardi's managerial tenure with the Yankees, we already see that he's managing by the book. As Tyler Kepner tells us, that book just happens to be Baseball Prospectus 2008. That is one book Joe Torre was not wont to consult. · (5) ·
A friend of mine — one of those midwest transplants who move to New York — finally made the trip to Yankee Stadium after a few years spent living in the city. As I was reading his account of the trip, I came across the typical beer rant. Beer is too much at Yankee Stadium, he opines.
But the accompanying picture got me thinking: Is beer really that expensive in the Bronx?
That's the sign from the Stadium. A 24-ounce Heineken costs $12.50. That's expensive, right? Who wants to pay $12.50 for a beer? Well, in reality, you're paying $12.50 for two beers. A bottle of Heineken contains 12 ounces of beer. So one giant Yankee Stadium beer contains two bottles of beer.
I know I've been to bars in New York City where bottles of Heikenen can run $5 or $6. Sure, that's expensive, but that means Yankee Stadium's $6.25 bottles of beer aren't that outrageously priced.
Walking around the streets of New York, you'd be hard-pressed to find $4.50 hot dogs. You can't buy Cracker Jacks at Yankee Stadium prices anywhere else, and the peanuts you can find in the city are better and cheaper than the ones they sell at the Stadium. But the beer, well, that's not that much more expensive than other places that sell Heikenen at marked-up prices.
By

Via Chad Jennings, the Yanks having inked 26-yr old catcher Chris Stewart and assigned him to Triple-A Scranton. Stewart has a little bit of big league experience, grabbing 45 at-bats with the ChiSox and Texas over the last two years. His numbers – majors or minors – aren't exactly impressive, but the Yanks needed another catcher in the upper levels after Frankie Cervelli's injury. · (2) ·
When A.J. Burnett throws six innings and makes one mistake, the only thing to do is tip your cap to him. The Yankees were simply outpitched last night, and as the old baseball adage goes, good pitching will beat good hitting nearly all the time.
But there are some takeaways from last year's night, and most of them concern Mike Mussina. Submitted for your approval is a rather basic pitch graph of Mike Mussina's night. It tracks the velocity of his pitches along the X-axis vs. the break of his pitches according to MLB's Advanced Gameday application along the Y-axis.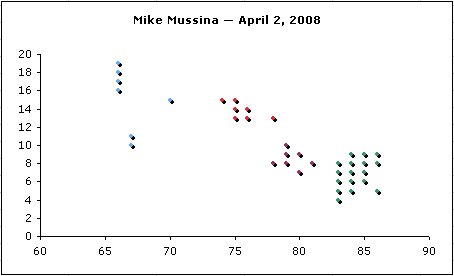 The colors represent Mussina's pitch repertoire. The green are his fastballs; the two shades of red are his breaking pitches; and the blue dots at the slow end of the slow spectrum are his knucklecurves. To really get a sense of how slow Mussina was throwing, Gameday kept calling his low-80s fastballs change-ups. Those, my friends, were not changeups.
And therein lies the problem. Mike Mussina threw fastballs for nearly 60 percent of his pitches. He threw about 10 each of his breaking pitches. While the break on his fastballs is encouraging, he doesn't have enough gas to throw so many fastballs. He hit 86 mph five times but mainly sat around 83 and 84 with his fastball. Major League hitters are going to tee off against him.
Meanwhile, Mussina again seemed to pull his routine on the mound when Giambi made an error and Moose didn't cover first base in time early in the game.
In the end, Moose's results are serviceable. He gave up 3 earned runs in5.2 innings, but he put 10 runners on base and struck out only 2. While relying on his low-80s fastballs, Mussina will not be so lucky in the future.
Game Notes: Alex Rodriguez is very good at hitting baseballs. I'm very happy to see him back on this team for the long haul…Derek Jeter's fourth inning effort in turning an error into an out changed the dynamic of the game. That was sloppy baserunning by a usually reliable baserunner…A few commenters in the game thread bemoaned Joe Girardi's decision to keep Giambi in the game to face Brian Tallet in the 7th. When Giambi's blast in the 9th fell a few feet short of tying the game, no one was complaining, and had it been warmer or windier in the right direction, the game heads into the 10th a tie. I understand the ideas behind playing the matchups, but in a close game, losing Giambi's bat isn't an option. He'll always be more of a threat at the plate than Shelley Duncan or Morgan Ensberg.
By

Don't loot Yankee Stadium, folks. On Opening Day, the Yankees security crew caught two fans attempting to steal stadium bunting. They will be charged with larceny and criminal mischief. But worse: They had their season tickets revoked by the Yankees. This probably isn't the last we'll hear of Yankee Stadium looting efforts, but the price of getting caught just isn't worth it. · (15) ·