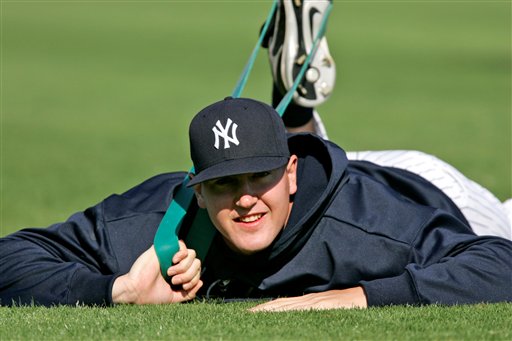 A.J Burnett will start against his former team this afternoon while showing off his new changeup for a pair of innings, but the big story is that 2007 first round pick Andrew Brackman is scheduled to pitch today. For many of us, it's the first time we'll get to see the 6-foot-10 righthander since he turned a pro. Here's what he looked in college like almost four years ago, so it'll be interesting to compare his delivery to what it is today. As luck would have it, Chad Jennings interviewed Brackman yesterday, who said he finally feels normal after coming back from Tommy John surgery (ST cliche alert).
Anyway, I'm looking forward to see the big guy on the mound, as well as Burnett's change. Phil Hughes' looked pretty good yesterday, so let's how A.J.'s is coming along. Here's the starting lineup…
Jeter, SS
Granderson, CF
Posada, C
A-Rod, 3B
Winn, RF
Gardner, LF
Cervelli, DH
Miranda, 1B
Pena, 2B
Scheduled Pitchers: A.J. Burnett, Andrew Brackman, Jon Albaladejo, Boone Logan, Mark Melancon, Jason Hirsh, Romulo Sanchez, Amaury Sanit
Also scheduled to play: Colin Curtis, Jamie Hoffmann, Brandon Laird, Eduardo Nunez, Mike Rivera, Austin Romine, Kevin Russo, Jorge Vazquez, David Winfree
First pitch is scheduled for 1:05pm ET, and you can watch on My9 locally or MLB Network from afar.
Photo Credit: Kathy Willens, AP