Defend your teammates, get suspended. That's the message MLB is apparently sending to its players. Mark Feinsand is hearing a rumor that Kyle Farnsworth will be suspended for throwing at Manny Ramirez on Thursday night. It should be of the three-game type, though an appeal is almost certain. To me, this is beyond ridiculous.
Say what you will about the location of the pitch. It was behind him, but I saw it as being more towards the shoulders than the neck/head. Plus — and I don't know why I haven't read this elsewhere — Kyle Farnsworth has no control of his pitches! Have we not learned this over the first two years of his contract? It stands to reason that Farnsworth could have been aiming for the middle of the back, where they hit A-Rod, and just missed by a bit.
All this does is allow aggressions from one team to go unrequited. So if you want to hit someone, you'd better make sure none of your guys were hit recently. Because that's retaliation, and you're on the hook for a suspension. Hit the guy first, though, and you're in the clear.
Does this make sense to anyone?
So that was hardly ideal tonight, huh? Phil Hughes flashes his stuff for five innings and then becomes undone by an A-Rod error and some shoddy relief pitching. Meanwhile, the Yanks' bats can't hit a lick off Orioles pitching.
As far as Hughes' outing goes, I don't have much to say. Except for the second inning when he couldn't find his out-pitch, Hughes kept his pitch count manageable and was getting ahead of hitters. He was throwing his fastball and breaking pitches for strikes, and the Orioles, until the sixth, couldn't put much of anything together off of him. The third time through the lineup however was decidedly not the charm.
While some commenters in the game thread suggested sending Hughes down to AAA to work out whatever mechanical problems the bunch of pitching coaches on RAB seem to have spotted, I'm firmly in the camp that he has to stay in the Majors. I'm ready to write off Moose after four starts because I know what Mussina brings to the table now that he's 39 and pitching in the twilight of his career. I'm not ready to write off a 21-year-old with good stuff who's learning how to get Major League hitters out. Beyond the hit to his confidence, the Yankees wouldn't be doing themselves any favors by replacing Hughes right now.
Beyond Hughes, LaTroy Hawkins continued to pitch maddeningly inconsistent baseball. If you all want to boo him for that, go right ahead. Had he come in to be the stopper — something that his stuff suggests he isn't — the Yanks and Hughes emerge in a close game, and maybe the offense wakes up from its slumber.
In that situation with two runners in scoring position and the Yanks in need of an out, Joe Girardi should really turn to a strike out guy. That's a prime spot for Brian Bruney to blow a few 96-mph fastballs past the next few hitters. Hawkins wasn't the right man for the job, and the results just backed up my feeling at the time.
Finally, Mr. Giambi's days should be numbered at first base. He can't field; he isn't hitting; and when the ten days are up and the catchers are healthy, Shelley Duncan should get that job until he's hitting worse than Giambi's .116/.291/.302. There's little downside and a lot to be gained from that potential move.
Saturday's another game. We'll get 'em next time.
Site Notes: We've unveiled a new version of this site's threaded comments. As with the other one, hit the "Reply to this comment" link at the bottom of the comment to which you want to reply; type your comment; hit submit. The little boxes above the commenter's name allow you to collapse and expand long comment threads. The direct link to a comment is in the hyperlinked date and time stamp underneath the submitter's name. Any comments, complaints, or questions, you know how to reach us.
Triple-A Scranton (9-5 win over Charlotte)
Brett Gardner & Greg Porter: both 1 for 5, 1 R, 1 2B, 1 K – Porter drove 2 runs in
Juan Miranda: 1 for 4, 2 R, 1 BB, 1 K
Shelley: 2 for 5, 2 R, 1 2B, 1 HR, 3 RBI, 1 K – only 2 more days until he can be called back up
Jason Lane & Cody Ransom: both 1 for 5, 1 K – Ransom smacked a 2-run homer & committed a fielding error
Eric Duncan: 2 for 3, 2 R, 2 HR, 2 RBI, 1 HBP – yay Eric!
The Ghost of Kei Igawa: 6 IP, 5 H, 3 R, 3 ER, 0 BB, 3 K – don't look now, but Igawa has a 20-4 K/BB ratio in 22.2 IP
Sean Henn: 1 IP, 2 H, 0 R, 0 ER, 1 BB, 2 K – 15 of 22 pitches were strikes (68.2%)
Scott PAtterson: 2 IP, 3 H, 2 R, 2 ER, 0 BB, 2 K – he's been pitching for basically a year straight thanks to winter ball, I betcha he's working through a case of dead arm right now
Nine and friggin' nine against the Orioles last year. That's pretty unacceptable for a team that basically had the inverse of the Yanks record. They hope to get off on the right foot tonight, as they take on the erratic — and that's putting it mildly — Daniel Cabrera.
In his career, Cabrera has pitched 72.2 innings against the Yanks, to the tune of a 4.95 ERA. What's strange is that while he's struck out 7.52 per nine inning over his career, he's only struck out 5.2 per nine against the Yankees. He's walked 5.31 per nine over his career (hence the 5.02 lifetime ERA), and 5.70 per nine vs. the Yanks.
So he has struck out fewer hitters and has walked more vs. the Yankees compared to the rest of his career, yet his ERA vs. the Yankees is a tick lower than his lifetime ERA. Strange stuff. Could tonight be the night luck really catches up to him? We started moving in that direction last year, tattooing him for 20 earned runs (21 total) in 27 innings, with 18 strikeouts to 17 walks.
Really, Cabrera should be sick. He's 6'7″ and has nasty stuff. But control problems have plagued his career, and not even the tutelage of Leo Mazzone could fix him. His ERA has climbed every year since 2005, and he has yet to crack a league-average ERA.
For the good guys, Phil Hughes takes the mount, trying to regain his form. And what better team to do it against than the Orioles? Yeah, they may be 9-7 now, but I can't seem to figure out how. They only have three guys on the offensive side with an OPS+ above league average — and Luke Scott won't be hitting .380/.456/.600 for much longer. Then again, it stands to reason that Ramon Hernandez will raise his paltry .152/.160/.326 line.
Oh yeah, and Edwar is in the house! Albaladejo is sent down, which is fine and good, since he tossed three innings last night. You might be asking what happened to Scott Patterson, but I don't think it's a big deal. Edwar will be gone once Joba comes back, which probably won't be too far in the future.
Your lineups:
1. Johnny Damon, LF
2. Derek Jeter, SS
3. Bobby Abreu, RF
4. Alex Rodriguez, 3B
5. Hideki Matsui, DH
6. Robinson Cano, 2B
7. Jason Giambi, 1B
8. Melky Cabrera, CF
9. Chad Moeller, C
And on the mound, number thirty-four, Phil Hughes
And for the O's
Roberts
Mora
Markakis
Millar
Scott
Huff
Jones
R. Hernandez
L. Hernandez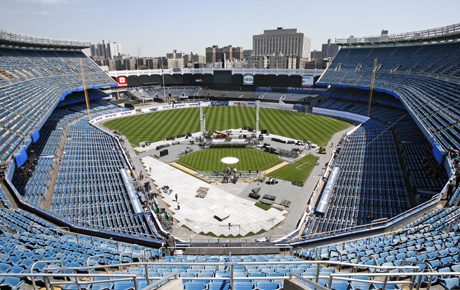 This photo — originated with the Yankees — is making the e-mail forwarding rounds right now. It's the Stadium, mid-Papal setup. As you can see — click to enlarge — all of the Yankee Stadium advertising will be covered up before this weekend's Mass at the Stadium. I wonder what song the Cardinals will all pick during the Yankee Jukebox segment after the top of the first inning.
Perusing the Internet this afternoon while waiting for my chance to head outside to enjoy this 75-degree weather we're having, I came across that clip from last night's Baseball Tonight via The Big Lead. As I watched Peter Gammons offer up his holier-than-thou take on Kyle Farnsworth's seventh-inning pitch to Manny, I couldn't believe how biased Gammons was being.
In the clip, he laughs off Kyle Farnsworth as "AAA pitchers … I mean, please." Please, Peter. Please.
Please go back and watch the clip of Farnsworth throwing behind Manny. Please note that Farnsworth's pitch, had it hit Manny, would have hit him in the exact same spot as A-Rod's hit-by-pitch the night before. And please spare us the faux-outrage. You're better than that.
Kyle Farnsworth shouldn't throw at Manny's head, and he didn't last night. He threw Manny an exaggerated brushback pitch after Manny had spent five of the last seven days taking batting practice off the Yankees' starting pitchers. Biased TV commentators…I mean, please.
By

I bet most young Yankee fans would be hard-pressed to identify Ed Barrow, one of the greatest Yankees executives of the early 20th Century. To that end, Daniel Levitt's new book, Ed Barrow: The Bulldog Who Built the Yankees' First Dynasty, soon to be reviewed here by me, is required reading for all Yankee historians. Levitt sat down for an interview with David Laurila for Baseball Prospectus' Unfiltered blog. Check it out. · (1) ·
By

SG at RLYW wonders if Moose is cooked, and it's hard to disagree with him. While SG notes that Mussina was two bad pitches to Manny away from throwing a decent game, to me, the more telling sign came in the first inning.

With Jacoby Ellsbury off second, Dustin Pedroia came to bat, and Mussina threw a 1-2 85-mph that Pedroia lined hard to a leaping Robinson Cano. The ball was tattooed, and the Yanks escaped unharmed. But it was clear that Mussina had nothing last night. How many more starts will he be allowed to make? · (39) ·
For days and days and days, we've debated the LaTroy Hawkins Number Fiasco. It seems clear to me that Yankee fan opinion is firmly divided on the fate of Paul O'Neill's 21. So submitted for your approval — and since we haven't done one of these in a while — a poll. Play nicely with each other in the comments if you wish to continue the debate.
Should the Yankees retire Paul O'Neill's number 21?