The draft is just five days away, so between now and then I'm going to highlight some players individually rather than lump a few together in one post.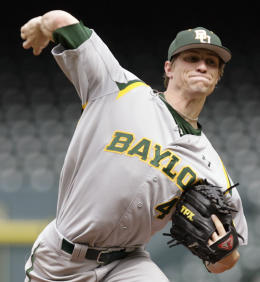 Logan Verrett | RHP
Background
Hailing from the baseball hotbed of The Woodlands, Texas, Verrett was a standout baseball and football player in high school before focusing on the former at Baylor. He holds several school and conference records, most notably Big-12 records for single season BB/9 (2.30) and K/BB ratio (4.14) as well as career K/BB ratio (3.83). Verrett was not drafted out of high school.
Scouting Report
A big right-hander with some projection left to dream upon (listed at 6-foot-3, 185 lbs.), Verrett throws three pitches for strikes. His fastball sits 89-92 on most days but has topped out at 95 in short bursts in the past. A slider that occasionally misses bats is probably his second best offering, though a sinking changeup in the mid-70's might also stake a claim to that title. Verrett relies more on command and setting hitters up than pure stuff, but it's a solid mix of pitches with good probability. His delivery is sound and he's a big time competitor. Here's some (slow motion) video.
Miscellany
Scouting director Damon Oppenheimer has made it clear over the years that there are two things he likes in college pitchers: polish and strong showings in the wood bat Cape Cod League. Verrett has both after striking out 34 and walking just five in 41.1 IP with the Chatham A's last summer (64.2 IP, 66 K, 21 BB in his CCL career). All the tools are there for him to be a durable, mid-rotation guy in the future, though the lack of a true put-away pitch limits his ceiling at the moment. Keith Law and Baseball America ranked Verrett as the 83rd and 100th best prospect in the draft class, respectively, suggesting that he's a second or third round kind of guy.